Role: Current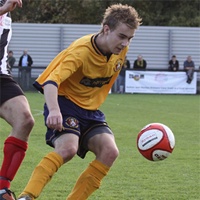 Sam Bateman
Son of manager Steve Bateman, signed in April 2009.
Sam has made several appearances in the first-team squad for Hemel Hempstead in previous seasons and is seen as a bright prospect for the future. He scored his first Slough goal at Barton Rovers in March 2010, a last minute equaliser in a 3-3 draw.
Whilst not available for most of the Rebels' fixtures, Sam remains registered and available to play for Slough when required.
Statistics
| | |
| --- | --- |
| First Appearance: | 19-09-2009 vs Soham Town Rangers |
| First Goal: | 23-03-2010 vs Barton Rovers |
| Position: | Midfielder |
| Total STFC Appearances: | 42 |
| Total STFC Goals: | 2 |
Matches Played
| Match Date | Home Team | Score | Away Team | Competition | Goals | Cards | Report |
| --- | --- | --- | --- | --- | --- | --- | --- |
| 06-03-2013 | Frome Town | 2-1 | Slough Town | Red Insure Cup | - | - | Report |
| 21-02-2013 | Slough Town | 2-1 | Northwood | Red Insure Cup | - | - | Report |
| 04-12-2012 | Aylesbury | 0-1 | Slough Town | Red Insure Cup | - | - | Report |
| 21-04-2012 | Slough Town | 0-3 | Leighton Town | League | - | - | Report |
| 24-01-2012 | Chesham United | 3-1 | Slough Town | B&B Senior Cup | - | - | Report |
| 25-04-2011 | Beaconsfield SYCOB | 1-0 | Slough Town | League | - | - | Report |
| 12-04-2011 | Arlesey Town | 2-1 | Slough Town | League | - | - | Report |
| 12-02-2011 | Slough Town | 3-2 | Aylesbury | League | - | - | Report |
| 08-02-2011 | Cambridge City | 3-2 | Slough Town | Red Insure Cup | - | - | Report |
| 01-02-2011 | Northwood | 1-5 | Slough Town | League | - | - | Report |
| 11-01-2011 | Ashford Town (Middx) | 1-2 | Slough Town | Red Insure Cup | - | - | Report |
| 14-12-2010 | Oxford City | 0-2 | Slough Town | Red Insure Cup | - | - | Report |
| 23-11-2010 | Marlow | 3-2 | Slough Town | Berks & Bucks | - | - | Report |
| 20-11-2010 | Aylesbury | 1-2 | Slough Town | League | - | - | Report |
| 16-11-2010 | Slough Town | 5-0 | AFC Hayes | League | - | - | Report |
| 13-11-2010 | North Greenford Utd | 1-3 | Slough Town | League | - | - | Report |
| 09-11-2010 | Slough Town | 2-3 | Burnham | League | - | - | Report |
| 06-11-2010 | Slough Town | 1-3 | Rugby Town | League | - | - | Report |
| 30-10-2010 | Soham Town Rangers | 1-0 | Slough Town | League | - | - | Report |
| 27-10-2010 | Leighton Town | 1-3 | Slough Town | Red Insure Cup | - | - | Report |
| 23-10-2010 | Slough Town | 0-1 | Leighton Town | League | - | - | Report |
| 09-10-2010 | Bedworth United | 1-1 | Slough Town | League | - | - | Report |
| 05-10-2010 | Marlow | 0-3 | Slough Town | FA Trophy | - | - | Report |
| 02-10-2010 | Slough Town | 2-2 | Marlow | FA Trophy | - | - | Report |
| 25-09-2010 | Slough Town | 1-3 | Daventry Town | League | - | - | Report |
| 18-09-2010 | Atherstone Town | 1-2 | Slough Town | League | - | - | Report |
| 14-09-2010 | Slough Town | 1-3 | Marlow | League | - | - | Report |
| 04-09-2010 | Biggleswade Town | 1-5 | Slough Town | League | | - | Report |
| 30-08-2010 | Slough Town | 5-2 | Uxbridge | League | - | - | Report |
| 28-08-2010 | Lancing | 1-4 | Slough Town | FA Cup | - | - | Report |
| 01-05-2010 | Chesham United | 4-0 | Slough Town | Play Off | - | - | Report |
| 24-04-2010 | Romulus | 1-4 | Slough Town | League | - | - | Report |
| 20-04-2010 | Slough Town | 0-1 | Hitchin Town | League | - | - | Report |
| 17-04-2010 | Slough Town | 5-1 | Aylesbury United | League | - | - | Report |
| 10-04-2010 | Bury Town | 1-0 | Slough Town | League | - | - | Report |
| 27-03-2010 | Rothwell Town | 1-3 | Slough Town | League | - | - | Report |
| 23-03-2010 | Barton Rovers | 3-3 | Slough Town | League | | - | Report |
| 20-03-2010 | Slough Town | 3-3 | Atherstone Town | League | - | - | Report |
| 16-03-2010 | Slough Town | 0-1 | Wycombe Wanderers | Berks & Bucks | - | - | Report |
| 17-10-2009 | Uxbridge | 1-1 | Slough Town | FA Trophy | - | - | Report |
| 10-10-2009 | Tooting & Mitcham Utd | 3-2 | Slough Town | FA Cup | - | - | Report |
| 19-09-2009 | Soham Town Rangers | 0-2 | Slough Town | League | - | - | Report |