Role: Current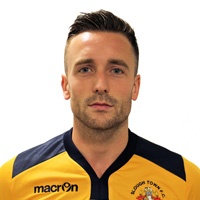 Sean Fraser
Sean Fraser is now in his fifth season as a Slough Town player having originally joined the club under Steve Bateman in August 2012.
Sean made the right full-back position his own after a string of impressive performances upon joining the club in 2012, and helped Slough reach the First Round of the FA Cup. He has become a permanent fixture under Neil Baker and Jon Underwood's management at right back, and has gone from strength to strength in his time at the club.
Still only 25, his performances and consistency levels have been superb, and he was rightly made Club Captain in the summer of 2015/2016.
Previous clubs include Falkirk, Coventry City, Marlow and Banbury United.
Statistics
| | |
| --- | --- |
| First Appearance: | 25-08-2012 vs Corinthian |
| First Goal: | 20-01-2015 vs Burnham |
| Position: | Defender |
| Total STFC Appearances: | 244 |
| Total STFC Goals: | 4 |
Achievements
2013/14 Managers' Young Player of the Season
2013/14 Won promotion to Southern League, Premier Division
Matches Played
| Match Date | Home Team | Score | Away Team | Competition | Goals | Cards | Report |
| --- | --- | --- | --- | --- | --- | --- | --- |
| 18-11-2017 | Slough Town | 3-0 | Weymouth | League | - | - | Report |
| 14-11-2017 | Hayes & Yeading | 3-1 | Slough Town | League Cup | - | - | Report |
| 11-11-2017 | Maldon & Tiptree | 1-4 | Slough Town | FA Trophy | - | - | Report |
| 04-11-2017 | Gainsborough Trinity | 0-6 | Slough Town | FA Cup | | - | Report |
| 28-10-2017 | Kidlington | 1-4 | Slough Town | FA Trophy | - | - | Report |
| 24-10-2017 | Slough Town | 5-1 | Gosport Borough | League | - | - | Report |
| 21-10-2017 | Kettering Town | 0-0 | Slough Town | League | - | - | Report |
| 17-10-2017 | Slough Town | 2-0 | Tiverton Town | League | - | - | Report |
| 14-10-2017 | Slough Town | 1-0 | Folkestone Invicta | FA Cup | - | - | Report |
| 02-10-2017 | Beaconsfield Town | 2-2 | Slough Town | League Cup | - | - | Report |
| 30-09-2017 | Slough Town | 2-1 | Poole Town | FA Cup | - | | Report |
| 26-09-2017 | Redditch United | 1-4 | Slough Town | League | - | - | Report |
| 23-09-2017 | St Neots Town | 3-1 | Slough Town | League | - | - | Report |
| 16-09-2017 | Slough Town | 3-2 | Dulwich Hamlet | FA Cup | - | - | Report |
| 12-09-2017 | Slough Town | 4-0 | Hitchin Town | League | - | - | Report |
| 09-09-2017 | Slough Town | 8-1 | Dunstable Town | League | - | - | Report |
| 02-09-2017 | Berkhamsted | 1-3 | Slough Town | FA Cup | - | - | Report |
| 28-08-2017 | Farnborough | 1-2 | Slough Town | League | - | - | Report |
| 26-08-2017 | Slough Town | 3-0 | St Ives Town | League | - | - | Report |
| 15-08-2017 | Gosport Borough | 1-5 | Slough Town | League | - | - | Report |
| 12-08-2017 | Slough Town | 1-2 | Kettering Town | League | - | - | Report |
| 26-04-2017 | Leamington | 1-0 | Slough Town | Play Off | - | - | Report |
| 22-04-2017 | Slough Town | 1-1 | Redditch United | League | - | - | Report |
| 17-04-2017 | Chesham United | 1-1 | Slough Town | League | - | - | Report |
| 14-04-2017 | Slough Town | 0-2 | Cirencester Town | League | - | - | Report |
| 08-04-2017 | Kettering Town | 3-0 | Slough Town | League | - | - | Report |
| 01-04-2017 | Slough Town | 3-0 | King's Lynn Town | League | - | - | Report |
| 25-03-2017 | Frome Town | 1-0 | Slough Town | League | - | - | Report |
| 18-03-2017 | Slough Town | 4-1 | Cinderford Town | League | - | - | Report |
| 14-03-2017 | St Neots Town | 1-1 | Slough Town | League | - | - | Report |
| 11-03-2017 | Hitchin Town | 2-3 | Slough Town | League | - | - | Report |
| 08-03-2017 | Biggleswade Town | 3-0 | Slough Town | League | - | - | Report |
| 04-03-2017 | Slough Town | 3-2 | Basingstoke Town | League | - | | Report |
| 25-02-2017 | Dorchester Town | 0-4 | Slough Town | League | - | - | Report |
| 21-02-2017 | Cinderford Town | 2-1 | Slough Town | League | - | - | Report |
| 18-02-2017 | Slough Town | 1-0 | Merthyr Town | League | - | - | Report |
| 11-02-2017 | Cambridge City | 3-4 | Slough Town | League | - | - | Report |
| 07-02-2017 | Slough Town | 3-0 | Weymouth | League | - | - | Report |
| 04-02-2017 | Slough Town | 1-0 | Dunstable Town | League | - | - | Report |
| 31-01-2017 | King's Lynn Town | 5-2 | Slough Town | League | - | - | Report |
| 28-01-2017 | Leamington | 0-6 | Slough Town | League | - | - | Report |
| 21-01-2017 | Slough Town | 0-1 | Chippenham Town | League | - | - | Report |
| 17-01-2017 | Maidenhead United | 4-2 | Slough Town | Berks & Bucks | - | - | Report |
| 07-01-2017 | St Ives Town | 2-0 | Slough Town | League | - | - | Report |
| 02-01-2017 | Slough Town | 1-2 | Chesham United | League | - | - | Report |
| 27-12-2016 | Hayes & Yeading | 2-3 | Slough Town | League | | - | Report |
| 20-12-2016 | Slough Town | 3-0 | MK Dons | Berks & Bucks | - | - | Report |
| 17-12-2016 | Slough Town | 3-2 | Kettering Town | League | - | - | Report |
| 06-12-2016 | Chippenham Town | 3-3 | Slough Town | League | - | - | Report |
| 03-12-2016 | Slough Town | 1-2 | Frome Town | League | - | - | Report |
| 29-11-2016 | Slough Town | 2-0 | Banbury United | League | - | - | Report |
| 26-11-2016 | Slough Town | 2-4 | Wingate & Finchley | FA Trophy | - | - | Report |
| 22-11-2016 | Stratford Town | 1-2 | Slough Town | League | - | - | Report |
| 19-11-2016 | Slough Town | 2-2 | Kings Langley | League | - | - | Report |
| 15-11-2016 | Slough Town | 2-0 | Merthyr Town | FA Trophy | - | - | Report |
| 12-11-2016 | Merthyr Town | 2-2 | Slough Town | FA Trophy | - | - | Report |
| 05-11-2016 | Slough Town | 0-1 | Hitchin Town | League | - | - | Report |
| 29-10-2016 | Slough Town | 4-1 | Bognor Regis Town | FA Trophy | - | - | Report |
| 25-10-2016 | Slough Town | 2-1 | Dorchester Town | League | - | - | Report |
| 22-10-2016 | Basingstoke Town | 4-1 | Slough Town | League | - | - | Report |
| 18-10-2016 | Slough Town | 7-4 | Beaconsfield Town | Berks & Bucks | | - | Report |
| 15-10-2016 | Merthyr Town | 1-1 | Slough Town | League | - | - | Report |
| 11-10-2016 | Dunstable Town | 0-1 | Slough Town | League | - | | Report |
| 08-10-2016 | Slough Town | 1-0 | Cambridge City | League | - | - | Report |
| 01-10-2016 | Slough Town | 2-3 | Dartford | FA Cup | - | - | Report |
| 27-09-2016 | Slough Town | 2-0 | Leamington | League | - | | Report |
| 24-09-2016 | Slough Town | 3-0 | Biggleswade Town | League | - | | Report |
| 17-09-2016 | Cambridge City | 1-3 | Slough Town | FA Cup | - | - | Report |
| 13-09-2016 | Weymouth | 0-1 | Slough Town | League | - | - | Report |
| 10-09-2016 | Redditch United | 0-4 | Slough Town | League | - | - | Report |
| 03-09-2016 | Slough Town | 6-1 | Chipstead | FA Cup | - | - | Report |
| 29-08-2016 | Slough Town | 2-1 | Hayes & Yeading | League | - | - | Report |
| 27-08-2016 | Cirencester Town | 1-3 | Slough Town | League | - | - | Report |
| 20-08-2016 | Slough Town | 3-0 | St Ives Town | League | - | | Report |
| 16-08-2016 | Slough Town | 0-0 | Stratford Town | League | - | - | Report |
| 13-08-2016 | Kings Langley | 2-3 | Slough Town | League | - | - | Report |
| 09-08-2016 | Banbury United | 1-0 | Slough Town | League | - | - | Report |
| 06-08-2016 | Slough Town | 2-0 | St Neots Town | League | - | - | Report |
| 23-04-2016 | Merthyr Town | 2-0 | Slough Town | League | - | - | Report |
| 16-04-2016 | Slough Town | 2-0 | King's Lynn Town | League | - | | Report |
| 09-04-2016 | Cambridge City | 4-2 | Slough Town | League | - | - | Report |
| 02-04-2016 | Slough Town | 1-0 | Chippenham Town | League | - | - | Report |
| 28-03-2016 | Slough Town | 0-2 | Hungerford Town | League | - | - | Report |
| 26-03-2016 | Kettering Town | 1-0 | Slough Town | League | - | - | Report |
| 22-03-2016 | Bideford | 2-1 | Slough Town | League | - | - | Report |
| 19-03-2016 | Slough Town | 0-0 | Weymouth | League | - | - | Report |
| 14-03-2016 | Hungerford Town | 1-0 | Slough Town | League | - | - | Report |
| 12-03-2016 | St Neots Town | 0-0 | Slough Town | League | - | - | Report |
| 09-03-2016 | Frome Town | 2-1 | Slough Town | League | - | - | Report |
| 05-03-2016 | Slough Town | 1-0 | Dunstable Town | League | - | - | Report |
| 01-03-2016 | Slough Town | 1-3 | Kettering Town | League | - | | Report |
| 27-02-2016 | Paulton Rovers | 3-3 | Slough Town | League | - | - | Report |
| 20-02-2016 | Slough Town | 1-3 | Leamington | League | - | - | Report |
| 13-02-2016 | Dorchester Town | 1-2 | Slough Town | League | - | - | Report |
| 06-02-2016 | Slough Town | 1-2 | Bedworth United | League | - | | Report |
| 26-01-2016 | Potters Bar Town | 2-2 | Slough Town | League Cup | - | - | Report |
| 23-01-2016 | Slough Town | 1-0 | Hitchin Town | League | - | - | Report |
| 26-12-2015 | Slough Town | 0-1 | Chesham United | League | - | - | Report |
| 19-12-2015 | Poole Town | 3-3 | Slough Town | League | - | - | Report |
| 15-12-2015 | Slough Town | 3-1 | Merthyr Town | League | - | - | Report |
| 12-12-2015 | Weymouth | 6-1 | Slough Town | League | - | - | Report |
| 05-12-2015 | Slough Town | 2-2 | St Neots Town | League | - | - | Report |
| 01-12-2015 | Slough Town | 2-0 | Biggleswade Town | League | - | - | Report |
| 24-11-2015 | Dunstable Town | 1-3 | Slough Town | League | - | - | Report |
| 21-11-2015 | Slough Town | 2-4 | Stratford Town | League | - | - | Report |
| 14-11-2015 | Frome Town | 2-1 | Slough Town | FA Trophy | - | - | Report |
| 07-11-2015 | King's Lynn Town | 2-1 | Slough Town | League | - | - | Report |
| 01-11-2015 | Romford | 0-4 | Slough Town | FA Trophy | - | - | Report |
| 27-10-2015 | Chippenham Town | 3-3 | Slough Town | League | - | - | Report |
| 24-10-2015 | Slough Town | 3-1 | Cambridge City | League | - | - | Report |
| 19-10-2015 | Redditch United | 1-0 | Slough Town | League | - | - | Report |
| 17-10-2015 | Slough Town | 2-1 | Paulton Rovers | League | - | - | Report |
| 13-10-2015 | Slough Town | 3-0 | Chesham United | League Cup | - | - | Report |
| 10-10-2015 | Histon | 1-2 | Slough Town | League | - | - | Report |
| 06-10-2015 | Slough Town | 4-1 | Dorchester Town | League | - | - | Report |
| 03-10-2015 | Slough Town | 2-1 | Bideford | League | - | - | Report |
| 29-09-2015 | Leamington | 3-0 | Slough Town | League | - | - | Report |
| 26-09-2015 | Basingstoke Town | 4-2 | Slough Town | FA Cup | - | - | Report |
| 22-09-2015 | Slough Town | 0-2 | Redditch United | League | - | | Report |
| 19-09-2015 | Bedworth United | 2-1 | Slough Town | League | - | - | Report |
| 12-09-2015 | Dorking Wanderers | 0-1 | Slough Town | FA Cup | - | - | Report |
| 05-09-2015 | Slough Town | 1-0 | Cirencester Town | League | - | - | Report |
| 31-08-2015 | Chesham United | 1-1 | Slough Town | League | - | | Report |
| 29-08-2015 | Slough Town | 1-3 | Poole Town | League | - | | Report |
| 22-08-2015 | Hitchin Town | 3-1 | Slough Town | League | - | - | Report |
| 18-08-2015 | Slough Town | 7-1 | Histon | League | - | - | Report |
| 15-08-2015 | Stratford Town | 1-1 | Slough Town | League | - | - | Report |
| 11-08-2015 | Biggleswade Town | 5-1 | Slough Town | League | - | - | Report |
| 08-08-2015 | Slough Town | 0-0 | Frome Town | League | - | - | Report |
| 25-04-2015 | Dorchester Town | 3-1 | Slough Town | League | - | - | Report |
| 21-04-2015 | Banbury United | 3-0 | Slough Town | League | - | | Report |
| 18-04-2015 | Slough Town | 1-1 | Frome Town | League | - | - | Report |
| 11-04-2015 | Dunstable Town | 2-4 | Slough Town | League | - | - | Report |
| 06-04-2015 | Hungerford Town | 2-0 | Slough Town | League | - | - | Report |
| 28-03-2015 | Hitchin Town | 5-2 | Slough Town | League | - | - | Report |
| 24-03-2015 | Slough Town | 1-2 | Corby Town | League | - | - | Report |
| 21-03-2015 | Cirencester Town | 3-5 | Slough Town | League | - | - | Report |
| 14-03-2015 | Slough Town | 1-2 | Truro City | League | - | - | Report |
| 07-03-2015 | Slough Town | 0-4 | Cambridge City | League | - | - | Report |
| 28-02-2015 | Redditch United | 4-0 | Slough Town | League | - | - | Report |
| 21-02-2015 | Chippenham Town | 2-0 | Slough Town | League | - | - | Report |
| 14-02-2015 | Slough Town | 1-0 | Arlesey Town | League | - | - | Report |
| 10-02-2015 | Histon | 0-0 | Slough Town | League | - | - | Report |
| 31-01-2015 | Bideford | 2-0 | Slough Town | League | - | - | Report |
| 24-01-2015 | Slough Town | 0-4 | Poole Town | League | - | - | Report |
| 20-01-2015 | Slough Town | 2-2 | Burnham | League | | - | Report |
| 17-01-2015 | Slough Town | 3-0 | Weymouth | League | - | - | Report |
| 01-01-2015 | Slough Town | 1-2 | Hungerford Town | League | - | - | Report |
| 26-12-2014 | Chesham United | 0-0 | Slough Town | League | - | | Report |
| 20-12-2014 | Slough Town | 2-1 | Dorchester Town | League | - | - | Report |
| 13-12-2014 | Frome Town | 1-1 | Slough Town | League | - | - | Report |
| 09-12-2014 | St Neots Town | 0-3 | Slough Town | League | - | - | Report |
| 06-12-2014 | Slough Town | 0-3 | Dunstable Town | League | - | - | Report |
| 02-12-2014 | Slough Town | 1-2 | Cirencester Town | League | - | - | Report |
| 25-11-2014 | Slough Town | 2-2 | Chippenham Town | League | - | - | Report |
| 22-11-2014 | Slough Town | 2-1 | Hitchin Town | League | - | - | Report |
| 18-11-2014 | Merthyr Town | 3-2 | Slough Town | FA Trophy | - | - | Report |
| 15-11-2014 | Slough Town | 1-1 | Merthyr Town | FA Trophy | - | - | Report |
| 08-11-2014 | Slough Town | 4-2 | Paulton Rovers | League | - | - | Report |
| 01-11-2014 | Margate | 0-2 | Slough Town | FA Trophy | - | - | Report |
| 28-10-2014 | Biggleswade Town | 3-3 | Slough Town | League | - | - | Report |
| 18-10-2014 | Cambridge City | 3-3 | Slough Town | League | - | - | Report |
| 11-10-2014 | Slough Town | 1-7 | Redditch United | League | - | - | Report |
| 07-10-2014 | Hungerford Town | 2-1 | Slough Town | Berks & Bucks | - | - | Report |
| 04-10-2014 | Arlesey Town | 1-0 | Slough Town | League | - | - | Report |
| 01-10-2014 | Corby Town | 1-2 | Slough Town | League | - | - | Report |
| 27-09-2014 | Truro City | 1-2 | Slough Town | League | - | - | Report |
| 13-09-2014 | Slough Town | 1-2 | Ardley United | FA Cup | - | - | Report |
| 09-09-2014 | Poole Town | 2-1 | Slough Town | League | - | - | Report |
| 06-09-2014 | Weymouth | 3-2 | Slough Town | League | - | - | Report |
| 30-08-2014 | Slough Town | 1-1 | Histon | League | - | - | Report |
| 25-08-2014 | Slough Town | 0-3 | Chesham United | League | - | - | Report |
| 05-05-2014 | Kettering Town | 2-3 | Slough Town | Play Off | - | | Report |
| 29-04-2014 | Rugby Town | 0-3 | Slough Town | Play Off | - | - | Report |
| 26-04-2014 | Slough Town | 1-0 | Chertsey Town | League | - | - | Report |
| 21-04-2014 | Aylesbury | 3-1 | Slough Town | League | - | - | Report |
| 19-04-2014 | Slough Town | 1-2 | Rugby Town | League | - | - | Report |
| 12-04-2014 | Ashford Town (Middx) | 0-5 | Slough Town | League | - | - | Report |
| 05-04-2014 | AFC Hayes | 0-1 | Slough Town | League | - | - | Report |
| 03-04-2014 | Barton Rovers | 1-2 | Slough Town | League | - | - | Report |
| 29-03-2014 | Slough Town | 2-1 | Royston Town | League | - | - | Report |
| 25-03-2014 | North Greenford Utd | 1-7 | Slough Town | League | - | - | Report |
| 22-03-2014 | Slough Town | 4-1 | Leighton Town | League | - | - | Report |
| 15-03-2014 | Daventry Town | 2-2 | Slough Town | League | - | - | Report |
| 08-03-2014 | Slough Town | 1-0 | St Ives Town | League | - | - | Report |
| 04-03-2014 | Slough Town | 1-3 | Egham Town | League | - | - | Report |
| 01-03-2014 | Potters Bar Town | 0-3 | Slough Town | League | - | - | Report |
| 22-02-2014 | Slough Town | 4-0 | Dunstable Town | League | - | - | Report |
| 15-02-2014 | Slough Town | 5-3 | Aylesbury United | League | - | - | Report |
| 04-02-2014 | Slough Town | 2-0 | Aylesbury | League | - | - | Report |
| 28-01-2014 | Northwood | 0-2 | Slough Town | League | - | - | Report |
| 18-01-2014 | Slough Town | 5-1 | Chalfont St Peter | League | - | - | Report |
| 11-01-2014 | Marlow | 2-2 | Slough Town | League | - | - | Report |
| 07-01-2014 | Burnham | 3-3 | Slough Town | League Cup | - | - | Report |
| 28-12-2013 | Slough Town | 0-2 | Kettering Town | League | - | - | Report |
| 26-12-2013 | Beaconsfield Town | 3-1 | Slough Town | League | - | - | Report |
| 21-12-2013 | Slough Town | 1-2 | Uxbridge | League | - | - | Report |
| 14-12-2013 | Chertsey Town | 0-4 | Slough Town | League | - | - | Report |
| 07-12-2013 | Slough Town | 1-2 | AFC Hayes | League | - | - | Report |
| 29-10-2013 | Chalfont St Peter | 0-1 | Slough Town | League | - | - | Report |
| 26-10-2013 | Aylesbury United | 3-3 | Slough Town | League | - | - | Report |
| 22-10-2013 | Slough Town | 2-1 | Marlow | League | - | - | Report |
| 19-10-2013 | Slough Town | 1-2 | Merthyr Town | FA Trophy | - | - | Report |
| 12-10-2013 | Maidenhead United | 1-3 | Slough Town | B&B Senior Cup | - | - | Report |
| 05-10-2013 | Godalming Town | 1-2 | Slough Town | FA Trophy | - | - | Report |
| 28-09-2013 | Egham Town | 2-2 | Slough Town | League | - | - | Report |
| 24-09-2013 | Slough Town | 4-2 | Ashford Town (Middx) | League | - | | Report |
| 21-09-2013 | Slough Town | 4-0 | Barton Rovers | League | - | - | Report |
| 07-09-2013 | Rugby Town | 0-4 | Slough Town | League | - | - | Report |
| 03-09-2013 | Cirencester Town | 1-0 | Slough Town | FA Cup | - | - | Report |
| 01-09-2013 | Slough Town | 1-1 | Cirencester Town | FA Cup | - | - | Report |
| 26-08-2013 | Slough Town | 1-3 | Beaconsfield Town | League | - | - | Report |
| 24-08-2013 | Kettering Town | 1-5 | Slough Town | League | - | - | Report |
| 20-08-2013 | Uxbridge | 1-1 | Slough Town | League | - | - | Report |
| 17-08-2013 | Slough Town | 0-1 | Northwood | League | - | - | Report |
| 27-04-2013 | Slough Town | 3-0 | Chertsey Town | League | - | - | Report |
| 18-04-2013 | Rugby Town | 0-4 | Slough Town | League | - | - | Report |
| 11-04-2013 | Aylesbury | 1-4 | Slough Town | League | - | - | Report |
| 06-04-2013 | Royston Town | 2-0 | Slough Town | League | - | - | Report |
| 30-03-2013 | Slough Town | 5-1 | Leighton Town | League | - | - | Report |
| 28-03-2013 | Barton Rovers | 2-2 | Slough Town | League | - | - | Report |
| 06-03-2013 | Frome Town | 2-1 | Slough Town | Red Insure Cup | - | - | Report |
| 21-02-2013 | Slough Town | 2-1 | Northwood | Red Insure Cup | - | - | Report |
| 12-01-2013 | Woodford United | 1-4 | Slough Town | League | - | - | Report |
| 08-01-2013 | Slough Town | 3-1 | AFC Hayes | Red Insure Cup | - | - | Report |
| 08-12-2012 | Chertsey Town | 1-3 | Slough Town | League | - | - | Report |
| 01-12-2012 | Slough Town | 3-1 | Royston Town | League | - | - | Report |
| 20-11-2012 | Maidenhead United | 4-1 | Slough Town | B&B Senior Cup | - | - | Report |
| 13-11-2012 | Slough Town | 1-1 | Mansfield Town | FA Cup | - | - | Report |
| 06-11-2012 | Slough Town | 2-3 | Rugby Town | League | - | - | Report |
| 03-11-2012 | Mansfield Town | 0-0 | Slough Town | FA Cup | - | - | Report |
| 27-10-2012 | Slough Town | 3-1 | Fleet Town | League | - | - | Report |
| 23-10-2012 | Gosport Borough | 1-2 | Slough Town | FA Cup | - | - | Report |
| 21-10-2012 | Slough Town | 0-0 | Gosport Borough | FA Cup | - | - | Report |
| 13-10-2012 | Slough Town | 3-1 | Barton Rovers | League | - | - | Report |
| 09-10-2012 | Slough Town | 4-1 | Thatcham Town | League | - | - | Report |
| 06-10-2012 | Margate | 0-1 | Slough Town | FA Cup | - | - | Report |
| 29-09-2012 | Slough Town | 0-4 | Gosport Borough | FA Trophy | - | - | Report |
| 23-09-2012 | Slough Town | 5-1 | Eastbourne Town | FA Cup | - | - | Report |
| 16-09-2012 | Slough Town | 2-1 | Hungerford Town | FA Trophy | - | - | Report |
| 08-09-2012 | Slough Town | 4-1 | Lingfield | FA Cup | - | - | Report |
| 04-09-2012 | Slough Town | 4-0 | Woodford United | League | - | | Report |
| 27-08-2012 | Slough Town | 1-1 | Beaconsfield Town | League | - | - | Report |
| 25-08-2012 | Slough Town | 4-2 | Corinthian | FA Cup | - | - | Report |