Role: Current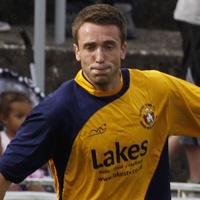 Sean Fraser
Sean is a 20 year-old midfielder or full-back who signed Southern League forms for the club in August 2012.
He is a former Reading, Coventry City and Falkirk youth academy player. Previously played for Marlow, including in Slough's 3-0 win at Oak Tree Road in season 2011/12, before signing for Southern Premier Banbury United in January 2012.
Sean has made the right full-back position his own after a string of impressive performances, which helped Slough in the First Round of the FA Cup.
Statistics
| | |
| --- | --- |
| First Appearance: | 25-08-2012 vs Corinthian |
| First Goal: | Never |
| Position: | Defender |
| Total STFC Appearances: | 29 |
| Total STFC Goals: | 0 |
Matches Played
| Match Date | Home Team | Score | Away Team | Competition | Goals | Cards | Report |
| --- | --- | --- | --- | --- | --- | --- | --- |
| 27-04-2013 | Slough Town | 3-0 | Chertsey Town | League | - | - | Report |
| 18-04-2013 | Rugby Town | 0-4 | Slough Town | League | - | - | Report |
| 11-04-2013 | Aylesbury | 1-4 | Slough Town | League | - | - | Report |
| 06-04-2013 | Royston Town | 2-0 | Slough Town | League | - | - | Report |
| 30-03-2013 | Slough Town | 5-1 | Leighton Town | League | - | - | Report |
| 28-03-2013 | Barton Rovers | 2-2 | Slough Town | League | - | - | Report |
| 06-03-2013 | Frome Town | 2-1 | Slough Town | Red Insure Cup | - | - | Report |
| 21-02-2013 | Slough Town | 2-1 | Northwood | Red Insure Cup | - | - | Report |
| 12-01-2013 | Woodford United | 1-4 | Slough Town | League | - | - | Report |
| 08-01-2013 | Slough Town | 3-1 | AFC Hayes | Red Insure Cup | - | - | Report |
| 08-12-2012 | Chertsey Town | 1-3 | Slough Town | League | - | - | Report |
| 01-12-2012 | Slough Town | 3-1 | Royston Town | League | - | - | Report |
| 20-11-2012 | Maidenhead United | 4-1 | Slough Town | Berks & Bucks | - | - | Report |
| 13-11-2012 | Slough Town | 1-1 | Mansfield Town | FA Cup | - | - | Report |
| 06-11-2012 | Slough Town | 2-3 | Rugby Town | League | - | - | Report |
| 03-11-2012 | Mansfield Town | 0-0 | Slough Town | FA Cup | - | - | Report |
| 27-10-2012 | Slough Town | 3-1 | Fleet Town | League | - | - | Report |
| 23-10-2012 | Gosport Borough | 1-2 | Slough Town | FA Cup | - | - | Report |
| 21-10-2012 | Slough Town | 0-0 | Gosport Borough | FA Cup | - | - | Report |
| 13-10-2012 | Slough Town | 3-1 | Barton Rovers | League | - | - | Report |
| 09-10-2012 | Slough Town | 4-1 | Thatcham Town | League | - | - | Report |
| 06-10-2012 | Margate | 0-1 | Slough Town | FA Cup | - | - | Report |
| 29-09-2012 | Slough Town | 0-4 | Gosport Borough | FA Trophy | - | - | Report |
| 23-09-2012 | Slough Town | 5-1 | Eastbourne Town | FA Cup | - | - | Report |
| 16-09-2012 | Slough Town | 2-1 | Hungerford Town | FA Trophy | - | - | Report |
| 08-09-2012 | Slough Town | 4-1 | Lingfield | FA Cup | - | - | Report |
| 04-09-2012 | Slough Town | 4-0 | Woodford United | League | - | | Report |
| 27-08-2012 | Slough Town | 1-1 | Beaconsfield SYCOB | League | - | - | Report |
| 25-08-2012 | Slough Town | 4-2 | Corinthian | FA Cup | - | - | Report |