Role: Current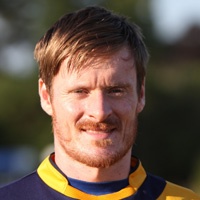 Edward Smith
Striker Edward Smith joined the club in August 2012 on a dual-registration basis from Metropolitan Police.
He wasted little time making an impact, striking up an excellent goalscoring partnership with Danny Burnell as the Rebels made it through to the First Round of the FA Cup. He scored 33 goals in all competitions in his first season with the club, and won the club's Golden Boot award.
He has previously played for Chertsey Town and Fleet Town.
Statistics
| | |
| --- | --- |
| First Appearance: | 01-09-2012 vs Uxbridge |
| First Goal: | 04-09-2012 vs Woodford United |
| Position: | Striker |
| Total STFC Appearances: | 84 |
| Total STFC Goals: | 64 |
Achievements
2012/13 Golden Boot winner
Matches Played
| Match Date | Home Team | Score | Away Team | Competition | Goals | Cards | Report |
| --- | --- | --- | --- | --- | --- | --- | --- |
| 21-04-2014 | Aylesbury | 3-1 | Slough Town | League | | - | Report |
| 19-04-2014 | Slough Town | 1-2 | Rugby Town | League | - | | Report |
| 12-04-2014 | Ashford Town (Middx) | 0-5 | Slough Town | League | | - | Report |
| 05-04-2014 | AFC Hayes | 0-1 | Slough Town | League | - | - | Report |
| 03-04-2014 | Barton Rovers | 1-2 | Slough Town | League | | - | Report |
| 29-03-2014 | Slough Town | 2-1 | Royston Town | League | - | - | Report |
| 25-03-2014 | North Greenford Utd | 1-7 | Slough Town | League | | - | Report |
| 22-03-2014 | Slough Town | 4-1 | Leighton Town | League | - | - | Report |
| 15-03-2014 | Daventry Town | 2-2 | Slough Town | League | | - | Report |
| 08-03-2014 | Slough Town | 1-0 | St Ives Town | League | - | - | Report |
| 04-03-2014 | Slough Town | 1-3 | Egham Town | League | - | | Report |
| 01-03-2014 | Potters Bar Town | 0-3 | Slough Town | League | | - | Report |
| 22-02-2014 | Slough Town | 4-0 | Dunstable Town | League | | | Report |
| 15-02-2014 | Slough Town | 5-3 | Aylesbury United | League | | - | Report |
| 04-02-2014 | Slough Town | 2-0 | Aylesbury | League | - | - | Report |
| 28-01-2014 | Northwood | 0-2 | Slough Town | League | | | Report |
| 18-01-2014 | Slough Town | 5-1 | Chalfont St Peter | League | | - | Report |
| 11-01-2014 | Marlow | 2-2 | Slough Town | League | - | - | Report |
| 03-12-2013 | Dunstable Town | 3-2 | Slough Town | League | - | - | Report |
| 30-11-2013 | Royston Town | 0-1 | Slough Town | League | - | - | Report |
| 23-11-2013 | Slough Town | 3-1 | Daventry Town | League | | | Report |
| 19-11-2013 | Slough Town | 3-0 | North Greenford Utd | League | - | - | Report |
| 16-11-2013 | St Ives Town | 0-3 | Slough Town | League | - | - | Report |
| 12-11-2013 | Slough Town | 5-1 | Uxbridge | League Cup | - | - | Report |
| 09-11-2013 | Slough Town | 4-3 | Potters Bar Town | League | - | - | Report |
| 22-10-2013 | Slough Town | 2-1 | Marlow | League | | - | Report |
| 19-10-2013 | Slough Town | 1-2 | Merthyr Town | FA Trophy | - | - | Report |
| 15-10-2013 | Chertsey Town | 0-3 | Slough Town | Red Insure Cup | | | Report |
| 12-10-2013 | Maidenhead United | 1-3 | Slough Town | B&B Senior Cup | | | Report |
| 05-10-2013 | Godalming Town | 1-2 | Slough Town | FA Trophy | | - | Report |
| 28-09-2013 | Egham Town | 2-2 | Slough Town | League | | | Report |
| 24-09-2013 | Slough Town | 4-2 | Ashford Town (Middx) | League | | - | Report |
| 21-09-2013 | Slough Town | 4-0 | Barton Rovers | League | - | - | Report |
| 07-09-2013 | Rugby Town | 0-4 | Slough Town | League | | - | Report |
| 03-09-2013 | Cirencester Town | 1-0 | Slough Town | FA Cup | - | - | Report |
| 01-09-2013 | Slough Town | 1-1 | Cirencester Town | FA Cup | - | - | Report |
| 26-08-2013 | Slough Town | 1-3 | Beaconsfield SYCOB | League | - | | Report |
| 24-08-2013 | Kettering Town | 1-5 | Slough Town | League | | | Report |
| 20-08-2013 | Uxbridge | 1-1 | Slough Town | League | | | Report |
| 27-04-2013 | Slough Town | 3-0 | Chertsey Town | League | | - | Report |
| 23-04-2013 | Thatcham Town | 0-2 | Slough Town | League | | - | Report |
| 20-04-2013 | North Greenford Utd | 1-3 | Slough Town | League | | - | Report |
| 18-04-2013 | Rugby Town | 0-4 | Slough Town | League | | - | Report |
| 16-04-2013 | Godalming Town | 1-2 | Slough Town | League | | - | Report |
| 13-04-2013 | Slough Town | 2-3 | Godalming Town | League | - | - | Report |
| 11-04-2013 | Aylesbury | 1-4 | Slough Town | League | | | Report |
| 06-04-2013 | Royston Town | 2-0 | Slough Town | League | - | - | Report |
| 03-04-2013 | Northwood | 2-1 | Slough Town | League | - | - | Report |
| 01-04-2013 | Burnham | 1-0 | Slough Town | League | - | | Report |
| 30-03-2013 | Slough Town | 5-1 | Leighton Town | League | - | - | Report |
| 28-03-2013 | Barton Rovers | 2-2 | Slough Town | League | | | Report |
| 02-03-2013 | Slough Town | 1-1 | Daventry Town | League | | - | Report |
| 26-02-2013 | AFC Hayes | 0-3 | Slough Town | League | | - | Report |
| 23-02-2013 | Ashford Town (Middx) | 0-1 | Slough Town | League | - | - | Report |
| 21-02-2013 | Slough Town | 2-1 | Northwood | Red Insure Cup | | - | Report |
| 19-02-2013 | Slough Town | 3-0 | North Greenford Utd | League | - | - | Report |
| 16-02-2013 | Slough Town | 0-1 | Chalfont St Peter | League | - | - | Report |
| 09-02-2013 | Slough Town | 2-1 | AFC Hayes | League | | - | Report |
| 06-02-2013 | Guildford City | 1-1 | Slough Town | League | - | | Report |
| 12-01-2013 | Woodford United | 1-4 | Slough Town | League | | - | Report |
| 08-01-2013 | Slough Town | 3-1 | AFC Hayes | Red Insure Cup | - | | Report |
| 05-01-2013 | Slough Town | 1-3 | Uxbridge | League | - | - | Report |
| 01-01-2013 | Beaconsfield SYCOB | 1-1 | Slough Town | League | - | | Report |
| 26-12-2012 | Slough Town | 2-0 | Burnham | League | | - | Report |
| 08-12-2012 | Chertsey Town | 1-3 | Slough Town | League | | - | Report |
| 01-12-2012 | Slough Town | 3-1 | Royston Town | League | | | Report |
| 17-11-2012 | Chalfont St Peter | 1-2 | Slough Town | League | | - | Report |
| 13-11-2012 | Slough Town | 1-1 | Mansfield Town | FA Cup | - | - | Report |
| 10-11-2012 | Slough Town | 6-1 | Ashford Town (Middx) | League | | - | Report |
| 06-11-2012 | Slough Town | 2-3 | Rugby Town | League | | - | Report |
| 03-11-2012 | Mansfield Town | 0-0 | Slough Town | FA Cup | - | - | Report |
| 30-10-2012 | Leighton Town | 0-3 | Slough Town | League | - | - | Report |
| 27-10-2012 | Slough Town | 3-1 | Fleet Town | League | | - | Report |
| 23-10-2012 | Gosport Borough | 1-2 | Slough Town | FA Cup | - | - | Report |
| 21-10-2012 | Slough Town | 0-0 | Gosport Borough | FA Cup | - | | Report |
| 13-10-2012 | Slough Town | 3-1 | Barton Rovers | League | | - | Report |
| 09-10-2012 | Slough Town | 4-1 | Thatcham Town | League | | | Report |
| 06-10-2012 | Margate | 0-1 | Slough Town | FA Cup | - | - | Report |
| 29-09-2012 | Slough Town | 0-4 | Gosport Borough | FA Trophy | - | - | Report |
| 23-09-2012 | Slough Town | 5-1 | Eastbourne Town | FA Cup | - | - | Report |
| 16-09-2012 | Slough Town | 2-1 | Hungerford Town | FA Trophy | | - | Report |
| 08-09-2012 | Slough Town | 4-1 | Lingfield | FA Cup | | - | Report |
| 04-09-2012 | Slough Town | 4-0 | Woodford United | League | | - | Report |
| 01-09-2012 | Uxbridge | 3-2 | Slough Town | League | - | - | Report |