Role: Current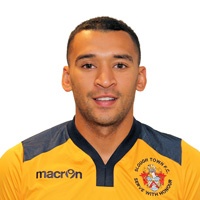 Nathan Webb
Nathan joined the club in July 2015.
He is one that Neil Baker and Jon Underwood have been interested in for a while, having played against Slough numerous times for Beaconsfield and Burnham.
He started out at Hayes and Yeading in their youth team, and made the step up to the first team as a 17 year old playing in the Conference National. He then had spells at Farnborough and Wealdstone, before moving to Beaconsfield initially on loan.
His best position is central midfield where he has bundles of energy and quality, and he will give the joint managers great options in there.
Statistics
| | |
| --- | --- |
| First Appearance: | 08-08-2015 vs Frome Town |
| First Goal: | 13-02-2016 vs Dorchester Town |
| Position: | Midfielder |
| Total STFC Appearances: | 108 |
| Total STFC Goals: | 2 |
Matches Played
| Match Date | Home Team | Score | Away Team | Competition | Goals | Cards | Report |
| --- | --- | --- | --- | --- | --- | --- | --- |
| 18-11-2017 | Slough Town | 3-0 | Weymouth | League | - | - | Report |
| 14-11-2017 | Hayes & Yeading | 3-1 | Slough Town | League Cup | - | - | Report |
| 11-11-2017 | Maldon & Tiptree | 1-4 | Slough Town | FA Trophy | - | - | Report |
| 04-11-2017 | Gainsborough Trinity | 0-6 | Slough Town | FA Cup | - | - | Report |
| 28-10-2017 | Kidlington | 1-4 | Slough Town | FA Trophy | - | - | Report |
| 24-10-2017 | Slough Town | 5-1 | Gosport Borough | League | - | - | Report |
| 21-10-2017 | Kettering Town | 0-0 | Slough Town | League | - | - | Report |
| 17-10-2017 | Slough Town | 2-0 | Tiverton Town | League | - | - | Report |
| 10-10-2017 | Merthyr Town | 4-5 | Slough Town | League | - | - | Report |
| 07-10-2017 | Slough Town | 2-1 | Biggleswade Town | League | - | - | Report |
| 02-10-2017 | Beaconsfield Town | 2-2 | Slough Town | League Cup | - | - | Report |
| 30-09-2017 | Slough Town | 2-1 | Poole Town | FA Cup | - | - | Report |
| 26-09-2017 | Redditch United | 1-4 | Slough Town | League | - | - | Report |
| 23-09-2017 | St Neots Town | 3-1 | Slough Town | League | - | - | Report |
| 09-09-2017 | Slough Town | 8-1 | Dunstable Town | League | - | - | Report |
| 02-09-2017 | Berkhamsted | 1-3 | Slough Town | FA Cup | - | - | Report |
| 19-08-2017 | Hereford | 0-1 | Slough Town | League | - | - | Report |
| 15-08-2017 | Gosport Borough | 1-5 | Slough Town | League | - | - | Report |
| 12-08-2017 | Slough Town | 1-2 | Kettering Town | League | - | - | Report |
| 26-04-2017 | Leamington | 1-0 | Slough Town | Play Off | - | | Report |
| 22-04-2017 | Slough Town | 1-1 | Redditch United | League | - | - | Report |
| 14-04-2017 | Slough Town | 0-2 | Cirencester Town | League | - | - | Report |
| 08-04-2017 | Kettering Town | 3-0 | Slough Town | League | - | - | Report |
| 01-04-2017 | Slough Town | 3-0 | King's Lynn Town | League | - | - | Report |
| 25-03-2017 | Frome Town | 1-0 | Slough Town | League | - | | Report |
| 14-03-2017 | St Neots Town | 1-1 | Slough Town | League | - | - | Report |
| 11-03-2017 | Hitchin Town | 2-3 | Slough Town | League | - | - | Report |
| 08-03-2017 | Biggleswade Town | 3-0 | Slough Town | League | - | - | Report |
| 04-03-2017 | Slough Town | 3-2 | Basingstoke Town | League | - | - | Report |
| 21-02-2017 | Cinderford Town | 2-1 | Slough Town | League | - | - | Report |
| 18-02-2017 | Slough Town | 1-0 | Merthyr Town | League | - | - | Report |
| 11-02-2017 | Cambridge City | 3-4 | Slough Town | League | - | - | Report |
| 07-02-2017 | Slough Town | 3-0 | Weymouth | League | - | - | Report |
| 04-02-2017 | Slough Town | 1-0 | Dunstable Town | League | - | - | Report |
| 31-01-2017 | King's Lynn Town | 5-2 | Slough Town | League | - | | Report |
| 28-01-2017 | Leamington | 0-6 | Slough Town | League | - | - | Report |
| 21-01-2017 | Slough Town | 0-1 | Chippenham Town | League | - | - | Report |
| 17-01-2017 | Maidenhead United | 4-2 | Slough Town | Berks & Bucks | - | - | Report |
| 07-01-2017 | St Ives Town | 2-0 | Slough Town | League | - | - | Report |
| 02-01-2017 | Slough Town | 1-2 | Chesham United | League | - | - | Report |
| 20-12-2016 | Slough Town | 3-0 | MK Dons | Berks & Bucks | - | - | Report |
| 17-12-2016 | Slough Town | 3-2 | Kettering Town | League | - | - | Report |
| 06-12-2016 | Chippenham Town | 3-3 | Slough Town | League | - | - | Report |
| 03-12-2016 | Slough Town | 1-2 | Frome Town | League | - | | Report |
| 26-11-2016 | Slough Town | 2-4 | Wingate & Finchley | FA Trophy | - | - | Report |
| 22-11-2016 | Stratford Town | 1-2 | Slough Town | League | - | | Report |
| 19-11-2016 | Slough Town | 2-2 | Kings Langley | League | - | | Report |
| 15-11-2016 | Slough Town | 2-0 | Merthyr Town | FA Trophy | - | - | Report |
| 05-11-2016 | Slough Town | 0-1 | Hitchin Town | League | - | | Report |
| 29-10-2016 | Slough Town | 4-1 | Bognor Regis Town | FA Trophy | - | - | Report |
| 25-10-2016 | Slough Town | 2-1 | Dorchester Town | League | - | - | Report |
| 22-10-2016 | Basingstoke Town | 4-1 | Slough Town | League | - | | Report |
| 18-10-2016 | Slough Town | 7-4 | Beaconsfield Town | Berks & Bucks | - | - | Report |
| 15-10-2016 | Merthyr Town | 1-1 | Slough Town | League | - | - | Report |
| 08-10-2016 | Slough Town | 1-0 | Cambridge City | League | - | - | Report |
| 04-10-2016 | Slough Town | 9-2 | Ashford Town (Middx) | League Cup | - | - | Report |
| 01-10-2016 | Slough Town | 2-3 | Dartford | FA Cup | - | | Report |
| 27-09-2016 | Slough Town | 2-0 | Leamington | League | - | - | Report |
| 24-09-2016 | Slough Town | 3-0 | Biggleswade Town | League | - | - | Report |
| 17-09-2016 | Cambridge City | 1-3 | Slough Town | FA Cup | - | - | Report |
| 13-09-2016 | Weymouth | 0-1 | Slough Town | League | - | - | Report |
| 03-09-2016 | Slough Town | 6-1 | Chipstead | FA Cup | - | - | Report |
| 29-08-2016 | Slough Town | 2-1 | Hayes & Yeading | League | - | - | Report |
| 20-08-2016 | Slough Town | 3-0 | St Ives Town | League | - | - | Report |
| 16-08-2016 | Slough Town | 0-0 | Stratford Town | League | - | - | Report |
| 13-08-2016 | Kings Langley | 2-3 | Slough Town | League | - | - | Report |
| 09-08-2016 | Banbury United | 1-0 | Slough Town | League | - | | Report |
| 06-08-2016 | Slough Town | 2-0 | St Neots Town | League | - | | Report |
| 23-04-2016 | Merthyr Town | 2-0 | Slough Town | League | - | | Report |
| 16-04-2016 | Slough Town | 2-0 | King's Lynn Town | League | - | - | Report |
| 09-04-2016 | Cambridge City | 4-2 | Slough Town | League | - | - | Report |
| 02-04-2016 | Slough Town | 1-0 | Chippenham Town | League | - | - | Report |
| 28-03-2016 | Slough Town | 0-2 | Hungerford Town | League | - | - | Report |
| 22-03-2016 | Bideford | 2-1 | Slough Town | League | - | - | Report |
| 19-03-2016 | Slough Town | 0-0 | Weymouth | League | - | - | Report |
| 14-03-2016 | Hungerford Town | 1-0 | Slough Town | League | - | | Report |
| 12-03-2016 | St Neots Town | 0-0 | Slough Town | League | - | - | Report |
| 09-03-2016 | Frome Town | 2-1 | Slough Town | League | - | - | Report |
| 05-03-2016 | Slough Town | 1-0 | Dunstable Town | League | - | - | Report |
| 01-03-2016 | Slough Town | 1-3 | Kettering Town | League | | - | Report |
| 27-02-2016 | Paulton Rovers | 3-3 | Slough Town | League | - | | Report |
| 20-02-2016 | Slough Town | 1-3 | Leamington | League | - | | Report |
| 16-02-2016 | Cirencester Town | 1-3 | Slough Town | League | - | - | Report |
| 13-02-2016 | Dorchester Town | 1-2 | Slough Town | League | | - | Report |
| 06-02-2016 | Slough Town | 1-2 | Bedworth United | League | - | | Report |
| 26-01-2016 | Potters Bar Town | 2-2 | Slough Town | League Cup | - | - | Report |
| 23-01-2016 | Slough Town | 1-0 | Hitchin Town | League | - | - | Report |
| 26-12-2015 | Slough Town | 0-1 | Chesham United | League | - | | Report |
| 19-12-2015 | Poole Town | 3-3 | Slough Town | League | - | - | Report |
| 15-12-2015 | Slough Town | 3-1 | Merthyr Town | League | - | - | Report |
| 12-12-2015 | Weymouth | 6-1 | Slough Town | League | - | - | Report |
| 05-12-2015 | Slough Town | 2-2 | St Neots Town | League | - | - | Report |
| 01-12-2015 | Slough Town | 2-0 | Biggleswade Town | League | - | - | Report |
| 24-11-2015 | Dunstable Town | 1-3 | Slough Town | League | - | - | Report |
| 21-11-2015 | Slough Town | 2-4 | Stratford Town | League | - | | Report |
| 14-11-2015 | Frome Town | 2-1 | Slough Town | FA Trophy | - | - | Report |
| 10-11-2015 | Marlow | 3-6 | Slough Town | League Cup | - | - | Report |
| 07-11-2015 | King's Lynn Town | 2-1 | Slough Town | League | - | | Report |
| 01-11-2015 | Romford | 0-4 | Slough Town | FA Trophy | - | - | Report |
| 22-09-2015 | Slough Town | 0-2 | Redditch United | League | - | - | Report |
| 19-09-2015 | Bedworth United | 2-1 | Slough Town | League | - | - | Report |
| 12-09-2015 | Dorking Wanderers | 0-1 | Slough Town | FA Cup | - | - | Report |
| 05-09-2015 | Slough Town | 1-0 | Cirencester Town | League | - | - | Report |
| 29-08-2015 | Slough Town | 1-3 | Poole Town | League | - | - | Report |
| 18-08-2015 | Slough Town | 7-1 | Histon | League | - | - | Report |
| 15-08-2015 | Stratford Town | 1-1 | Slough Town | League | - | - | Report |
| 11-08-2015 | Biggleswade Town | 5-1 | Slough Town | League | - | | Report |
| 08-08-2015 | Slough Town | 0-0 | Frome Town | League | - | - | Report |