Role: Current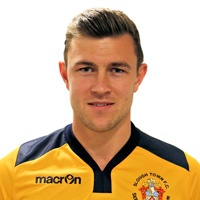 Chris Flood
Experienced 27 year old striker Chris Flood joined the Rebels from Conference South side Gosport Borough in December 2016.
Rebels fans will probably remember Chris for his hat-trick against Slough in season 2015/2016 in the FA Cup when playing for Basingstoke Town. He had been a regular goal scorer for the Hampshire side over the last couple of seasons, and even won Conference South Player of the Month in the 2014/2015 season.
Chris then signed for Gosport in the summer of 2016 following Basingstoke's relegation, however he picked up a slight knee injury which required a minor operation and some time on the sidelines. He returned with four goals in five games before leaving Gosport. His previous clubs also include Queens Park Rangers, Eastleigh, Dorchester Town, Crawley Town and Salisbury.
Statistics
| | |
| --- | --- |
| First Appearance: | 17-12-2016 vs Kettering Town |
| First Goal: | 17-01-2017 vs Maidenhead United |
| Position: | Striker |
| Total STFC Appearances: | 44 |
| Total STFC Goals: | 24 |
Matches Played
| Match Date | Home Team | Score | Away Team | Competition | Goals | Cards | Report |
| --- | --- | --- | --- | --- | --- | --- | --- |
| 18-11-2017 | Slough Town | 3-0 | Weymouth | League | - | - | Report |
| 11-11-2017 | Maldon & Tiptree | 1-4 | Slough Town | FA Trophy | - | - | Report |
| 04-11-2017 | Gainsborough Trinity | 0-6 | Slough Town | FA Cup | | - | Report |
| 21-10-2017 | Kettering Town | 0-0 | Slough Town | League | - | - | Report |
| 17-10-2017 | Slough Town | 2-0 | Tiverton Town | League | | - | Report |
| 14-10-2017 | Slough Town | 1-0 | Folkestone Invicta | FA Cup | - | - | Report |
| 10-10-2017 | Merthyr Town | 4-5 | Slough Town | League | | - | Report |
| 07-10-2017 | Slough Town | 2-1 | Biggleswade Town | League | - | - | Report |
| 30-09-2017 | Slough Town | 2-1 | Poole Town | FA Cup | | - | Report |
| 26-09-2017 | Redditch United | 1-4 | Slough Town | League | | - | Report |
| 23-09-2017 | St Neots Town | 3-1 | Slough Town | League | | - | Report |
| 16-09-2017 | Slough Town | 3-2 | Dulwich Hamlet | FA Cup | - | - | Report |
| 12-09-2017 | Slough Town | 4-0 | Hitchin Town | League | - | - | Report |
| 09-09-2017 | Slough Town | 8-1 | Dunstable Town | League | | - | Report |
| 02-09-2017 | Berkhamsted | 1-3 | Slough Town | FA Cup | - | - | Report |
| 28-08-2017 | Farnborough | 1-2 | Slough Town | League | | - | Report |
| 26-08-2017 | Slough Town | 3-0 | St Ives Town | League | | - | Report |
| 19-08-2017 | Hereford | 0-1 | Slough Town | League | - | - | Report |
| 15-08-2017 | Gosport Borough | 1-5 | Slough Town | League | | - | Report |
| 12-08-2017 | Slough Town | 1-2 | Kettering Town | League | - | - | Report |
| 26-04-2017 | Leamington | 1-0 | Slough Town | Play Off | - | | Report |
| 22-04-2017 | Slough Town | 1-1 | Redditch United | League | - | - | Report |
| 14-04-2017 | Slough Town | 0-2 | Cirencester Town | League | - | - | Report |
| 08-04-2017 | Kettering Town | 3-0 | Slough Town | League | - | - | Report |
| 01-04-2017 | Slough Town | 3-0 | King's Lynn Town | League | | - | Report |
| 18-03-2017 | Slough Town | 4-1 | Cinderford Town | League | | - | Report |
| 14-03-2017 | St Neots Town | 1-1 | Slough Town | League | - | - | Report |
| 11-03-2017 | Hitchin Town | 2-3 | Slough Town | League | - | - | Report |
| 08-03-2017 | Biggleswade Town | 3-0 | Slough Town | League | - | - | Report |
| 04-03-2017 | Slough Town | 3-2 | Basingstoke Town | League | | - | Report |
| 25-02-2017 | Dorchester Town | 0-4 | Slough Town | League | - | - | Report |
| 21-02-2017 | Cinderford Town | 2-1 | Slough Town | League | - | | Report |
| 18-02-2017 | Slough Town | 1-0 | Merthyr Town | League | | - | Report |
| 11-02-2017 | Cambridge City | 3-4 | Slough Town | League | | - | Report |
| 07-02-2017 | Slough Town | 3-0 | Weymouth | League | | | Report |
| 04-02-2017 | Slough Town | 1-0 | Dunstable Town | League | - | - | Report |
| 31-01-2017 | King's Lynn Town | 5-2 | Slough Town | League | | - | Report |
| 28-01-2017 | Leamington | 0-6 | Slough Town | League | | - | Report |
| 21-01-2017 | Slough Town | 0-1 | Chippenham Town | League | - | - | Report |
| 17-01-2017 | Maidenhead United | 4-2 | Slough Town | Berks & Bucks | | - | Report |
| 07-01-2017 | St Ives Town | 2-0 | Slough Town | League | - | - | Report |
| 02-01-2017 | Slough Town | 1-2 | Chesham United | League | - | - | Report |
| 27-12-2016 | Hayes & Yeading | 2-3 | Slough Town | League | - | | Report |
| 17-12-2016 | Slough Town | 3-2 | Kettering Town | League | - | - | Report |