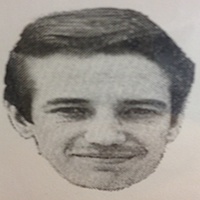 Position:
Defender
Bio
Right Back/Centre Half. Educated at Slough Technical School and brother of Alan Wilks who played League football for QPR and Gillingham between 1966 and 1975.
John joined the Rebels just before Christmas 1962 after promising seasons in school, youth and District League football-the latter with Rainbow. This tall, angular, versatile defender enjoyed an extended run at centre half in the first team in the second half of 1963/4 but subsequently lost that berth to John Delaney.
Stayed loyal to the club and, after filling-in in a number of positions, re-established himself as the regular right back in November 1966.
Always very popular with fans for his hard tackling, all-action approach, so much so that he became known as "Chopper Wilks" on the terraces.
He began playing competitive football while at Burnham Church of England School and during his schooldays played for the Slough representative sides at all age groups.
At the Slough Technical School he played with Terry Wise, Alan Binfield, Mick Brown (Fulham) and Mick Burnhams (Maidenhead).
John was in the Rainbow side that won promotion from Division V to Division I V of the District League and then promotion to Division III.
Was greatly missed when he left in December 1967 to work in Zambia where he went to work as an analyst with a famous copper mine. On his return to this country he enjoyed a long career with Hayes and Wokingham Town.
Played cricket for Rainbox in the summer months, but with football and college studies he has little time left for other hobbies. In what little time he has to spare he enjoys watching brother Alan score goals for Queens Park Rangers.
Mens
| First Appearance | Appearances | First Goal | Goals |
| --- | --- | --- | --- |
| 17-04-1963 vs Staines Town | 143 | 09-01-1965 vs Harlow Town | 6 |
History
| Match Date | Home | Score | Away | Competition | Goals | Cards | |
| --- | --- | --- | --- | --- | --- | --- | --- |
| 30-12-1967 | Slough Town | 4-0 | Maidenhead United | League | | | Match report |
| 26-12-1967 | Maidenhead United | 0-4 | Slough Town | League | | | Match report |
| 22-12-1967 | Slough Town | 5-2 | Southall | Wycombe Floodlit Lge. | | | Match report |
| 18-12-1967 | Wycombe Wanderers | 1-5 | Slough Town | Wycombe Floodlit Lge. | | | Match report |
| 16-12-1967 | Slough Town | 4-1 | Hoddesdon | FA Amateur Cup | | | Match report |
| 04-12-1967 | Slough Town | 3-0 | Woking | Wycombe Floodlit Lge. | | | Match report |
| 18-11-1967 | Walton & Hersham | 0-2 | Slough Town | League | | | Match report |
| 15-11-1967 | Slough Town | 2-1 | Guildford City | Premier Midweek FL | | | Match report |
| 11-11-1967 | Hornchurch | 0-1 | Slough Town | League | | | Match report |
| 07-11-1967 | Walton & Hersham | 0-2 | Slough Town | Premier Midweek FL | | | Match report |
| 04-11-1967 | Slough Town | 9-1 | Southall | League | | | Match report |
| 01-11-1967 | Leytonstone | 2-1 | Slough Town | FA Cup | | | Match report |
| 28-10-1967 | Slough Town | 2-2 | Leytonstone | FA Cup | | | Match report |
| 21-10-1967 | Finchley | 1-2 | Slough Town | League | | | Match report |
| 17-10-1967 | Southall | 1-1 | Slough Town | Premier Midweek FL | | | Match report |
| 14-10-1967 | Slough Town | 5-1 | Bishop's Stortford | FA Cup | | | Match report |
| 11-10-1967 | Slough Town | 3-3 | Leatherhead | Premier Midweek FL | | | Match report |
| 07-10-1967 | Leyton | 0-4 | Slough Town | League | | | Match report |
| 03-10-1967 | Horsham | 2-2 | Slough Town | Premier Midweek FL | | | Match report |
| 30-09-1967 | Slough Town | 3-0 | Hertford Town | FA Cup | | | Match report |
| 23-09-1967 | Hounslow | 1-3 | Slough Town | League | | | Match report |
| 16-09-1967 | Slough Town | 3-0 | Corinthian Casuals | FA Cup | | | Match report |
| 09-09-1967 | Slough Town | 3-0 | Walton & Hersham | League | | | Match report |
| 06-09-1967 | Slough Town | 2-0 | Hayes | League | | | Match report |
| 02-09-1967 | Grays Athletic | 1-4 | Slough Town | League | | | Match report |
| 28-08-1967 | Redhill | 3-3 | Slough Town | League | | | Match report |
| 23-08-1967 | Slough Town | 2-2 | Finchley | League | | | Match report |
| 19-08-1967 | Bishop's Stortford | 1-2 | Slough Town | League | | | Match report |
| 17-05-1967 | Slough Town | 1-0 | Hendon | Benevolent Fund | | | Match report |
| 07-05-1967 | Windsor & Eton | 1-1 | Slough Town | Windsor Hosp. | | | Match report |
| 29-04-1967 | Grays Athletic | 4-1 | Slough Town | League | | | Match report |
| 22-04-1967 | Dagenham | 1-0 | Slough Town | League | | | Match report |
| 19-04-1967 | Slough Town | 0-0 | Hemel Hempstead Town | League | | | Match report |
| 17-04-1967 | Maidenhead United | 2-1 | Slough Town | Wycombe Floodlit League | | | Match report |
| 15-04-1967 | Harwich | 1-5 | Slough Town | League | | | Match report |
| 12-04-1967 | Slough Town | 2-0 | Southall | Wycombe Floodlit League | | | Match report |
| 10-04-1967 | Slough Town | 1-0 | Maidenhead United | Wycombe Floodlit League | | | Match report |
| 08-04-1967 | Slough Town | 1-1 | Southall | League | | | Match report |
| 06-04-1967 | Oxford City | 6-1 | Slough Town | Wycombe Floodlit League | | | Match report |
| 04-04-1967 | Walton & Hersham | 1-2 | Slough Town | League | | | Match report |
| 01-04-1967 | Slough Town | 2-1 | Harwich | League | | | Match report |
| 29-03-1967 | Slough Town | 3-1 | Oxford City | Wycombe Floodlit League | | | Match report |
| 27-03-1967 | Leyton | 2-0 | Slough Town | League | | | Match report |
| 25-03-1967 | Slough Town | 0-2 | Dagenham | League | | | Match report |
| 22-03-1967 | Edgware | 1-4 | Slough Town | League | | | Match report |
| 18-03-1967 | Worthing | 0-4 | Slough Town | League | | | Match report |
| 14-03-1967 | Leatherhead | 1-0 | Slough Town | League | | | Match report |
| 11-03-1967 | Slough Town | 1-0 | Worthing | League | | | Match report |
| 08-03-1967 | Hemel Hempstead Town | 1-0 | Slough Town | League | | | Match report |
| 04-03-1967 | Skelmersdale | 1-0 | Slough Town | FA Amateur Cup | | | Match report |
| 25-02-1967 | Slough Town | 2-2 | Skelmersdale | FA Amateur Cup | | | Match report |
| 18-02-1967 | Chesham United | 2-1 | Slough Town | B&B Senior Cup | | | Match report |
| 11-02-1967 | Southall | 0-1 | Slough Town | FA Amateur Cup | | | Match report |
| 04-02-1967 | Slough Town | 4-0 | Chalfont St Peter | B&B Senior Cup | | | Match report |
| 28-01-1967 | Harwich | 0-2 | Slough Town | FA Amateur Cup | | | Match report |
| 21-01-1967 | Hitchin Town | 1-3 | Slough Town | FA Amateur Cup | | | Match report |
| 18-01-1967 | Slough Town | 1-1 | Finchley | League | | | Match report |
| 14-01-1967 | Slough Town | 1-1 | Hitchin Town | FA Amateur Cup | | | Match report |
| 31-12-1966 | Maidenhead United | 1-1 | Slough Town | League | | | Match report |
| 26-12-1966 | Slough Town | 4-5 | Maidenhead United | League | | | Match report |
| 17-12-1966 | Witney | 0-4 | Slough Town | FA Amateur Cup | | | Match report |
| 13-12-1966 | Maidenhead United | 2-0 | Slough Town | Mithras Cup | | | Match report |
| 03-12-1966 | Hayes | 0-1 | Slough Town | League | | | Match report |
| 26-11-1966 | Slough Town | 6-0 | Hounslow | League | | | Match report |
| 19-11-1966 | Bishop's Stortford | 0-2 | Slough Town | League | | | Match report |
| 14-11-1966 | Slough Town | 0-1 | Maidenhead United | Mithras Cup | | | Match report |
| 12-11-1966 | Slough Town | 1-1 | Grays Athletic | League | | | Match report |
| 01-11-1966 | Wokingham Town | 1-0 | Slough Town | Wycombe Floodlit League | | | Match report |
| 18-10-1966 | Southall | 1-0 | Slough Town | Wycombe Floodlit League | | | Match report |
| 01-10-1966 | Finchley | 3-2 | Slough Town | FA Cup | | | Match report |
| 07-09-1966 | Slough Town | 1-2 | Edgware | League | | | Match report |
| 22-05-1966 | Windsor & Eton | 1-2 | Slough Town | Windsor Hosp. | | | Match report |
| 19-05-1966 | Slough Town | 3-0 | Maidenhead United | Wycombe Floodlit League | | | Match report |
| 11-05-1966 | Slough Town | 2-1 | Reading | Wycombe Floodlit League | | | Match report |
| 04-05-1966 | Slough Town | 0-1 | Leatherhead | League | | | Match report |
| 26-04-1966 | Finchley | 4-0 | Slough Town | League | | | Match report |
| 23-04-1966 | Slough Town | 5-0 | Hornchurch | League | | | Match report |
| 20-04-1966 | Edgware | 0-0 | Slough Town | League | | | Match report |
| 11-04-1966 | Walton & Hersham | 2-2 | Slough Town | League | | | Match report |
| 02-04-1966 | Slough Town | 1-1 | Grays Athletic | League | | | Match report |
| 28-03-1966 | Slough Town | 1-2 | Wycombe Wanderers | Wycombe Floodlit League | | | Match report |
| 26-03-1966 | Maidenhead United | 3-1 | Slough Town | League | | | Match report |
| 19-03-1966 | Leatherhead | 1-1 | Slough Town | League | | | Match report |
| 12-03-1966 | Slough Town | 3-2 | Hayes | League | | | Match report |
| 05-03-1966 | Leyton | 2-1 | Slough Town | League | | | Match report |
| 02-03-1966 | Slough Town | 2-1 | Hemel Hempstead Town | League | | | Match report |
| 26-02-1966 | Slough Town | 2-0 | Leyton | League | | | Match report |
| 19-02-1966 | Slough Town | 3-0 | Worthing | League | | | Match report |
| 05-02-1966 | Slough Town | 3-4 | Maidenhead United | B&B Senior Cup | | | Match report |
| 29-01-1966 | Hemel Hempstead Town | 2-3 | Slough Town | League | | | Match report |
| 22-01-1966 | Hounslow | 4-3 | Slough Town | League | | | Match report |
| 08-01-1966 | Slough Town | 1-2 | Maidenhead United | League | | | Match report |
| 01-01-1966 | Southall | 1-0 | Slough Town | League | | | Match report |
| 21-12-1965 | Wycombe Wanderers | 0-2 | Slough Town | Wycombe Floodlit League | | | Match report |
| 18-12-1965 | Slough Town | 10-0 | Carshalton Ath | League | | | Match report |
| 04-12-1965 | Hayes | 1-2 | Slough Town | League | | | Match report |
| 27-11-1965 | Slough Town | 1-2 | Hemel Hempstead Town | FA Amateur Cup | | | Match report |
| 20-11-1965 | Dagenham | 5-3 | Slough Town | League | | | Match report |
| 13-11-1965 | Slough Town | 3-0 | Walton & Hersham | League | | | Match report |
| 08-11-1965 | Slough Town | 2-1 | Oxford City | Mithras Cup | | | Match report |
| 06-11-1965 | Chalfont St Peter | 0-1 | Slough Town | FA Amateur Cup | | | Match report |
| 30-10-1965 | Slough Town | 0-3 | Hounslow | League | | | Match report |
| 27-10-1965 | Oxford City | 6-1 | Slough Town | Mithras Cup | | | Match report |
| 23-10-1965 | Wokingham Town | 0-3 | Slough Town | FA Amateur Cup | | | Match report |
| 19-10-1965 | Maidenhead United | 1-1 | Slough Town | Wycombe Floodlit League | | | Match report |
| 16-10-1965 | Slough Town | 0-1 | Finchley | League | | | Match report |
| 09-10-1965 | Wolverton | 0-4 | Slough Town | FA Amateur Cup | | | Match report |
| 02-10-1965 | Slough Town | 1-3 | Dagenham | League | | | Match report |
| 25-09-1965 | Hornchurch | 2-2 | Slough Town | League | | | Match report |
| 04-09-1965 | Slough Town | 5-3 | Wembley | FA Cup | | | Match report |
| 27-03-1965 | Slough Town | 2-1 | Chesham United | Benevolent Cup | | | Match report |
| 06-03-1965 | Slough Town | 4-1 | Epsom & Ewell | League | | | Match report |
| 06-02-1965 | Hazells | 2-3 | Slough Town | B&B Senior Cup | | | Match report |
| 30-01-1965 | Eastbourne | 1-1 | Slough Town | League | | | Match report |
| 23-01-1965 | Wembley | 0-2 | Slough Town | League | | | Match report |
| 16-01-1965 | Slough Town | 2-1 | Chalfont St Peter | B&B Senior Cup | | | Match report |
| 09-01-1965 | Slough Town | 7-0 | Harlow Town | League | | | Match report |
| 02-01-1965 | Slough Town | 1-0 | Chesham United | League | | | Match report |
| 26-12-1964 | Chesham United | 2-2 | Slough Town | League | | | Match report |
| 02-05-1964 | Worthing | 5-0 | Slough Town | League | | | Match report |
| 30-04-1964 | Slough Town | 1-0 | Molesey | S. Comb. Cup | | | Match report |
| 25-04-1964 | Slough Town | 3-2 | Wokingham Town | S. Comb. Cup | | | Match report |
| 21-04-1964 | Uxbridge | 1-0 | Slough Town | League | | | Match report |
| 18-04-1964 | Slough Town | 3-2 | Eastbourne | League | | | Match report |
| 15-04-1964 | Slough Town | 1-1 | Edgware | League | | | Match report |
| 11-04-1964 | Slough Town | 3-0 | Horsham | League | | | Match report |
| 08-04-1964 | Slough Town | 1-0 | Wokingham Town | League | | | Match report |
| 04-04-1964 | Wokingham Town | 3-2 | Slough Town | Benevolent Cup | | | Match report |
| 30-03-1964 | Eastbourne | 1-1 | Slough Town | League | | | Match report |
| 28-03-1964 | Dorking | 0-4 | Slough Town | League | | | Match report |
| 21-03-1964 | Slough Town | 3-0 | Letchworth | League | | | Match report |
| 14-03-1964 | Horsham | 1-3 | Slough Town | League | | | Match report |
| 07-03-1964 | Wokingham Town | 2-1 | Slough Town | League | | | Match report |
| 29-02-1964 | Slough Town | 4-2 | Epsom | League | | | Match report |
| 22-02-1964 | Slough Town | 3-1 | Dorking | League | | | Match report |
| 31-08-1963 | Slough Town | 1-2 | Erith | League | | | Match report |
| 27-08-1963 | Slough Town | 6-1 | Windsor & Eton | S. Comb. Cup | | | Match report |
| 24-08-1963 | Leatherhead | 4-1 | Slough Town | League | | | Match report |
| 25-05-1963 | Horsham | 2-3 | Slough Town | League | | | Match report |
| 04-05-1963 | Slough Town | 5-0 | Eastbourne | League | | | Match report |
| 27-04-1963 | Letchworth | 4-2 | Slough Town | League | | | Match report |
| 20-04-1963 | Slough Town | 3-0 | Horsham | League | | | Match report |
| 17-04-1963 | Slough Town | 3-3 | Staines Town | S. Comb. Cup | | | Match report |
Slough Town FC is not responsible for content produced on external websites | Copyright Slough Town FC 2023