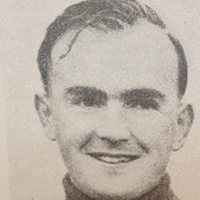 Position:
Goalkeeper
Bio
Born in Windsor in January, 1927 - the Royal Borough little knew what a grand footballer they
were losing when he and his family moved to the Cippenham area where Alf first went to school. In those days no one realised what great use he was to make of his hands; he took up Draughtsmanship as it profession and whilst drawing for a living, in his sparetime he can draw a crowd by using his hands to such good effect.
His first appearance in football was as Skipper of the Cippenham Minors. While still a Junior he plaved for two seasons with Maidenhead Reserves, and afterwards with the Centre. He served Maidenhead United for two further seasons as Goalie for their first eleven, transferring to Slough Town in season 1949-50
He soon became a great favourite with the crowd. County Honours came his way as a Minor and as a Senior he has twice kept goal for the Rest versus the Champions, and of course once Alf was Goalie for the Champions when the Town finished top of the League.
Alf married a charming girl who is a very keen follower of the Town and now as his Wife, apart from feeding the brute has about a dozen game medals to keep clean!
Mens
| First Appearance | Appearances | First Goal | Goals | Clean Sheets |
| --- | --- | --- | --- | --- |
| 27-08-1949 vs Eastbourne | 330 | N/A | 0 | 64 |
History
| Match Date | Home | Score | Away | Competition | Goals | Cards | |
| --- | --- | --- | --- | --- | --- | --- | --- |
| 07-05-1958 | Slough Town | 3-0 | Wokingham Town | Benevolent Cup | | | Match report |
| 03-05-1958 | Dagenham | 1-2 | Slough Town | League | | | Match report |
| 30-04-1958 | Slough Town | 4-0 | Edgware | League | | | Match report |
| 28-04-1958 | Slough Town | 3-0 | Dorking | League | | | Match report |
| 26-04-1958 | Slough Town | 2-1 | Worthing | League | | | Match report |
| 24-04-1958 | Wembley | 0-1 | Slough Town | League | | | Match report |
| 28-12-1957 | Maidenhead United | 2-2 | Slough Town | League | | | Match report |
| 26-12-1957 | Slough Town | 6-3 | Maidenhead United | League | | | Match report |
| 21-12-1957 | Slough Town | 2-2 | Grays Athletic | League | | | Match report |
| 14-12-1957 | Edgware | 0-2 | Slough Town | League | | | Match report |
| 07-12-1957 | Slough Town | 4-1 | Edgware | Memorial Shield | | | Match report |
| 30-11-1957 | Eastbourne | 1-1 | Slough Town | League | | | Match report |
| 23-11-1957 | Yiewsley | 2-0 | Slough Town | League | | | Match report |
| 16-11-1957 | Slough Town | 5-1 | Eastbourne | League | | | Match report |
| 02-11-1957 | Wokingham Town | 2-0 | Slough Town | FA Amateur Cup | | | Match report |
| 26-10-1957 | Slough Town | 2-2 | Wokingham Town | FA Amateur Cup | | | Match report |
| 19-10-1957 | Slough Town | 5-2 | Dagenham | League | | | Match report |
| 12-10-1957 | Slough Town | 7-0 | Didcot Town | FA Amateur Cup | | | Match report |
| 05-10-1957 | Slough Town | 2-1 | Uxbridge | League | | | Match report |
| 28-09-1957 | Slough Town | 5-0 | St Frideswides | FA Amateur Cup | | | Match report |
| 21-09-1957 | Slough Town | 1-2 | Oxford City | FA Cup | | | Match report |
| 14-09-1957 | Slough Town | 6-0 | Wolvercote | FA Amateur Cup | | | Match report |
| 07-09-1957 | Slough Town | 5-2 | Witney | FA Cup | | | Match report |
| 04-09-1957 | Slough Town | 4-1 | Chesham United | League | | | Match report |
| 31-08-1957 | Slough Town | 2-3 | Wembley | League | | | Match report |
| 28-08-1957 | Chesham United | 1-1 | Slough Town | League | | | Match report |
| 24-08-1957 | Epsom | 1-3 | Slough Town | League | | | Match report |
| 11-05-1957 | Slough Town | 2-0 | Aylesbury United | Benevolent Cup | | | Match report |
| 22-04-1957 | Worthing | 0-1 | Slough Town | League | | | Match report |
| 20-04-1957 | Maidstone United | 5-1 | Slough Town | League | | | Match report |
| 19-04-1957 | Slough Town | 0-0 | Maidstone United | League | | | Match report |
| 13-04-1957 | Dorking | 1-3 | Slough Town | League | | | Match report |
| 06-04-1957 | Slough Town | 2-0 | Chesham United | League | | | Match report |
| 30-03-1957 | Slough Town | 5-0 | Worthing | League | | | Match report |
| 23-03-1957 | Slough Town | 2-1 | Maidenhead United | Benevolent Cup | | | Match report |
| 16-03-1957 | Maidenhead United | 0-3 | Slough Town | B&B Senior Cup | | | Match report |
| 09-03-1957 | Erith | 2-3 | Slough Town | League | | | Match report |
| 02-03-1957 | Slough Town | 2-1 | Erith | League | | | Match report |
| 23-02-1957 | Slough Town | 1-2 | Yiewsley | League | | | Match report |
| 16-02-1957 | Newbury Town | 0-2 | Slough Town | B&B Senior Cup | | | Match report |
| 09-02-1957 | Yiewsley | 2-0 | Slough Town | League | | | Match report |
| 02-02-1957 | Slough Town | 2-5 | Epsom | Memorial Shield | | | Match report |
| 26-01-1957 | Epsom | 1-0 | Slough Town | League | | | Match report |
| 19-01-1957 | Slough Town | 3-1 | Marlow | Benevolent Cup | | | Match report |
| 12-01-1957 | Tilbury | 1-1 | Slough Town | League | | | Match report |
| 05-01-1957 | Epsom | 1-1 | Slough Town | Memorial Shield | | | Match report |
| 29-12-1956 | Slough Town | 6-0 | Tilbury | League | | | Match report |
| 26-12-1956 | Maidenhead United | 5-2 | Slough Town | League | | | Match report |
| 25-12-1956 | Slough Town | 2-2 | Maidenhead United | League | | | Match report |
| 22-12-1956 | Wembley | 3-2 | Slough Town | League | | | Match report |
| 15-12-1956 | Uxbridge | 1-1 | Slough Town | League | | | Match report |
| 08-12-1956 | Grays Athletic | 3-3 | Slough Town | League | | | Match report |
| 01-12-1956 | Slough Town | 2-2 | Grays Athletic | League | | | Match report |
| 24-11-1956 | Slough Town | 0-0 | Wembley | League | | | Match report |
| 17-11-1956 | Eastbourne | 1-0 | Slough Town | League | | | Match report |
| 10-11-1956 | Edgware | 2-7 | Slough Town | League | | | Match report |
| 27-10-1956 | Slough Town | 3-0 | Uxbridge | League | | | Match report |
| 20-10-1956 | Chesham United | 2-1 | Slough Town | FA Amateur Cup | | | Match report |
| 13-10-1956 | Slough Town | 2-2 | Chesham United | FA Amateur Cup | | | Match report |
| 06-10-1956 | Slough Town | 4-3 | Uxbridge | Memorial Shield | | | Match report |
| 29-09-1956 | Stokenchurch | 1-3 | Slough Town | FA Amateur Cup | | | Match report |
| 22-09-1956 | Aylesbury United | 3-0 | Slough Town | FA Cup | | | Match report |
| 15-09-1956 | Slough Town | 3-0 | Windsor & Eton | FA Amateur Cup | | | Match report |
| 08-09-1956 | Chesham United | 2-4 | Slough Town | League | | | Match report |
| 22-08-1956 | Slough Town | 5-0 | Dorking | League | | | Match report |
| 18-08-1956 | Slough Town | 3-2 | Epsom | League | | | Match report |
| 12-05-1956 | Slough Town | 3-1 | Aylesbury United | Benevolent Cup | | | Match report |
| 05-05-1956 | Slough Town | 2-0 | Erith | League | | | Match report |
| 02-05-1956 | Slough Town | 2-3 | Epsom | League | | | Match report |
| 28-04-1956 | Slough Town | 5-1 | Eastbourne | League | | | Match report |
| 25-04-1956 | Slough Town | 4-1 | Newbury Town | Benevolent Cup | | | Match report |
| 21-04-1956 | Carshalton Ath | 4-3 | Slough Town | League | | | Match report |
| 14-04-1956 | Slough Town | 4-2 | Worthing | League | | | Match report |
| 07-04-1956 | Worthing | 2-3 | Slough Town | League | | | Match report |
| 02-04-1956 | Grays Athletic | 2-1 | Slough Town | League | | | Match report |
| 31-03-1956 | Maidstone United | 1-1 | Slough Town | League | | | Match report |
| 30-03-1956 | Slough Town | 2-3 | Maidstone United | League | | | Match report |
| 24-03-1956 | Newbury Town | 4-4 | Slough Town | Benevolent Cup | | | Match report |
| 17-03-1956 | Maidenhead United | 1-2 | Slough Town | B&B Senior Cup | | | Match report |
| 10-03-1956 | Edgware | 1-1 | Slough Town | League | | | Match report |
| 03-03-1956 | Slough Town | 2-0 | Slough Centre | B&B Senior Cup | | | Match report |
| 25-02-1956 | Slough Town | 1-1 | Slough Centre | B&B Senior Cup | | | Match report |
| 18-02-1956 | Slough Centre | 1-1 | Slough Town | B&B Senior Cup | | | Match report |
| 11-02-1956 | Slough Town | 4-3 | Maidenhead United | Benevolent Cup | | | Match report |
| 28-01-1956 | Maidenhead United | 2-2 | Slough Town | Benevolent Cup | | | Match report |
| 14-01-1956 | Tilbury | 3-3 | Slough Town | League | | | Match report |
| 07-01-1956 | Slough Town | 4-0 | Chesham United | League | | | Match report |
| 31-12-1955 | Uxbridge | 2-0 | Slough Town | League | | | Match report |
| 27-12-1955 | Maidenhead United | 3-4 | Slough Town | League | | | Match report |
| 26-12-1955 | Slough Town | 1-2 | Maidenhead United | League | | | Match report |
| 17-12-1955 | Slough Town | 1-2 | Yiewsley | League | | | Match report |
| 10-12-1955 | Erith | 1-1 | Slough Town | League | | | Match report |
| 03-12-1955 | Chesham United | 2-3 | Slough Town | League | | | Match report |
| 26-11-1955 | Eastbourne | 0-1 | Slough Town | League | | | Match report |
| 19-11-1955 | Slough Town | 1-0 | Uxbridge | League | | | Match report |
| 12-11-1955 | Slough Town | 3-0 | Tilbury | League | | | Match report |
| 05-11-1955 | Slough Town | 2-1 | Grays Athletic | League | | | Match report |
| 29-10-1955 | Slough Town | 3-1 | Carshalton Ath | League | | | Match report |
| 22-10-1955 | Slough Town | 2-4 | Tilbury | Memorial Shield | | | Match report |
| 15-10-1955 | Tilbury | 1-1 | Slough Town | Memorial Shield | | | Match report |
| 12-10-1955 | Wycombe Wanderers | 1-0 | Slough Town | FA Cup | | | Match report |
| 08-10-1955 | Slough Town | 3-3 | Wycombe Wanderers | FA Cup | | | Match report |
| 01-10-1955 | Oxford City | 3-1 | Slough Town | FA Amateur Cup | | | Match report |
| 24-09-1955 | Abingdon | 0-3 | Slough Town | FA Cup | | | Match report |
| 17-09-1955 | Slough Town | 5-0 | Oxford YMCA | FA Amateur Cup | | | Match report |
| 10-09-1955 | Slough Town | 4-0 | Bicester | FA Cup | | | Match report |
| 03-09-1955 | Yiewsley | 0-2 | Slough Town | League | | | Match report |
| 27-08-1955 | Slough Town | 4-0 | Edgware | League | | | Match report |
| 20-08-1955 | Epsom | 2-2 | Slough Town | League | | | Match report |
| 06-05-1955 | Yiewsley | 1-1 | Slough Town | League | | | Match report |
| 02-05-1955 | Hounslow | 5-0 | Slough Town | League | | | Match report |
| 30-04-1955 | Slough Town | 3-0 | Maidstone United | League | | | Match report |
| 27-04-1955 | Slough Town | 2-3 | Hounslow | League | | | Match report |
| 23-04-1955 | Slough Town | 4-0 | Eastbourne | League | | | Match report |
| 21-04-1955 | Slough Town | 1-0 | Yiewsley | League | | | Match report |
| 18-04-1955 | Uxbridge | 1-1 | Slough Town | League | | | Match report |
| 16-04-1955 | Edgware | 1-2 | Slough Town | League | | | Match report |
| 11-04-1955 | Wycombe Wanderers | 2-1 | Slough Town | B&B Senior Cup | | | Match report |
| 02-04-1955 | Eastbourne | 0-1 | Slough Town | League | | | Match report |
| 26-03-1955 | Slough Town | 5-3 | Worthing | League | | | Match report |
| 19-03-1955 | Slough Town | 2-2 | Edgware | League | | | Match report |
| 12-03-1955 | Chesham United | 4-2 | Slough Town | B&B Senior Cup | | | Match report |
| 05-03-1955 | Tilbury | 1-1 | Slough Town | League | | | Match report |
| 26-02-1955 | Slough Town | 4-2 | Maidenhead United | B&B Senior Cup | | | Match report |
| 19-02-1955 | Slough Town | 2-3 | Yiewsley | Memorial Shield | | | Match report |
| 12-02-1955 | Epsom | 1-1 | Slough Town | League | | | Match report |
| 05-02-1955 | Wolverton | 3-0 | Slough Town | Benevolent Cup | | | Match report |
| 29-01-1955 | Worthing | 1-1 | Slough Town | League | | | Match report |
| 22-01-1955 | Slough Town | 4-2 | Aylesbury United | B&B Senior Cup | | | Match report |
| 08-01-1955 | Yiewsley | 3-3 | Slough Town | Memorial Shield | | | Match report |
| 27-12-1954 | Maidenhead United | 4-2 | Slough Town | League | | | Match report |
| 25-12-1954 | Slough Town | 2-1 | Maidenhead United | League | | | Match report |
| 18-12-1954 | Chesham United | 1-3 | Slough Town | League | | | Match report |
| 11-12-1954 | Slough Town | 4-2 | Chesham United | League | | | Match report |
| 04-12-1954 | Slough Town | 3-3 | Epsom | League | | | Match report |
| 27-11-1954 | Slough Town | 2-3 | Grays Athletic | League | | | Match report |
| 20-11-1954 | Uxbridge | 3-1 | Slough Town | FA Amateur Cup | | | Match report |
| 13-11-1954 | Slough Town | 3-3 | Uxbridge | FA Amateur Cup | | | Match report |
| 06-11-1954 | Maidstone United | 0-0 | Slough Town | League | | | Match report |
| 30-10-1954 | Slough Town | 3-0 | Tilbury | League | | | Match report |
| 09-10-1954 | Slough Town | 3-3 | Erith | League | | | Match report |
| 02-10-1954 | Erith | 5-1 | Slough Town | League | | | Match report |
| 25-09-1954 | Slough Town | 2-3 | Oxford City | FA Cup | | | Match report |
| 18-09-1954 | Grays Athletic | 2-0 | Slough Town | League | | | Match report |
| 11-09-1954 | Slough Town | 6-2 | Windsor & Eton | FA Cup | | | Match report |
| 04-09-1954 | Slough Town | 2-0 | Edgware | Memorial Shield | | | Match report |
| 24-04-1954 | Maidenhead United | 2-1 | Slough Town | Maidenhead Charity Cup | | | Match report |
| 17-04-1954 | Hounslow | 3-1 | Slough Town | League | | | Match report |
| 10-04-1954 | Edgware | 2-1 | Slough Town | League | | | Match report |
| 03-04-1954 | Slough Town | 2-2 | Grays Athletic | League | | | Match report |
| 20-03-1954 | Slough Town | 6-1 | Erith | League | | | Match report |
| 27-02-1954 | Slough Town | 1-2 | Slough Centre | B&B Senior Cup | | | Match report |
| 20-02-1954 | Grays Athletic | 2-0 | Slough Town | League | | | Match report |
| 13-02-1954 | Eastbourne | 1-0 | Slough Town | League | | | Match report |
| 06-02-1954 | Slough Town | 1-1 | Chesham United | League | | | Match report |
| 23-01-1954 | Slough Centre | 2-1 | Slough Town | Benevolent Cup | | | Match report |
| 16-01-1954 | Slough Town | 5-1 | Epsom | League | | | Match report |
| 09-01-1954 | Chesham United | 2-1 | Slough Town | League | | | Match report |
| 02-01-1954 | Slough Town | 2-2 | Uxbridge | League | | | Match report |
| 26-12-1953 | Slough Town | 3-2 | Maidenhead United | League | | | Match report |
| 25-12-1953 | Maidenhead United | 1-4 | Slough Town | League | | | Match report |
| 19-12-1953 | Dulwich Hamlet | 3-1 | Slough Town | FA Amateur Cup | | | Match report |
| 05-12-1953 | Slough Town | 2-4 | Hounslow | League | | | Match report |
| 28-11-1953 | Tilbury | 1-1 | Slough Town | League | | | Match report |
| 21-11-1953 | Maidstone United | 2-1 | Slough Town | League | | | Match report |
| 14-11-1953 | Slough Town | 3-3 | Carshalton Ath | League | | | Match report |
| 07-11-1953 | Carshalton Ath | 5-3 | Slough Town | League | | | Match report |
| 31-10-1953 | Uxbridge | 2-1 | Slough Town | League | | | Match report |
| 24-10-1953 | Slough Town | 3-3 | Tilbury | League | | | Match report |
| 17-10-1953 | Slough Town | 1-1 | Worthing | League | | | Match report |
| 10-10-1953 | Worthing | 4-1 | Slough Town | League | | | Match report |
| 03-10-1953 | Slough Town | 2-3 | Uxbridge | Memorial Shield | | | Match report |
| 26-09-1953 | Slough Town | 3-2 | Edgware | League | | | Match report |
| 12-09-1953 | Slough Centre | 4-1 | Slough Town | FA Cup | | | Match report |
| 05-09-1953 | Slough Town | 0-4 | Eastbourne | League | | | Match report |
| 29-08-1953 | Erith | 3-2 | Slough Town | League | | | Match report |
| 22-08-1953 | Epsom | 2-0 | Slough Town | League | | | Match report |
| 28-02-1953 | Slough Town | 4-1 | Bletchley | B&B Senior Cup | | | Match report |
| 21-02-1953 | Slough Town | 0-2 | Pegasus | FA Amateur Cup | | | Match report |
| 14-02-1953 | Slough Town | 3-2 | Willington | FA Amateur Cup | | | Match report |
| 07-02-1953 | Willington | 1-1 | Slough Town | FA Amateur Cup | | | Match report |
| 31-01-1953 | Newbury Town | 0-2 | Slough Town | Benevolent Cup | | | Match report |
| 24-01-1953 | Slough Town | 2-1 | Barking | FA Amateur Cup | | | Match report |
| 17-01-1953 | Stokenchurch | 4-8 | Slough Town | B&B Senior Cup | | | Match report |
| 10-01-1953 | Slough Town | 0-0 | Uxbridge | League | | | Match report |
| 03-01-1953 | Maidstone United | 3-2 | Slough Town | League | | | Match report |
| 27-12-1952 | Slough Town | 3-2 | Maidenhead United | League | | | Match report |
| 26-12-1952 | Maidenhead United | 3-2 | Slough Town | League | | | Match report |
| 20-12-1952 | Slough Town | 2-1 | Worthing | League | | | Match report |
| 13-12-1952 | Eastbourne | 1-4 | Slough Town | FA Amateur Cup | | | Match report |
| 29-11-1952 | Slough Town | 2-2 | Chesham United | League | | | Match report |
| 22-11-1952 | Chesham United | 3-1 | Slough Town | League | | | Match report |
| 08-11-1952 | Slough Town | 1-0 | Tilbury | League | | | Match report |
| 01-11-1952 | Tilbury | 4-5 | Slough Town | League | | | Match report |
| 25-10-1952 | Slough Town | 0-1 | Hounslow | League | | | Match report |
| 18-10-1952 | Eastbourne | 6-1 | Slough Town | League | | | Match report |
| 04-10-1952 | Slough Town | 1-2 | Eastbourne | League | | | Match report |
| 27-09-1952 | Erith | 1-1 | Slough Town | League | | | Match report |
| 20-09-1952 | Hounslow | 2-0 | Slough Town | Memorial Shield | | | Match report |
| 13-09-1952 | Slough Centre | 2-1 | Slough Town | FA Cup | | | Match report |
| 06-09-1952 | Slough Town | 4-2 | Carshalton Ath | League | | | Match report |
| 30-08-1952 | Slough Town | 2-1 | Erith | League | | | Match report |
| 23-08-1952 | Epsom | 2-1 | Slough Town | League | | | Match report |
| 03-05-1952 | Slough Town | 1-2 | Erith | League | | | Match report |
| 01-05-1952 | Slough Town | 4-2 | Uxbridge | League | | | Match report |
| 29-04-1952 | Grays Athletic | 3-1 | Slough Town | League | | | Match report |
| 26-04-1952 | Eastbourne | 2-3 | Slough Town | League | | | Match report |
| 21-04-1952 | Epsom | 1-2 | Slough Town | League | | | Match report |
| 19-04-1952 | Slough Town | 1-1 | Slough Centre | Benevolent Cup | | | Match report |
| 22-03-1952 | Slough Town | 4-2 | Windsor & Eton | Benevolent Cup | | | Match report |
| 15-03-1952 | Hounslow | 2-0 | Slough Town | Memorial Shield | | | Match report |
| 01-03-1952 | Slough Town | 1-1 | Hounslow | Memorial Shield | | | Match report |
| 23-02-1952 | Slough Town | 4-1 | Erith | Memorial Shield | | | Match report |
| 16-02-1952 | Wolverton | 2-1 | Slough Town | B&B Senior Cup | | | Match report |
| 02-02-1952 | Erith | 2-1 | Slough Town | League | | | Match report |
| 26-01-1952 | Slough Town | 3-3 | Carshalton Ath | League | | | Match report |
| 19-01-1952 | Slough Town | 1-2 | Chesham United | League | | | Match report |
| 12-01-1952 | Uxbridge | 1-5 | Slough Town | League | | | Match report |
| 29-12-1951 | Slough Town | 1-0 | Eastbourne | League | | | Match report |
| 26-12-1951 | Slough Town | 2-1 | Maidenhead United | League | | | Match report |
| 25-12-1951 | Maidenhead United | 1-4 | Slough Town | League | | | Match report |
| 22-12-1951 | Chesham United | 1-4 | Slough Town | League | | | Match report |
| 15-12-1951 | Slough Town | 2-3 | Hendon | FA Amateur Cup | | | Match report |
| 08-12-1951 | Slough Town | 6-2 | Maidstone United | League | | | Match report |
| 01-12-1951 | Worthing | 1-4 | Slough Town | League | | | Match report |
| 24-11-1951 | Carshalton Ath | 2-3 | Slough Town | League | | | Match report |
| 17-11-1951 | Slough Town | 4-3 | Hounslow | League | | | Match report |
| 10-11-1951 | Slough Town | 11-1 | Worthing | League | | | Match report |
| 03-11-1951 | Slough Town | 4-0 | Edgware | League | | | Match report |
| 27-10-1951 | Wealdstone | 5-0 | Slough Town | FA Cup | | | Match report |
| 20-10-1951 | Maidstone United | 3-3 | Slough Town | League | | | Match report |
| 17-10-1951 | Slough Town | 4-0 | St Albans City | FA Cup | | | Match report |
| 13-10-1951 | St Albans City | 1-1 | Slough Town | FA Cup | | | Match report |
| 06-10-1951 | Tilbury | 0-2 | Slough Town | League | | | Match report |
| 04-10-1951 | Barnet | 1-6 | Slough Town | FA Cup | | | Match report |
| 29-09-1951 | Slough Town | 2-2 | Barnet | FA Cup | | | Match report |
| 22-09-1951 | Edgware | 2-2 | Slough Town | League | | | Match report |
| 15-09-1951 | Slough Town | 5-1 | Grays Athletic | League | | | Match report |
| 08-09-1951 | Tilbury | 1-3 | Slough Town | Memorial Shield | | | Match report |
| 01-09-1951 | Slough Town | 2-1 | Epsom | League | | | Match report |
| 25-08-1951 | Slough Town | 6-0 | Tilbury | League | | | Match report |
| 18-08-1951 | Hounslow | 0-1 | Slough Town | League | | | Match report |
| 19-05-1951 | Maidenhead United | 1-2 | Slough Town | Benevolent Cup | | | Match report |
| 10-05-1951 | Slough Town | 2-0 | Hounslow | League | | | Match report |
| 07-05-1951 | Grays Athletic | 2-1 | Slough Town | League | | | Match report |
| 05-05-1951 | Epsom | 1-6 | Slough Town | League | | | Match report |
| 02-05-1951 | Hounslow | 1-0 | Slough Town | League | | | Match report |
| 28-04-1951 | Slough Town | 2-0 | Worthing | League | | | Match report |
| 26-04-1951 | Slough Town | 4-3 | Eastbourne | League | | | Match report |
| 21-04-1951 | Worthing | 2-2 | Slough Town | League | | | Match report |
| 14-04-1951 | Slough Town | 8-1 | Aylesbury United | Benevolent Cup | | | Match report |
| 11-04-1951 | Slough Town | 2-0 | Chesham United | League | | | Match report |
| 07-04-1951 | Slough Town | 1-3 | Tilbury | League | | | Match report |
| 31-03-1951 | Uxbridge | 2-0 | Slough Town | Memorial Shield | | | Match report |
| 26-03-1951 | Chesham United | 2-1 | Slough Town | B&B Senior Cup | | | Match report |
| 24-03-1951 | Slough Town | 4-0 | Edgware | League | | | Match report |
| 23-03-1951 | Slough Town | 5-1 | Grays Athletic | League | | | Match report |
| 17-03-1951 | Slough Town | 2-1 | Wolverton | Benevolent Cup | | | Match report |
| 10-03-1951 | Wycombe Wanderers | 1-0 | Slough Town | B&B Senior Cup | | | Match report |
| 03-03-1951 | Slough Town | 2-2 | Uxbridge | League | | | Match report |
| 24-02-1951 | Tilbury | 1-3 | Slough Town | League | | | Match report |
| 17-02-1951 | Slough Town | 4-3 | Maidenhead United | B&B Senior Cup | | | Match report |
| 10-02-1951 | Slough Town | 5-1 | Tilbury | Memorial Shield | | | Match report |
| 03-02-1951 | Slough Town | 8-2 | Maidstone United | League | | | Match report |
| 27-01-1951 | Slough Town | 1-3 | Pegasus | FA Amateur Cup | | | Match report |
| 20-01-1951 | Eastbourne | 1-2 | Slough Town | League | | | Match report |
| 13-01-1951 | Slough Town | 4-1 | Poole Town | FA Amateur Cup | | | Match report |
| 06-01-1951 | Slough Town | 2-0 | Erith | League | | | Match report |
| 30-12-1950 | Maidstone United | 2-0 | Slough Town | League | | | Match report |
| 26-12-1950 | Maidenhead United | 1-4 | Slough Town | League | | | Match report |
| 25-12-1950 | Slough Town | 1-0 | Maidenhead United | League | | | Match report |
| 23-12-1950 | Slough Town | 6-2 | Chesham United | Memorial Shield | | | Match report |
| 09-12-1950 | Erith | 2-3 | Slough Town | League | | | Match report |
| 02-12-1950 | Chesham United | 1-0 | Slough Town | League | | | Match report |
| 18-11-1950 | Slough Town | 1-0 | Haywards Heath | FA Amateur Cup | | | Match report |
| 11-11-1950 | Maidenhead United | 0-3 | Slough Town | FA Amateur Cup | | | Match report |
| 04-11-1950 | Slough Town | 2-2 | Maidenhead United | FA Amateur Cup | | | Match report |
| 01-11-1950 | Wycombe Wanderers | 2-0 | Slough Town | FA Cup | | | Match report |
| 28-10-1950 | Slough Town | 1-1 | Wycombe Wanderers | FA Cup | | | Match report |
| 21-10-1950 | Slough Town | 2-1 | Slough Centre | FA Amateur Cup | | | Match report |
| 18-10-1950 | Slough Town | 5-1 | Banbury Spencer | FA Cup | | | Match report |
| 14-10-1950 | Banbury Spencer | 1-1 | Slough Town | FA Cup | | | Match report |
| 07-10-1950 | Slough Town | 2-0 | Amersham Town | FA Amateur Cup | | | Match report |
| 04-10-1950 | Oxford City | 1-2 | Slough Town | FA Cup | | | Match report |
| 30-09-1950 | Slough Town | 2-2 | Oxford City | FA Cup | | | Match report |
| 23-09-1950 | Slough Town | 3-0 | Kidlington | FA Amateur Cup | | | Match report |
| 16-09-1950 | Headington | 3-4 | Slough Town | FA Cup | | | Match report |
| 09-09-1950 | Osberton Rad | 0-3 | Slough Town | FA Amateur Cup | | | Match report |
| 02-09-1950 | Edgware | 3-3 | Slough Town | League | | | Match report |
| 26-08-1950 | Slough Town | 2-1 | Epsom | League | | | Match report |
| 29-04-1950 | Grays Athletic | 3-3 | Slough Town | League | | | Match report |
| 27-04-1950 | Edgware | 2-0 | Slough Town | League | | | Match report |
| 22-04-1950 | Slough Town | 0-4 | Erith | League | | | Match report |
| 19-04-1950 | Slough Town | 2-4 | Hounslow | League | | | Match report |
| 17-04-1950 | Windsor & Eton | 1-5 | Slough Town | League | | | Match report |
| 15-04-1950 | Slough Town | 0-1 | Wycombe Wanderers | B&B Senior Cup | | | Match report |
| 10-04-1950 | Wycombe Wanderers | 1-1 | Slough Town | B&B Senior Cup | | | Match report |
| 07-04-1950 | Slough Town | 2-0 | Grays Athletic | League | | | Match report |
| 01-04-1950 | Uxbridge | 2-3 | Slough Town | League | | | Match report |
| 29-03-1950 | Hounslow | 3-2 | Slough Town | Memorial Shield | | | Match report |
| 25-03-1950 | Carshalton Ath | 7-0 | Slough Town | League | | | Match report |
| 18-03-1950 | Slough Town | 1-1 | Hounslow | Memorial Shield | | | Match report |
| 11-03-1950 | Eastbourne | 1-1 | Slough Town | League | | | Match report |
| 04-03-1950 | Wolverton | 2-1 | Slough Town | B&B Senior Cup | | | Match report |
| 25-02-1950 | Chesham United | 1-1 | Slough Town | League | | | Match report |
| 18-02-1950 | Slough Town | 1-2 | Wolverton | Benevolent Cup | | | Match report |
| 11-02-1950 | Slough Town | 4-0 | Edgware | League | | | Match report |
| 28-01-1950 | Slough Town | 2-0 | Worthing | League | | | Match report |
| 21-01-1950 | Slough Town | 3-1 | Slough Centre | B&B Senior Cup | | | Match report |
| 14-01-1950 | Slough Town | 1-1 | Epsom | League | | | Match report |
| 07-01-1950 | Slough Town | 6-3 | Chesham United | League | | | Match report |
| 31-12-1949 | Slough Town | 3-1 | Windsor & Eton | League | | | Match report |
| 27-12-1949 | Maidenhead United | 0-0 | Slough Town | League | | | Match report |
| 26-12-1949 | Slough Town | 1-1 | Maidenhead United | League | | | Match report |
| 17-12-1949 | Slough Town | 0-2 | Uxbridge | League | | | Match report |
| 10-12-1949 | Slough Town | 4-1 | Carshalton Ath | League | | | Match report |
| 03-12-1949 | Hounslow | 2-1 | Slough Town | League | | | Match report |
| 26-11-1949 | Slough Town | 2-2 | Walton & Hersham | League | | | Match report |
| 12-11-1949 | Epsom | 2-3 | Slough Town | League | | | Match report |
| 05-11-1949 | Walton & Hersham | 1-0 | Slough Town | League | | | Match report |
| 29-10-1949 | Worthing | 6-1 | Slough Town | League | | | Match report |
| 22-10-1949 | Erith | 4-0 | Slough Town | League | | | Match report |
| 15-10-1949 | Slough Town | 1-2 | Hayes | FA Cup | | | Match report |
| 08-10-1949 | Slough Town | 4-2 | Oxford City | FA Cup | | | Match report |
| 01-10-1949 | Oxford City | 1-1 | Slough Town | FA Cup | | | Match report |
| 24-09-1949 | Slough Centre | 2-1 | Slough Town | FA Amateur Cup | | | Match report |
| 17-09-1949 | Slough Town | 3-2 | Aylesbury United | FA Cup | | | Match report |
| 10-09-1949 | Thame United | 1-3 | Slough Town | FA Amateur Cup | | | Match report |
| 03-09-1949 | Slough Town | 1-0 | Slough Centre | FA Cup | | | Match report |
| 27-08-1949 | Slough Town | 1-0 | Eastbourne | League | | | Match report |
Slough Town FC is not responsible for content produced on external websites | Copyright Slough Town FC 2023