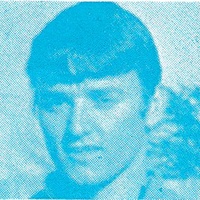 Position:
Defender
Bio
A star inside forward in the Slough Grammar School team who fitted easily into the Slough first team after making his debut in 1965.
Was later converted by Bob Gibbs into an extremely capable left back whose pace and ball skills equipped him well for an attacking role.
Despite being quite short, awareness and timing meant he was rarely beaten in the air.
One of the few players from the Bob Gibbs' era to continue playing under Tommy Lawrence, he moved to Hayes in 1971.
Mens
| First Appearance | Appearances | First Goal | Goals |
| --- | --- | --- | --- |
| 23-10-1965 vs Wokingham Town | 180 | 23-10-1965 vs Wokingham Town | 5 |
History
| Match Date | Home | Score | Away | Competition | Goals | Cards | |
| --- | --- | --- | --- | --- | --- | --- | --- |
| 19-04-1971 | Slough Town | 1-1 | Redhill | League | | | Match report |
| 05-04-1971 | Slough Town | 0-1 | Leatherhead | League | | | Match report |
| 03-04-1971 | Bishop's Stortford | 1-1 | Slough Town | League | | | Match report |
| 27-03-1971 | Slough Town | 1-2 | Dagenham | FA Amateur Cup | | | Match report |
| 20-03-1971 | Dagenham | 3-3 | Slough Town | FA Amateur Cup | | | Match report |
| 13-03-1971 | Slough Town | 3-1 | Chesham United | B&B Senior Cup | | | Match report |
| 08-03-1971 | Slough Town | 2-1 | Boreham Wood | League | | | Match report |
| 06-03-1971 | Maidenhead United | 0-1 | Slough Town | B&B Senior Cup | | | Match report |
| 27-02-1971 | Aveley | 0-2 | Slough Town | FA Amateur Cup | | | Match report |
| 23-02-1971 | Wycombe Wanderers | 0-2 | Slough Town | Premier Midweek FL | | | Match report |
| 20-02-1971 | Slough Town | 3-1 | Hendon | FA Amateur Cup | | | Match report |
| 13-02-1971 | Hendon | 1-1 | Slough Town | FA Amateur Cup | | | Match report |
| 09-02-1971 | Leatherhead | 1-1 | Slough Town | League | | | Match report |
| 06-02-1971 | Slough Town | 0-0 | Maidenhead United | B&B Senior Cup | | | Match report |
| 02-02-1971 | Cheshunt | 1-0 | Slough Town | League | | | Match report |
| 30-01-1971 | Harwich | 0-3 | Slough Town | FA Amateur Cup | | | Match report |
| 16-01-1971 | Redhill | 1-3 | Slough Town | FA Amateur Cup | | | Match report |
| 11-01-1971 | Slough Town | 1-2 | Wycombe Wanderers | Premier Midweek FL | | | Match report |
| 09-01-1971 | Slough Town | 1-1 | Redhill | FA Amateur Cup | | | Match report |
| 21-12-1970 | Slough Town | 6-1 | Chesham United | Premier Midweek FL | | | Match report |
| 19-12-1970 | Slough Town | 4-1 | Marlow | B&B Senior Cup | | | Match report |
| 12-12-1970 | Slough Town | 0-1 | Barnet | FA Cup | | | Match report |
| 05-12-1970 | Walton & Hersham | 1-0 | Slough Town | League | | | Match report |
| 30-11-1970 | Slough Town | 3-1 | Maidenhead United | Premier Midweek FL | | | Match report |
| 28-11-1970 | Slough Town | 0-1 | Dagenham | League | | | Match report |
| 25-11-1970 | Slough Town | 1-0 | Wycombe Wanderers | FA Cup | | | Match report |
| 21-11-1970 | Wycombe Wanderers | 1-1 | Slough Town | FA Cup | | | Match report |
| 17-11-1970 | Wealdstone | 1-6 | Slough Town | Premier Midweek FL | | | Match report |
| 14-11-1970 | Harwich | 0-2 | Slough Town | League | | | Match report |
| 09-11-1970 | Hillingdon Borough | 0-2 | Slough Town | FA Cup | | | Match report |
| 07-11-1970 | Slough Town | 3-3 | Hillingdon Borough | FA Cup | | | Match report |
| 02-11-1970 | Oxford City | 4-1 | Slough Town | Premier Midweek FL | | | Match report |
| 31-10-1970 | Cheshunt | 4-2 | Slough Town | Athenian League Cup | | | Match report |
| 24-10-1970 | Slough Town | 2-1 | Ilford | FA Cup | | | Match report |
| 17-10-1970 | Grays Athletic | 0-1 | Slough Town | League | | | Match report |
| 12-10-1970 | Slough Town | 2-1 | Marlow | Premier Midweek FL | | | Match report |
| 10-10-1970 | Slough Town | 5-0 | Kingstonian | FA Cup | | | Match report |
| 06-10-1970 | Marlow | 2-2 | Slough Town | Premier Midweek FL | | | Match report |
| 19-09-1970 | Tilbury | 1-1 | Slough Town | FA Cup | | | Match report |
| 12-09-1970 | Slough Town | 3-0 | Harwich | League | | | Match report |
| 07-09-1970 | Slough Town | 3-0 | Southall | League | | | Match report |
| 05-09-1970 | Eastbourne Town | 1-3 | Slough Town | Athenian League Cup | | | Match report |
| 02-09-1970 | Redhill | 1-3 | Slough Town | League | | | Match report |
| 07-05-1970 | Marlow | 2-1 | Slough Town | Wycombe Floodlit Lge. | | | Match report |
| 25-04-1970 | Slough Town | 0-0 | Leatherhead | League | | | Match report |
| 15-04-1970 | Slough Town | 3-0 | Windsor & Eton | Windsor Hosp. | | | Match report |
| 10-04-1970 | Redhill | 0-1 | Slough Town | League | | | Match report |
| 08-04-1970 | Slough Town | 2-1 | Dagenham | League | | | Match report |
| 30-03-1970 | Walton & Hersham | 1-5 | Slough Town | League | | | Match report |
| 28-03-1970 | Slough Town | 0-0 | Finchley | League | | | Match report |
| 23-03-1970 | Guildford City | 2-1 | Slough Town | Premier Midweek FL | | | Match report |
| 21-03-1970 | Leatherhead | 0-2 | Slough Town | League | | | Match report |
| 18-03-1970 | Slough Town | 0-1 | Woking | Premier Midweek FL | | | Match report |
| 14-03-1970 | Cheshunt | 0-1 | Slough Town | League | | | Match report |
| 10-03-1970 | Walton & Hersham | 3-2 | Slough Town | Premier Midweek FL | | | Match report |
| 07-03-1970 | Hayes | 2-1 | Slough Town | League | | | Match report |
| 28-02-1970 | Skelmersdale | 3-0 | Slough Town | FA Amateur Cup | | | Match report |
| 21-02-1970 | Slough Town | 0-0 | Skelmersdale | FA Amateur Cup | | | Match report |
| 11-02-1970 | Slough Town | 2-3 | Addlestone | Premier Midweek FL | | | Match report |
| 07-02-1970 | Slough Town | 2-0 | Alvechurch | FA Amateur Cup | | | Match report |
| 31-01-1970 | Alvechurch | 2-2 | Slough Town | FA Amateur Cup | | | Match report |
| 24-01-1970 | Maidenhead United | 3-1 | Slough Town | B&B Senior Cup | | | Match report |
| 20-01-1970 | Addlestone | 0-3 | Slough Town | Wycombe Floodlit Lge. | | | Match report |
| 17-01-1970 | Slough Town | 4-1 | Wembley | League | | | Match report |
| 10-01-1970 | Slough Town | 2-0 | Aveley | FA Amateur Cup | | | Match report |
| 03-01-1970 | Slough Town | 0-1 | Walton & Hersham | League | | | Match report |
| 27-12-1969 | Finchley | 1-5 | Slough Town | League | | | Match report |
| 20-12-1969 | Slough Town | 5-0 | Eastbourne Utd | League | | | Match report |
| 13-12-1969 | Chesham United | 2-3 | Slough Town | FA Amateur Cup | | | Match report |
| 08-12-1969 | Slough Town | 2-1 | Walton & Hersham | Premier Midweek FL | | | Match report |
| 06-12-1969 | Harwich | 0-1 | Slough Town | League | | | Match report |
| 02-12-1969 | Woking | 2-3 | Slough Town | Premier Midweek FL | | | Match report |
| 26-11-1969 | Slough Town | 3-0 | Wokingham Town | Premier Midweek FL | | | Match report |
| 22-11-1969 | Slough Town | 3-3 | Harwich | League | | | Match report |
| 19-11-1969 | Slough Town | 2-0 | Crawley Town | Premier Midweek FL | | | Match report |
| 15-11-1969 | Bishop's Stortford | 1-0 | Slough Town | League | | | Match report |
| 11-11-1969 | Addlestone | 0-1 | Slough Town | Premier Midweek FL | | | Match report |
| 08-11-1969 | Slough Town | 0-0 | Redhill | League | | | Match report |
| 01-11-1969 | Grays Athletic | 0-0 | Slough Town | League | | | Match report |
| 25-10-1969 | Slough Town | 3-0 | Tilbury | League | | | Match report |
| 18-10-1969 | Eastbourne Utd | 0-4 | Slough Town | League | | | Match report |
| 15-10-1969 | Redhill | 1-3 | Slough Town | Premier Midweek FL | | | Match report |
| 11-10-1969 | Slough Town | 0-1 | Grays Athletic | League | | | Match report |
| 08-10-1969 | Slough Town | 3-2 | Guildford City | Premier Midweek FL | | | Match report |
| 04-10-1969 | Wembley | 0-3 | Slough Town | League | | | Match report |
| 29-09-1969 | Wokingham Town | 1-2 | Slough Town | Premier Midweek FL | | | Match report |
| 27-09-1969 | Slough Town | 1-1 | Cheshunt | League | | | Match report |
| 20-09-1969 | Hertford Town | 1-0 | Slough Town | FA Cup | | | Match report |
| 16-09-1969 | Maidenhead United | 1-4 | Slough Town | League | | | Match report |
| 13-09-1969 | Slough Town | 2-2 | Hayes | League | | | Match report |
| 06-09-1969 | Slough Town | 0-3 | Walton & Hersham | Athenian League Cup | | | Match report |
| 03-09-1969 | Slough Town | 1-0 | Southall | League | | | Match report |
| 30-08-1969 | Tilbury | 2-1 | Slough Town | League | | | Match report |
| 27-08-1969 | Slough Town | 0-0 | Maidenhead United | League | | | Match report |
| 23-08-1969 | Dagenham | 1-1 | Slough Town | League | | | Match report |
| 19-08-1969 | Southall | 0-1 | Slough Town | League | | | Match report |
| 03-05-1969 | Hayes | 1-0 | Slough Town | League | | | Match report |
| 30-04-1969 | Slough Town | 2-1 | Dagenham | League | | | Match report |
| 25-04-1969 | Walton & Hersham | 0-3 | Slough Town | League | | | Match report |
| 19-04-1969 | Hounslow | 2-3 | Slough Town | League | | | Match report |
| 15-04-1969 | Hayes | 1-1 | Slough Town | Premier Midweek FL | | | Match report |
| 12-04-1969 | Slough Town | 3-0 | Wembley | League | | | Match report |
| 07-04-1969 | Slough Town | 0-1 | Wokingham Town | B&B Senior Cup | | | Match report |
| 31-03-1969 | Hillingdon | 2-0 | Slough Town | Premier Midweek FL | | | Match report |
| 29-03-1969 | Bishop's Stortford | 1-3 | Slough Town | League | | | Match report |
| 26-03-1969 | Slough Town | 3-2 | Wembley | Premier Midweek FL | | | Match report |
| 24-03-1969 | Slough Town | 0-0 | St Albans City | Premier Midweek FL | | | Match report |
| 22-03-1969 | Slough Town | 2-2 | Walton & Hersham | League | | | Match report |
| 19-03-1969 | Slough Town | 3-0 | Redhill | League | | | Match report |
| 03-03-1969 | Maidenhead United | 0-0 | Slough Town | League | | | Match report |
| 25-02-1969 | Chesham United | 2-3 | Slough Town | Premier Midweek FL | | | Match report |
| 18-02-1969 | Cheshunt | 1-4 | Slough Town | League | | | Match report |
| 04-02-1969 | Hemel Hempstead Town | 1-4 | Slough Town | Premier Midweek FL | | | Match report |
| 01-02-1969 | Whitley Bay | 3-2 | Slough Town | FA Amateur Cup | | | Match report |
| 25-01-1969 | Wembley | 0-1 | Slough Town | League | | | Match report |
| 18-01-1969 | Slough Town | 2-1 | Grays Athletic | League | | | Match report |
| 11-01-1969 | Slough Town | 4-0 | Hitchin Town | FA Amateur Cup | | | Match report |
| 04-01-1969 | Slough Town | 1-0 | Bishop's Stortford | League | | | Match report |
| 21-12-1968 | Slough Town | 2-1 | Walton & Hersham | FA Amateur Cup | | | Match report |
| 14-12-1968 | Walton & Hersham | 2-2 | Slough Town | FA Amateur Cup | | | Match report |
| 07-12-1968 | Slough Town | 4-0 | Harwich | League | | | Match report |
| 26-11-1968 | Finchley | 0-4 | Slough Town | Premier Midweek FL | | | Match report |
| 23-11-1968 | Redhill | 1-4 | Slough Town | League | | | Match report |
| 18-11-1968 | Woking | 2-0 | Slough Town | Wycombe Floodlit Lge. | | | Match report |
| 16-11-1968 | Slough Town | 3-1 | Leatherhead | League | | | Match report |
| 13-11-1968 | Wembley | 3-0 | Slough Town | Premier Midweek FL | | | Match report |
| 09-11-1968 | Finchley | 1-1 | Slough Town | League | | | Match report |
| 06-11-1968 | Wealdstone | 2-0 | Slough Town | FA Cup | | | Match report |
| 02-11-1968 | Slough Town | 1-1 | Wealdstone | FA Cup | | | Match report |
| 29-10-1968 | St Albans City | 2-1 | Slough Town | Premier Midweek FL | | | Match report |
| 26-10-1968 | Slough Town | 1-1 | Hayes | League | | | Match report |
| 19-10-1968 | Slough Town | 2-0 | Bishop's Stortford | FA Cup | | | Match report |
| 12-10-1968 | Dagenham | 3-2 | Slough Town | League | | | Match report |
| 05-10-1968 | Slough Town | 2-1 | Hendon | FA Cup | | | Match report |
| 28-09-1968 | Grays Athletic | 2-4 | Slough Town | League | | | Match report |
| 21-09-1968 | Slough Town | 2-1 | Feltham | FA Cup | | | Match report |
| 27-08-1968 | Southall | 0-1 | Slough Town | League | | | Match report |
| 24-08-1968 | Slough Town | 3-2 | Finchley | League | | | Match report |
| 21-08-1968 | Slough Town | 0-0 | Maidenhead United | League | | | Match report |
| 17-08-1968 | Hornchurch | 2-1 | Slough Town | League | | | Match report |
| 14-08-1968 | Slough Town | 1-2 | Wycombe Wanderers | Windsor Hosp. | | | Match report |
| 10-08-1968 | Slough Town | 0-0 | Dagenham | Mithras Cup | | | Match report |
| 29-04-1967 | Grays Athletic | 4-1 | Slough Town | League | | | Match report |
| 27-04-1967 | Wycombe Wanderers | 1-0 | Slough Town | Wycombe Floodlit League | | | Match report |
| 26-04-1967 | Slough Town | 2-1 | Leatherhead | League | | | Match report |
| 22-04-1967 | Dagenham | 1-0 | Slough Town | League | | | Match report |
| 17-04-1967 | Maidenhead United | 2-1 | Slough Town | Wycombe Floodlit League | | | Match report |
| 15-04-1967 | Harwich | 1-5 | Slough Town | League | | | Match report |
| 12-04-1967 | Slough Town | 2-0 | Southall | Wycombe Floodlit League | | | Match report |
| 10-04-1967 | Slough Town | 1-0 | Maidenhead United | Wycombe Floodlit League | | | Match report |
| 08-04-1967 | Slough Town | 1-1 | Southall | League | | | Match report |
| 29-03-1967 | Slough Town | 3-1 | Oxford City | Wycombe Floodlit League | | | Match report |
| 13-03-1967 | Slough Town | 2-3 | Wokingham Town | Wycombe Floodlit League | | | Match report |
| 11-03-1967 | Slough Town | 1-0 | Worthing | League | | | Match report |
| 18-02-1967 | Chesham United | 2-1 | Slough Town | B&B Senior Cup | | | Match report |
| 04-02-1967 | Slough Town | 4-0 | Chalfont St Peter | B&B Senior Cup | | | Match report |
| 18-01-1967 | Slough Town | 1-1 | Finchley | League | | | Match report |
| 01-11-1966 | Wokingham Town | 1-0 | Slough Town | Wycombe Floodlit League | | | Match report |
| 18-10-1966 | Southall | 1-0 | Slough Town | Wycombe Floodlit League | | | Match report |
| 03-10-1966 | Slough Town | 1-4 | Wycombe Wanderers | Wycombe Floodlit League | | | Match report |
| 01-10-1966 | Finchley | 3-2 | Slough Town | FA Cup | | | Match report |
| 24-09-1966 | Hounslow | 2-0 | Slough Town | League | | | Match report |
| 17-09-1966 | Clapton | 0-2 | Slough Town | FA Cup | | | Match report |
| 07-09-1966 | Slough Town | 1-2 | Edgware | League | | | Match report |
| 03-09-1966 | Slough Town | 2-0 | Dagenham | FA Cup | | | Match report |
| 29-08-1966 | Slough Town | 3-1 | Walton & Hersham | League | | | Match report |
| 22-05-1966 | Windsor & Eton | 1-2 | Slough Town | Windsor Hosp. | | | Match report |
| 19-05-1966 | Slough Town | 3-0 | Maidenhead United | Wycombe Floodlit League | | | Match report |
| 11-05-1966 | Slough Town | 2-1 | Reading | Wycombe Floodlit League | | | Match report |
| 09-05-1966 | Reading | 2-0 | Slough Town | Wycombe Floodlit League | | | Match report |
| 04-05-1966 | Slough Town | 0-1 | Leatherhead | League | | | Match report |
| 23-04-1966 | Slough Town | 5-0 | Hornchurch | League | | | Match report |
| 20-04-1966 | Edgware | 0-0 | Slough Town | League | | | Match report |
| 11-04-1966 | Walton & Hersham | 2-2 | Slough Town | League | | | Match report |
| 05-03-1966 | Leyton | 2-1 | Slough Town | League | | | Match report |
| 08-01-1966 | Slough Town | 1-2 | Maidenhead United | League | | | Match report |
| 01-01-1966 | Southall | 1-0 | Slough Town | League | | | Match report |
| 30-10-1965 | Slough Town | 0-3 | Hounslow | League | | | Match report |
| 27-10-1965 | Oxford City | 6-1 | Slough Town | Mithras Cup | | | Match report |
| 23-10-1965 | Wokingham Town | 0-3 | Slough Town | FA Amateur Cup | | | Match report |
Slough Town FC is not responsible for content produced on external websites | Copyright Slough Town FC 2023