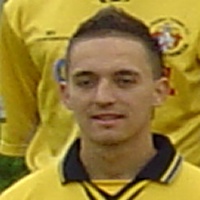 Stats
Position:
Midfielder
First Appearance:
23-11-2002 vs Great Wakering Rovers
Appearances:
50
First Goal:
07-12-2002 vs Berkhamsted Town
Goals:
5
Bio
Creative and hard working midfielder player who made fifty appearances for the club during a two season stay.

Scored five times in his spell with the club including a real pearler to open his Rebels account with a curling shot into the top corner against Berkhamstead Town at Wexham Park. Has since linked up with a number of other clubs and was most recently with Thatcham Town.
History
| Match Date | Home | Score | Away | Competition | Goals | Cards | |
| --- | --- | --- | --- | --- | --- | --- | --- |
| 27-04-2004 | Slough Town | 1-1 | Worthing | League | | | Match report |
| 24-04-2004 | Metropolitan Police | 1-3 | Slough Town | League | | | Match report |
| 17-04-2004 | Slough Town | 3-1 | Whyteleafe | League | | | Match report |
| 12-04-2004 | Windsor & Eton | 1-4 | Slough Town | League | | | Match report |
| 10-04-2004 | Slough Town | 3-1 | Molesey | League | | | Match report |
| 23-03-2004 | Corinthian Casuals | 4-1 | Slough Town | League | | | Match report |
| 20-03-2004 | Banstead Athletic | 1-2 | Slough Town | League | | | Match report |
| 13-03-2004 | Slough Town | 1-0 | Croydon Athletic | League | | | Match report |
| 06-03-2004 | Bracknell Town | 4-2 | Slough Town | League | | | Match report |
| 02-03-2004 | Slough Town | 1-1 | Walton & Hersham | League | | | Match report |
| 28-02-2004 | Dulwich Hamlet | 2-4 | Slough Town | League | | | Match report |
| 21-02-2004 | Slough Town | 1-0 | Lewes | League | | | Match report |
| 14-02-2004 | Staines Town | 1-3 | Slough Town | League | | | Match report |
| 10-02-2004 | Bromley | 0-4 | Slough Town | League | | | Match report |
| 07-02-2004 | Slough Town | 3-2 | Horsham | League | | | Match report |
| 24-01-2004 | Slough Town | 2-0 | Tooting & Mitcham Utd | League | | | Match report |
| 20-01-2004 | Maidenhead United | 1-2 | Slough Town | B&B Senior Cup | | | Match report |
| 17-01-2004 | Worthing | 2-0 | Slough Town | League | | | Match report |
| 10-01-2004 | Slough Town | 1-1 | Hampton & Richmond Boro' | League | | | Match report |
| 06-01-2004 | Walton & Hersham | 3-1 | Slough Town | League | | | Match report |
| 03-05-2003 | Berkhamsted Town | 3-1 | Slough Town | League | | | Match report |
| 28-04-2003 | Slough Town | 2-1 | Wembley | League | | | Match report |
| 21-04-2003 | Slough Town | 0-2 | Yeading | League | | | Match report |
| 15-04-2003 | Slough Town | 2-0 | East Thurrock United | League | | | Match report |
| 08-04-2003 | Wivenhoe Town | 1-2 | Slough Town | League | | | Match report |
| 05-04-2003 | Harlow Town | 2-2 | Slough Town | League | | | Match report |
| 29-03-2003 | Thame United | 1-1 | Slough Town | League | | | Match report |
| 22-03-2003 | Slough Town | 5-1 | Tilbury | League | | | Match report |
| 18-03-2003 | Slough Town | 0-3 | Wingate & Finchley | League | | | Match report |
| 15-03-2003 | Hemel Hempstead Town | 2-2 | Slough Town | League | | | Match report |
| 08-03-2003 | Slough Town | 1-1 | Aveley | League | | | Match report |
| 01-03-2003 | Hertford Town | 1-3 | Slough Town | League | | | Match report |
| 25-02-2003 | Maidenhead United | 3-1 | Slough Town | B&B Senior Cup | | | Match report |
| 15-02-2003 | Barton Rovers | 2-2 | Slough Town | League | | | Match report |
| 08-02-2003 | Slough Town | 3-0 | Arlesey Town | League | | | Match report |
| 04-02-2003 | Slough Town | 2-0 | Thame United | League | | | Match report |
| 28-01-2003 | Slough Town | 2-2 | Hertford Town | League | | | Match report |
| 25-01-2003 | Slough Town | 3-0 | Oxford City | League | | | Match report |
| 18-01-2003 | Wealdstone | 3-2 | Slough Town | League | | | Match report |
| 14-01-2003 | Great Wakering Rovers | 2-2 | Slough Town | League | | | Match report |
| 04-01-2003 | Northwood | 5-1 | Slough Town | League | | | Match report |
| 28-12-2002 | Slough Town | 2-0 | Marlow | League | | | Match report |
| 26-12-2002 | Yeading | 0-2 | Slough Town | League | | | Match report |
| 21-12-2002 | Slough Town | 5-1 | Leyton Pennant | League | | | Match report |
| 17-12-2002 | Slough Town | 1-1 | Wealdstone | League | | | Match report |
| 14-12-2002 | Hornchurch | 3-2 | Slough Town | League | | | Match report |
| 07-12-2002 | Slough Town | 3-2 | Berkhamsted Town | League | | | Match report |
| 30-11-2002 | Wembley | 2-2 | Slough Town | League | | | Match report |
| 26-11-2002 | Tilbury | 3-0 | Slough Town | League | | | Match report |
| 23-11-2002 | Slough Town | 4-0 | Great Wakering Rovers | League | | | Match report |
Slough Town FC is not responsible for content produced on external websites | Copyright Slough Town FC 2021