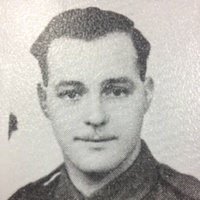 Position:
Forward
Bio
Sydney was a native of Slough, born on 22 December 1917. From his early youth he showed promise of becoming a first class footballer and before joining the United played for Slough Corinthians.
He soon caught the public's eye and became one of Slough's most popular players, also representing the County. He joined the Army in December 1939, and played much football both in England and Ireland, before being demobbed in February 1946.
It was during his Army football days that he sustained the injury to his knee that kept him out of the game for so long.
Mens
| First Appearance | Appearances | First Goal | Goals |
| --- | --- | --- | --- |
| 10-10-1936 vs Pressed Steel | 134 | 07-11-1936 vs Chesham United | 57 |
History
| Match Date | Home | Score | Away | Competition | Goals | Cards | |
| --- | --- | --- | --- | --- | --- | --- | --- |
| 12-02-1944 | Slough Town | 1-0 | Golders Green | League | | | Match report |
| 29-01-1944 | Slough Town | 2-1 | Leyton | League Cup | | | Match report |
| 08-01-1944 | Finchley | 1-3 | Slough Town | League | | | Match report |
| 01-01-1944 | Slough Town | 4-2 | Wealdstone | League | | | Match report |
| 04-12-1943 | Slough Town | 1-2 | Tuffnell Park | League | | | Match report |
| 27-11-1943 | Slough Town | 1-0 | Hitchin Town | League | | | Match report |
| 13-11-1943 | Windsor & Eton | 5-2 | Slough Town | B&B Senior Emergency Cup | | | Match report |
| 06-11-1943 | Barnet | 0-2 | Slough Town | League | | | Match report |
| 18-09-1943 | Slough Town | 2-0 | Grays Athletic | League | | | Match report |
| 31-10-1942 | Finchley | 2-2 | Slough Town | League | | | Match report |
| 24-10-1942 | Golders Green | 1-1 | Slough Town | League | | | Match report |
| 17-10-1942 | Slough Town | 2-4 | St Albans City | League | | | Match report |
| 19-09-1942 | Slough Town | 2-3 | Barnet | League | | | Match report |
| 07-12-1940 | Windsor & Eton | 3-0 | Slough Town | B&B Senior Emergency Cup | | | Match report |
| 05-10-1940 | Barnet | 1-1 | Slough Town | League | | | Match report |
| 20-04-1940 | Marlow | 3-3 | Slough Town | League | | | Match report |
| 06-04-1940 | Chesham United | 2-0 | Slough Town | League | | | Match report |
| 30-03-1940 | Slough Town | 3-1 | Maidenhead United | League | | | Match report |
| 25-03-1940 | Windsor & Eton | 2-4 | Slough Town | League | | | Match report |
| 23-03-1940 | Uxbridge | 1-2 | Slough Town | League | | | Match report |
| 22-03-1940 | Slough Town | 4-2 | Uxbridge | League | | | Match report |
| 16-03-1940 | Wycombe Redfords | 1-1 | Slough Town | League | | | Match report |
| 09-03-1940 | Slough Town | 8-1 | Chesham United | League | | | Match report |
| 02-03-1940 | Hayes | 2-0 | Slough Town | League | | | Match report |
| 24-02-1940 | Wycombe Wanderers | 4-2 | Slough Town | League | | | Match report |
| 13-01-1940 | Slough Town | 1-0 | Marlow | League | | | Match report |
| 06-01-1940 | Slough Town | 2-1 | Wycombe Wanderers | League | | | Match report |
| 26-12-1939 | Slough Town | 3-3 | Windsor & Eton | League | | | Match report |
| 02-12-1939 | Maidenhead United | 3-3 | Slough Town | League | | | Match report |
| 11-11-1939 | Slough Town | 2-1 | Wycombe Redfords | League | | | Match report |
| 04-11-1939 | Wycombe Wanderers | 3-1 | Slough Town | B&B Senior Cup | | | Match report |
| 28-10-1939 | Maidenhead United | 5-2 | Slough Town | Benevolent Cup | | | Match report |
| 26-08-1939 | Slough Town | 3-2 | Chesham United | Benevolent Cup | | | Match report |
| 13-05-1939 | Wolverton | 1-3 | Slough Town | Benevolent Cup | | | Match report |
| 06-05-1939 | Slough Town | 4-0 | Wood Green | League | | | Match report |
| 01-05-1939 | Slough Town | 3-2 | Windsor & Eton | League | | | Match report |
| 29-04-1939 | Slough Town | 3-0 | Hoxton Manor | League | | | Match report |
| 26-04-1939 | Slough Town | 1-3 | Metropolitan Police | League | | | Match report |
| 22-04-1939 | Slough Town | 3-1 | Callenders Ath | League | | | Match report |
| 19-04-1939 | Callenders Ath | 1-4 | Slough Town | League | | | Match report |
| 15-04-1939 | Slough Town | 4-1 | Letchworth | League | | | Match report |
| 10-04-1939 | Hitchin Town | 1-2 | Slough Town | League | | | Match report |
| 08-04-1939 | Slough Town | 6-3 | Chesham United | League | | | Match report |
| 07-04-1939 | Windsor & Eton | 2-1 | Slough Town | League | | | Match report |
| 01-04-1939 | Cambridge Town | 2-2 | Slough Town | League | | | Match report |
| 29-03-1939 | Metropolitan Police | 3-3 | Slough Town | League | | | Match report |
| 11-03-1939 | Lyons Club | 1-0 | Slough Town | League | | | Match report |
| 04-03-1939 | Chesham United | 5-2 | Slough Town | League | | | Match report |
| 25-02-1939 | Windsor & Eton | 1-0 | Slough Town | B&B Senior Cup | | | Match report |
| 18-02-1939 | Slough Town | 1-1 | Windsor & Eton | B&B Senior Cup | | | Match report |
| 11-02-1939 | Slough Town | 4-4 | Wolverton | Benevolent Cup | | | Match report |
| 04-02-1939 | Slough Town | 0-3 | St Albans City | FA Amateur Cup | | | Match report |
| 21-01-1939 | Slough Town | 4-2 | Marlow | League | | | Match report |
| 14-01-1939 | Wycombe Wanderers | 1-5 | Slough Town | FA Amateur Cup | | | Match report |
| 07-01-1939 | Marlow | 1-2 | Slough Town | League | | | Match report |
| 31-12-1938 | Maidenhead United | 1-1 | Slough Town | League | | | Match report |
| 17-12-1938 | Slough Town | 4-4 | Lyons Club | League | | | Match report |
| 10-12-1938 | Slough Town | 4-0 | Marlow | Benevolent Cup | | | Match report |
| 03-12-1938 | Slough Town | 7-0 | Maidenhead United | League | | | Match report |
| 19-11-1938 | Oxford City | 1-2 | Slough Town | FA Amateur Cup | | | Match report |
| 12-11-1938 | Hoxton Manor | 1-2 | Slough Town | League | | | Match report |
| 05-11-1938 | Banbury Spencer | 0-1 | Slough Town | FA Amateur Cup | | | Match report |
| 29-10-1938 | Waterlows | 2-2 | Slough Town | League | | | Match report |
| 15-10-1938 | Slough Town | 2-1 | Hitchin Town | League | | | Match report |
| 08-10-1938 | Slough Town | 2-1 | Pressed Steel | FA Amateur Cup | | | Match report |
| 01-10-1938 | Slough Town | 0-2 | Banbury Spencer | FA Cup | | | Match report |
| 24-09-1938 | Slough Town | 3-1 | Osberton Rad | FA Amateur Cup | | | Match report |
| 17-09-1938 | Slough Town | 3-0 | Uxbridge | FA Cup | | | Match report |
| 10-09-1938 | Wood Green | 1-4 | Slough Town | League | | | Match report |
| 03-09-1938 | Slough Town | 1-1 | Cambridge Town | League | | | Match report |
| 27-08-1938 | Windsor & Eton | 0-3 | Slough Town | Benevolent Cup | | | Match report |
| 07-05-1938 | Slough Town | 2-2 | Chesham United | League | | | Match report |
| 30-04-1938 | Slough Town | 8-2 | Letchworth | League | | | Match report |
| 23-04-1938 | Slough Town | 3-0 | Windsor & Eton | League | | | Match report |
| 18-04-1938 | Maidenhead United | 1-0 | Slough Town | League | | | Match report |
| 16-04-1938 | Slough Town | 4-2 | Metropolitan Police | League | | | Match report |
| 15-04-1938 | Slough Town | 2-6 | Waterlows | League | | | Match report |
| 02-04-1938 | Slough Town | 6-0 | Lyons Club | League | | | Match report |
| 26-03-1938 | Callenders Ath | 4-2 | Slough Town | League | | | Match report |
| 19-03-1938 | Cambridge Town | 1-1 | Slough Town | League | | | Match report |
| 12-03-1938 | Slough Town | 5-1 | Aylesbury United | League | | | Match report |
| 05-03-1938 | Waterlows | 4-2 | Slough Town | League | | | Match report |
| 26-02-1938 | Slough Town | 1-2 | Hitchin Town | League | | | Match report |
| 19-02-1938 | Slough Town | 2-1 | Callenders Ath | League | | | Match report |
| 12-02-1938 | Aylesbury United | 0-1 | Slough Town | League | | | Match report |
| 05-02-1938 | Henley | 2-8 | Slough Town | League | | | Match report |
| 29-01-1938 | Lyons Club | 0-1 | Slough Town | League | | | Match report |
| 22-01-1938 | Chesham United | 6-2 | Slough Town | League | | | Match report |
| 15-01-1938 | Slough Town | 5-1 | Henley | League | | | Match report |
| 08-01-1938 | Windsor & Eton | 2-1 | Slough Town | League | | | Match report |
| 01-01-1938 | Hoxton Manor | 0-3 | Slough Town | League | | | Match report |
| 18-12-1937 | Slough Town | 4-3 | Cambridge Town | League | | | Match report |
| 27-11-1937 | E. Reading AS | 2-1 | Slough Town | B&B Senior Cup | | | Match report |
| 20-11-1937 | Slough Town | 3-4 | Metropolitan Police | FA Amateur Cup | | | Match report |
| 13-11-1937 | Slough Town | 4-0 | Marlow | FA Amateur Cup | | | Match report |
| 06-11-1937 | Marlow | 2-2 | Slough Town | FA Amateur Cup | | | Match report |
| 30-10-1937 | Letchworth | 3-6 | Slough Town | League | | | Match report |
| 23-10-1937 | Slough Town | 6-5 | Henley | FA Amateur Cup | | | Match report |
| 20-10-1937 | Slough Town | 2-6 | Windsor & Eton | FA Cup | | | Match report |
| 16-10-1937 | Windsor & Eton | 1-1 | Slough Town | FA Cup | | | Match report |
| 09-10-1937 | Slough Town | 2-1 | Thatcham Town | FA Amateur Cup | | | Match report |
| 02-10-1937 | Slough Town | 10-1 | Henley | FA Cup | | | Match report |
| 25-09-1937 | Slough Town | 7-0 | Abingdon Town | FA Amateur Cup | | | Match report |
| 18-09-1937 | Slough Town | 4-0 | Wycombe Wanderers | FA Cup | | | Match report |
| 11-09-1937 | Slough Town | 3-3 | Hoxton Manor | League | | | Match report |
| 04-09-1937 | Met Railway | 1-5 | Slough Town | FA Cup | | | Match report |
| 28-08-1937 | Chesham United | 2-1 | Slough Town | Benevolent Cup | | | Match report |
| 01-05-1937 | Slough Town | 3-2 | Lyons Club | League | | | Match report |
| 24-04-1937 | Slough Town | 6-4 | Jurgens | League | | | Match report |
| 21-04-1937 | Slough Town | 2-1 | Hitchin Town | League | | | Match report |
| 17-04-1937 | Lyons Club | 0-2 | Slough Town | League | | | Match report |
| 10-04-1937 | Slough Town | 2-2 | Hoxton Manor | League | | | Match report |
| 03-04-1937 | Callenders Ath | 4-3 | Slough Town | League | | | Match report |
| 27-03-1937 | Hitchin Town | 2-1 | Slough Town | League | | | Match report |
| 20-03-1937 | Slough Town | 1-6 | Callenders Ath | League | | | Match report |
| 13-03-1937 | Cambridge Town | 3-1 | Slough Town | League | | | Match report |
| 06-03-1937 | Waterlows | 5-2 | Slough Town | League | | | Match report |
| 27-02-1937 | Wycombe Wanderers | 1-2 | Slough Town | B&B Senior Cup | | | Match report |
| 20-02-1937 | Windsor & Eton | 2-2 | Slough Town | League | | | Match report |
| 13-02-1937 | Wycombe Wanderers | 2-2 | Slough Town | B&B Senior Cup | | | Match report |
| 06-02-1937 | Hoddesdon | 4-2 | Slough Town | League | | | Match report |
| 30-01-1937 | Slough Town | 2-2 | Wycombe Wanderers | B&B Senior Cup | | | Match report |
| 23-01-1937 | Wycombe Wanderers | 4-4 | Slough Town | B&B Senior Cup | | | Match report |
| 16-01-1937 | Slough Town | 5-0 | Metropolitan Police | League | | | Match report |
| 09-01-1937 | Slough Town | 2-7 | Aylesbury United | League | | | Match report |
| 02-01-1937 | Chesham United | 2-2 | Slough Town | League | | | Match report |
| 26-12-1936 | Aylesbury United | 1-3 | Slough Town | League | | | Match report |
| 19-12-1936 | Slough Town | 1-3 | Cambridge Town | League | | | Match report |
| 12-12-1936 | Maidenhead United | 3-1 | Slough Town | League | | | Match report |
| 05-12-1936 | Metropolitan Police | 2-0 | Slough Town | League | | | Match report |
| 28-11-1936 | Slough Town | 3-4 | Windsor & Eton | League | | | Match report |
| 21-11-1936 | Hoxton Manor | 2-1 | Slough Town | League | | | Match report |
| 07-11-1936 | Slough Town | 5-1 | Chesham United | League | | | Match report |
| 10-10-1936 | Pressed Steel | 0-2 | Slough Town | FA Amateur Cup | | | Match report |
Slough Town FC is not responsible for content produced on external websites | Copyright Slough Town FC 2023