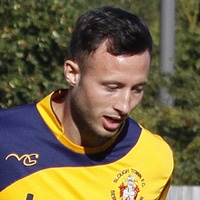 Position:
Midfielder
Bio
David Deeney was brought to the club by Steve Bateman in the summer of 2012, along with his brother Ashley.
Born in Zimbabwe, David enjoyed a good run in the FA Trophy whilst at Corby Town. He has also played for St. Albans City, Hitchin Town, Hemel Hempstead Town, Enfield (loan) and Arlesey Town having started his career with Luton Town, for whom he made one first team appearance.
David plays in central midfield and was a key part of the Rebels team which reached the First Round of the FA Cup in season 2012/13.
Mens
| First Appearance | Appearances | First Goal | Goals |
| --- | --- | --- | --- |
| 18-08-2012 vs Northwood | 43 | 27-08-2012 vs Beaconsfield Town | 7 |
History
| Match Date | Home | Score | Away | Competition | Goals | Cards | |
| --- | --- | --- | --- | --- | --- | --- | --- |
| 27-04-2013 | Slough Town | 3-0 | Chertsey Town | League | | | Match report |
| 23-04-2013 | Thatcham Town | 0-2 | Slough Town | League | | | Match report |
| 20-04-2013 | North Greenford Utd | 1-3 | Slough Town | League | | | Match report |
| 18-04-2013 | Rugby Town | 0-4 | Slough Town | League | | | Match report |
| 16-04-2013 | Godalming Town | 1-2 | Slough Town | League | | | Match report |
| 13-04-2013 | Slough Town | 2-3 | Godalming Town | League | | | Match report |
| 11-04-2013 | Aylesbury | 1-4 | Slough Town | League | | | Match report |
| 09-04-2013 | Biggleswade Town | 2-1 | Slough Town | League | | | Match report |
| 06-04-2013 | Royston Town | 2-0 | Slough Town | League | | | Match report |
| 03-04-2013 | Northwood | 2-1 | Slough Town | League | | | Match report |
| 01-04-2013 | Burnham | 1-0 | Slough Town | League | | | Match report |
| 30-03-2013 | Slough Town | 5-1 | Leighton Town | League | | | Match report |
| 26-03-2013 | Slough Town | 3-1 | Biggleswade Town | League | | | Match report |
| 16-03-2013 | Slough Town | 4-3 | Aylesbury | League | | | Match report |
| 06-03-2013 | Frome Town | 2-1 | Slough Town | Red Insure Cup | | | Match report |
| 16-02-2013 | Slough Town | 0-1 | Chalfont St Peter | League | | | Match report |
| 09-02-2013 | Slough Town | 2-1 | AFC Hayes | League | | | Match report |
| 06-02-2013 | Guildford City | 1-1 | Slough Town | League | | | Match report |
| 12-01-2013 | Woodford United | 1-4 | Slough Town | League | | | Match report |
| 01-01-2013 | Beaconsfield Town | 1-1 | Slough Town | League | | | Match report |
| 26-12-2012 | Slough Town | 2-0 | Burnham | League | | | Match report |
| 08-12-2012 | Chertsey Town | 1-3 | Slough Town | League | | | Match report |
| 01-12-2012 | Slough Town | 3-1 | Royston Town | League | | | Match report |
| 13-11-2012 | Slough Town | 1-1 | Mansfield Town | FA Cup | | | Match report |
| 10-11-2012 | Slough Town | 6-1 | Ashford Town (Middx) | League | | | Match report |
| 03-11-2012 | Mansfield Town | 0-0 | Slough Town | FA Cup | | | Match report |
| 30-10-2012 | Leighton Town | 0-3 | Slough Town | League | | | Match report |
| 27-10-2012 | Slough Town | 3-1 | Fleet Town | League | | | Match report |
| 23-10-2012 | Gosport Borough | 1-2 | Slough Town | FA Cup | | | Match report |
| 21-10-2012 | Slough Town | 0-0 | Gosport Borough | FA Cup | | | Match report |
| 16-10-2012 | Chalfont St Peter | 0-1 | Slough Town | Red Insure Cup | | | Match report |
| 13-10-2012 | Slough Town | 3-1 | Barton Rovers | League | | | Match report |
| 09-10-2012 | Slough Town | 4-1 | Thatcham Town | League | | | Match report |
| 06-10-2012 | Margate | 0-1 | Slough Town | FA Cup | | | Match report |
| 29-09-2012 | Slough Town | 0-4 | Gosport Borough | FA Trophy | | | Match report |
| 23-09-2012 | Slough Town | 5-1 | Eastbourne Town | FA Cup | | | Match report |
| 16-09-2012 | Slough Town | 2-1 | Hungerford Town | FA Trophy | | | Match report |
| 08-09-2012 | Slough Town | 4-1 | Lingfield | FA Cup | | | Match report |
| 01-09-2012 | Uxbridge | 3-2 | Slough Town | League | | | Match report |
| 27-08-2012 | Slough Town | 1-1 | Beaconsfield Town | League | | | Match report |
| 25-08-2012 | Slough Town | 4-2 | Corinthian | FA Cup | | | Match report |
| 21-08-2012 | Slough Town | 1-2 | Guildford City | League | | | Match report |
| 18-08-2012 | Slough Town | 5-0 | Northwood | League | | | Match report |
Slough Town FC is not responsible for content produced on external websites | Copyright Slough Town FC 2023