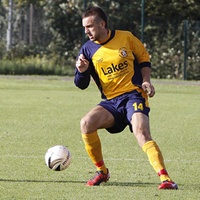 Position:
Defender
Achievements
2010/11 Supporters' player of the season runner up
Bio
Chris is a versatile defender, also comfortable in central midfield, who originally joined the Rebels from Northwood.
He is perhaps best known for his time spent at St Albans City, where he made 190 appearances for the Saints having worked his way through the Youth and Reserve set up at Clarence Park.
Seeby was an influential member of the St Albans side that gained promotion to the Nationwide Conference in the 2005-06 season. While in the Conference with City he made his debut for the England National Game XI (England non-league side) at the official opening of Forest Green Rovers' New Lawn stadium.
At Northwood, Seeby played an important role in the Reds' league and cup campaign having been a regular in the side since the start of the 2010/11 season.
Chris made 66 appearances for Slough at the back end of 2010/11 and during 2011/12, playing a key role in the Rebels' run to the playoffs in both seasons.
He rejoined Steve Bateman's side in December 2011 following some time away from football.
Mens
| First Appearance | Appearances | First Goal | Goals |
| --- | --- | --- | --- |
| 13-03-2010 vs Biggleswade Town | 74 | 20-03-2010 vs Atherstone Town | 8 |
History
| Match Date | Home | Score | Away | Competition | Goals | Cards | |
| --- | --- | --- | --- | --- | --- | --- | --- |
| 24-01-2012 | Chesham United | 3-1 | Slough Town | B&B Senior Cup | | | Match report |
| 21-01-2012 | Aylesbury | 2-0 | Slough Town | League | | | Match report |
| 14-01-2012 | Slough Town | 2-0 | Uxbridge | League | | | Match report |
| 07-01-2012 | Burnham | 1-1 | Slough Town | League | | | Match report |
| 02-01-2012 | Slough Town | 3-0 | Marlow | League | | | Match report |
| 31-12-2011 | Fleet Town | 0-1 | Slough Town | League | | | Match report |
| 26-12-2011 | Beaconsfield Town | 0-2 | Slough Town | League | | | Match report |
| 10-12-2011 | Chalfont St Peter | 2-1 | Slough Town | League | | | Match report |
| 28-04-2011 | Hitchin Town | 4-1 | Slough Town | Play Off | | | Match report |
| 25-04-2011 | Beaconsfield Town | 1-0 | Slough Town | League | | | Match report |
| 23-04-2011 | Slough Town | 3-2 | Biggleswade Town | League | | | Match report |
| 19-04-2011 | Slough Town | 2-0 | Ashford Town (Middx) | League | | | Match report |
| 16-04-2011 | Leighton Town | 3-1 | Slough Town | League | | | Match report |
| 12-04-2011 | Arlesey Town | 2-1 | Slough Town | League | | | Match report |
| 09-04-2011 | Slough Town | 4-3 | Northwood | League | | | Match report |
| 05-04-2011 | Daventry Town | 1-2 | Slough Town | League | | | Match report |
| 02-04-2011 | Burnham | 0-2 | Slough Town | League | | | Match report |
| 26-03-2011 | Slough Town | 2-1 | Bedworth United | League | | | Match report |
| 22-03-2011 | Barton Rovers | 2-0 | Slough Town | League | | | Match report |
| 19-03-2011 | Slough Town | 2-1 | North Greenford Utd | League | | | Match report |
| 15-03-2011 | Woodford United | 1-3 | Slough Town | League | | | Match report |
| 12-03-2011 | Rugby Town | 1-0 | Slough Town | League | | | Match report |
| 08-03-2011 | AFC Hayes | 2-4 | Slough Town | League | | | Match report |
| 05-03-2011 | Slough Town | 2-1 | Soham Town Rangers | League | | | Match report |
| 12-02-2011 | Slough Town | 3-2 | Aylesbury | League | | | Match report |
| 08-02-2011 | Cambridge City | 3-2 | Slough Town | Red Insure Cup | | | Match report |
| 01-02-2011 | Northwood | 1-5 | Slough Town | League | | | Match report |
| 29-01-2011 | Slough Town | 3-0 | Atherstone Town | League | | | Match report |
| 25-01-2011 | Slough Town | 3-3 | Woodford United | League | | | Match report |
| 18-01-2011 | Slough Town | 0-3 | Arlesey Town | League | | | Match report |
| 15-01-2011 | Marlow | 1-4 | Slough Town | League | | | Match report |
| 11-01-2011 | Ashford Town (Middx) | 1-2 | Slough Town | Red Insure Cup | | | Match report |
| 08-01-2011 | Slough Town | 1-1 | Hitchin Town | League | | | Match report |
| 03-01-2011 | Uxbridge | 2-1 | Slough Town | League | | | Match report |
| 14-12-2010 | Oxford City | 0-2 | Slough Town | Red Insure Cup | | | Match report |
| 11-12-2010 | Slough Town | 1-1 | Bedfont Town | League | | | Match report |
| 04-12-2010 | Ashford Town (Middx) | 1-2 | Slough Town | League | | | Match report |
| 23-11-2010 | Marlow | 3-2 | Slough Town | B&B Senior Cup | | | Match report |
| 20-11-2010 | Aylesbury | 1-2 | Slough Town | League | | | Match report |
| 16-11-2010 | Slough Town | 5-0 | AFC Hayes | League | | | Match report |
| 13-11-2010 | North Greenford Utd | 1-3 | Slough Town | League | | | Match report |
| 09-11-2010 | Slough Town | 2-3 | Burnham | League | | | Match report |
| 06-11-2010 | Slough Town | 1-3 | Rugby Town | League | | | Match report |
| 30-10-2010 | Soham Town Rangers | 1-0 | Slough Town | League | | | Match report |
| 27-10-2010 | Leighton Town | 1-3 | Slough Town | Red Insure Cup | | | Match report |
| 23-10-2010 | Slough Town | 0-1 | Leighton Town | League | | | Match report |
| 19-10-2010 | Chippenham Town | 4-1 | Slough Town | FA Trophy | | | Match report |
| 16-10-2010 | Slough Town | 1-1 | Chippenham Town | FA Trophy | | | Match report |
| 09-10-2010 | Bedworth United | 1-1 | Slough Town | League | | | Match report |
| 05-10-2010 | Marlow | 0-3 | Slough Town | FA Trophy | | | Match report |
| 02-10-2010 | Slough Town | 2-2 | Marlow | FA Trophy | | | Match report |
| 25-09-2010 | Slough Town | 1-3 | Daventry Town | League | | | Match report |
| 18-09-2010 | Atherstone Town | 1-2 | Slough Town | League | | | Match report |
| 14-09-2010 | Slough Town | 1-3 | Marlow | League | | | Match report |
| 11-09-2010 | Erith Town | 1-0 | Slough Town | FA Cup | | | Match report |
| 30-08-2010 | Slough Town | 5-2 | Uxbridge | League | | | Match report |
| 28-08-2010 | Lancing | 1-4 | Slough Town | FA Cup | | | Match report |
| 21-08-2010 | Hitchin Town | 3-2 | Slough Town | League | | | Match report |
| 18-08-2010 | Bedfont Town | 1-2 | Slough Town | League | | | Match report |
| 14-08-2010 | Slough Town | 2-1 | Barton Rovers | League | | | Match report |
| 01-05-2010 | Chesham United | 4-0 | Slough Town | Play Off | | | Match report |
| 27-04-2010 | Hitchin Town | 1-2 | Slough Town | Play Off | | | Match report |
| 24-04-2010 | Romulus | 1-4 | Slough Town | League | | | Match report |
| 20-04-2010 | Slough Town | 0-1 | Hitchin Town | League | | | Match report |
| 17-04-2010 | Slough Town | 5-1 | Aylesbury United | League | | | Match report |
| 15-04-2010 | Bromsgrove Rovers | 1-1 | Slough Town | League | | | Match report |
| 13-04-2010 | Burnham | 1-1 | Slough Town | League | | | Match report |
| 10-04-2010 | Bury Town | 1-0 | Slough Town | League | | | Match report |
| 05-04-2010 | Marlow | 0-1 | Slough Town | League | | | Match report |
| 03-04-2010 | Slough Town | 3-1 | Beaconsfield Town | League | | | Match report |
| 30-03-2010 | Slough Town | 1-2 | Arlesey Town | League | | | Match report |
| 27-03-2010 | Rothwell Town | 1-3 | Slough Town | League | | | Match report |
| 20-03-2010 | Slough Town | 3-3 | Atherstone Town | League | | | Match report |
| 13-03-2010 | Biggleswade Town | 1-0 | Slough Town | League | | | Match report |
Slough Town FC is not responsible for content produced on external websites | Copyright Slough Town FC 2023