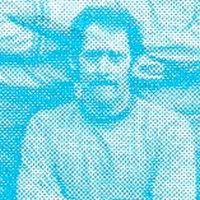 Position:
Forward
Bio
That bustling, tireless red headed ball of energy that usually wears the number 9 shirt for Slough, is David Peter Swain, as skilful an acquisition as we have ever had in the front line and certainly a popular lad with the crowd.
Born in Kilburn in May 1942, Dave started playing football at St. Johns School, Kilburn, and eventually made the Willesden Schoolboys side in the area now known as Brent. On leaving school, Dave started work and began to ply football for a soft drinks firm. This was a very successful side in the Brentford and District League and Dave really enjoyed the time he spent with them.
In 1961 Dave was asked to join Tooting and Mitcham, after four reserve team games, he was in the first team, but again after four games he decided that it was too far to travel and parted company on very amiable terms. Dave then joined Hendon where he was to stay until 1966 and realised one of every footballers ambitions when he appeared at Wembley in the Amateur Cup Final, but he had to settle for a runners up medal, the winners being Wealdstone. The next season 67/68, Dave joined Wealdstone, possibly a case of "if you cannot beat then, join them" and stayed there until this season. During this time, Dave gained Middlesex Senior Cup Winners medals, Middlesex Charity Cup and was a member of the Wealdstone side that own the M.I. Floodlight League, that side being the only amateurs in the competition.
During the last close season, Wealdstone went to Majorca at the same time as Slough, and Dave was involved in a very bad car crash. In the car with him was Dave Underwood Junior, Ex West Ham player Alan Sealey and Brian Derby. After spending five days in hospital, which rather mucked up the holiday, Wealdstone arranged for them to stay on for another week, as they would not have been allowed to fly home due to the extensive injuries sustained.
Dave's ambitions are very similar to most amateur players, a Cup winners medal, which he almost made, and an international cap, although he does not think that the latter is within the capabilities. Perhaps there are many who would disagree. Dave certainly has the ability, perhaps he will realise both his ambitions before long.
Representatives honours have gone Dave's way, he has played for Middlesex on a number of occasions and has played for an FA XI.
Off the field, Dave is very modest and almost the opposite to the player we see on the field. . For a living, Dave is a driver for Schweppes which allows him the time to further his footballing career, which we hope will continue to be in the Amber and Blue of Slough.
Mens
| First Appearance | Appearances | First Goal | Goals |
| --- | --- | --- | --- |
| 15-08-1970 vs Tilbury | 70 | 22-08-1970 vs Bishop's Stortford | 23 |
History
| Match Date | Home | Score | Away | Competition | Goals | Cards | |
| --- | --- | --- | --- | --- | --- | --- | --- |
| 06-10-1973 | Slough Town | 1-0 | Harlow Town | League | | | Match report |
| 19-09-1973 | Slough Town | 6-0 | Feltham | Premier Midweek FL | | | Match report |
| 02-05-1972 | Southall | 3-3 | Slough Town | League | | | Match report |
| 25-09-1971 | Tilbury | 2-0 | Slough Town | League | | | Match report |
| 21-09-1971 | Woking | 0-2 | Slough Town | FA Cup | | | Match report |
| 18-09-1971 | Slough Town | 1-1 | Woking | FA Cup | | | Match report |
| 11-09-1971 | Slough Town | 5-0 | Aveley | League | | | Match report |
| 06-09-1971 | Slough Town | 2-0 | Boreham Wood | League | | | Match report |
| 30-08-1971 | Leatherhead | 1-0 | Slough Town | League | | | Match report |
| 28-08-1971 | Slough Town | 2-1 | Wembley | League | | | Match report |
| 23-08-1971 | Slough Town | 4-0 | Southall | League | | | Match report |
| 21-08-1971 | Dagenham | 3-2 | Slough Town | League | | | Match report |
| 18-08-1971 | Redhill | 0-2 | Slough Town | League | | | Match report |
| 14-08-1971 | Slough Town | 1-0 | Tilbury | League | | | Match report |
| 12-05-1971 | Slough Town | 2-1 | Hayes | League | | | Match report |
| 10-05-1971 | Wycombe Wanderers | 1-0 | Slough Town | B&B Senior Cup | | | Match report |
| 08-05-1971 | Dagenham | 1-0 | Slough Town | League | | | Match report |
| 03-05-1971 | Hayes | 1-1 | Slough Town | League | | | Match report |
| 01-05-1971 | Wembley | 0-0 | Slough Town | League | | | Match report |
| 28-04-1971 | Wycombe Wanderers | 0-0 | Slough Town | B&B Senior Cup | | | Match report |
| 19-04-1971 | Slough Town | 1-1 | Redhill | League | | | Match report |
| 17-04-1971 | Slough Town | 2-0 | Tilbury | League | | | Match report |
| 15-04-1971 | Boreham Wood | 1-2 | Slough Town | League | | | Match report |
| 12-04-1971 | Slough Town | 2-0 | Grays Athletic | League | | | Match report |
| 10-04-1971 | Lewes | 1-2 | Slough Town | League | | | Match report |
| 08-04-1971 | Slough Town | 6-3 | Wealdstone | Premier Midweek FL | | | Match report |
| 05-04-1971 | Slough Town | 0-1 | Leatherhead | League | | | Match report |
| 03-04-1971 | Bishop's Stortford | 1-1 | Slough Town | League | | | Match report |
| 31-03-1971 | Slough Town | 2-0 | Cheshunt | League | | | Match report |
| 29-03-1971 | Slough Town | 1-0 | Lewes | League | | | Match report |
| 27-03-1971 | Slough Town | 1-2 | Dagenham | FA Amateur Cup | | | Match report |
| 13-03-1971 | Slough Town | 3-1 | Chesham United | B&B Senior Cup | | | Match report |
| 08-03-1971 | Slough Town | 2-1 | Boreham Wood | League | | | Match report |
| 06-03-1971 | Maidenhead United | 0-1 | Slough Town | B&B Senior Cup | | | Match report |
| 01-03-1971 | Slough Town | 1-1 | Oxford City | Premier Midweek FL | | | Match report |
| 27-02-1971 | Aveley | 0-2 | Slough Town | FA Amateur Cup | | | Match report |
| 23-02-1971 | Wycombe Wanderers | 0-2 | Slough Town | Premier Midweek FL | | | Match report |
| 20-02-1971 | Slough Town | 3-1 | Hendon | FA Amateur Cup | | | Match report |
| 13-02-1971 | Hendon | 1-1 | Slough Town | FA Amateur Cup | | | Match report |
| 09-02-1971 | Leatherhead | 1-1 | Slough Town | League | | | Match report |
| 06-02-1971 | Slough Town | 0-0 | Maidenhead United | B&B Senior Cup | | | Match report |
| 02-02-1971 | Cheshunt | 1-0 | Slough Town | League | | | Match report |
| 30-01-1971 | Harwich | 0-3 | Slough Town | FA Amateur Cup | | | Match report |
| 16-01-1971 | Redhill | 1-3 | Slough Town | FA Amateur Cup | | | Match report |
| 11-01-1971 | Slough Town | 1-2 | Wycombe Wanderers | Premier Midweek FL | | | Match report |
| 09-01-1971 | Slough Town | 1-1 | Redhill | FA Amateur Cup | | | Match report |
| 26-12-1970 | Slough Town | 1-1 | Maidenhead United | League | | | Match report |
| 21-12-1970 | Slough Town | 6-1 | Chesham United | Premier Midweek FL | | | Match report |
| 19-12-1970 | Slough Town | 4-1 | Marlow | B&B Senior Cup | | | Match report |
| 12-12-1970 | Slough Town | 0-1 | Barnet | FA Cup | | | Match report |
| 05-12-1970 | Walton & Hersham | 1-0 | Slough Town | League | | | Match report |
| 30-11-1970 | Slough Town | 3-1 | Maidenhead United | Premier Midweek FL | | | Match report |
| 14-11-1970 | Harwich | 0-2 | Slough Town | League | | | Match report |
| 09-11-1970 | Hillingdon Borough | 0-2 | Slough Town | FA Cup | | | Match report |
| 17-10-1970 | Grays Athletic | 0-1 | Slough Town | League | | | Match report |
| 12-10-1970 | Slough Town | 2-1 | Marlow | Premier Midweek FL | | | Match report |
| 10-10-1970 | Slough Town | 5-0 | Kingstonian | FA Cup | | | Match report |
| 06-10-1970 | Marlow | 2-2 | Slough Town | Premier Midweek FL | | | Match report |
| 03-10-1970 | Slough Town | 0-2 | Walton & Hersham | League | | | Match report |
| 26-09-1970 | Slough Town | 2-0 | Wembley | League | | | Match report |
| 21-09-1970 | Slough Town | 2-0 | Tilbury | FA Cup | | | Match report |
| 19-09-1970 | Tilbury | 1-1 | Slough Town | FA Cup | | | Match report |
| 15-09-1970 | Maidenhead United | 1-0 | Slough Town | Premier Midweek FL | | | Match report |
| 12-09-1970 | Slough Town | 3-0 | Harwich | League | | | Match report |
| 07-09-1970 | Slough Town | 3-0 | Southall | League | | | Match report |
| 05-09-1970 | Eastbourne Town | 1-3 | Slough Town | Athenian League Cup | | | Match report |
| 02-09-1970 | Redhill | 1-3 | Slough Town | League | | | Match report |
| 25-08-1970 | Maidenhead United | 1-2 | Slough Town | League | | | Match report |
| 22-08-1970 | Slough Town | 4-0 | Bishop's Stortford | League | | | Match report |
| 15-08-1970 | Tilbury | 2-2 | Slough Town | League | | | Match report |
Slough Town FC is not responsible for content produced on external websites | Copyright Slough Town FC 2023