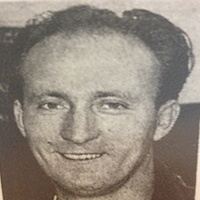 Position:
Goalkeeper
Bio
First Team goalkeeper at Slough and has been with Hounslow and Wycombe Wanderers.
His sterling work when under pressure, especially on the ground, will long be remembered at the Dolphin.
A most unspectacular goalkeeper. Geoff anticipates extremely well on the ground and more than one centre-forward has wondered how Geoff has managed to get the ball off him so quickly.
Geoff, who is married with a family, when unable to play is at the Dolphin for most matches, giving the lads what encouragement lie can.
Mens
| First Appearance | Appearances | First Goal | Goals | Clean Sheets |
| --- | --- | --- | --- | --- |
| 17-10-1959 vs Eastbourne | 113 | N/A | 0 | 24 |
History
| Match Date | Home | Score | Away | Competition | Goals | Cards | |
| --- | --- | --- | --- | --- | --- | --- | --- |
| 27-05-1963 | Slough Town | 3-0 | Wokingham Town | S. Comb. Cup | | | Match report |
| 25-05-1963 | Horsham | 2-3 | Slough Town | League | | | Match report |
| 15-05-1963 | Windsor & Eton | 3-0 | Slough Town | Benevolent Cup | | | Match report |
| 11-05-1963 | Slough Town | 1-1 | Windsor & Eton | Benevolent Cup | | | Match report |
| 04-05-1963 | Slough Town | 5-0 | Eastbourne | League | | | Match report |
| 27-04-1963 | Letchworth | 4-2 | Slough Town | League | | | Match report |
| 20-04-1963 | Slough Town | 3-0 | Horsham | League | | | Match report |
| 12-04-1963 | Chesham United | 3-0 | Slough Town | Memorial Shield | | | Match report |
| 06-04-1963 | Slough Town | 0-2 | Dorking | League | | | Match report |
| 30-03-1963 | Eastbourne | 2-1 | Slough Town | League | | | Match report |
| 23-03-1963 | Slough Town | 2-4 | Wycombe Wanderers | B&B Senior Cup | | | Match report |
| 16-03-1963 | Epsom | 0-5 | Slough Town | League | | | Match report |
| 09-03-1963 | Slough Town | 3-2 | Edgware | League | | | Match report |
| 02-03-1963 | Slough Town | 4-2 | Wembley | League | | | Match report |
| 23-02-1963 | Slough Town | 2-2 | Worthing | League | | | Match report |
| 26-12-1962 | Slough Town | 1-1 | Maidenhead United | League | | | Match report |
| 22-12-1962 | Maidenhead United | 1-1 | Slough Town | League | | | Match report |
| 15-12-1962 | Edgware | 4-1 | Slough Town | League | | | Match report |
| 08-12-1962 | Slough Town | 5-2 | Erith | League | | | Match report |
| 01-12-1962 | Wembley | 2-3 | Slough Town | League | | | Match report |
| 24-11-1962 | Slough Town | 2-2 | Letchworth | League | | | Match report |
| 17-11-1962 | Slough Town | 2-0 | Epsom | League | | | Match report |
| 03-11-1962 | Dorking | 5-2 | Slough Town | League | | | Match report |
| 27-10-1962 | Erith | 2-2 | Slough Town | League | | | Match report |
| 20-10-1962 | Slough Town | 0-0 | Dagenham | League | | | Match report |
| 13-10-1962 | Dagenham | 2-1 | Slough Town | League | | | Match report |
| 06-10-1962 | Slough Town | 3-1 | Uxbridge | League | | | Match report |
| 29-09-1962 | Slough Town | 2-4 | Newbury Town | FA Amateur Cup | | | Match report |
| 18-08-1962 | Slough Town | 0-5 | Leatherhead | League | | | Match report |
| 12-05-1962 | Slough Town | 2-1 | Wokingham Town | Benevolent Cup | | | Match report |
| 03-05-1962 | Wembley | 1-4 | Slough Town | League | | | Match report |
| 28-04-1962 | Eastbourne | 2-1 | Slough Town | League | | | Match report |
| 25-04-1962 | Slough Town | 3-1 | Wembley | League | | | Match report |
| 07-04-1962 | Slough Town | 3-2 | Windsor & Eton | Benevolent Cup | | | Match report |
| 31-03-1962 | Epsom | 2-1 | Slough Town | League | | | Match report |
| 24-03-1962 | Windsor & Eton | 0-1 | Slough Town | B&B Senior Cup | | | Match report |
| 17-03-1962 | Slough Town | 0-3 | Edgware | League | | | Match report |
| 10-03-1962 | Slough Town | 2-1 | Letchworth | League | | | Match report |
| 03-03-1962 | Slough Town | 2-0 | Worthing | League | | | Match report |
| 24-02-1962 | Horsham | 3-2 | Slough Town | League | | | Match report |
| 17-02-1962 | Slough Town | 3-0 | Eastbourne | League | | | Match report |
| 10-02-1962 | Slough Town | 2-0 | Newbury Town | B&B Senior Cup | | | Match report |
| 03-02-1962 | Worthing | 4-0 | Slough Town | League | | | Match report |
| 27-01-1962 | Slough Town | 2-0 | Chesham United | Benevolent Cup | | | Match report |
| 20-01-1962 | Leatherhead | 3-0 | Slough Town | Memorial Shield | | | Match report |
| 13-01-1962 | Slough Town | 2-1 | Chesham United | League | | | Match report |
| 06-01-1962 | Uxbridge | 1-0 | Slough Town | League | | | Match report |
| 30-12-1961 | Slough Town | 0-2 | Wokingham Town | League | | | Match report |
| 26-12-1961 | Maidenhead United | 2-0 | Slough Town | League | | | Match report |
| 23-12-1961 | Slough Town | 0-1 | Maidenhead United | League | | | Match report |
| 16-12-1961 | Chesham United | 0-1 | Slough Town | League | | | Match report |
| 09-12-1961 | Edgware | 2-1 | Slough Town | League | | | Match report |
| 02-12-1961 | Letchworth | 2-2 | Slough Town | League | | | Match report |
| 25-11-1961 | Slough Town | 3-2 | Leatherhead | League | | | Match report |
| 18-11-1961 | Slough Town | 0-1 | Uxbridge | League | | | Match report |
| 11-11-1961 | Erith | 2-2 | Slough Town | League | | | Match report |
| 04-11-1961 | Slough Town | 1-1 | Horsham | League | | | Match report |
| 21-10-1961 | Dorking | 2-2 | Slough Town | League | | | Match report |
| 14-10-1961 | Slough Town | 4-2 | Dagenham | League | | | Match report |
| 07-10-1961 | Dulwich Hamlet | 5-1 | Slough Town | FA Cup | | | Match report |
| 30-09-1961 | Slough Town | 1-2 | Aylesbury United | FA Amateur Cup | | | Match report |
| 23-09-1961 | Slough Town | 2-0 | Redhill | FA Cup | | | Match report |
| 16-09-1961 | Slough Town | 1-0 | Epsom | Memorial Shield | | | Match report |
| 09-09-1961 | Slough Town | 4-1 | Sutton United | FA Cup | | | Match report |
| 02-09-1961 | Dagenham | 3-4 | Slough Town | League | | | Match report |
| 30-08-1961 | Slough Town | 1-1 | Erith | League | | | Match report |
| 26-08-1961 | Slough Town | 3-0 | Dorking | League | | | Match report |
| 22-08-1961 | Wokingham Town | 4-0 | Slough Town | League | | | Match report |
| 19-08-1961 | Leatherhead | 3-1 | Slough Town | League | | | Match report |
| 04-03-1961 | Slough Town | 1-3 | Leatherhead | League | | | Match report |
| 25-02-1961 | Chesham United | 1-2 | Slough Town | B&B Senior Cup | | | Match report |
| 21-01-1961 | Worthing | 6-5 | Slough Town | League | | | Match report |
| 29-10-1960 | Slough Town | 1-2 | Uxbridge | League | | | Match report |
| 22-10-1960 | Slough Town | 4-2 | Wokingham Town | S. Comb. Cup | | | Match report |
| 15-10-1960 | Slough Town | 3-5 | Newbury Town | FA Amateur Cup | | | Match report |
| 08-10-1960 | Slough Town | 4-3 | Epsom | League | | | Match report |
| 01-10-1960 | Bletchley | 1-2 | Slough Town | FA Amateur Cup | | | Match report |
| 24-09-1960 | Carshalton Ath | 5-2 | Slough Town | FA Cup | | | Match report |
| 17-09-1960 | Slough Town | 10-1 | Amersham Town | FA Amateur Cup | | | Match report |
| 14-09-1960 | Wokingham Town | 0-0 | Slough Town | S. Comb. Cup | | | Match report |
| 10-09-1960 | Marlow | 0-1 | Slough Town | FA Cup | | | Match report |
| 07-09-1960 | Slough Town | 2-4 | Carshalton Ath | S. Comb. Cup | | | Match report |
| 03-09-1960 | Dagenham | 2-1 | Slough Town | League | | | Match report |
| 31-08-1960 | Slough Town | 4-3 | Wembley | League | | | Match report |
| 27-08-1960 | Slough Town | 3-0 | Epsom | Memorial Shield | | | Match report |
| 24-08-1960 | Wembley | 6-0 | Slough Town | League | | | Match report |
| 20-08-1960 | Epsom | 1-1 | Slough Town | Memorial Shield | | | Match report |
| 12-05-1960 | Maidenhead United | 4-1 | Slough Town | Benevolent Cup | | | Match report |
| 07-05-1960 | Worthing | 3-5 | Slough Town | League | | | Match report |
| 30-04-1960 | Slough Town | 2-3 | Uxbridge | League | | | Match report |
| 28-04-1960 | Redhill | 0-4 | Slough Town | S. Comb. Cup | | | Match report |
| 23-04-1960 | Slough Town | 5-0 | Letchworth | League | | | Match report |
| 18-04-1960 | Uxbridge | 2-3 | Slough Town | League | | | Match report |
| 16-04-1960 | Slough Town | 3-1 | Worthing | League | | | Match report |
| 09-04-1960 | Chesham United | 1-2 | Slough Town | Benevolent Cup | | | Match report |
| 26-03-1960 | Slough Town | 1-0 | Horsham | League | | | Match report |
| 19-03-1960 | Maidenhead United | 1-0 | Slough Town | League | | | Match report |
| 12-03-1960 | Leatherhead | 1-2 | Slough Town | League | | | Match report |
| 05-03-1960 | Wokingham Town | 0-1 | Slough Town | League | | | Match report |
| 27-02-1960 | Slough Town | 1-1 | Dagenham | League | | | Match report |
| 20-02-1960 | Slough Town | 1-2 | Uxbridge | Memorial Shield | | | Match report |
| 13-02-1960 | Slough Town | 1-1 | Wokingham Town | League | | | Match report |
| 30-01-1960 | Wycombe Wanderers | 3-1 | Slough Town | B&B Senior Cup | | | Match report |
| 23-01-1960 | Huntley & Palmers | 1-6 | Slough Town | Benevolent Cup | | | Match report |
| 09-01-1960 | Chesham United | 1-0 | Slough Town | League | | | Match report |
| 02-01-1960 | Slough Town | 1-0 | Newbury Town | B&B Senior Cup | | | Match report |
| 26-12-1959 | Slough Town | 1-4 | Maidenhead United | League | | | Match report |
| 19-12-1959 | Slough Town | 3-0 | Leatherhead | League | | | Match report |
| 12-12-1959 | Horsham | 4-1 | Slough Town | League | | | Match report |
| 05-12-1959 | Slough Town | 0-1 | Edgware | League | | | Match report |
| 31-10-1959 | Slough Town | 3-1 | Chesham United | League | | | Match report |
| 24-10-1959 | Eastbourne | 2-2 | Slough Town | League | | | Match report |
| 17-10-1959 | Slough Town | 1-1 | Eastbourne | League | | | Match report |
Slough Town FC is not responsible for content produced on external websites | Copyright Slough Town FC 2023