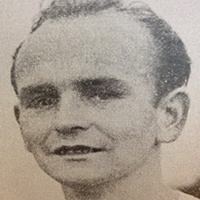 Position:
Midfielder
Bio
Henry Kornas was born in September 1925, in Chorzow Bat in Poland, and as a schoolboy showed keen interest in the game representing his school. In 1940, he was taken by the Germans to work in Germany, and opportunities in playing were non-existent. After escaping he joined the Polish Force somewhere in Italy, and soon became a member of the Carpathians (Polish Army Team) and was member of the side that was so successful against representative sides (consisting mainly of professionals) against whom the Carpathians played through Italy, across Europe to this country.
Was in Camp in the Midlands and played some games for Port Vale, but after his transfer to the Camp at Beaconsfield in 1944, he joined the Town Club and soon established himself as a favourite with the crowd with his Continental style of play.
After his move South he was approached by Port Vale to sign as a Professional, but whether it was a 'certain little lady' or the fact that he was happy in Bucks that stopped him it is difficult to say, but he was married at Beaconsfield on it snowy day last March.
Henry was a strong, hard worker, and though one sometimes hears complaints of his "roaming" he is often on the right spot and always trying to fox the opposition, Was second only to Ron Clements as a goal scorer last year, and is the team's "penalty king" only having missed once.
Henry has received many invitations to go to other clubs, but has on all occasions declined, and even when stood down for a short period remained loyal to his Club. We would like to show our appreciation of a Big Hearted Polish Gentleman.
Mens
| First Appearance | Appearances | First Goal | Goals |
| --- | --- | --- | --- |
| 18-12-1948 vs Walton & Hersham | 183 | 25-12-1948 vs Maidenhead United | 74 |
History
| Match Date | Home | Score | Away | Competition | Goals | Cards | |
| --- | --- | --- | --- | --- | --- | --- | --- |
| 17-04-1954 | Hounslow | 3-1 | Slough Town | League | | | Match report |
| 10-04-1954 | Edgware | 2-1 | Slough Town | League | | | Match report |
| 03-04-1954 | Slough Town | 2-2 | Grays Athletic | League | | | Match report |
| 20-02-1954 | Grays Athletic | 2-0 | Slough Town | League | | | Match report |
| 07-11-1953 | Carshalton Ath | 5-3 | Slough Town | League | | | Match report |
| 31-10-1953 | Uxbridge | 2-1 | Slough Town | League | | | Match report |
| 24-10-1953 | Slough Town | 3-3 | Tilbury | League | | | Match report |
| 17-10-1953 | Slough Town | 1-1 | Worthing | League | | | Match report |
| 10-10-1953 | Worthing | 4-1 | Slough Town | League | | | Match report |
| 03-10-1953 | Slough Town | 2-3 | Uxbridge | Memorial Shield | | | Match report |
| 26-09-1953 | Slough Town | 3-2 | Edgware | League | | | Match report |
| 19-09-1953 | Slough Town | 2-4 | Maidstone United | League | | | Match report |
| 22-08-1953 | Epsom | 2-0 | Slough Town | League | | | Match report |
| 09-05-1953 | Aylesbury United | 7-2 | Slough Town | Benevolent Cup | | | Match report |
| 04-05-1953 | Slough Town | 3-1 | Slough Centre | Benevolent Cup | | | Match report |
| 02-05-1953 | Slough Town | 1-1 | Edgware | League | | | Match report |
| 30-04-1953 | Edgware | 3-1 | Slough Town | League | | | Match report |
| 25-04-1953 | Grays Athletic | 3-1 | Slough Town | League | | | Match report |
| 22-04-1953 | Slough Town | 3-3 | Epsom | League | | | Match report |
| 20-04-1953 | Carshalton Ath | 3-1 | Slough Town | League | | | Match report |
| 15-04-1953 | Hounslow | 1-1 | Slough Town | League | | | Match report |
| 11-04-1953 | Slough Centre | 1-2 | Slough Town | B&B Senior Cup | | | Match report |
| 06-04-1953 | Slough Centre | 2-2 | Slough Town | B&B Senior Cup | | | Match report |
| 04-04-1953 | Uxbridge | 0-1 | Slough Town | League | | | Match report |
| 28-03-1953 | Slough Town | 0-0 | Maidstone United | League | | | Match report |
| 14-03-1953 | Wycombe Wanderers | 0-2 | Slough Town | B&B Senior Cup | | | Match report |
| 09-03-1953 | Worthing | 1-0 | Slough Town | League | | | Match report |
| 28-02-1953 | Slough Town | 4-1 | Bletchley | B&B Senior Cup | | | Match report |
| 21-02-1953 | Slough Town | 0-2 | Pegasus | FA Amateur Cup | | | Match report |
| 14-02-1953 | Slough Town | 3-2 | Willington | FA Amateur Cup | | | Match report |
| 07-02-1953 | Willington | 1-1 | Slough Town | FA Amateur Cup | | | Match report |
| 31-01-1953 | Newbury Town | 0-2 | Slough Town | Benevolent Cup | | | Match report |
| 24-01-1953 | Slough Town | 2-1 | Barking | FA Amateur Cup | | | Match report |
| 17-01-1953 | Stokenchurch | 4-8 | Slough Town | B&B Senior Cup | | | Match report |
| 10-01-1953 | Slough Town | 0-0 | Uxbridge | League | | | Match report |
| 03-01-1953 | Maidstone United | 3-2 | Slough Town | League | | | Match report |
| 27-12-1952 | Slough Town | 3-2 | Maidenhead United | League | | | Match report |
| 26-12-1952 | Maidenhead United | 3-2 | Slough Town | League | | | Match report |
| 20-12-1952 | Slough Town | 2-1 | Worthing | League | | | Match report |
| 13-12-1952 | Eastbourne | 1-4 | Slough Town | FA Amateur Cup | | | Match report |
| 29-11-1952 | Slough Town | 2-2 | Chesham United | League | | | Match report |
| 22-11-1952 | Chesham United | 3-1 | Slough Town | League | | | Match report |
| 08-11-1952 | Slough Town | 1-0 | Tilbury | League | | | Match report |
| 01-11-1952 | Tilbury | 4-5 | Slough Town | League | | | Match report |
| 25-10-1952 | Slough Town | 0-1 | Hounslow | League | | | Match report |
| 27-09-1952 | Erith | 1-1 | Slough Town | League | | | Match report |
| 20-09-1952 | Hounslow | 2-0 | Slough Town | Memorial Shield | | | Match report |
| 13-09-1952 | Slough Centre | 2-1 | Slough Town | FA Cup | | | Match report |
| 06-09-1952 | Slough Town | 4-2 | Carshalton Ath | League | | | Match report |
| 30-08-1952 | Slough Town | 2-1 | Erith | League | | | Match report |
| 23-08-1952 | Epsom | 2-1 | Slough Town | League | | | Match report |
| 03-05-1952 | Slough Town | 1-2 | Erith | League | | | Match report |
| 01-05-1952 | Slough Town | 4-2 | Uxbridge | League | | | Match report |
| 29-04-1952 | Grays Athletic | 3-1 | Slough Town | League | | | Match report |
| 26-04-1952 | Eastbourne | 2-3 | Slough Town | League | | | Match report |
| 21-04-1952 | Epsom | 1-2 | Slough Town | League | | | Match report |
| 19-04-1952 | Slough Town | 1-1 | Slough Centre | Benevolent Cup | | | Match report |
| 22-03-1952 | Slough Town | 4-2 | Windsor & Eton | Benevolent Cup | | | Match report |
| 15-03-1952 | Hounslow | 2-0 | Slough Town | Memorial Shield | | | Match report |
| 16-02-1952 | Wolverton | 2-1 | Slough Town | B&B Senior Cup | | | Match report |
| 02-02-1952 | Erith | 2-1 | Slough Town | League | | | Match report |
| 26-01-1952 | Slough Town | 3-3 | Carshalton Ath | League | | | Match report |
| 19-01-1952 | Slough Town | 1-2 | Chesham United | League | | | Match report |
| 12-01-1952 | Uxbridge | 1-5 | Slough Town | League | | | Match report |
| 29-12-1951 | Slough Town | 1-0 | Eastbourne | League | | | Match report |
| 26-12-1951 | Slough Town | 2-1 | Maidenhead United | League | | | Match report |
| 25-12-1951 | Maidenhead United | 1-4 | Slough Town | League | | | Match report |
| 22-12-1951 | Chesham United | 1-4 | Slough Town | League | | | Match report |
| 15-12-1951 | Slough Town | 2-3 | Hendon | FA Amateur Cup | | | Match report |
| 08-12-1951 | Slough Town | 6-2 | Maidstone United | League | | | Match report |
| 01-12-1951 | Worthing | 1-4 | Slough Town | League | | | Match report |
| 24-11-1951 | Carshalton Ath | 2-3 | Slough Town | League | | | Match report |
| 17-11-1951 | Slough Town | 4-3 | Hounslow | League | | | Match report |
| 10-11-1951 | Slough Town | 11-1 | Worthing | League | | | Match report |
| 03-11-1951 | Slough Town | 4-0 | Edgware | League | | | Match report |
| 27-10-1951 | Wealdstone | 5-0 | Slough Town | FA Cup | | | Match report |
| 20-10-1951 | Maidstone United | 3-3 | Slough Town | League | | | Match report |
| 17-10-1951 | Slough Town | 4-0 | St Albans City | FA Cup | | | Match report |
| 13-10-1951 | St Albans City | 1-1 | Slough Town | FA Cup | | | Match report |
| 06-10-1951 | Tilbury | 0-2 | Slough Town | League | | | Match report |
| 04-10-1951 | Barnet | 1-6 | Slough Town | FA Cup | | | Match report |
| 29-09-1951 | Slough Town | 2-2 | Barnet | FA Cup | | | Match report |
| 22-09-1951 | Edgware | 2-2 | Slough Town | League | | | Match report |
| 15-09-1951 | Slough Town | 5-1 | Grays Athletic | League | | | Match report |
| 08-09-1951 | Tilbury | 1-3 | Slough Town | Memorial Shield | | | Match report |
| 01-09-1951 | Slough Town | 2-1 | Epsom | League | | | Match report |
| 25-08-1951 | Slough Town | 6-0 | Tilbury | League | | | Match report |
| 18-08-1951 | Hounslow | 0-1 | Slough Town | League | | | Match report |
| 19-05-1951 | Maidenhead United | 1-2 | Slough Town | Benevolent Cup | | | Match report |
| 10-05-1951 | Slough Town | 2-0 | Hounslow | League | | | Match report |
| 07-05-1951 | Grays Athletic | 2-1 | Slough Town | League | | | Match report |
| 05-05-1951 | Epsom | 1-6 | Slough Town | League | | | Match report |
| 02-05-1951 | Hounslow | 1-0 | Slough Town | League | | | Match report |
| 28-04-1951 | Slough Town | 2-0 | Worthing | League | | | Match report |
| 26-04-1951 | Slough Town | 4-3 | Eastbourne | League | | | Match report |
| 21-04-1951 | Worthing | 2-2 | Slough Town | League | | | Match report |
| 18-04-1951 | Slough Town | 1-0 | Carshalton Ath | League | | | Match report |
| 14-04-1951 | Slough Town | 8-1 | Aylesbury United | Benevolent Cup | | | Match report |
| 11-04-1951 | Slough Town | 2-0 | Chesham United | League | | | Match report |
| 07-04-1951 | Slough Town | 1-3 | Tilbury | League | | | Match report |
| 31-03-1951 | Uxbridge | 2-0 | Slough Town | Memorial Shield | | | Match report |
| 26-03-1951 | Chesham United | 2-1 | Slough Town | B&B Senior Cup | | | Match report |
| 24-03-1951 | Slough Town | 4-0 | Edgware | League | | | Match report |
| 23-03-1951 | Slough Town | 5-1 | Grays Athletic | League | | | Match report |
| 17-03-1951 | Slough Town | 2-1 | Wolverton | Benevolent Cup | | | Match report |
| 10-03-1951 | Wycombe Wanderers | 1-0 | Slough Town | B&B Senior Cup | | | Match report |
| 03-03-1951 | Slough Town | 2-2 | Uxbridge | League | | | Match report |
| 24-02-1951 | Tilbury | 1-3 | Slough Town | League | | | Match report |
| 17-02-1951 | Slough Town | 4-3 | Maidenhead United | B&B Senior Cup | | | Match report |
| 10-02-1951 | Slough Town | 5-1 | Tilbury | Memorial Shield | | | Match report |
| 03-02-1951 | Slough Town | 8-2 | Maidstone United | League | | | Match report |
| 27-01-1951 | Slough Town | 1-3 | Pegasus | FA Amateur Cup | | | Match report |
| 20-01-1951 | Eastbourne | 1-2 | Slough Town | League | | | Match report |
| 13-01-1951 | Slough Town | 4-1 | Poole Town | FA Amateur Cup | | | Match report |
| 06-01-1951 | Slough Town | 2-0 | Erith | League | | | Match report |
| 30-12-1950 | Maidstone United | 2-0 | Slough Town | League | | | Match report |
| 26-12-1950 | Maidenhead United | 1-4 | Slough Town | League | | | Match report |
| 25-12-1950 | Slough Town | 1-0 | Maidenhead United | League | | | Match report |
| 23-12-1950 | Slough Town | 6-2 | Chesham United | Memorial Shield | | | Match report |
| 16-12-1950 | Uxbridge | 2-2 | Slough Town | League | | | Match report |
| 09-12-1950 | Erith | 2-3 | Slough Town | League | | | Match report |
| 02-12-1950 | Chesham United | 1-0 | Slough Town | League | | | Match report |
| 18-11-1950 | Slough Town | 1-0 | Haywards Heath | FA Amateur Cup | | | Match report |
| 11-11-1950 | Maidenhead United | 0-3 | Slough Town | FA Amateur Cup | | | Match report |
| 04-11-1950 | Slough Town | 2-2 | Maidenhead United | FA Amateur Cup | | | Match report |
| 01-11-1950 | Wycombe Wanderers | 2-0 | Slough Town | FA Cup | | | Match report |
| 28-10-1950 | Slough Town | 1-1 | Wycombe Wanderers | FA Cup | | | Match report |
| 21-10-1950 | Slough Town | 2-1 | Slough Centre | FA Amateur Cup | | | Match report |
| 18-10-1950 | Slough Town | 5-1 | Banbury Spencer | FA Cup | | | Match report |
| 14-10-1950 | Banbury Spencer | 1-1 | Slough Town | FA Cup | | | Match report |
| 07-10-1950 | Slough Town | 2-0 | Amersham Town | FA Amateur Cup | | | Match report |
| 04-10-1950 | Oxford City | 1-2 | Slough Town | FA Cup | | | Match report |
| 30-09-1950 | Slough Town | 2-2 | Oxford City | FA Cup | | | Match report |
| 23-09-1950 | Slough Town | 3-0 | Kidlington | FA Amateur Cup | | | Match report |
| 16-09-1950 | Headington | 3-4 | Slough Town | FA Cup | | | Match report |
| 09-09-1950 | Osberton Rad | 0-3 | Slough Town | FA Amateur Cup | | | Match report |
| 02-09-1950 | Edgware | 3-3 | Slough Town | League | | | Match report |
| 26-08-1950 | Slough Town | 2-1 | Epsom | League | | | Match report |
| 19-08-1950 | Carshalton Ath | 2-3 | Slough Town | League | | | Match report |
| 29-04-1950 | Grays Athletic | 3-3 | Slough Town | League | | | Match report |
| 27-04-1950 | Edgware | 2-0 | Slough Town | League | | | Match report |
| 22-04-1950 | Slough Town | 0-4 | Erith | League | | | Match report |
| 17-04-1950 | Windsor & Eton | 1-5 | Slough Town | League | | | Match report |
| 11-03-1950 | Eastbourne | 1-1 | Slough Town | League | | | Match report |
| 04-03-1950 | Wolverton | 2-1 | Slough Town | B&B Senior Cup | | | Match report |
| 25-02-1950 | Chesham United | 1-1 | Slough Town | League | | | Match report |
| 18-02-1950 | Slough Town | 1-2 | Wolverton | Benevolent Cup | | | Match report |
| 11-02-1950 | Slough Town | 4-0 | Edgware | League | | | Match report |
| 28-01-1950 | Slough Town | 2-0 | Worthing | League | | | Match report |
| 21-01-1950 | Slough Town | 3-1 | Slough Centre | B&B Senior Cup | | | Match report |
| 14-01-1950 | Slough Town | 1-1 | Epsom | League | | | Match report |
| 07-01-1950 | Slough Town | 6-3 | Chesham United | League | | | Match report |
| 31-12-1949 | Slough Town | 3-1 | Windsor & Eton | League | | | Match report |
| 27-12-1949 | Maidenhead United | 0-0 | Slough Town | League | | | Match report |
| 17-12-1949 | Slough Town | 0-2 | Uxbridge | League | | | Match report |
| 10-12-1949 | Slough Town | 4-1 | Carshalton Ath | League | | | Match report |
| 24-09-1949 | Slough Centre | 2-1 | Slough Town | FA Amateur Cup | | | Match report |
| 17-09-1949 | Slough Town | 3-2 | Aylesbury United | FA Cup | | | Match report |
| 10-09-1949 | Thame United | 1-3 | Slough Town | FA Amateur Cup | | | Match report |
| 03-09-1949 | Slough Town | 1-0 | Slough Centre | FA Cup | | | Match report |
| 27-08-1949 | Slough Town | 1-0 | Eastbourne | League | | | Match report |
| 14-05-1949 | Maidenhead United | 0-1 | Slough Town | Benevolent Cup | | | Match report |
| 07-05-1949 | Worthing | 2-2 | Slough Town | League | | | Match report |
| 05-05-1949 | Slough Town | 1-2 | Worthing | League | | | Match report |
| 03-05-1949 | Slough Town | 1-2 | Hounslow | League | | | Match report |
| 02-05-1949 | Uxbridge | 1-1 | Slough Town | League | | | Match report |
| 26-04-1949 | Slough Town | 3-4 | Erith | League | | | Match report |
| 09-04-1949 | Hounslow | 2-1 | Slough Town | League | | | Match report |
| 02-04-1949 | Slough Town | 2-0 | Aylesbury United | Benevolent Cup | | | Match report |
| 26-03-1949 | Grays Athletic | 0-4 | Slough Town | League | | | Match report |
| 19-03-1949 | Carshalton Ath | 3-5 | Slough Town | League | | | Match report |
| 12-03-1949 | Slough Town | 0-1 | Carshalton Ath | League | | | Match report |
| 26-02-1949 | Slough Town | 2-0 | Windsor & Eton | League | | | Match report |
| 19-02-1949 | Marlow | 3-5 | Slough Town | Benevolent Cup | | | Match report |
| 12-02-1949 | Slough Town | 6-1 | Eastbourne | League | | | Match report |
| 05-02-1949 | Erith | 2-2 | Slough Town | League | | | Match report |
| 29-01-1949 | Chesham United | 2-2 | Slough Town | League | | | Match report |
| 15-01-1949 | Windsor & Eton | 0-2 | Slough Town | League | | | Match report |
| 08-01-1949 | Slough Town | 5-0 | Chesham United | League | | | Match report |
| 01-01-1949 | Slough Town | 0-4 | Walton & Hersham | League | | | Match report |
| 26-12-1948 | Maidenhead United | 4-2 | Slough Town | League | | | Match report |
| 25-12-1948 | Slough Town | 3-0 | Maidenhead United | League | | | Match report |
| 18-12-1948 | Walton & Hersham | 1-2 | Slough Town | League | | | Match report |
Slough Town FC is not responsible for content produced on external websites | Copyright Slough Town FC 2023