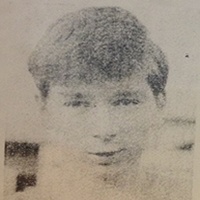 Position:
Forward
Bio
Enthusiastic goalscoring inside forward who came from Langley Sports and had an extended run in the first team in season 1963/64. Alan, who lived in Langley, was born in Paddington and came with his parents to Slough. It did not take him long to join a football team, and he spent half a season with Pathfinders before joining Langley Minors.
He went on to play for Langley in the District League, and became captain of the side, playing mostly at inside-forward, his favourite position.
Alan has played at inside-left, outside-right inside-right, and on the left wing on his few appearances for the first team
Despite this he has won county honours, playing twice for the Berks and Bucks Junior side in the Southern Counties Cup both times as centre-forward
Subsequently appeared regularly for the reserves, willingly filling-in for the first team when asked to do so. Alan was well on the goal trail with the reserves having scored 16 goals, including hat-tricks against Erith & Belvedere and Dorking. Also had spells with Windsor and Eton and Wokingham Town.
Mens
| First Appearance | Appearances | First Goal | Goals |
| --- | --- | --- | --- |
| 29-09-1962 vs Newbury Town | 40 | 29-09-1962 vs Newbury Town | 15 |
History
| Match Date | Home | Score | Away | Competition | Goals | Cards | |
| --- | --- | --- | --- | --- | --- | --- | --- |
| 29-09-1969 | Wokingham Town | 1-2 | Slough Town | Premier Midweek FL | | | Match report |
| 27-09-1969 | Slough Town | 1-1 | Cheshunt | League | | | Match report |
| 19-08-1969 | Southall | 0-1 | Slough Town | League | | | Match report |
| 16-08-1969 | Slough Town | 1-2 | Bishop's Stortford | League | | | Match report |
| 06-05-1965 | Slough Town | 1-2 | Chalfont St Peter | Benevolent Cup | | | Match report |
| 27-04-1965 | Letchworth | 2-0 | Slough Town | League | | | Match report |
| 27-03-1965 | Slough Town | 2-1 | Chesham United | Benevolent Cup | | | Match report |
| 12-12-1964 | Slough Town | 4-0 | Hemel Hempstead Town | League | | | Match report |
| 24-10-1964 | Chalfont St Peter | 2-1 | Slough Town | FA Amateur Cup | | | Match report |
| 17-10-1964 | Hendon | 3-1 | Slough Town | FA Cup | | | Match report |
| 10-10-1964 | Slough Town | 5-0 | Huntley & Palmers | FA Amateur Cup | | | Match report |
| 02-05-1964 | Worthing | 5-0 | Slough Town | League | | | Match report |
| 30-04-1964 | Slough Town | 1-0 | Molesey | S. Comb. Cup | | | Match report |
| 25-04-1964 | Slough Town | 3-2 | Wokingham Town | S. Comb. Cup | | | Match report |
| 15-04-1964 | Slough Town | 1-1 | Edgware | League | | | Match report |
| 11-04-1964 | Slough Town | 3-0 | Horsham | League | | | Match report |
| 08-04-1964 | Slough Town | 1-0 | Wokingham Town | League | | | Match report |
| 04-04-1964 | Wokingham Town | 3-2 | Slough Town | Benevolent Cup | | | Match report |
| 30-03-1964 | Eastbourne | 1-1 | Slough Town | League | | | Match report |
| 28-03-1964 | Dorking | 0-4 | Slough Town | League | | | Match report |
| 21-03-1964 | Slough Town | 3-0 | Letchworth | League | | | Match report |
| 14-03-1964 | Horsham | 1-3 | Slough Town | League | | | Match report |
| 07-03-1964 | Wokingham Town | 2-1 | Slough Town | League | | | Match report |
| 29-02-1964 | Slough Town | 4-2 | Epsom | League | | | Match report |
| 22-02-1964 | Slough Town | 3-1 | Dorking | League | | | Match report |
| 15-02-1964 | Worthing | 4-0 | Slough Town | Memorial Shield | | | Match report |
| 08-02-1964 | Windsor & Eton | 2-0 | Slough Town | B&B Senior Cup | | | Match report |
| 01-02-1964 | Slough Town | 5-0 | Didcot Town | B&B Senior Cup | | | Match report |
| 25-01-1964 | Newbury Town | 0-4 | Slough Town | B&B Senior Cup | | | Match report |
| 11-01-1964 | Slough Town | 2-1 | Chesham United | League | | | Match report |
| 04-01-1964 | Chesham United | 2-1 | Slough Town | League | | | Match report |
| 28-12-1963 | Slough Town | 4-1 | Uxbridge | League | | | Match report |
| 21-12-1963 | Wembley | 1-6 | Slough Town | League | | | Match report |
| 14-12-1963 | Slough Town | 0-3 | Leatherhead | League | | | Match report |
| 07-12-1963 | Slough Town | 4-2 | Edgware | Memorial Shield | | | Match report |
| 03-11-1962 | Dorking | 5-2 | Slough Town | League | | | Match report |
| 27-10-1962 | Erith | 2-2 | Slough Town | League | | | Match report |
| 20-10-1962 | Slough Town | 0-0 | Dagenham | League | | | Match report |
| 06-10-1962 | Slough Town | 3-1 | Uxbridge | League | | | Match report |
| 29-09-1962 | Slough Town | 2-4 | Newbury Town | FA Amateur Cup | | | Match report |
Slough Town FC is not responsible for content produced on external websites | Copyright Slough Town FC 2023