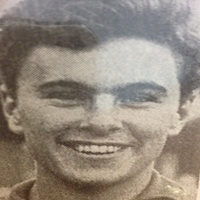 Position:
Defender
Bio
Undoubtedly one of Slough's biggest "discoveries" during the close season was left-back John Ford who at 17 was the baby of a young side. John graduated straight from youth soccer to the Corinthian League.
He made his first-team debut with the opening match of the season and has missed only one since, when he was playing for the county youth team. Subsequently he was selected to captain the county youth side but asked to be released so that he could assist Slough against Epsom.
John moved with his family to Slough from West Drayton in 1958, having played for Southall G.S. and Uxbridge Juniors as a centre or inside-forward. John went to Slough Grammar School and played in the district team but he was better known in youth football. playing for two seasons in the all-conquertng Old Paludians team. He was in the all-conquering Old Pals side of 1960/61 and was in the County Youth side (under-18) that season and the next-the latter as captain.
At first he played at full-back but towards the end of last season went up into the forward line "for a laugh" and succeeded in scoring several goals.
Already this promising youngster has come to the notices of professional clubs and he has had a trial with Arsenal Youths but laughingly would answer only "no comment" when asked about the possibilities; of a professional future.
John joined the Rebels in 1961 and the same year signed amateur forms for Arsenal and played in the South-Eastern Counties League. He also signed Combination forms for Q.P.R.
Noted for his consistency and sportsmanship, he subsequently moved on to Wokingham Town in 1968, appearing for the team that defeated Slough in the Berks and Bucks Senior Cup Final in 1969.
John worked at the Town Hall. A cost clerk by profession, John says that besides soccer, his hobbies are collecting modern jazz records and playing golf. "But I'm not very good at it", he insists. John, always a consistent player, gained confidence - and apparently, a sense of adventure. It is nothing these days to see him challenging his opponents' goalkeeper.
To the question, "What is your favourite hobby?" he answered, "My wife ... and a very good hobby she is too!" If he can adapt himself to golf as well as he did to the left-back position, then he should soon be an accomplished golfer.
Mens
| First Appearance | Appearances | First Goal | Goals |
| --- | --- | --- | --- |
| 19-08-1961 vs Leatherhead | 307 | 17-11-1962 vs Epsom | 7 |
History
| Match Date | Home | Score | Away | Competition | Goals | Cards | |
| --- | --- | --- | --- | --- | --- | --- | --- |
| 10-08-1968 | Slough Town | 0-0 | Dagenham | Mithras Cup | | | Match report |
| 04-05-1968 | Slough Town | 4-2 | Leyton | League | | | Match report |
| 24-04-1968 | Slough Town | 4-1 | Hornchurch | Mithras Cup | | | Match report |
| 23-04-1968 | Southall | 0-0 | Slough Town | League | | | Match report |
| 15-04-1968 | Wycombe Wanderers | 3-2 | Slough Town | B&B Senior Cup | | | Match report |
| 13-04-1968 | Slough Town | 6-1 | Hornchurch | League | | | Match report |
| 11-04-1968 | Slough Town | 4-0 | Maidenhead United | Wycombe Floodlit Lge. | | | Match report |
| 06-04-1968 | Aylesbury United | 0-1 | Slough Town | B&B Senior Cup | | | Match report |
| 30-03-1968 | Chesham United | 0-2 | Slough Town | B&B Senior Cup | | | Match report |
| 26-03-1968 | Maidenhead United | 0-2 | Slough Town | Wycombe Floodlit Lge. | | | Match report |
| 23-03-1968 | Slough Town | 0-0 | Chesham United | B&B Senior Cup | | | Match report |
| 18-03-1968 | Slough Town | 3-1 | Redhill | League | | | Match report |
| 16-03-1968 | Hemel Hempstead Town | 0-2 | Slough Town | League | | | Match report |
| 11-03-1968 | Slough Town | 1-1 | Dagenham | League | | | Match report |
| 09-03-1968 | Slough Town | 3-1 | Leatherhead | League | | | Match report |
| 06-03-1968 | Slough Town | 3-0 | Hertford Town | Mithras Cup | | | Match report |
| 02-03-1968 | Slough Town | 7-0 | Hemel Hempstead Town | League | | | Match report |
| 28-02-1968 | Slough Town | 0-1 | Walton & Hersham | Premier Midweek FL | | | Match report |
| 24-02-1968 | Hayes | 0-2 | Slough Town | League | | | Match report |
| 21-02-1968 | Tooting | 0-0 | Slough Town | Premier Midweek FL | | | Match report |
| 17-02-1968 | Sutton United | 1-0 | Slough Town | FA Amateur Cup | | | Match report |
| 10-02-1968 | Slough Town | 1-1 | Sutton United | FA Amateur Cup | | | Match report |
| 03-02-1968 | West Auckland | 1-3 | Slough Town | FA Amateur Cup | | | Match report |
| 27-01-1968 | Marlow | 0-4 | Slough Town | B&B Senior Cup | | | Match report |
| 20-01-1968 | Slough Town | 3-2 | Finchley | FA Amateur Cup | | | Match report |
| 06-01-1968 | Slough Town | 1-2 | Hounslow | League | | | Match report |
| 03-01-1968 | Slough Town | 5-2 | Horsham | Mithras Cup | | | Match report |
| 30-12-1967 | Slough Town | 4-0 | Maidenhead United | League | | | Match report |
| 26-12-1967 | Maidenhead United | 0-4 | Slough Town | League | | | Match report |
| 16-12-1967 | Slough Town | 4-1 | Hoddesdon | FA Amateur Cup | | | Match report |
| 04-12-1967 | Slough Town | 3-0 | Woking | Wycombe Floodlit Lge. | | | Match report |
| 02-12-1967 | Harwich | 1-3 | Slough Town | League | | | Match report |
| 25-11-1967 | Slough Town | 5-0 | Grays Athletic | League | | | Match report |
| 18-11-1967 | Walton & Hersham | 0-2 | Slough Town | League | | | Match report |
| 15-11-1967 | Slough Town | 2-1 | Guildford City | Premier Midweek FL | | | Match report |
| 11-11-1967 | Hornchurch | 0-1 | Slough Town | League | | | Match report |
| 07-11-1967 | Walton & Hersham | 0-2 | Slough Town | Premier Midweek FL | | | Match report |
| 04-11-1967 | Slough Town | 9-1 | Southall | League | | | Match report |
| 01-11-1967 | Leytonstone | 2-1 | Slough Town | FA Cup | | | Match report |
| 28-10-1967 | Slough Town | 2-2 | Leytonstone | FA Cup | | | Match report |
| 21-10-1967 | Finchley | 1-2 | Slough Town | League | | | Match report |
| 14-10-1967 | Slough Town | 5-1 | Bishop's Stortford | FA Cup | | | Match report |
| 11-10-1967 | Slough Town | 3-3 | Leatherhead | Premier Midweek FL | | | Match report |
| 07-10-1967 | Leyton | 0-4 | Slough Town | League | | | Match report |
| 03-10-1967 | Horsham | 2-2 | Slough Town | Premier Midweek FL | | | Match report |
| 30-09-1967 | Slough Town | 3-0 | Hertford Town | FA Cup | | | Match report |
| 23-09-1967 | Hounslow | 1-3 | Slough Town | League | | | Match report |
| 20-09-1967 | Slough Town | 1-0 | Windsor & Eton | Westminster Hospital Cup | | | Match report |
| 16-09-1967 | Slough Town | 3-0 | Corinthian Casuals | FA Cup | | | Match report |
| 09-09-1967 | Slough Town | 3-0 | Walton & Hersham | League | | | Match report |
| 06-09-1967 | Slough Town | 2-0 | Hayes | League | | | Match report |
| 02-09-1967 | Grays Athletic | 1-4 | Slough Town | League | | | Match report |
| 28-08-1967 | Redhill | 3-3 | Slough Town | League | | | Match report |
| 26-08-1967 | Slough Town | 6-2 | Harwich | League | | | Match report |
| 23-08-1967 | Slough Town | 2-2 | Finchley | League | | | Match report |
| 19-08-1967 | Bishop's Stortford | 1-2 | Slough Town | League | | | Match report |
| 17-05-1967 | Slough Town | 1-0 | Hendon | Benevolent Fund | | | Match report |
| 07-05-1967 | Windsor & Eton | 1-1 | Slough Town | Windsor Hosp. | | | Match report |
| 29-04-1967 | Grays Athletic | 4-1 | Slough Town | League | | | Match report |
| 26-04-1967 | Slough Town | 2-1 | Leatherhead | League | | | Match report |
| 22-04-1967 | Dagenham | 1-0 | Slough Town | League | | | Match report |
| 19-04-1967 | Slough Town | 0-0 | Hemel Hempstead Town | League | | | Match report |
| 17-04-1967 | Maidenhead United | 2-1 | Slough Town | Wycombe Floodlit League | | | Match report |
| 12-04-1967 | Slough Town | 2-0 | Southall | Wycombe Floodlit League | | | Match report |
| 06-04-1967 | Oxford City | 6-1 | Slough Town | Wycombe Floodlit League | | | Match report |
| 04-04-1967 | Walton & Hersham | 1-2 | Slough Town | League | | | Match report |
| 01-04-1967 | Slough Town | 2-1 | Harwich | League | | | Match report |
| 27-03-1967 | Leyton | 2-0 | Slough Town | League | | | Match report |
| 25-03-1967 | Slough Town | 0-2 | Dagenham | League | | | Match report |
| 22-03-1967 | Edgware | 1-4 | Slough Town | League | | | Match report |
| 18-03-1967 | Worthing | 0-4 | Slough Town | League | | | Match report |
| 14-03-1967 | Leatherhead | 1-0 | Slough Town | League | | | Match report |
| 08-03-1967 | Hemel Hempstead Town | 1-0 | Slough Town | League | | | Match report |
| 04-03-1967 | Skelmersdale | 1-0 | Slough Town | FA Amateur Cup | | | Match report |
| 25-02-1967 | Slough Town | 2-2 | Skelmersdale | FA Amateur Cup | | | Match report |
| 18-02-1967 | Chesham United | 2-1 | Slough Town | B&B Senior Cup | | | Match report |
| 11-02-1967 | Southall | 0-1 | Slough Town | FA Amateur Cup | | | Match report |
| 04-02-1967 | Slough Town | 4-0 | Chalfont St Peter | B&B Senior Cup | | | Match report |
| 28-01-1967 | Harwich | 0-2 | Slough Town | FA Amateur Cup | | | Match report |
| 21-01-1967 | Hitchin Town | 1-3 | Slough Town | FA Amateur Cup | | | Match report |
| 18-01-1967 | Slough Town | 1-1 | Finchley | League | | | Match report |
| 14-01-1967 | Slough Town | 1-1 | Hitchin Town | FA Amateur Cup | | | Match report |
| 31-12-1966 | Maidenhead United | 1-1 | Slough Town | League | | | Match report |
| 26-12-1966 | Slough Town | 4-5 | Maidenhead United | League | | | Match report |
| 17-12-1966 | Witney | 0-4 | Slough Town | FA Amateur Cup | | | Match report |
| 13-12-1966 | Maidenhead United | 2-0 | Slough Town | Mithras Cup | | | Match report |
| 03-12-1966 | Hayes | 0-1 | Slough Town | League | | | Match report |
| 26-11-1966 | Slough Town | 6-0 | Hounslow | League | | | Match report |
| 19-11-1966 | Bishop's Stortford | 0-2 | Slough Town | League | | | Match report |
| 14-11-1966 | Slough Town | 0-1 | Maidenhead United | Mithras Cup | | | Match report |
| 12-11-1966 | Slough Town | 1-1 | Grays Athletic | League | | | Match report |
| 05-11-1966 | Marlow | 1-2 | Slough Town | FA Amateur Cup | | | Match report |
| 29-10-1966 | Slough Town | 7-0 | Hazells | FA Amateur Cup | | | Match report |
| 22-10-1966 | Hazells | 2-2 | Slough Town | FA Amateur Cup | | | Match report |
| 15-10-1966 | Slough Town | 4-1 | Bishop's Stortford | League | | | Match report |
| 08-10-1966 | Bracknell Town | 0-4 | Slough Town | FA Amateur Cup | | | Match report |
| 03-10-1966 | Slough Town | 1-4 | Wycombe Wanderers | Wycombe Floodlit League | | | Match report |
| 01-10-1966 | Finchley | 3-2 | Slough Town | FA Cup | | | Match report |
| 24-09-1966 | Hounslow | 2-0 | Slough Town | League | | | Match report |
| 17-09-1966 | Clapton | 0-2 | Slough Town | FA Cup | | | Match report |
| 10-09-1966 | Slough Town | 3-2 | Hayes | League | | | Match report |
| 07-09-1966 | Slough Town | 1-2 | Edgware | League | | | Match report |
| 03-09-1966 | Slough Town | 2-0 | Dagenham | FA Cup | | | Match report |
| 29-08-1966 | Slough Town | 3-1 | Walton & Hersham | League | | | Match report |
| 27-08-1966 | Finchley | 1-0 | Slough Town | League | | | Match report |
| 23-08-1966 | Southall | 2-0 | Slough Town | League | | | Match report |
| 20-08-1966 | Slough Town | 3-2 | Leyton | League | | | Match report |
| 22-05-1966 | Windsor & Eton | 1-2 | Slough Town | Windsor Hosp. | | | Match report |
| 19-05-1966 | Slough Town | 3-0 | Maidenhead United | Wycombe Floodlit League | | | Match report |
| 11-05-1966 | Slough Town | 2-1 | Reading | Wycombe Floodlit League | | | Match report |
| 09-05-1966 | Reading | 2-0 | Slough Town | Wycombe Floodlit League | | | Match report |
| 04-05-1966 | Slough Town | 0-1 | Leatherhead | League | | | Match report |
| 26-04-1966 | Finchley | 4-0 | Slough Town | League | | | Match report |
| 23-04-1966 | Slough Town | 5-0 | Hornchurch | League | | | Match report |
| 20-04-1966 | Edgware | 0-0 | Slough Town | League | | | Match report |
| 11-04-1966 | Walton & Hersham | 2-2 | Slough Town | League | | | Match report |
| 02-04-1966 | Slough Town | 1-1 | Grays Athletic | League | | | Match report |
| 28-03-1966 | Slough Town | 1-2 | Wycombe Wanderers | Wycombe Floodlit League | | | Match report |
| 26-03-1966 | Maidenhead United | 3-1 | Slough Town | League | | | Match report |
| 19-03-1966 | Leatherhead | 1-1 | Slough Town | League | | | Match report |
| 12-03-1966 | Slough Town | 3-2 | Hayes | League | | | Match report |
| 02-03-1966 | Slough Town | 2-1 | Hemel Hempstead Town | League | | | Match report |
| 26-02-1966 | Slough Town | 2-0 | Leyton | League | | | Match report |
| 19-02-1966 | Slough Town | 3-0 | Worthing | League | | | Match report |
| 05-02-1966 | Slough Town | 3-4 | Maidenhead United | B&B Senior Cup | | | Match report |
| 29-01-1966 | Hemel Hempstead Town | 2-3 | Slough Town | League | | | Match report |
| 22-01-1966 | Hounslow | 4-3 | Slough Town | League | | | Match report |
| 08-01-1966 | Slough Town | 1-2 | Maidenhead United | League | | | Match report |
| 01-01-1966 | Southall | 1-0 | Slough Town | League | | | Match report |
| 21-12-1965 | Wycombe Wanderers | 0-2 | Slough Town | Wycombe Floodlit League | | | Match report |
| 18-12-1965 | Slough Town | 10-0 | Carshalton Ath | League | | | Match report |
| 04-12-1965 | Hayes | 1-2 | Slough Town | League | | | Match report |
| 27-11-1965 | Slough Town | 1-2 | Hemel Hempstead Town | FA Amateur Cup | | | Match report |
| 20-11-1965 | Dagenham | 5-3 | Slough Town | League | | | Match report |
| 13-11-1965 | Slough Town | 3-0 | Walton & Hersham | League | | | Match report |
| 08-11-1965 | Slough Town | 2-1 | Oxford City | Mithras Cup | | | Match report |
| 06-11-1965 | Chalfont St Peter | 0-1 | Slough Town | FA Amateur Cup | | | Match report |
| 30-10-1965 | Slough Town | 0-3 | Hounslow | League | | | Match report |
| 27-10-1965 | Oxford City | 6-1 | Slough Town | Mithras Cup | | | Match report |
| 23-10-1965 | Wokingham Town | 0-3 | Slough Town | FA Amateur Cup | | | Match report |
| 19-10-1965 | Maidenhead United | 1-1 | Slough Town | Wycombe Floodlit League | | | Match report |
| 16-10-1965 | Slough Town | 0-1 | Finchley | League | | | Match report |
| 09-10-1965 | Wolverton | 0-4 | Slough Town | FA Amateur Cup | | | Match report |
| 25-09-1965 | Hornchurch | 2-2 | Slough Town | League | | | Match report |
| 18-09-1965 | Slough Town | 0-1 | Metropolitan Police | FA Cup | | | Match report |
| 11-09-1965 | Grays Athletic | 2-1 | Slough Town | League | | | Match report |
| 04-09-1965 | Slough Town | 5-3 | Wembley | FA Cup | | | Match report |
| 30-08-1965 | Worthing | 3-2 | Slough Town | League | | | Match report |
| 28-08-1965 | Slough Town | 6-0 | Edgware | League | | | Match report |
| 26-08-1965 | Slough Town | 5-1 | Southall | League | | | Match report |
| 21-08-1965 | Carshalton Ath | 3-6 | Slough Town | League | | | Match report |
| 01-05-1965 | Slough Town | 5-0 | Eastbourne | League | | | Match report |
| 29-04-1965 | Tilbury | 1-1 | Slough Town | League | | | Match report |
| 27-04-1965 | Letchworth | 2-0 | Slough Town | League | | | Match report |
| 24-04-1965 | Slough Town | 4-0 | Dorking | League | | | Match report |
| 21-04-1965 | Slough Town | 3-3 | Harrow Town | League | | | Match report |
| 19-04-1965 | Chesham United | 4-2 | Slough Town | B&B Senior Cup | | | Match report |
| 17-04-1965 | Horsham | 1-3 | Slough Town | League | | | Match report |
| 16-04-1965 | Hemel Hempstead Town | 0-1 | Slough Town | League | | | Match report |
| 14-04-1965 | Slough Town | 1-0 | Letchworth | League | | | Match report |
| 10-04-1965 | Slough Town | 7-2 | Horsham | Memorial Shield | | | Match report |
| 07-04-1965 | Slough Town | 2-0 | Hertford Town | League | | | Match report |
| 03-04-1965 | Horsham | 1-0 | Slough Town | Memorial Shield | | | Match report |
| 31-03-1965 | Slough Town | 3-2 | Uxbridge | League | | | Match report |
| 29-03-1965 | Dorking | 0-3 | Slough Town | League | | | Match report |
| 20-03-1965 | Erith | 1-1 | Slough Town | League | | | Match report |
| 13-03-1965 | Windsor & Eton | 2-3 | Slough Town | B&B Senior Cup | | | Match report |
| 06-03-1965 | Slough Town | 4-1 | Epsom & Ewell | League | | | Match report |
| 27-02-1965 | Slough Town | 6-1 | Hertford Town | Memorial Shield | | | Match report |
| 13-02-1965 | Slough Town | 2-1 | Chesham United | Memorial Shield | | | Match report |
| 06-02-1965 | Hazells | 2-3 | Slough Town | B&B Senior Cup | | | Match report |
| 30-01-1965 | Eastbourne | 1-1 | Slough Town | League | | | Match report |
| 23-01-1965 | Wembley | 0-2 | Slough Town | League | | | Match report |
| 16-01-1965 | Slough Town | 2-1 | Chalfont St Peter | B&B Senior Cup | | | Match report |
| 09-01-1965 | Slough Town | 7-0 | Harlow Town | League | | | Match report |
| 02-01-1965 | Slough Town | 1-0 | Chesham United | League | | | Match report |
| 26-12-1964 | Chesham United | 2-2 | Slough Town | League | | | Match report |
| 19-12-1964 | Hertford Town | 2-1 | Slough Town | League | | | Match report |
| 12-12-1964 | Slough Town | 4-0 | Hemel Hempstead Town | League | | | Match report |
| 05-12-1964 | Epsom & Ewell | 2-4 | Slough Town | League | | | Match report |
| 28-11-1964 | Slough Town | 3-0 | Wokingham Town | League | | | Match report |
| 21-11-1964 | Letchworth | 2-5 | Slough Town | Memorial Shield | | | Match report |
| 07-11-1964 | Slough Town | 5-1 | Horsham | League | | | Match report |
| 31-10-1964 | Slough Town | 4-0 | Wembley | League | | | Match report |
| 24-10-1964 | Chalfont St Peter | 2-1 | Slough Town | FA Amateur Cup | | | Match report |
| 17-10-1964 | Hendon | 3-1 | Slough Town | FA Cup | | | Match report |
| 10-10-1964 | Slough Town | 5-0 | Huntley & Palmers | FA Amateur Cup | | | Match report |
| 03-10-1964 | Epsom & Ewell | 0-1 | Slough Town | FA Cup | | | Match report |
| 26-09-1964 | Slough Town | 14-1 | Hungerford Town | FA Amateur Cup | | | Match report |
| 19-09-1964 | Slough Town | 2-0 | Carshalton Ath | FA Cup | | | Match report |
| 12-09-1964 | Slough Town | 4-0 | Tilbury | League | | | Match report |
| 05-09-1964 | Slough Town | 4-1 | Metropolitan Police | FA Cup | | | Match report |
| 03-09-1964 | Uxbridge | 2-0 | Slough Town | League | | | Match report |
| 29-08-1964 | Harrow Town | 0-2 | Slough Town | League | | | Match report |
| 27-08-1964 | Wokingham Town | 1-1 | Slough Town | League | | | Match report |
| 22-08-1964 | Slough Town | 7-1 | Erith | League | | | Match report |
| 02-05-1964 | Worthing | 5-0 | Slough Town | League | | | Match report |
| 25-04-1964 | Slough Town | 3-2 | Wokingham Town | S. Comb. Cup | | | Match report |
| 21-04-1964 | Uxbridge | 1-0 | Slough Town | League | | | Match report |
| 18-04-1964 | Slough Town | 3-2 | Eastbourne | League | | | Match report |
| 15-04-1964 | Slough Town | 1-1 | Edgware | League | | | Match report |
| 11-04-1964 | Slough Town | 3-0 | Horsham | League | | | Match report |
| 08-04-1964 | Slough Town | 1-0 | Wokingham Town | League | | | Match report |
| 04-04-1964 | Wokingham Town | 3-2 | Slough Town | Benevolent Cup | | | Match report |
| 30-03-1964 | Eastbourne | 1-1 | Slough Town | League | | | Match report |
| 28-03-1964 | Dorking | 0-4 | Slough Town | League | | | Match report |
| 21-03-1964 | Slough Town | 3-0 | Letchworth | League | | | Match report |
| 14-03-1964 | Horsham | 1-3 | Slough Town | League | | | Match report |
| 07-03-1964 | Wokingham Town | 2-1 | Slough Town | League | | | Match report |
| 29-02-1964 | Slough Town | 4-2 | Epsom | League | | | Match report |
| 22-02-1964 | Slough Town | 3-1 | Dorking | League | | | Match report |
| 15-02-1964 | Worthing | 4-0 | Slough Town | Memorial Shield | | | Match report |
| 08-02-1964 | Windsor & Eton | 2-0 | Slough Town | B&B Senior Cup | | | Match report |
| 01-02-1964 | Slough Town | 5-0 | Didcot Town | B&B Senior Cup | | | Match report |
| 25-01-1964 | Newbury Town | 0-4 | Slough Town | B&B Senior Cup | | | Match report |
| 11-01-1964 | Slough Town | 2-1 | Chesham United | League | | | Match report |
| 04-01-1964 | Chesham United | 2-1 | Slough Town | League | | | Match report |
| 28-12-1963 | Slough Town | 4-1 | Uxbridge | League | | | Match report |
| 21-12-1963 | Wembley | 1-6 | Slough Town | League | | | Match report |
| 14-12-1963 | Slough Town | 0-3 | Leatherhead | League | | | Match report |
| 07-12-1963 | Slough Town | 4-2 | Edgware | Memorial Shield | | | Match report |
| 23-11-1963 | Letchworth | 2-1 | Slough Town | League | | | Match report |
| 16-11-1963 | Slough Town | 2-1 | Wembley | League | | | Match report |
| 09-11-1963 | Wokingham Town | 4-1 | Slough Town | FA Amateur Cup | | | Match report |
| 02-11-1963 | Epsom | 1-2 | Slough Town | League | | | Match report |
| 26-10-1963 | Slough Town | 2-0 | Aylesbury United | FA Amateur Cup | | | Match report |
| 19-10-1963 | Erith | 2-1 | Slough Town | League | | | Match report |
| 12-10-1963 | Slough Town | 6-0 | Hungerford Town | FA Amateur Cup | | | Match report |
| 05-10-1963 | Slough Town | 5-1 | Chalfont St Peter | FA Amateur Cup | | | Match report |
| 28-09-1963 | Chalfont St Peter | 1-1 | Slough Town | FA Amateur Cup | | | Match report |
| 21-09-1963 | Edgware | 0-3 | Slough Town | League | | | Match report |
| 14-09-1963 | Slough Town | 3-1 | Worthing | League | | | Match report |
| 07-09-1963 | Epsom | 2-1 | Slough Town | FA Cup | | | Match report |
| 31-08-1963 | Slough Town | 1-2 | Erith | League | | | Match report |
| 27-08-1963 | Slough Town | 6-1 | Windsor & Eton | S. Comb. Cup | | | Match report |
| 24-08-1963 | Leatherhead | 4-1 | Slough Town | League | | | Match report |
| 27-05-1963 | Slough Town | 3-0 | Wokingham Town | S. Comb. Cup | | | Match report |
| 15-05-1963 | Windsor & Eton | 3-0 | Slough Town | Benevolent Cup | | | Match report |
| 11-05-1963 | Slough Town | 1-1 | Windsor & Eton | Benevolent Cup | | | Match report |
| 08-05-1963 | Uxbridge | 1-1 | Slough Town | League | | | Match report |
| 04-05-1963 | Slough Town | 5-0 | Eastbourne | League | | | Match report |
| 27-04-1963 | Letchworth | 4-2 | Slough Town | League | | | Match report |
| 20-04-1963 | Slough Town | 3-0 | Horsham | League | | | Match report |
| 17-04-1963 | Slough Town | 3-3 | Staines Town | S. Comb. Cup | | | Match report |
| 15-04-1963 | Slough Town | 1-3 | Wokingham Town | League | | | Match report |
| 13-04-1963 | Chesham United | 0-2 | Slough Town | League | | | Match report |
| 12-04-1963 | Chesham United | 3-0 | Slough Town | Memorial Shield | | | Match report |
| 06-04-1963 | Slough Town | 0-2 | Dorking | League | | | Match report |
| 30-03-1963 | Eastbourne | 2-1 | Slough Town | League | | | Match report |
| 23-03-1963 | Slough Town | 2-4 | Wycombe Wanderers | B&B Senior Cup | | | Match report |
| 16-03-1963 | Epsom | 0-5 | Slough Town | League | | | Match report |
| 09-03-1963 | Slough Town | 3-2 | Edgware | League | | | Match report |
| 02-03-1963 | Slough Town | 4-2 | Wembley | League | | | Match report |
| 23-02-1963 | Slough Town | 2-2 | Worthing | League | | | Match report |
| 08-12-1962 | Slough Town | 5-2 | Erith | League | | | Match report |
| 01-12-1962 | Wembley | 2-3 | Slough Town | League | | | Match report |
| 24-11-1962 | Slough Town | 2-2 | Letchworth | League | | | Match report |
| 17-11-1962 | Slough Town | 2-0 | Epsom | League | | | Match report |
| 03-11-1962 | Dorking | 5-2 | Slough Town | League | | | Match report |
| 27-10-1962 | Erith | 2-2 | Slough Town | League | | | Match report |
| 20-10-1962 | Slough Town | 0-0 | Dagenham | League | | | Match report |
| 13-10-1962 | Dagenham | 2-1 | Slough Town | League | | | Match report |
| 06-10-1962 | Slough Town | 3-1 | Uxbridge | League | | | Match report |
| 29-09-1962 | Slough Town | 2-4 | Newbury Town | FA Amateur Cup | | | Match report |
| 22-09-1962 | Slough Town | 0-4 | Tooting | FA Cup | | | Match report |
| 15-09-1962 | Slough Town | 2-1 | Dagenham | Memorial Shield | | | Match report |
| 08-09-1962 | Epsom | 1-3 | Slough Town | FA Cup | | | Match report |
| 01-09-1962 | Worthing | 2-2 | Slough Town | League | | | Match report |
| 30-08-1962 | Wokingham Town | 1-0 | Slough Town | League | | | Match report |
| 25-08-1962 | Leatherhead | 3-3 | Slough Town | League | | | Match report |
| 22-08-1962 | Slough Town | 2-1 | Chesham United | League | | | Match report |
| 18-08-1962 | Slough Town | 0-5 | Leatherhead | League | | | Match report |
| 12-05-1962 | Slough Town | 2-1 | Wokingham Town | Benevolent Cup | | | Match report |
| 03-05-1962 | Wembley | 1-4 | Slough Town | League | | | Match report |
| 28-04-1962 | Eastbourne | 2-1 | Slough Town | League | | | Match report |
| 25-04-1962 | Slough Town | 3-1 | Wembley | League | | | Match report |
| 14-04-1962 | Slough Town | 2-0 | Epsom | League | | | Match report |
| 07-04-1962 | Slough Town | 3-2 | Windsor & Eton | Benevolent Cup | | | Match report |
| 31-03-1962 | Epsom | 2-1 | Slough Town | League | | | Match report |
| 24-03-1962 | Windsor & Eton | 0-1 | Slough Town | B&B Senior Cup | | | Match report |
| 17-03-1962 | Slough Town | 0-3 | Edgware | League | | | Match report |
| 03-03-1962 | Slough Town | 2-0 | Worthing | League | | | Match report |
| 24-02-1962 | Horsham | 3-2 | Slough Town | League | | | Match report |
| 17-02-1962 | Slough Town | 3-0 | Eastbourne | League | | | Match report |
| 10-02-1962 | Slough Town | 2-0 | Newbury Town | B&B Senior Cup | | | Match report |
| 03-02-1962 | Worthing | 4-0 | Slough Town | League | | | Match report |
| 27-01-1962 | Slough Town | 2-0 | Chesham United | Benevolent Cup | | | Match report |
| 20-01-1962 | Leatherhead | 3-0 | Slough Town | Memorial Shield | | | Match report |
| 13-01-1962 | Slough Town | 2-1 | Chesham United | League | | | Match report |
| 06-01-1962 | Uxbridge | 1-0 | Slough Town | League | | | Match report |
| 30-12-1961 | Slough Town | 0-2 | Wokingham Town | League | | | Match report |
| 26-12-1961 | Maidenhead United | 2-0 | Slough Town | League | | | Match report |
| 23-12-1961 | Slough Town | 0-1 | Maidenhead United | League | | | Match report |
| 16-12-1961 | Chesham United | 0-1 | Slough Town | League | | | Match report |
| 25-11-1961 | Slough Town | 3-2 | Leatherhead | League | | | Match report |
| 18-11-1961 | Slough Town | 0-1 | Uxbridge | League | | | Match report |
| 11-11-1961 | Erith | 2-2 | Slough Town | League | | | Match report |
| 04-11-1961 | Slough Town | 1-1 | Horsham | League | | | Match report |
| 07-10-1961 | Dulwich Hamlet | 5-1 | Slough Town | FA Cup | | | Match report |
| 23-09-1961 | Slough Town | 2-0 | Redhill | FA Cup | | | Match report |
| 16-09-1961 | Slough Town | 1-0 | Epsom | Memorial Shield | | | Match report |
| 13-09-1961 | Slough Town | 0-3 | Carshalton Ath | S. Comb. Cup | | | Match report |
| 09-09-1961 | Slough Town | 4-1 | Sutton United | FA Cup | | | Match report |
| 30-08-1961 | Slough Town | 1-1 | Erith | League | | | Match report |
| 26-08-1961 | Slough Town | 3-0 | Dorking | League | | | Match report |
| 22-08-1961 | Wokingham Town | 4-0 | Slough Town | League | | | Match report |
| 19-08-1961 | Leatherhead | 3-1 | Slough Town | League | | | Match report |
Slough Town FC is not responsible for content produced on external websites | Copyright Slough Town FC 2023