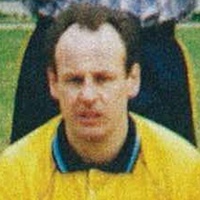 Position:
Defender
Bio
Les Briley arrived at Wexham Park in 1992 and was made captain making 49 appearances in his first season and 26 in his second. During these 75 games he scored twice, while in his second stint at Wexham Park he became Player Manager of the Rebels.
Les Briley was born in Lambeth in October 1956 and was signed by Millwall in a player exchange deal that took Andy Massey to Aldershot in 1984. George Graham enticed Briley to the Den leading by example, his tough tackling and excellent distribution making him a great favourite with the home fans.
He had begun his career at Chelsea, but moved on to Hereford United without once appearing in Chelsea's senior side. He was transferred to Wimbledon for a record fee of £16,000 in February 1978 helping the Dons to avoid relegation and then helping them win promotion to Division Three. After this he moved to Aldershot with whom he made 170 appearances before joining Millwall.
Here he was a vital member of the squad that won the championship of the old Second Division in 1987-88. Les Briley completed seven seasons at Millwall and was presented with a silver salver to commemorate his 500 appearances in the Football League.
After a series of injuries he joined Brighton and Hove Albion before Slough Town Chairman, Alan Thorne, enticed him to Wexham Park, Slough Town being his final club before retiring from the game. His Millwall career saw him make 267 appearances for the London club with which he is still firmly involved and he currently manages Millwall's successful U14 side.
Mens
| First Appearance | Appearances | First Goal | Goals |
| --- | --- | --- | --- |
| 22-08-1992 vs Kettering Town | 75 | 08-02-1993 vs Dagenham & R. | 2 |
History
| Match Date | Home | Score | Away | Competition | Goals | Cards | |
| --- | --- | --- | --- | --- | --- | --- | --- |
| 19-02-1994 | Welling United | 6-2 | Slough Town | League | | | Match report |
| 12-02-1994 | Morecambe | 1-0 | Slough Town | FA Trophy | | | Match report |
| 05-02-1994 | Merthyr Tydfil | 5-1 | Slough Town | League | | | Match report |
| 01-02-1994 | Slough Town | 1-1 | Welling United | League | | | Match report |
| 22-01-1994 | Billericay Town | 0-2 | Slough Town | FA Trophy | | | Match report |
| 15-01-1994 | Slough Town | 2-3 | Stalybridge Celtic | League | | | Match report |
| 08-01-1994 | Runcorn | 3-2 | Slough Town | League | | | Match report |
| 01-01-1994 | Slough Town | 3-1 | Dagenham & R. | League | | | Match report |
| 27-12-1993 | Woking | 2-1 | Slough Town | League | | | Match report |
| 18-12-1993 | Stafford Rangers | 0-0 | Slough Town | League | | | Match report |
| 11-12-1993 | Slough Town | 3-0 | Runcorn | League | | | Match report |
| 04-12-1993 | Dover Athletic | 0-0 | Slough Town | League | | | Match report |
| 30-11-1993 | Bath City | 3-0 | Slough Town | League | | | Match report |
| 27-11-1993 | Slough Town | 0-2 | Kettering Town | League | | | Match report |
| 20-11-1993 | Macclesfield Town | 2-2 | Slough Town | League | | | Match report |
| 30-10-1993 | Slough Town | 1-5 | Kidderminster Harriers | League | | | Match report |
| 23-10-1993 | Hayes | 0-2 | Slough Town | FA Cup | | | Match report |
| 16-10-1993 | Altrincham | 2-0 | Slough Town | League | | | Match report |
| 12-10-1993 | Slough Town | 3-2 | Merthyr Tydfil | League | | | Match report |
| 09-10-1993 | Slough Town | 0-0 | Bath City | League | | | Match report |
| 02-10-1993 | Gateshead | 0-0 | Slough Town | League | | | Match report |
| 25-09-1993 | Southport | 1-0 | Slough Town | League | | | Match report |
| 11-09-1993 | Slough Town | 3-0 | Stafford Rangers | League | | | Match report |
| 28-08-1993 | Slough Town | 2-0 | Halifax Town | League | | | Match report |
| 24-08-1993 | Slough Town | 1-0 | Dover Athletic | League | | | Match report |
| 21-08-1993 | Stalybridge Celtic | 0-1 | Slough Town | League | | | Match report |
| 01-05-1993 | Stafford Rangers | 1-0 | Slough Town | League | | | Match report |
| 24-04-1993 | Slough Town | 2-3 | Witton Albion | League | | | Match report |
| 17-04-1993 | Yeovil Town | 5-1 | Slough Town | League | | | Match report |
| 13-04-1993 | Slough Town | 1-1 | Wycombe Wanderers | League | | | Match report |
| 10-04-1993 | Merthyr Tydfil | 1-1 | Slough Town | League | | | Match report |
| 07-04-1993 | Boston Utd | 0-0 | Slough Town | League | | | Match report |
| 03-04-1993 | Slough Town | 2-1 | Stafford Rangers | League | | | Match report |
| 27-03-1993 | Witton Albion | 1-1 | Slough Town | League | | | Match report |
| 23-03-1993 | Wycombe Wanderers | 1-0 | Slough Town | League | | | Match report |
| 20-03-1993 | Slough Town | 1-0 | Gateshead | League | | | Match report |
| 09-03-1993 | Woking | 1-2 | Slough Town | League | | | Match report |
| 06-03-1993 | Slough Town | 1-1 | Runcorn | League | | | Match report |
| 27-02-1993 | Gateshead | 1-0 | Slough Town | League | | | Match report |
| 23-02-1993 | Farnborough Town | 1-0 | Slough Town | League | | | Match report |
| 08-02-1993 | Dagenham & R. | 4-4 | Slough Town | League | | | Match report |
| 06-02-1993 | Slough Town | 2-3 | Stalybridge Celtic | League | | | Match report |
| 02-02-1993 | Slough Town | 1-1 | Bath City | League | | | Match report |
| 30-01-1993 | Sutton United | 3-1 | Slough Town | FA Trophy | | | Match report |
| 26-01-1993 | Slough Town | 3-1 | Farnborough Town | League | | | Match report |
| 23-01-1993 | Slough Town | 3-1 | Kidderminster Harriers | League | | | Match report |
| 19-01-1993 | Aylesbury United | 1-0 | Slough Town | B&B Senior Cup | | | Match report |
| 16-01-1993 | Altrincham | 1-1 | Slough Town | League | | | Match report |
| 12-01-1993 | Slough Town | 2-1 | Yeading | FA Trophy | | | Match report |
| 09-01-1993 | Yeading | 1-1 | Slough Town | FA Trophy | | | Match report |
| 02-01-1993 | Slough Town | 0-1 | Woking | League | | | Match report |
| 26-12-1992 | Slough Town | 2-1 | Merthyr Tydfil | League | | | Match report |
| 19-12-1992 | Telford Utd | 1-1 | Slough Town | League | | | Match report |
| 28-11-1992 | Slough Town | 3-1 | Bromley | FA Trophy | | | Match report |
| 21-11-1992 | Macclesfield Town | 1-2 | Slough Town | League | | | Match report |
| 14-11-1992 | Colchester Utd | 4-0 | Slough Town | FA Cup | | | Match report |
| 07-11-1992 | Stalybridge Celtic | 0-0 | Slough Town | League | | | Match report |
| 03-11-1992 | Kettering Town | 5-0 | Slough Town | League | | | Match report |
| 31-10-1992 | Slough Town | 3-0 | Boston Utd | League | | | Match report |
| 24-10-1992 | Ashford Town (Middx) | 1-2 | Slough Town | FA Cup | | | Match report |
| 17-10-1992 | Runcorn | 0-3 | Slough Town | League | | | Match report |
| 13-10-1992 | Slough Town | 3-0 | Yeovil Town | League | | | Match report |
| 10-10-1992 | Slough Town | 2-1 | Yeading | FA Cup | | | Match report |
| 06-10-1992 | Welling United | 2-1 | Slough Town | League | | | Match report |
| 03-10-1992 | Slough Town | 1-3 | Bromsgrove Rovers | League | | | Match report |
| 26-09-1992 | Metropolitan Police | 0-1 | Slough Town | FA Cup | | | Match report |
| 22-09-1992 | Slough Town | 2-2 | Yeovil Town | Drinkwise Trophy | | | Match report |
| 19-09-1992 | Slough Town | 2-0 | Telford Utd | League | | | Match report |
| 12-09-1992 | Corinthian Casuals | 1-1 | Slough Town | FA Cup | | | Match report |
| 08-09-1992 | Yeovil Town | 2-0 | Slough Town | Drinkwise Trophy | | | Match report |
| 05-09-1992 | Slough Town | 1-4 | Altrincham | League | | | Match report |
| 31-08-1992 | Slough Town | 2-0 | Dagenham & R. | League | | | Match report |
| 29-08-1992 | Northwich Victoria | 0-1 | Slough Town | League | | | Match report |
| 25-08-1992 | Bath City | 0-1 | Slough Town | League | | | Match report |
| 22-08-1992 | Slough Town | 3-0 | Kettering Town | League | | | Match report |
Slough Town FC is not responsible for content produced on external websites | Copyright Slough Town FC 2023