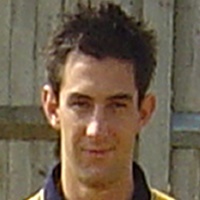 Stats
Position:
Defender
First Appearance:
20-08-2005 vs Billericay Town
Appearances:
49
First Goal:
N/A
Goals:
0
Bio
Signed from Thame United in a move which saw Mark West also move back to the Rebels.

Appeared to lack confidence in the early spell with the club but grew as the season progressed to form a mean partnership with Michael Murphy and James Saulsbury as part of a three man back line. Disappointingly, Avery left the club after only one season to join up with Oxford City.
History
| Match Date | Home | Score | Away | Competition | Goals | Cards | |
| --- | --- | --- | --- | --- | --- | --- | --- |
| 29-04-2006 | Slough Town | 1-2 | Heybridge Swifts | League | | | Match report |
| 22-04-2006 | Harrow Borough | 2-1 | Slough Town | League | | | Match report |
| 08-04-2006 | Slough Town | 2-0 | Folkestone Invicta | League | | | Match report |
| 01-04-2006 | Staines Town | 2-1 | Slough Town | League | | | Match report |
| 25-03-2006 | Slough Town | 0-3 | Worthing | League | | | Match report |
| 22-03-2006 | Slough Town | 3-1 | Fisher Ath | Ryman League Cup | | | Match report |
| 18-03-2006 | Maldon Town | 0-2 | Slough Town | League | | | Match report |
| 13-03-2006 | Fisher Ath | 5-2 | Slough Town | Ryman League Cup | | | Match report |
| 11-03-2006 | Slough Town | 0-4 | Fisher Ath | League | | | Match report |
| 04-03-2006 | Hendon | 1-1 | Slough Town | League | | | Match report |
| 28-02-2006 | MK Dons | 6-1 | Slough Town | B&B Senior Cup | | | Match report |
| 25-02-2006 | Chelmsford City | 2-0 | Slough Town | League | | | Match report |
| 18-02-2006 | Slough Town | 3-2 | Wealdstone | League | | | Match report |
| 11-02-2006 | Walton & Hersham | 0-1 | Slough Town | League | | | Match report |
| 04-02-2006 | Slough Town | 2-2 | Bromley | League | | | Match report |
| 31-01-2006 | Slough Town | 3-0 | Heybridge Swifts | Ryman League Cup | | | Match report |
| 28-01-2006 | AFC Wimbledon | 2-2 | Slough Town | League | | | Match report |
| 21-01-2006 | Slough Town | 2-2 | Margate | League | | | Match report |
| 18-01-2006 | Slough Town | 1-1 | Chesham United | B&B Senior Cup | | | Match report |
| 14-01-2006 | Leyton | 1-2 | Slough Town | League | | | Match report |
| 07-01-2006 | Billericay Town | 0-2 | Slough Town | League | | | Match report |
| 02-01-2006 | Slough Town | 0-1 | Hampton & Richmond Boro' | League | | | Match report |
| 26-12-2005 | Windsor & Eton | 0-3 | Slough Town | League | | | Match report |
| 19-12-2005 | Leatherhead | 0-2 | Slough Town | Ryman League Cup | | | Match report |
| 17-12-2005 | Heybridge Swifts | 1-0 | Slough Town | League | | | Match report |
| 10-12-2005 | Slough Town | 5-2 | Harrow Borough | League | | | Match report |
| 03-12-2005 | Bromley | 2-3 | Slough Town | League | | | Match report |
| 28-11-2005 | Folkestone Invicta | 3-0 | Slough Town | League | | | Match report |
| 26-11-2005 | Slough Town | 0-2 | Walton & Hersham | League | | | Match report |
| 22-11-2005 | Slough Town | 1-2 | East Thurrock United | League | | | Match report |
| 19-11-2005 | Fisher Ath | 1-2 | Slough Town | League | | | Match report |
| 08-11-2005 | Slough Town | 3-2 | Redbridge | Ryman League Cup | | | Match report |
| 05-11-2005 | Slough Town | 0-2 | Hendon | League | | | Match report |
| 29-10-2005 | Wealdstone | 2-2 | Slough Town | League | | | Match report |
| 25-10-2005 | Redbridge | 1-4 | Slough Town | League | | | Match report |
| 22-10-2005 | Slough Town | 0-1 | Chelmsford City | League | | | Match report |
| 16-10-2005 | Slough Town | 1-3 | Croydon Athletic | FA Trophy | | | Match report |
| 11-10-2005 | Slough Town | 1-2 | Staines Town | League | | | Match report |
| 04-10-2005 | Worthing | 4-2 | Slough Town | League | | | Match report |
| 01-10-2005 | Slough Town | 4-1 | Maldon Town | League | | | Match report |
| 24-09-2005 | Wroxham | 2-0 | Slough Town | FA Cup | | | Match report |
| 20-09-2005 | East Thurrock United | 3-2 | Slough Town | League | | | Match report |
| 17-09-2005 | Margate | 2-2 | Slough Town | League | | | Match report |
| 06-09-2005 | Slough Town | 3-2 | Redbridge | League | | | Match report |
| 03-09-2005 | Slough Town | 2-1 | Braintree Town | League | | | Match report |
| 29-08-2005 | Hampton & Richmond Boro' | 3-2 | Slough Town | League | | | Match report |
| 27-08-2005 | Slough Town | 0-2 | AFC Wimbledon | League | | | Match report |
| 23-08-2005 | Slough Town | 0-0 | Leyton | League | | | Match report |
| 20-08-2005 | Billericay Town | 3-1 | Slough Town | League | | | Match report |
Slough Town FC is not responsible for content produced on external websites | Copyright Slough Town FC 2021