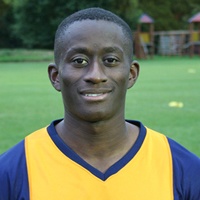 Stats
Position:
Midfielder
First Appearance:
20-10-2001 vs Bishop's Stortford
Appearances:
61
First Goal:
17-10-2006 vs Staines Town
Goals:
1
Bio
Utility player who has had spells with the Rebels over three seasons.

Impressive performances against Staines Town, where he scored his first goal for the Rebels, and at Leighton Town, where he earned Man Of The Match on both occassions. His versatility and work rate made him a valuable asset to the side as he could play, and just about did, in any outfield position on the park.

Received an award from manager Eddie Denton for his attitude to the game at the end of the 05/06 season.
History
| Match Date | Home | Score | Away | Competition | Goals | Cards | |
| --- | --- | --- | --- | --- | --- | --- | --- |
| 27-08-2007 | Paulton Rovers | 3-1 | Slough Town | League | | | Match report |
| 25-08-2007 | Marlow | 2-0 | Slough Town | League | | | Match report |
| 18-08-2007 | Slough Town | 1-2 | Taunton Town | League | | | Match report |
| 28-04-2007 | Hampton & Richmond Boro' | 4-2 | Slough Town | League | | | Match report |
| 24-04-2007 | Slough Town | 0-2 | Staines Town | League | | | Match report |
| 21-04-2007 | Slough Town | 0-4 | Chelmsford City | League | | | Match report |
| 14-04-2007 | Slough Town | 0-8 | Bromley | League | | | Match report |
| 09-04-2007 | Ashford Town (Middx) | 1-1 | Slough Town | League | | | Match report |
| 07-04-2007 | Slough Town | 2-2 | Margate | League | | | Match report |
| 31-03-2007 | AFC Wimbledon | 9-0 | Slough Town | League | | | Match report |
| 24-03-2007 | Slough Town | 0-3 | Ramsgate | League | | | Match report |
| 19-03-2007 | Slough Town | 0-4 | Boreham Wood | League | | | Match report |
| 17-03-2007 | Billericay Town | 5-0 | Slough Town | League | | | Match report |
| 13-03-2007 | Slough Town | 0-5 | Walton & Hersham | League | | | Match report |
| 10-03-2007 | Slough Town | 2-3 | Tonbridge Angels | League | | | Match report |
| 05-03-2007 | Hendon | 2-0 | Slough Town | League | | | Match report |
| 03-03-2007 | Folkestone Invicta | 0-0 | Slough Town | League | | | Match report |
| 17-02-2007 | Slough Town | 0-1 | Hendon | League | | | Match report |
| 06-02-2007 | Slough Town | 0-5 | East Thurrock United | League | | | Match report |
| 30-01-2007 | Horsham | 4-0 | Slough Town | League | | | Match report |
| 27-01-2007 | Heybridge Swifts | 2-3 | Slough Town | League | | | Match report |
| 23-01-2007 | Slough Town | 0-5 | Harrow Borough | League | | | Match report |
| 09-01-2007 | Carshalton Ath | 5-1 | Slough Town | League | | | Match report |
| 22-11-2006 | Slough Town | 1-2 | Aylesbury United | B&B Senior Cup | | | Match report |
| 18-11-2006 | Worthing | 2-2 | Slough Town | League | | | Match report |
| 11-11-2006 | Slough Town | 0-2 | Heybridge Swifts | League | | | Match report |
| 28-10-2006 | Boreham Wood | 6-0 | Slough Town | League | | | Match report |
| 21-10-2006 | Leighton Town | 4-1 | Slough Town | FA Trophy | | | Match report |
| 17-10-2006 | Staines Town | 1-2 | Slough Town | League | | | Match report |
| 10-10-2006 | Slough Town | 0-4 | Ashford Town (Middx) | Ryman League Cup | | | Match report |
| 07-10-2006 | Ramsgate | 2-1 | Slough Town | League | | | Match report |
| 30-09-2006 | Farnborough Town | 2-0 | Slough Town | FA Cup | | | Match report |
| 16-09-2006 | Cobham | 1-2 | Slough Town | FA Cup | | | Match report |
| 13-03-2004 | Slough Town | 1-0 | Croydon Athletic | League | | | Match report |
| 17-01-2004 | Worthing | 2-0 | Slough Town | League | | | Match report |
| 10-01-2004 | Slough Town | 1-1 | Hampton & Richmond Boro' | League | | | Match report |
| 06-01-2004 | Walton & Hersham | 3-1 | Slough Town | League | | | Match report |
| 26-12-2003 | Slough Town | 1-3 | Windsor & Eton | League | | | Match report |
| 23-12-2003 | Ashford Town (Middx) | 1-2 | Slough Town | League | | | Match report |
| 20-12-2003 | Marlow | 0-0 | Slough Town | League | | | Match report |
| 13-12-2003 | Slough Town | 7-1 | Epsom & Ewell | League | | | Match report |
| 06-12-2003 | Slough Town | 3-0 | Metropolitan Police | League | | | Match report |
| 15-11-2003 | Horsham | 1-4 | Slough Town | League | | | Match report |
| 11-11-2003 | Slough Town | 4-2 | Bromley | League | | | Match report |
| 04-11-2003 | Bishop's Stortford | 2-1 | Slough Town | FA Trophy | | | Match report |
| 30-09-2003 | Welling United | 4-1 | Slough Town | FA Cup | | | Match report |
| 23-09-2003 | Slough Town | 4-1 | Bracknell Town | League | | | Match report |
| 20-09-2003 | Croydon Athletic | 1-0 | Slough Town | League | | | Match report |
| 13-09-2003 | Slough Town | 2-0 | Godalming & Guildford | FA Cup | | | Match report |
| 09-09-2003 | Whyteleafe | 2-0 | Slough Town | League | | | Match report |
| 06-09-2003 | Slough Town | 3-1 | Leatherhead | League | | | Match report |
| 30-08-2003 | Slough Town | 5-0 | East Grinstead | FA Cup | | | Match report |
| 19-08-2003 | Slough Town | 1-2 | Marlow | League | | | Match report |
| 18-03-2003 | Slough Town | 0-3 | Wingate & Finchley | League | | | Match report |
| 27-04-2002 | Slough Town | 0-1 | Bognor Regis Town | League | | | Match report |
| 20-04-2002 | Staines Town | 0-1 | Slough Town | League | | | Match report |
| 13-04-2002 | Slough Town | 0-1 | Bishop's Stortford | League | | | Match report |
| 19-02-2002 | Slough Town | 4-1 | Abingdon Town | B&B Senior Cup | | | Match report |
| 22-12-2001 | Slough Town | 0-1 | Hitchin Town | Ryman League Cup | | | Match report |
| 11-12-2001 | Slough Town | 1-0 | Bracknell Town | B&B Senior Cup | | | Match report |
| 20-10-2001 | Bishop's Stortford | 3-2 | Slough Town | League | | | Match report |
Slough Town FC is not responsible for content produced on external websites | Copyright Slough Town FC 2021