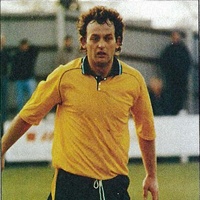 Stats
Position:
Striker
First Appearance:
17-08-1991 vs Kidderminster Harriers
Appearances:
98
First Goal:
31-08-1991 vs Runcorn
Goals:
36
Bio
Signed for Slough in the summer of 1991 from Sutton United.

Made 525 appearances for Sutton, scoring 278 goals in the process. McKinnon also played abroad in Sweden playing for Malmo and briefly in the Football League for Blackburn Rovers. Scored 36 times for Slough in his 97 apperances for the Rebels.
History
| Match Date | Home | Score | Away | Competition | Goals | Cards | |
| --- | --- | --- | --- | --- | --- | --- | --- |
| 01-05-1993 | Stafford Rangers | 1-0 | Slough Town | League | | | Match report |
| 24-04-1993 | Slough Town | 2-3 | Witton Albion | League | | | Match report |
| 17-04-1993 | Yeovil Town | 5-1 | Slough Town | League | | | Match report |
| 13-04-1993 | Slough Town | 1-1 | Wycombe Wanderers | League | | | Match report |
| 07-04-1993 | Boston Utd | 0-0 | Slough Town | League | | | Match report |
| 03-04-1993 | Slough Town | 2-1 | Stafford Rangers | League | | | Match report |
| 27-03-1993 | Witton Albion | 1-1 | Slough Town | League | | | Match report |
| 23-03-1993 | Wycombe Wanderers | 1-0 | Slough Town | League | | | Match report |
| 20-03-1993 | Slough Town | 1-0 | Gateshead | League | | | Match report |
| 09-03-1993 | Woking | 1-2 | Slough Town | League | | | Match report |
| 06-03-1993 | Slough Town | 1-1 | Runcorn | League | | | Match report |
| 27-02-1993 | Gateshead | 1-0 | Slough Town | League | | | Match report |
| 23-02-1993 | Farnborough Town | 1-0 | Slough Town | League | | | Match report |
| 20-02-1993 | Slough Town | 0-4 | Northwich Victoria | League | | | Match report |
| 13-02-1993 | Bromsgrove Rovers | 0-1 | Slough Town | League | | | Match report |
| 08-02-1993 | Dagenham & R. | 4-4 | Slough Town | League | | | Match report |
| 06-02-1993 | Slough Town | 2-3 | Stalybridge Celtic | League | | | Match report |
| 02-02-1993 | Slough Town | 1-1 | Bath City | League | | | Match report |
| 30-01-1993 | Sutton United | 3-1 | Slough Town | FA Trophy | | | Match report |
| 26-01-1993 | Slough Town | 3-1 | Farnborough Town | League | | | Match report |
| 23-01-1993 | Slough Town | 3-1 | Kidderminster Harriers | League | | | Match report |
| 16-01-1993 | Altrincham | 1-1 | Slough Town | League | | | Match report |
| 12-01-1993 | Slough Town | 2-1 | Yeading | FA Trophy | | | Match report |
| 09-01-1993 | Yeading | 1-1 | Slough Town | FA Trophy | | | Match report |
| 02-01-1993 | Slough Town | 0-1 | Woking | League | | | Match report |
| 26-12-1992 | Slough Town | 2-1 | Merthyr Tydfil | League | | | Match report |
| 19-12-1992 | Telford Utd | 1-1 | Slough Town | League | | | Match report |
| 12-12-1992 | Slough Town | 2-1 | Macclesfield Town | League | | | Match report |
| 05-12-1992 | Kidderminster Harriers | 1-1 | Slough Town | League | | | Match report |
| 28-11-1992 | Slough Town | 3-1 | Bromley | FA Trophy | | | Match report |
| 21-11-1992 | Macclesfield Town | 1-2 | Slough Town | League | | | Match report |
| 14-11-1992 | Colchester Utd | 4-0 | Slough Town | FA Cup | | | Match report |
| 10-11-1992 | Slough Town | 4-2 | Welling United | League | | | Match report |
| 07-11-1992 | Stalybridge Celtic | 0-0 | Slough Town | League | | | Match report |
| 03-11-1992 | Kettering Town | 5-0 | Slough Town | League | | | Match report |
| 31-10-1992 | Slough Town | 3-0 | Boston Utd | League | | | Match report |
| 24-10-1992 | Ashford Town (Middx) | 1-2 | Slough Town | FA Cup | | | Match report |
| 17-10-1992 | Runcorn | 0-3 | Slough Town | League | | | Match report |
| 13-10-1992 | Slough Town | 3-0 | Yeovil Town | League | | | Match report |
| 10-10-1992 | Slough Town | 2-1 | Yeading | FA Cup | | | Match report |
| 06-10-1992 | Welling United | 2-1 | Slough Town | League | | | Match report |
| 03-10-1992 | Slough Town | 1-3 | Bromsgrove Rovers | League | | | Match report |
| 26-09-1992 | Metropolitan Police | 0-1 | Slough Town | FA Cup | | | Match report |
| 22-09-1992 | Slough Town | 2-2 | Yeovil Town | Drinkwise Trophy | | | Match report |
| 19-09-1992 | Slough Town | 2-0 | Telford Utd | League | | | Match report |
| 15-09-1992 | Slough Town | 4-3 | Corinthian Casuals | FA Cup | | | Match report |
| 12-09-1992 | Corinthian Casuals | 1-1 | Slough Town | FA Cup | | | Match report |
| 31-08-1992 | Slough Town | 2-0 | Dagenham & R. | League | | | Match report |
| 29-08-1992 | Northwich Victoria | 0-1 | Slough Town | League | | | Match report |
| 25-08-1992 | Bath City | 0-1 | Slough Town | League | | | Match report |
| 22-08-1992 | Slough Town | 3-0 | Kettering Town | League | | | Match report |
| 25-04-1992 | Kidderminster Harriers | 3-3 | Slough Town | League | | | Match report |
| 18-04-1992 | Runcorn | 1-0 | Slough Town | League | | | Match report |
| 14-04-1992 | Colchester Utd | 4-0 | Slough Town | League | | | Match report |
| 12-04-1992 | Gateshead | 2-1 | Slough Town | League | | | Match report |
| 07-04-1992 | Farnborough Town | 2-1 | Slough Town | League | | | Match report |
| 04-04-1992 | Slough Town | 0-1 | Northwich Victoria | League | | | Match report |
| 31-03-1992 | Slough Town | 0-0 | Merthyr Tydfil | League | | | Match report |
| 28-03-1992 | Yeovil Town | 1-0 | Slough Town | League | | | Match report |
| 21-03-1992 | Telford Utd | 2-2 | Slough Town | League | | | Match report |
| 14-03-1992 | Slough Town | 0-2 | Kettering Town | League | | | Match report |
| 10-03-1992 | Slough Town | 1-4 | Yeovil Town | League | | | Match report |
| 07-03-1992 | Barrow | 3-4 | Slough Town | League | | | Match report |
| 29-02-1992 | Slough Town | 2-2 | Stafford Rangers | League | | | Match report |
| 25-02-1992 | Slough Town | 1-3 | Cheltenham Town | League | | | Match report |
| 21-02-1992 | Welling United | 0-2 | Slough Town | League | | | Match report |
| 19-02-1992 | Chesham United | 3-1 | Slough Town | B&B Senior Cup | | | Match report |
| 15-02-1992 | Boston Utd | 3-1 | Slough Town | League | | | Match report |
| 08-02-1992 | Slough Town | 2-3 | Altrincham | League | | | Match report |
| 31-01-1992 | Slough Town | 3-1 | Boston Utd | League | | | Match report |
| 25-01-1992 | Witton Albion | 2-1 | Slough Town | League | | | Match report |
| 18-01-1992 | Slough Town | 2-0 | Gateshead | League | | | Match report |
| 11-01-1992 | Enfield | 4-0 | Slough Town | FA Trophy | | | Match report |
| 07-01-1992 | Slough Town | 5-2 | Flackwell Heath | B&B Senior Cup | | | Match report |
| 14-12-1991 | Merthyr Tydfil | 1-2 | Slough Town | League | | | Match report |
| 23-11-1991 | Kettering Town | 2-3 | Slough Town | League | | | Match report |
| 16-11-1991 | Slough Town | 3-3 | Reading | FA Cup | | | Match report |
| 09-11-1991 | Slough Town | 0-3 | Welling United | League | | | Match report |
| 02-11-1991 | Slough Town | 2-1 | Witton Albion | League | | | Match report |
| 26-10-1991 | Slough Town | 2-1 | Kingstonian | FA Cup | | | Match report |
| 22-10-1991 | Slough Town | 4-0 | Redbridge Forest | League | | | Match report |
| 19-10-1991 | Altrincham | 3-7 | Slough Town | League | | | Match report |
| 15-10-1991 | Bath City | 2-1 | Slough Town | League | | | Match report |
| 12-10-1991 | Berkhamsted Town | 1-4 | Slough Town | FA Cup | | | Match report |
| 05-10-1991 | Slough Town | 1-0 | Barrow | League | | | Match report |
| 01-10-1991 | Slough Town | 1-0 | Yeading | FA Cup | | | Match report |
| 28-09-1991 | Yeading | 0-0 | Slough Town | FA Cup | | | Match report |
| 24-09-1991 | Slough Town | 2-0 | Bath City | Bob Lord Trophy | | | Match report |
| 21-09-1991 | Stafford Rangers | 1-1 | Slough Town | League | | | Match report |
| 16-09-1991 | Croydon | 0-3 | Slough Town | FA Cup | | | Match report |
| 14-09-1991 | Slough Town | 2-2 | Croydon | FA Cup | | | Match report |
| 11-09-1991 | Cheltenham Town | 1-0 | Slough Town | League | | | Match report |
| 07-09-1991 | Slough Town | 0-3 | Telford Utd | League | | | Match report |
| 03-09-1991 | Bath City | 2-1 | Slough Town | Bob Lord Trophy | | | Match report |
| 31-08-1991 | Slough Town | 1-0 | Runcorn | League | | | Match report |
| 26-08-1991 | Slough Town | 2-4 | Colchester Utd | League | | | Match report |
| 24-08-1991 | Macclesfield Town | 0-1 | Slough Town | League | | | Match report |
| 17-08-1991 | Slough Town | 3-1 | Kidderminster Harriers | League | | | Match report |
Slough Town FC is not responsible for content produced on external websites | Copyright Slough Town FC 2021