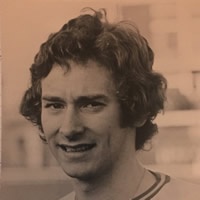 Position:
Midfielder
Bio
Midfielder who left the club, alongside fellow Rebel John Ritchie, to join Arsenal in 1972. Both players were signed on the morning of Slough's Berks & Bucks Cup senior final matchday, although Slough still managed to get a 3-0 win over their Buckinghamshire rivals.
Returned to the club five years later for a second spell.
Made two appearances for England in February and March of 1972, coming on as a sub as England beat the Republic Of Ireland 2-0 at Wycombe and also in a 4-0 win against Scotland.
Mens
| First Appearance | Appearances | First Goal | Goals |
| --- | --- | --- | --- |
| 14-08-1971 vs Tilbury | 51 | 23-08-1971 vs Southall | 16 |
History
| Match Date | Home | Score | Away | Competition | Goals | Cards | |
| --- | --- | --- | --- | --- | --- | --- | --- |
| 06-09-1977 | Slough Town | 0-1 | Hillingdon | FA Cup | | | Match report |
| 23-08-1977 | Slough Town | 0-0 | Southall | League | | | Match report |
| 20-08-1977 | Sutton United | 1-1 | Slough Town | League | | | Match report |
| 20-03-1972 | Slough Town | 2-2 | Wycombe Wanderers | Premier Midweek FL | | | Match report |
| 18-03-1972 | Slough Town | 4-0 | Harwich | League | | | Match report |
| 11-03-1972 | Enfield | 5-1 | Slough Town | FA Amateur Cup | | | Match report |
| 04-03-1972 | Slough Town | 1-0 | Sutton United | FA Amateur Cup | | | Match report |
| 26-02-1972 | Slough Town | 6-1 | Windsor & Eton | B&B Senior Cup | | | Match report |
| 07-02-1972 | Slough Town | 5-1 | Maidenhead United | Premier Midweek FL | | | Match report |
| 29-01-1972 | Slough Town | 3-2 | St Albans City | FA Amateur Cup | | | Match report |
| 22-01-1972 | Slough Town | 2-0 | Stony Stratford | B&B Senior Cup | | | Match report |
| 15-01-1972 | Slough Town | 1-1 | Lewes | League | | | Match report |
| 08-01-1972 | Slough Town | 2-0 | Kingstonian | FA Amateur Cup | | | Match report |
| 01-01-1972 | Slough Town | 1-0 | Redhill | League | | | Match report |
| 27-12-1971 | Maidenhead United | 0-0 | Slough Town | League | | | Match report |
| 20-12-1971 | Slough Town | 3-0 | Oxford City | Premier Midweek FL | | | Match report |
| 18-12-1971 | Boreham Wood | 0-2 | Slough Town | League | | | Match report |
| 13-12-1971 | Slough Town | 3-0 | Maidenhead United | League | | | Match report |
| 11-12-1971 | Slough Town | 3-1 | Tilbury | Athenian League Cup | | | Match report |
| 06-12-1971 | Slough Town | 7-0 | Banbury United | Premier Midweek FL | | | Match report |
| 04-12-1971 | Slough Town | 1-1 | Leatherhead | League | | | Match report |
| 01-12-1971 | Oxford City | 1-3 | Slough Town | Premier Midweek FL | | | Match report |
| 26-11-1971 | Hornchurch | 0-1 | Slough Town | League | | | Match report |
| 22-11-1971 | Slough Town | 2-0 | Marlow | Premier Midweek FL | | | Match report |
| 20-11-1971 | Slough Town | 4-0 | Grays Athletic | League | | | Match report |
| 16-11-1971 | Chesham United | 0-2 | Slough Town | Premier Midweek FL | | | Match report |
| 13-11-1971 | Slough Town | 2-0 | Dagenham | League | | | Match report |
| 09-11-1971 | Maidenhead United | 1-1 | Slough Town | Premier Midweek FL | | | Match report |
| 06-11-1971 | Erith | 0-4 | Slough Town | League | | | Match report |
| 02-11-1971 | Wycombe Wanderers | 1-2 | Slough Town | Premier Midweek FL | | | Match report |
| 30-10-1971 | Wembley | 0-1 | Slough Town | League | | | Match report |
| 23-10-1971 | Slough Town | 3-0 | Hornchurch | Athenian League Cup | | | Match report |
| 18-10-1971 | Banbury United | 2-3 | Slough Town | Premier Midweek FL | | | Match report |
| 16-10-1971 | Grays Athletic | 2-3 | Slough Town | League | | | Match report |
| 11-10-1971 | Wokingham Town | 0-2 | Slough Town | Premier Midweek FL | | | Match report |
| 09-10-1971 | Slough Town | 0-1 | Romford | FA Cup | | | Match report |
| 04-10-1971 | Slough Town | 5-1 | Chesham United | Premier Midweek FL | | | Match report |
| 02-10-1971 | Slough Town | 3-1 | Hornchurch | League | | | Match report |
| 25-09-1971 | Tilbury | 2-0 | Slough Town | League | | | Match report |
| 21-09-1971 | Woking | 0-2 | Slough Town | FA Cup | | | Match report |
| 18-09-1971 | Slough Town | 1-1 | Woking | FA Cup | | | Match report |
| 13-09-1971 | Slough Town | 5-0 | Wokingham Town | Premier Midweek FL | | | Match report |
| 11-09-1971 | Slough Town | 5-0 | Aveley | League | | | Match report |
| 06-09-1971 | Slough Town | 2-0 | Boreham Wood | League | | | Match report |
| 04-09-1971 | Lewes | 0-1 | Slough Town | League | | | Match report |
| 30-08-1971 | Leatherhead | 1-0 | Slough Town | League | | | Match report |
| 28-08-1971 | Slough Town | 2-1 | Wembley | League | | | Match report |
| 23-08-1971 | Slough Town | 4-0 | Southall | League | | | Match report |
| 21-08-1971 | Dagenham | 3-2 | Slough Town | League | | | Match report |
| 18-08-1971 | Redhill | 0-2 | Slough Town | League | | | Match report |
| 14-08-1971 | Slough Town | 1-0 | Tilbury | League | | | Match report |
Slough Town FC is not responsible for content produced on external websites | Copyright Slough Town FC 2023