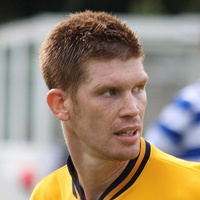 Position:
Forward
Bio
Joined the club in the summer of 2009 from St. Albans City.
Simon made his City debut in March 1996 and has since played for Lincoln United, Hucknall Town, Thurrock, Hayes and Yeading and Wealdstone. St Albans paid £5,000 for his services when he was signed from Hucknall Town.
He scored 92 goals in 262 appearances during his time at Clarence Park.
Left the club in the summer of 2011 to sign for Aylesbury.
Mens
| First Appearance | Appearances | First Goal | Goals |
| --- | --- | --- | --- |
| 15-08-2009 vs Sutton Coldfield Town | 83 | 22-08-2009 vs Barton Rovers | 21 |
History
| Match Date | Home | Score | Away | Competition | Goals | Cards | |
| --- | --- | --- | --- | --- | --- | --- | --- |
| 28-04-2011 | Hitchin Town | 4-1 | Slough Town | Play Off | | | Match report |
| 25-04-2011 | Beaconsfield Town | 1-0 | Slough Town | League | | | Match report |
| 23-04-2011 | Slough Town | 3-2 | Biggleswade Town | League | | | Match report |
| 19-04-2011 | Slough Town | 2-0 | Ashford Town (Middx) | League | | | Match report |
| 16-04-2011 | Leighton Town | 3-1 | Slough Town | League | | | Match report |
| 26-03-2011 | Slough Town | 2-1 | Bedworth United | League | | | Match report |
| 22-03-2011 | Barton Rovers | 2-0 | Slough Town | League | | | Match report |
| 19-03-2011 | Slough Town | 2-1 | North Greenford Utd | League | | | Match report |
| 15-03-2011 | Woodford United | 1-3 | Slough Town | League | | | Match report |
| 12-03-2011 | Rugby Town | 1-0 | Slough Town | League | | | Match report |
| 08-03-2011 | AFC Hayes | 2-4 | Slough Town | League | | | Match report |
| 05-03-2011 | Slough Town | 2-1 | Soham Town Rangers | League | | | Match report |
| 12-02-2011 | Slough Town | 3-2 | Aylesbury | League | | | Match report |
| 08-02-2011 | Cambridge City | 3-2 | Slough Town | Red Insure Cup | | | Match report |
| 01-02-2011 | Northwood | 1-5 | Slough Town | League | | | Match report |
| 29-01-2011 | Slough Town | 3-0 | Atherstone Town | League | | | Match report |
| 25-01-2011 | Slough Town | 3-3 | Woodford United | League | | | Match report |
| 18-01-2011 | Slough Town | 0-3 | Arlesey Town | League | | | Match report |
| 08-01-2011 | Slough Town | 1-1 | Hitchin Town | League | | | Match report |
| 03-01-2011 | Uxbridge | 2-1 | Slough Town | League | | | Match report |
| 30-12-2010 | Slough Town | 6-4 | Beaconsfield Town | League | | | Match report |
| 11-12-2010 | Slough Town | 1-1 | Bedfont Town | League | | | Match report |
| 04-12-2010 | Ashford Town (Middx) | 1-2 | Slough Town | League | | | Match report |
| 23-11-2010 | Marlow | 3-2 | Slough Town | B&B Senior Cup | | | Match report |
| 20-11-2010 | Aylesbury | 1-2 | Slough Town | League | | | Match report |
| 16-11-2010 | Slough Town | 5-0 | AFC Hayes | League | | | Match report |
| 13-11-2010 | North Greenford Utd | 1-3 | Slough Town | League | | | Match report |
| 09-11-2010 | Slough Town | 2-3 | Burnham | League | | | Match report |
| 06-11-2010 | Slough Town | 1-3 | Rugby Town | League | | | Match report |
| 27-10-2010 | Leighton Town | 1-3 | Slough Town | Red Insure Cup | | | Match report |
| 23-10-2010 | Slough Town | 0-1 | Leighton Town | League | | | Match report |
| 19-10-2010 | Chippenham Town | 4-1 | Slough Town | FA Trophy | | | Match report |
| 09-10-2010 | Bedworth United | 1-1 | Slough Town | League | | | Match report |
| 05-10-2010 | Marlow | 0-3 | Slough Town | FA Trophy | | | Match report |
| 18-09-2010 | Atherstone Town | 1-2 | Slough Town | League | | | Match report |
| 14-09-2010 | Slough Town | 1-3 | Marlow | League | | | Match report |
| 11-09-2010 | Erith Town | 1-0 | Slough Town | FA Cup | | | Match report |
| 04-09-2010 | Biggleswade Town | 1-5 | Slough Town | League | | | Match report |
| 30-08-2010 | Slough Town | 5-2 | Uxbridge | League | | | Match report |
| 28-08-2010 | Lancing | 1-4 | Slough Town | FA Cup | | | Match report |
| 21-08-2010 | Hitchin Town | 3-2 | Slough Town | League | | | Match report |
| 18-08-2010 | Bedfont Town | 1-2 | Slough Town | League | | | Match report |
| 01-05-2010 | Chesham United | 4-0 | Slough Town | Play Off | | | Match report |
| 20-04-2010 | Slough Town | 0-1 | Hitchin Town | League | | | Match report |
| 17-04-2010 | Slough Town | 5-1 | Aylesbury United | League | | | Match report |
| 13-04-2010 | Burnham | 1-1 | Slough Town | League | | | Match report |
| 03-04-2010 | Slough Town | 3-1 | Beaconsfield Town | League | | | Match report |
| 30-03-2010 | Slough Town | 1-2 | Arlesey Town | League | | | Match report |
| 27-03-2010 | Rothwell Town | 1-3 | Slough Town | League | | | Match report |
| 20-03-2010 | Slough Town | 3-3 | Atherstone Town | League | | | Match report |
| 13-03-2010 | Biggleswade Town | 1-0 | Slough Town | League | | | Match report |
| 09-03-2010 | Slough Town | 3-1 | Leighton Town | League | | | Match report |
| 06-03-2010 | Slough Town | 2-0 | Soham Town Rangers | League | | | Match report |
| 02-03-2010 | Slough Town | 1-3 | Chesham United | League | | | Match report |
| 15-02-2010 | Beaconsfield Town | 1-4 | Slough Town | League | | | Match report |
| 13-02-2010 | Slough Town | 0-1 | AFC Sudbury | League | | | Match report |
| 09-02-2010 | Slough Town | 1-1 | Marlow | League | | | Match report |
| 06-02-2010 | Woodford United | 0-1 | Slough Town | League | | | Match report |
| 02-02-2010 | Bedworth United | 2-4 | Slough Town | League | | | Match report |
| 26-01-2010 | Slough Town | 2-1 | Marlow | B&B Senior Cup | | | Match report |
| 23-01-2010 | Stourport Swifts | 1-4 | Slough Town | League | | | Match report |
| 12-12-2009 | Slough Town | 2-2 | Romulus | League | | | Match report |
| 08-12-2009 | Arlesey Town | 1-2 | Slough Town | League | | | Match report |
| 05-12-2009 | Slough Town | 0-1 | Bury Town | League | | | Match report |
| 01-12-2009 | AFC Sudbury | 1-2 | Slough Town | League | | | Match report |
| 17-11-2009 | Slough Town | 3-2 | Bromsgrove Rovers | League | | | Match report |
| 14-11-2009 | Atherstone Town | 2-0 | Slough Town | League | | | Match report |
| 31-10-2009 | Boreham Wood | 3-2 | Slough Town | FA Trophy | | | Match report |
| 27-10-2009 | Slough Town | 1-2 | Chesham United | Red Insure Cup | | | Match report |
| 24-10-2009 | Slough Town | 3-2 | Stourport Swifts | League | | | Match report |
| 17-10-2009 | Uxbridge | 1-1 | Slough Town | FA Trophy | | | Match report |
| 13-10-2009 | Hitchin Town | 3-2 | Slough Town | League | | | Match report |
| 10-10-2009 | Tooting & Mitcham Utd | 3-2 | Slough Town | FA Cup | | | Match report |
| 06-10-2009 | Mangotsfield Utd | 0-1 | Slough Town | FA Trophy | | | Match report |
| 04-10-2009 | Slough Town | 1-1 | Mangotsfield Utd | FA Trophy | | | Match report |
| 26-09-2009 | Slough Town | 2-0 | Concord Rangers | FA Cup | | | Match report |
| 19-09-2009 | Soham Town Rangers | 0-2 | Slough Town | League | | | Match report |
| 15-09-2009 | Slough Town | 2-1 | Hemel Hempstead Town | FA Cup | | | Match report |
| 12-09-2009 | Hemel Hempstead Town | 1-1 | Slough Town | FA Cup | | | Match report |
| 25-08-2009 | Leighton Town | 0-1 | Slough Town | League | | | Match report |
| 22-08-2009 | Slough Town | 5-1 | Barton Rovers | League | | | Match report |
| 18-08-2009 | Slough Town | 0-2 | Burnham | League | | | Match report |
| 15-08-2009 | Sutton Coldfield Town | 2-2 | Slough Town | League | | | Match report |
Slough Town FC is not responsible for content produced on external websites | Copyright Slough Town FC 2023