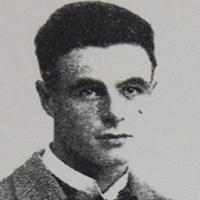 Position:
Forward
Bio
Although E.J. Norris no longer thrills the football crowds with his snap goals, no record of sport personalities in this district would be complete without mention of "Tory", as he was known to every football follower in Berks and Bucks.
He is easily the most successful forward in post-war football, having scored nearly five hundred goals and gained every honour an amateur can gain, with the exception of securing an International cap.
He first showed his ability as a goal-scorer in the McCloskie Shield and with the Schools' Associated team; he then played for Chalvey and on to Slough Reserves, and after the war, he jumped straight into the Slough First XI and was an instant success.
He led the Slough forwards with such success that he gained Berks and Bucks, GWS League and Spartan League honours and he received so many offers to turn professional that he eventually signed amateur forms for Arsenal and played for them with marked success in London Combination games.
In 1926 he was transferred to Windsor & Eton and played many brilliant games for the Royalists and gained further represenatative honours until he announced his definite retirement from the game.
The lure was too great, however, and he turned out for his first love, Slough, whenever they were short or pushed for a man until 1935, and played remarkably well.
Norris was also an excellent cricketer and was able to make a century in quick time or bowl a side out, while his fielding was still cleaner and smarter than that of many a younger man.
In his time with Slough, Ted notched an incredible 343 goals, easily making him the club's record goalscorer. He regularly notched six goals in a single game, including one on 4 March 1922 when Slough beat Railway Clearing House 17-0, the club's biggest ever win to date. In November 1923 he scored eight times in a 10-1 win over Marlow, and just a month later, seven in an 11-3 win over Wealdstone.
Mens
| First Appearance | Appearances | First Goal | Goals |
| --- | --- | --- | --- |
| 26-12-1913 vs Windsor & Eton | 226 | 27-12-1913 vs Marlow | 343 |
History
| Match Date | Home | Score | Away | Competition | Goals | Cards | |
| --- | --- | --- | --- | --- | --- | --- | --- |
| 16-02-1935 | Callenders Ath | 3-2 | Slough Town | League | | | Match report |
| 10-11-1934 | Slough Town | 2-0 | Windsor & Eton | League | | | Match report |
| 28-04-1934 | Hitchin Town | 5-3 | Slough Town | League | | | Match report |
| 21-04-1934 | Callenders Ath | 3-4 | Slough Town | League | | | Match report |
| 14-04-1934 | Slough Town | 4-2 | Hitchin Town | League | | | Match report |
| 07-04-1934 | Slough Town | 5-0 | 1st Welsh Guards | Unknown Cup | | | Match report |
| 02-04-1934 | Windsor & Eton | 1-0 | Slough Town | League | | | Match report |
| 24-03-1934 | Colchester Town | 3-4 | Slough Town | League | | | Match report |
| 10-03-1934 | Chesham United | 2-5 | Slough Town | B&B Senior Cup | | | Match report |
| 10-02-1934 | Slough Town | 0-1 | Wood Green | League | | | Match report |
| 03-02-1934 | Windsor & Eton | 0-3 | Slough Town | B&B Senior Cup | | | Match report |
| 27-01-1934 | Slough Town | 2-2 | Windsor & Eton | B&B Senior Cup | | | Match report |
| 20-01-1934 | Slough Town | 4-3 | Colchester Town | League | | | Match report |
| 13-01-1934 | Windsor & Eton | 5-3 | Slough Town | Benevolent Cup | | | Match report |
| 26-12-1933 | Slough Town | 4-1 | Windsor & Eton | League | | | Match report |
| 04-11-1933 | Slough Town | 2-3 | Letchworth | League | | | Match report |
| 28-10-1933 | Slough Town | 5-3 | Hounslow | League | | | Match report |
| 21-10-1933 | Metropolitan Police | 6-1 | Slough Town | League | | | Match report |
| 14-10-1933 | Waterlows | 2-1 | Slough Town | League | | | Match report |
| 09-09-1933 | Slough Town | 5-0 | Waterlows | League | | | Match report |
| 03-12-1932 | Slough Town | 0-4 | Chesham United | League | | | Match report |
| 31-08-1932 | Slough Town | 5-4 | Apsley | League | | | Match report |
| 20-12-1924 | Slough Town | 7-1 | Aylesbury United | League | | | Match report |
| 06-12-1924 | Staines Lagonda | 3-2 | Slough Town | League | | | Match report |
| 22-11-1924 | Chesham United | 9-2 | Slough Town | League | | | Match report |
| 15-11-1924 | Chesham United | 2-0 | Slough Town | FA Amateur Cup | | | Match report |
| 08-11-1924 | Wealdstone | 4-1 | Slough Town | League | | | Match report |
| 01-11-1924 | Slough Town | 6-1 | Sutton Court | League | | | Match report |
| 25-10-1924 | Slough Town | 8-1 | Cowley | FA Amateur Cup | | | Match report |
| 18-10-1924 | Wood Green | 2-5 | Slough Town | League | | | Match report |
| 11-10-1924 | Maidenhead United | 1-4 | Slough Town | FA Amateur Cup | | | Match report |
| 04-10-1924 | Southall | 2-1 | Slough Town | FA Cup | | | Match report |
| 27-09-1924 | Windsor & Eton | 0-6 | Slough Town | FA Amateur Cup | | | Match report |
| 20-09-1924 | Oxford City | 1-2 | Slough Town | FA Cup | | | Match report |
| 17-09-1924 | Sutton Court | 0-6 | Slough Town | League | | | Match report |
| 13-09-1924 | Wolverton | 0-1 | Slough Town | Bucks Charity Cup | | | Match report |
| 06-09-1924 | RAF Uxbridge | 1-5 | Slough Town | League | | | Match report |
| 30-04-1924 | Old Lyonians | 2-0 | Slough Town | League | | | Match report |
| 26-04-1924 | Slough Town | 4-1 | Walthamstow | League | | | Match report |
| 23-04-1924 | Leavesden MH | 1-0 | Slough Town | League | | | Match report |
| 21-04-1924 | Newbury Town | 1-5 | Slough Town | B&B Senior Cup | | | Match report |
| 16-04-1924 | Wealdstone | 3-1 | Slough Town | League | | | Match report |
| 12-04-1924 | Slough Town | 12-2 | Wood Green | League | | | Match report |
| 05-04-1924 | Slough Town | 3-0 | GER Romford | League | | | Match report |
| 02-04-1924 | Slough Town | 4-1 | Aylesbury United | League | | | Match report |
| 29-03-1924 | GER Romford | 1-0 | Slough Town | League | | | Match report |
| 26-03-1924 | Slough Town | 3-1 | Chesham United | Bucks Charity Cup | | | Match report |
| 22-03-1924 | RAF Uxbridge | 1-5 | Slough Town | League | | | Match report |
| 15-03-1924 | Slough Town | 0-1 | Leavesden MH | League | | | Match report |
| 08-03-1924 | Windsor & Eton | 2-3 | Slough Town | B&B Senior Cup | | | Match report |
| 23-02-1924 | Polytechnic | 0-1 | Slough Town | League | | | Match report |
| 16-02-1924 | Slough Town | 4-0 | Polytechnic | League | | | Match report |
| 09-02-1924 | Wood Green | 0-1 | Slough Town | League | | | Match report |
| 02-02-1924 | Old Latymerians | 0-4 | Slough Town | League | | | Match report |
| 26-01-1924 | Slough Town | 5-2 | Wycombe Wanderers | B&B Senior Cup | | | Match report |
| 19-01-1924 | Slough Town | 4-1 | RAF Uxbridge | League | | | Match report |
| 12-01-1924 | Chesham United | 4-4 | Slough Town | League | | | Match report |
| 05-01-1924 | Erith | 5-3 | Slough Town | FA Amateur Cup | | | Match report |
| 29-12-1923 | Aylesbury United | 2-2 | Slough Town | League | | | Match report |
| 26-12-1923 | Maidenhead United | 0-2 | Slough Town | League | | | Match report |
| 25-12-1923 | Slough Town | 3-2 | Maidenhead United | League | | | Match report |
| 22-12-1923 | Slough Town | 11-3 | Wealdstone | League | | | Match report |
| 15-12-1923 | Chesham United | 1-1 | Slough Town | Bucks Charity Cup | | | Match report |
| 08-12-1923 | Abingdon Pavlova | 2-6 | Slough Town | FA Amateur Cup | | | Match report |
| 24-11-1923 | Slough Town | 10-1 | Marlow | B&B Senior Cup | | | Match report |
| 17-11-1923 | Slough Town | 5-1 | Morris Motors | FA Amateur Cup | | | Match report |
| 10-11-1923 | Slough Town | 2-1 | Chesham United | League | | | Match report |
| 03-11-1923 | Botwell Mission | 3-0 | Slough Town | FA Cup | | | Match report |
| 27-10-1923 | Slough Town | 4-1 | Henley Comrades | FA Amateur Cup | | | Match report |
| 20-10-1923 | Slough Town | 1-0 | Southall | FA Cup | | | Match report |
| 13-10-1923 | Slough Town | 7-2 | Maidenhead United | FA Amateur Cup | | | Match report |
| 06-10-1923 | Slough Town | 1-0 | Staines Lagonda | FA Cup | | | Match report |
| 29-09-1923 | Windsor & Eton | 3-7 | Slough Town | FA Amateur Cup | | | Match report |
| 22-09-1923 | Slough Town | 13-0 | Henley Comrades | FA Cup | | | Match report |
| 15-09-1923 | Slough Town | 4-1 | Amersham Town | Bucks Charity Cup | | | Match report |
| 08-09-1923 | Slough Town | 11-0 | Old Lyonians | League | | | Match report |
| 01-09-1923 | Walthamstow | 1-3 | Slough Town | League | | | Match report |
| 12-05-1923 | Maidenhead United | 1-5 | Slough Town | Windsor Hosp. | | | Match report |
| 09-05-1923 | Chesham United | 0-1 | Slough Town | Bucks Charity Cup | | | Match report |
| 05-05-1923 | Old Latymerians | 5-2 | Slough Town | League | | | Match report |
| 02-05-1923 | Hertford Town | 0-1 | Slough Town | League | | | Match report |
| 28-04-1923 | Slough Town | 4-1 | Old Lyonians | League | | | Match report |
| 26-04-1923 | Oxford City | 3-0 | Slough Town | Oxford Hosp. Cup | | | Match report |
| 18-04-1923 | Leavesden MH | 3-0 | Slough Town | League | | | Match report |
| 14-04-1923 | Wood Green | 0-4 | Slough Town | League | | | Match report |
| 07-04-1923 | Slough Town | 5-0 | Uxbridge | Windsor Hosp. | | | Match report |
| 31-03-1923 | Aylesbury United | 4-1 | Slough Town | League | | | Match report |
| 24-03-1923 | Slough Town | 2-1 | Walthamstow | League | | | Match report |
| 17-03-1923 | Slough Town | 1-1 | Chesham United | League | | | Match report |
| 10-03-1923 | Wolverton | 1-3 | Slough Town | Bucks Charity Cup | | | Match report |
| 03-03-1923 | Slough Town | 5-0 | Polytechnic | League | | | Match report |
| 24-02-1923 | Slough Town | 4-4 | Wolverton | Bucks Charity Cup | | | Match report |
| 17-02-1923 | Finchley | 0-2 | Slough Town | League | | | Match report |
| 10-02-1923 | Slough Town | 4-3 | Leavesden MH | League | | | Match report |
| 03-02-1923 | Slough Town | 5-1 | Finchley | League | | | Match report |
| 27-01-1923 | Slough Town | 4-2 | Old Lyonians | League | | | Match report |
| 20-01-1923 | Hertford Town | 2-1 | Slough Town | League | | | Match report |
| 13-01-1923 | Polytechnic | 2-1 | Slough Town | League | | | Match report |
| 06-01-1923 | Slough Town | 4-0 | Wood Green | League | | | Match report |
| 30-12-1922 | Walthamstow | 1-1 | Slough Town | League | | | Match report |
| 23-12-1922 | Wealdstone | 6-3 | Slough Town | League | | | Match report |
| 09-12-1922 | London Caledonians | 10-2 | Slough Town | FA Amateur Cup | | | Match report |
| 02-12-1922 | Slough Town | 4-3 | Aylesbury United | League | | | Match report |
| 25-11-1922 | Wycombe Wanderers | 2-1 | Slough Town | B&B Senior Cup | | | Match report |
| 18-11-1922 | Marlow | 2-6 | Slough Town | Bucks Charity Cup | | | Match report |
| 04-11-1922 | Chesham United | 5-1 | Slough Town | FA Cup | | | Match report |
| 21-10-1922 | Wycombe Wanderers | 0-2 | Slough Town | FA Cup | | | Match report |
| 14-10-1922 | Chesham United | 9-2 | Slough Town | League | | | Match report |
| 07-10-1922 | Slough Town | 8-0 | Henley | FA Cup | | | Match report |
| 23-09-1922 | Slough Town | 8-1 | Old Latymerians | League | | | Match report |
| 09-09-1922 | Slough Town | 4-3 | GER Romford | League | | | Match report |
| 13-05-1922 | Windsor & Eton | 2-0 | Slough Town | Windsor Hosp. | | | Match report |
| 10-05-1922 | Slough Town | 0-6 | Wycombe Wanderers | Oxford Hosp. Cup | | | Match report |
| 03-05-1922 | Slough Town | 4-1 | GER Romford | League | | | Match report |
| 29-04-1922 | Slough Town | 2-3 | Wood Green | League | | | Match report |
| 27-04-1922 | Aylesbury United | 3-5 | Slough Town | League | | | Match report |
| 19-04-1922 | Slough Town | 2-1 | Woking | Oxford Hosp. Cup | | | Match report |
| 15-04-1922 | Slough Town | 0-0 | Leavesden MH | League | | | Match report |
| 08-04-1922 | Slough Town | 5-3 | Chesham United | League | | | Match report |
| 05-04-1922 | Slough Town | 6-1 | Burnham | Windsor Hosp. | | | Match report |
| 01-04-1922 | Railway CH | 0-5 | Slough Town | League | | | Match report |
| 30-03-1922 | Polytechnic | 0-2 | Slough Town | League | | | Match report |
| 25-03-1922 | Hertford Town | 1-1 | Slough Town | League | | | Match report |
| 22-03-1922 | Slough Town | 3-0 | Leyland Motors | League | | | Match report |
| 18-03-1922 | Sutton Court | 1-5 | Slough Town | League | | | Match report |
| 04-03-1922 | Slough Town | 17-0 | Railway CH | League | | | Match report |
| 01-03-1922 | Marlow | 0-3 | Slough Town | Oxford Hosp. Cup | | | Match report |
| 25-02-1922 | Finchley | 2-3 | Slough Town | League | | | Match report |
| 22-02-1922 | Slough Town | 2-1 | Maidenhead United | Windsor Hosp. | | | Match report |
| 18-02-1922 | Leyland Motors | 1-3 | Slough Town | League | | | Match report |
| 11-02-1922 | Slough Town | 6-1 | Aylesbury United | League | | | Match report |
| 04-02-1922 | Walthamstow | 2-3 | Slough Town | League | | | Match report |
| 01-02-1922 | Slough Town | 5-3 | Marlow | Oxford Hosp. Cup | | | Match report |
| 21-01-1922 | Slough Town | 1-2 | Polytechnic | League | | | Match report |
| 14-01-1922 | GER Romford | 4-1 | Slough Town | League | | | Match report |
| 12-01-1922 | Maidenhead United | 1-1 | Slough Town | Windsor Hosp. | | | Match report |
| 07-01-1922 | Slough Town | 6-0 | Sutton Court | League | | | Match report |
| 31-12-1921 | Leavesden MH | 1-1 | Slough Town | League | | | Match report |
| 26-12-1921 | 1st Welsh Guards | 3-6 | Slough Town | League | | | Match report |
| 17-12-1921 | Slough Town | 1-4 | Botwell Mission | FA Amateur Cup | | | Match report |
| 10-12-1921 | Botwell Mission | 1-1 | Slough Town | FA Amateur Cup | | | Match report |
| 03-12-1921 | Maidenhead United | 3-1 | Slough Town | B&B Senior Cup | | | Match report |
| 19-11-1921 | Chesham United | 5-1 | Slough Town | League | | | Match report |
| 10-11-1921 | Aylesbury United | 2-1 | Slough Town | FA Cup | | | Match report |
| 05-11-1921 | Slough Town | 1-1 | Aylesbury United | FA Cup | | | Match report |
| 29-10-1921 | Slough Town | 4-0 | Finchley | League | | | Match report |
| 22-10-1921 | Slough Town | 2-0 | Chesham United | FA Cup | | | Match report |
| 15-10-1921 | Slough Town | 5-2 | Hertford Town | League | | | Match report |
| 12-10-1921 | Slough Town | 3-1 | Wycombe Wanderers | FA Cup | | | Match report |
| 08-10-1921 | Wycombe Wanderers | 2-2 | Slough Town | FA Cup | | | Match report |
| 01-10-1921 | Wood Green | 1-1 | Slough Town | League | | | Match report |
| 28-09-1921 | Slough Town | 4-1 | Uxbridge | FA Cup | | | Match report |
| 24-09-1921 | Uxbridge | 1-1 | Slough Town | FA Cup | | | Match report |
| 17-09-1921 | Slough Town | 1-3 | Wolverton | Bucks Charity Cup | | | Match report |
| 03-09-1921 | Slough Town | 3-1 | Walthamstow | League | | | Match report |
| 27-08-1921 | Slough Town | 8-2 | 1st Welsh Guards | League | | | Match report |
| 21-05-1921 | Windsor & Eton | 0-1 | Slough Town | Windsor Hosp. | | | Match report |
| 12-05-1921 | Oxford City | 3-3 | Slough Town | Oxford Hosp. Cup | | | Match report |
| 04-05-1921 | Windsor & Eton | 1-2 | Slough Town | Oxford Hosp. Cup | | | Match report |
| 30-04-1921 | Leavesden MH | 0-5 | Slough Town | League | | | Match report |
| 27-04-1921 | Slough Town | 1-1 | Windsor & Eton | Oxford Hosp. Cup | | | Match report |
| 23-04-1921 | Slough Town | 1-0 | GER Romford | League | | | Match report |
| 21-04-1921 | Aylesbury United | 1-2 | Slough Town | League | | | Match report |
| 16-04-1921 | Slough Town | 8-1 | Wood Green | League | | | Match report |
| 13-04-1921 | Slough Town | 3-1 | Polytechnic | League | | | Match report |
| 09-04-1921 | Amersham Town | 4-0 | Slough Town | Bucks Charity Cup | | | Match report |
| 25-03-1921 | Newportonians | 1-1 | Slough Town | League | | | Match report |
| 19-03-1921 | Slough Town | 3-0 | Wycombe Wanderers | League | | | Match report |
| 05-03-1921 | Wycombe Wanderers | 1-1 | Slough Town | League | | | Match report |
| 26-02-1921 | Chesham United | 3-1 | Slough Town | B&B Senior Cup | | | Match report |
| 17-02-1921 | 1st Welsh Guards | 0-1 | Slough Town | League | | | Match report |
| 12-02-1921 | GW Railways | 1-7 | Slough Town | League | | | Match report |
| 05-02-1921 | Slough Town | 7-1 | Chesham United | Bucks Charity Cup | | | Match report |
| 29-01-1921 | Newbury Town | 2-6 | Slough Town | B&B Senior Cup | | | Match report |
| 22-01-1921 | Chesham United | 4-2 | Slough Town | League | | | Match report |
| 15-01-1921 | Slough Town | 3-1 | Maidenhead United | B&B Senior Cup | | | Match report |
| 08-01-1921 | Slough Town | 6-0 | Aylesbury United | League | | | Match report |
| 01-01-1921 | Slough Town | 8-1 | Marlow | Oxford Hosp. Cup | | | Match report |
| 18-12-1920 | Wood Green | 2-2 | Slough Town | League | | | Match report |
| 11-12-1920 | Slough Town | 6-0 | GW Railways | League | | | Match report |
| 04-12-1920 | Slough Town | 4-1 | Newportonians | League | | | Match report |
| 27-11-1920 | Slough Town | 1-0 | Maidenhead United | B&B Senior Cup | | | Match report |
| 10-11-1920 | Slough Town | 2-7 | Wycombe Wanderers | FA Cup | | | Match report |
| 06-11-1920 | Wycombe Wanderers | 2-2 | Slough Town | FA Cup | | | Match report |
| 30-10-1920 | Polytechnic | 1-4 | Slough Town | League | | | Match report |
| 23-10-1920 | Slough Town | 1-0 | Reading Utd | FA Cup | | | Match report |
| 16-10-1920 | Slough Town | 3-4 | Windsor & Eton | FA Amateur Cup | | | Match report |
| 09-10-1920 | Botwell Mission | 1-5 | Slough Town | FA Cup | | | Match report |
| 25-09-1920 | Slough Town | 9-0 | Sutton Court | League | | | Match report |
| 18-09-1920 | GER Romford | 1-2 | Slough Town | League | | | Match report |
| 04-09-1920 | Aylesbury United | 2-8 | Slough Town | Bucks Hospital Cup | | | Match report |
| 01-05-1920 | Slough Town | 6-0 | Yiewsley | League | | | Match report |
| 24-04-1920 | Newbury Town | 0-10 | Slough Town | League | | | Match report |
| 17-04-1920 | Reading Utd | 0-4 | Slough Town | League | | | Match report |
| 14-04-1920 | Slough Town | 6-0 | 1st Scots Guards | League | | | Match report |
| 10-04-1920 | Windsor & Eton | 2-2 | Slough Town | League | | | Match report |
| 05-04-1920 | Maidenhead United | 2-3 | Slough Town | B&B Senior Cup | | | Match report |
| 13-03-1920 | Uxbridge | 3-1 | Slough Town | League | | | Match report |
| 06-03-1920 | Reading Utd | 4-0 | Slough Town | B&B Senior Cup | | | Match report |
| 28-02-1920 | Slough Town | 3-1 | Chesham United | League | | | Match report |
| 21-02-1920 | Chesham United | 1-0 | Slough Town | Bucks Charity Cup | | | Match report |
| 14-02-1920 | Maidenhead United | 1-0 | Slough Town | League | | | Match report |
| 07-02-1920 | Slough Town | 6-0 | Wolverton | B&B Senior Cup | | | Match report |
| 31-01-1920 | Wycombe Wanderers | 4-0 | Slough Town | League | | | Match report |
| 24-01-1920 | Slough Town | 5-1 | Newbury Town | League | | | Match report |
| 17-01-1920 | Marlow | 2-3 | Slough Town | League | | | Match report |
| 10-01-1920 | Botwell Mission | 4-5 | Slough Town | League | | | Match report |
| 03-01-1920 | Southall | 4-2 | Slough Town | FA Amateur Cup | | | Match report |
| 27-12-1919 | Slough Town | 6-3 | Botwell Mission | League | | | Match report |
| 26-12-1919 | Slough Town | 2-4 | Windsor & Eton | League | | | Match report |
| 20-12-1919 | 1st Scots Guards | 0-6 | Slough Town | League | | | Match report |
| 13-12-1919 | Slough Town | 2-1 | Wycombe Wanderers | League | | | Match report |
| 06-12-1919 | Yiewsley | 1-6 | Slough Town | League | | | Match report |
| 29-11-1919 | Marlow | 1-5 | Slough Town | B&B Senior Cup | | | Match report |
| 22-11-1919 | Newbury Town | 3-5 | Slough Town | FA Amateur Cup | | | Match report |
| 15-11-1919 | Slough Town | 3-2 | Uxbridge | League | | | Match report |
| 08-11-1919 | Slough Town | 5-3 | Reading Utd | FA Amateur Cup | | | Match report |
| 29-10-1919 | Slough Town | 4-5 | Wycombe Wanderers | FA Cup | | | Match report |
| 25-10-1919 | Wycombe Wanderers | 3-3 | Slough Town | FA Cup | | | Match report |
| 18-10-1919 | Slough Town | 3-2 | Maidenhead United | FA Amateur Cup | | | Match report |
| 11-10-1919 | Slough Town | 8-2 | Newbury Town | FA Cup | | | Match report |
| 04-10-1919 | Slough Town | 8-1 | Marlow | League | | | Match report |
| 27-09-1919 | Yiewsley | 2-11 | Slough Town | FA Cup | | | Match report |
| 20-09-1919 | Marlow | 2-4 | Slough Town | Bucks Charity Cup | | | Match report |
| 27-12-1913 | Slough Town | 1-1 | Marlow | League | | | Match report |
| 26-12-1913 | Windsor & Eton | 0-2 | Slough Town | League | | | Match report |
Slough Town FC is not responsible for content produced on external websites | Copyright Slough Town FC 2023