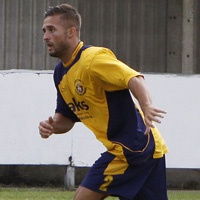 Position:
Defender
Bio
Ashley Deeney plays at right back or wing back, and was brought to the club by Steve Bateman in the summer of 2012, along with his brother Dave.
Ashley was previously at Luton Town, from where he joined St Neots Town on loan in season 2011/12. He later signed a permanent deal with the Saints and played against Slough that season.
He later moved to King's Lynn Town in January 2012 for the remainder of that season before joining Slough.
Mens
| First Appearance | Appearances | First Goal | Goals |
| --- | --- | --- | --- |
| 18-08-2012 vs Northwood | 36 | N/A | 0 |
History
| Match Date | Home | Score | Away | Competition | Goals | Cards | |
| --- | --- | --- | --- | --- | --- | --- | --- |
| 27-04-2013 | Slough Town | 3-0 | Chertsey Town | League | | | Match report |
| 23-04-2013 | Thatcham Town | 0-2 | Slough Town | League | | | Match report |
| 20-04-2013 | North Greenford Utd | 1-3 | Slough Town | League | | | Match report |
| 18-04-2013 | Rugby Town | 0-4 | Slough Town | League | | | Match report |
| 16-04-2013 | Godalming Town | 1-2 | Slough Town | League | | | Match report |
| 13-04-2013 | Slough Town | 2-3 | Godalming Town | League | | | Match report |
| 11-04-2013 | Aylesbury | 1-4 | Slough Town | League | | | Match report |
| 09-04-2013 | Biggleswade Town | 2-1 | Slough Town | League | | | Match report |
| 01-04-2013 | Burnham | 1-0 | Slough Town | League | | | Match report |
| 26-03-2013 | Slough Town | 3-1 | Biggleswade Town | League | | | Match report |
| 16-03-2013 | Slough Town | 4-3 | Aylesbury | League | | | Match report |
| 12-03-2013 | Daventry Town | 3-1 | Slough Town | League | | | Match report |
| 09-03-2013 | Fleet Town | 2-5 | Slough Town | League | | | Match report |
| 02-03-2013 | Slough Town | 1-1 | Daventry Town | League | | | Match report |
| 26-02-2013 | AFC Hayes | 0-3 | Slough Town | League | | | Match report |
| 23-02-2013 | Ashford Town (Middx) | 0-1 | Slough Town | League | | | Match report |
| 21-02-2013 | Slough Town | 2-1 | Northwood | Red Insure Cup | | | Match report |
| 19-02-2013 | Slough Town | 3-0 | North Greenford Utd | League | | | Match report |
| 16-02-2013 | Slough Town | 0-1 | Chalfont St Peter | League | | | Match report |
| 09-02-2013 | Slough Town | 2-1 | AFC Hayes | League | | | Match report |
| 06-02-2013 | Guildford City | 1-1 | Slough Town | League | | | Match report |
| 05-01-2013 | Slough Town | 1-3 | Uxbridge | League | | | Match report |
| 01-01-2013 | Beaconsfield Town | 1-1 | Slough Town | League | | | Match report |
| 26-12-2012 | Slough Town | 2-0 | Burnham | League | | | Match report |
| 04-12-2012 | Aylesbury | 0-1 | Slough Town | Red Insure Cup | | | Match report |
| 20-11-2012 | Maidenhead United | 4-1 | Slough Town | B&B Senior Cup | | | Match report |
| 17-11-2012 | Chalfont St Peter | 1-2 | Slough Town | League | | | Match report |
| 10-11-2012 | Slough Town | 6-1 | Ashford Town (Middx) | League | | | Match report |
| 30-10-2012 | Leighton Town | 0-3 | Slough Town | League | | | Match report |
| 16-10-2012 | Chalfont St Peter | 0-1 | Slough Town | Red Insure Cup | | | Match report |
| 16-09-2012 | Slough Town | 2-1 | Hungerford Town | FA Trophy | | | Match report |
| 04-09-2012 | Slough Town | 4-0 | Woodford United | League | | | Match report |
| 01-09-2012 | Uxbridge | 3-2 | Slough Town | League | | | Match report |
| 25-08-2012 | Slough Town | 4-2 | Corinthian | FA Cup | | | Match report |
| 21-08-2012 | Slough Town | 1-2 | Guildford City | League | | | Match report |
| 18-08-2012 | Slough Town | 5-0 | Northwood | League | | | Match report |
Slough Town FC is not responsible for content produced on external websites | Copyright Slough Town FC 2023