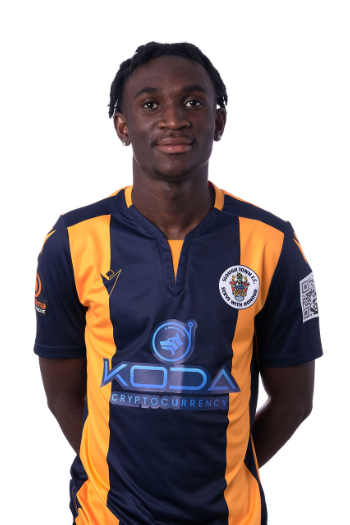 Position:
Midfielder
Bio
Eitel is a promising attacking midfielder who has stepped up into the first team squad from the club's U23 development team during the shortened 2020/21 season.
He has continued to impress, leading to his move to the senior squad for the 2021/22 season.
He captained the U23s last season as well as being their top goalscorer, and with his pace, skill and creativity he has a bright future ahead of him.
EDS
| First Appearance | Appearances | First Goal | Goals |
| --- | --- | --- | --- |
| 15-09-2020 vs Hartley Wintney U23 Development | 30 | 26-09-2020 vs Corinthian U21 | 21 |
Mens
| First Appearance | Appearances | First Goal | Goals |
| --- | --- | --- | --- |
| 14-08-2021 vs Chelmsford City | 22 | N/A | 0 |
History
| Match Date | Home | Score | Away | Competition | Goals | Cards | |
| --- | --- | --- | --- | --- | --- | --- | --- |
| 11-05-2022 | Erith Town Reserves | 0-6 | Slough Town EDS | Suburban Shield | | | Match report |
| 04-05-2022 | AFC Dunstable Development | 2-7 | Slough Town EDS | Suburban Shield | | | Match report |
| 20-04-2022 | Cove | 1-6 | Slough Town EDS | Suburban Shield | | | Match report |
| 12-04-2022 | Hartley Wintney U23 Development | 0-0 | Slough Town EDS | League | | | Match report |
| 05-04-2022 | Slough Town EDS | 5-2 | Farnham Town Development | Suburban Shield | | | Match report |
| 29-03-2022 | Slough Town EDS | 7-0 | Corinthian Reserves | League | | | Match report |
| 22-03-2022 | Slough Town EDS | 2-5 | Chippenham Town U23 | League | | | Match report |
| 17-01-2022 | Beaconsfield Town Reserves | 4-0 | Slough Town EDS | League Cup | | | Match report |
| 05-01-2022 | Cardiff City U23 | 3-1 | Slough Town EDS | Friendly | | | Match report |
| 23-11-2021 | Slough Town EDS | 2-1 | Bromley U23 | League | | | Match report |
| 19-11-2021 | Slough Town EDS | 4-1 | Oxford City U23 | League | | | Match report |
| 09-11-2021 | Aylesbury Vale Dynamos | 3-3 | Slough Town EDS | League Cup | | | Match report |
| 02-11-2021 | AFC Dunstable Development | 2-4 | Slough Town EDS | League | | | Match report |
| 21-10-2021 | Abbey Rangers Development | 2-0 | Slough Town EDS | League | | | Match report |
| 15-10-2021 | Slough Town EDS | 3-0 | AFC Dunstable Development | League | | | Match report |
| 02-10-2021 | Corinthian Reserves | 1-3 | Slough Town EDS | League | | | Match report |
| 24-09-2021 | Slough Town EDS | 4-2 | Abbey Rangers Development | League | | | Match report |
| 05-06-2021 | Abbey Rangers Development | 2-2 | Slough Town EDS | Suburban Shield | | | Match report |
| 28-05-2021 | Langley | 1-6 | Slough Town EDS | Friendly | | | Match report |
| 08-05-2021 | Slough Town EDS | 1-2 | Chippenham Town U23 | Suburban Shield | | | Match report |
| 04-05-2021 | Oxford City U23 | 1-2 | Slough Town EDS | Suburban Shield | | | Match report |
| 24-04-2021 | Hanwell Town | 1-1 | Slough Town EDS | Friendly | | | Match report |
| 20-04-2021 | Slough Town EDS | 3-0 | AFC Dunstable Development | Suburban Shield | | | Match report |
| 17-04-2021 | Slough Town EDS | 5-3 | Oxford City U23 | Suburban Shield | | | Match report |
| 13-04-2021 | Slough Town EDS | 6-0 | AFC Hayes Reserves | Suburban Shield | | | Match report |
| 10-04-2021 | Chippenham Town U23 | 1-1 | Slough Town EDS | Suburban Shield | | | Match report |
| 10-10-2020 | Lingfield Reserves | 0-4 | Slough Town EDS | League | | | Match report |
| 26-09-2020 | Slough Town EDS | 2-1 | Corinthian U21 | League | | | Match report |
| 19-09-2020 | Corinthian U21 | 2-0 | Slough Town EDS | League | | | Match report |
| 15-09-2020 | Hartley Wintney U23 Development | 1-2 | Slough Town EDS | League | | | Match report |
| Match Date | Home | Score | Away | Competition | Goals | Cards | |
| --- | --- | --- | --- | --- | --- | --- | --- |
| 02-05-2022 | Hampton & Richmond | 3-1 | Slough Town | League | | | Match report |
| 30-04-2022 | Slough Town | 0-6 | Dartford | League | | | Match report |
| 26-04-2022 | Concord Rangers | 1-1 | Slough Town | League | | | Match report |
| 15-04-2022 | Tonbridge Angels | 0-1 | Slough Town | League | | | Match report |
| 09-04-2022 | Slough Town | 2-2 | Eastbourne Borough | League | | | Match report |
| 02-04-2022 | Dorking Wanderers | 5-0 | Slough Town | League | | | Match report |
| 08-02-2022 | Slough Town | 1-2 | Dulwich Hamlet | League | | | Match report |
| 15-01-2022 | York City | 1-0 | Slough Town | FA Trophy | | | Match report |
| 28-12-2021 | Slough Town | 4-1 | Hampton & Richmond | League | | | Match report |
| 18-12-2021 | Slough Town | 3-1 | Eastbourne Borough | FA Trophy | | | Match report |
| 11-12-2021 | Hemel Hempstead Town | 2-2 | Slough Town | League | | | Match report |
| 04-12-2021 | Slough Town | 2-1 | Tonbridge Angels | League | | | Match report |
| 29-11-2021 | Beaconsfield Town | 5-1 | Slough Town | B&B Senior Cup | | | Match report |
| 20-11-2021 | Eastbourne Borough | 3-1 | Slough Town | League | | | Match report |
| 06-11-2021 | Maidstone United | 0-1 | Slough Town | League | | | Match report |
| 16-10-2021 | Billericay Town | 2-1 | Slough Town | League | | | Match report |
| 18-09-2021 | Slough Town | 1-3 | Whitehawk | FA Cup | | | Match report |
| 11-09-2021 | Slough Town | 2-3 | St Albans City | League | | | Match report |
| 04-09-2021 | Welling United | 2-2 | Slough Town | League | | | Match report |
| 28-08-2021 | Slough Town | 0-1 | Chippenham Town | League | | | Match report |
| 21-08-2021 | Dartford | 3-0 | Slough Town | League | | | Match report |
| 14-08-2021 | Slough Town | 1-0 | Chelmsford City | League | | | Match report |
Slough Town FC is not responsible for content produced on external websites | Copyright Slough Town FC 2023