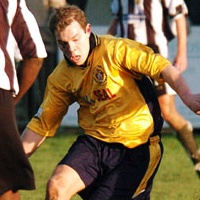 Position:
Defender
Achievements
2004/05 Isthmian League Cup Winner
Bio
Attacking, hard working left sided wing back who joined the club from Eastleigh.
Was a crowd favourite for his work rate and ability to get up and down the flank. Was eventually displaced in the side with the emergence of Alex Haddow and never regained his place before returning to the South Coast.
Mens
| First Appearance | Appearances | First Goal | Goals |
| --- | --- | --- | --- |
| 16-08-2003 vs Epsom & Ewell | 70 | 22-10-2003 vs Corinthian Casuals | 1 |
History
| Match Date | Home | Score | Away | Competition | Goals | Cards | |
| --- | --- | --- | --- | --- | --- | --- | --- |
| 23-04-2005 | Slough Town | 1-1 | Northwood | League | | | Match report |
| 21-04-2005 | Folkestone Invicta | 3-1 | Slough Town | League | | | Match report |
| 19-04-2005 | Yeading | 3-3 | Slough Town | League | | | Match report |
| 16-04-2005 | Slough Town | 0-6 | Billericay Town | League | | | Match report |
| 12-04-2005 | Slough Town | 1-0 | Staines Town | League | | | Match report |
| 09-04-2005 | Hendon | 0-0 | Slough Town | League | | | Match report |
| 07-04-2005 | Slough Town | 1-3 | Hendon | League | | | Match report |
| 05-04-2005 | Slough Town | 2-3 | Kingstonian | League | | | Match report |
| 02-04-2005 | Slough Town | 0-1 | Hampton & Richmond | League | | | Match report |
| 28-03-2005 | Windsor & Eton | 0-4 | Slough Town | League | | | Match report |
| 26-03-2005 | Slough Town | 2-0 | Tonbridge Angels | League | | | Match report |
| 01-02-2005 | Wycombe Wanderers | 3-0 | Slough Town | B&B Senior Cup | | | Match report |
| 29-01-2005 | Slough Town | 2-0 | Cheshunt | League | | | Match report |
| 18-01-2005 | Northwood | 1-0 | Slough Town | League | | | Match report |
| 15-01-2005 | Slough Town | 4-3 | Hendon | FA Trophy | | | Match report |
| 11-01-2005 | Slough Town | 1-0 | Cheshunt | Ryman League Cup | | | Match report |
| 18-12-2004 | Harrow Borough | 1-2 | Slough Town | League | | | Match report |
| 04-12-2004 | Slough Town | 1-3 | Yeading | FA Cup | | | Match report |
| 27-11-2004 | Chelmsford City | 0-1 | Slough Town | FA Trophy | | | Match report |
| 20-11-2004 | Slough Town | 1-1 | Worthing | League | | | Match report |
| 13-11-2004 | Slough Town | 2-1 | Walsall | FA Cup | | | Match report |
| 07-11-2004 | Slough Town | 7-0 | Dorking | FA Trophy | | | Match report |
| 31-10-2004 | Slough Town | 3-2 | Salisbury City | FA Cup | | | Match report |
| 16-10-2004 | Slough Town | 4-0 | Cheshunt | FA Cup | | | Match report |
| 09-10-2004 | Leyton | 0-1 | Slough Town | League | | | Match report |
| 02-10-2004 | Slough Town | 4-1 | Welling United | FA Cup | | | Match report |
| 18-09-2004 | Croydon Athletic | 0-1 | Slough Town | FA Cup | | | Match report |
| 14-09-2004 | Slough Town | 1-4 | Eastleigh | League | | | Match report |
| 11-09-2004 | Cheshunt | 1-0 | Slough Town | League | | | Match report |
| 04-09-2004 | Slough Town | 3-0 | Braintree Town | League | | | Match report |
| 30-08-2004 | Slough Town | 1-0 | Salisbury City | League | | | Match report |
| 21-08-2004 | Slough Town | 1-0 | Wealdstone | League | | | Match report |
| 18-08-2004 | Slough Town | 2-0 | Harrow Borough | League | | | Match report |
| 14-08-2004 | Dover Athletic | 3-1 | Slough Town | League | | | Match report |
| 01-05-2004 | Slough Town | 3-1 | Croydon | League | | | Match report |
| 24-04-2004 | Metropolitan Police | 1-3 | Slough Town | League | | | Match report |
| 20-04-2004 | Egham Town | 2-3 | Slough Town | League | | | Match report |
| 07-02-2004 | Slough Town | 3-2 | Horsham | League | | | Match report |
| 24-01-2004 | Slough Town | 2-0 | Tooting & Mitcham Utd | League | | | Match report |
| 20-01-2004 | Maidenhead United | 1-2 | Slough Town | B&B Senior Cup | | | Match report |
| 10-01-2004 | Slough Town | 1-1 | Hampton & Richmond | League | | | Match report |
| 06-01-2004 | Walton & Hersham | 3-1 | Slough Town | League | | | Match report |
| 26-12-2003 | Slough Town | 1-3 | Windsor & Eton | League | | | Match report |
| 23-12-2003 | Ashford Town (Middx) | 1-2 | Slough Town | League | | | Match report |
| 20-12-2003 | Marlow | 0-0 | Slough Town | League | | | Match report |
| 13-12-2003 | Slough Town | 7-1 | Epsom & Ewell | League | | | Match report |
| 06-12-2003 | Slough Town | 3-0 | Metropolitan Police | League | | | Match report |
| 29-11-2003 | Croydon | 1-0 | Slough Town | League | | | Match report |
| 22-11-2003 | Slough Town | 1-2 | Dulwich Hamlet | League | | | Match report |
| 19-11-2003 | Slough Town | 1-4 | Cheshunt | Ryman League Cup | | | Match report |
| 15-11-2003 | Horsham | 1-4 | Slough Town | League | | | Match report |
| 11-11-2003 | Slough Town | 4-2 | Bromley | League | | | Match report |
| 04-11-2003 | Bishop's Stortford | 2-1 | Slough Town | FA Trophy | | | Match report |
| 02-11-2003 | Slough Town | 2-2 | Bishop's Stortford | FA Trophy | | | Match report |
| 25-10-2003 | Lewes | 3-2 | Slough Town | League | | | Match report |
| 22-10-2003 | Slough Town | 2-1 | Corinthian Casuals | League | | | Match report |
| 18-10-2003 | Tooting & Mitcham Utd | 0-2 | Slough Town | League | | | Match report |
| 14-10-2003 | Hampton & Richmond | 4-0 | Slough Town | League | | | Match report |
| 30-09-2003 | Welling United | 4-1 | Slough Town | FA Cup | | | Match report |
| 27-09-2003 | Slough Town | 1-1 | Welling United | FA Cup | | | Match report |
| 23-09-2003 | Slough Town | 4-1 | Bracknell Town | League | | | Match report |
| 20-09-2003 | Croydon Athletic | 1-0 | Slough Town | League | | | Match report |
| 13-09-2003 | Slough Town | 2-0 | Godalming & Guildford | FA Cup | | | Match report |
| 09-09-2003 | Whyteleafe | 2-0 | Slough Town | League | | | Match report |
| 06-09-2003 | Slough Town | 3-1 | Leatherhead | League | | | Match report |
| 30-08-2003 | Slough Town | 5-0 | East Grinstead | FA Cup | | | Match report |
| 25-08-2003 | Molesey | 0-3 | Slough Town | League | | | Match report |
| 23-08-2003 | Slough Town | 1-1 | Ashford Town (Middx) | League | | | Match report |
| 19-08-2003 | Slough Town | 1-2 | Marlow | League | | | Match report |
| 16-08-2003 | Epsom & Ewell | 1-4 | Slough Town | League | | | Match report |
Slough Town FC is not responsible for content produced on external websites | Copyright Slough Town FC 2023