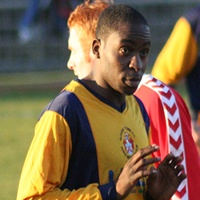 Position:
Midfielder
Bio
Midfielder who returned to the club for a second spell following a short spell away at the start of the 2007/8 season. Midfielder signed from fellow Ryman Premier Division side Harrow Borough in December 2006. Slotted in well to the midfield and has a superb combination of on the ball trickery and passing. Abbey is a forward running midfielder, who possesses a lot of skill when on the ball with the ability to dribble round the opposition.
Opened his scoring account for Slough in the 5-1 defeat at Carshalton in January 2007.
Normally employed in the centre of midfield, Abby can also play off a lone striker, using his skill on the ball to work openings.
Mens
| First Appearance | Appearances | First Goal | Goals |
| --- | --- | --- | --- |
| 16-12-2006 vs Hampton & Richmond | 48 | 09-01-2007 vs Carshalton Ath | 4 |
History
| Match Date | Home | Score | Away | Competition | Goals | Cards | |
| --- | --- | --- | --- | --- | --- | --- | --- |
| 24-03-2008 | Slough Town | 0-1 | Windsor & Eton | League | | | Match report |
| 08-03-2008 | Slough Town | 1-2 | Paulton Rovers | League | | | Match report |
| 01-03-2008 | Godalming Town | 2-0 | Slough Town | League | | | Match report |
| 23-02-2008 | Slough Town | 2-1 | Fleet Town | League | | | Match report |
| 16-02-2008 | Winchester City | 2-0 | Slough Town | League | | | Match report |
| 05-02-2008 | Slough Town | 2-3 | Farnborough | League | | | Match report |
| 02-02-2008 | Slough Town | 1-1 | Uxbridge | League | | | Match report |
| 26-01-2008 | Bracknell Town | 3-1 | Slough Town | League | | | Match report |
| 12-01-2008 | Gosport Borough | 2-2 | Slough Town | League | | | Match report |
| 05-01-2008 | Andover | 1-2 | Slough Town | League | | | Match report |
| 01-01-2008 | Slough Town | 1-2 | Thatcham Town | League | | | Match report |
| 26-12-2007 | Windsor & Eton | 2-1 | Slough Town | League | | | Match report |
| 22-12-2007 | Slough Town | 0-2 | Marlow | League | | | Match report |
| 15-12-2007 | Taunton Town | 0-1 | Slough Town | League | | | Match report |
| 08-12-2007 | Slough Town | 2-2 | Winchester City | League | | | Match report |
| 01-12-2007 | Slough Town | 4-1 | Abingdon Utd | League | | | Match report |
| 17-11-2007 | Oxford City | 5-0 | Slough Town | League | | | Match report |
| 10-11-2007 | Uxbridge | 2-1 | Slough Town | League | | | Match report |
| 03-11-2007 | Slough Town | 3-6 | Didcot Town | League | | | Match report |
| 30-10-2007 | Burnham | 3-1 | Slough Town | League | | | Match report |
| 20-10-2007 | Slough Town | 0-2 | Bridgwater Town | League | | | Match report |
| 28-04-2007 | Hampton & Richmond | 4-2 | Slough Town | League | | | Match report |
| 24-04-2007 | Slough Town | 0-2 | Staines Town | League | | | Match report |
| 21-04-2007 | Slough Town | 0-4 | Chelmsford City | League | | | Match report |
| 14-04-2007 | Slough Town | 0-8 | Bromley | League | | | Match report |
| 09-04-2007 | Ashford Town (Middx) | 1-1 | Slough Town | League | | | Match report |
| 07-04-2007 | Slough Town | 2-2 | Margate | League | | | Match report |
| 31-03-2007 | AFC Wimbledon | 9-0 | Slough Town | League | | | Match report |
| 27-03-2007 | Walton & Hersham | 3-0 | Slough Town | League | | | Match report |
| 24-03-2007 | Slough Town | 0-3 | Ramsgate | League | | | Match report |
| 19-03-2007 | Slough Town | 0-4 | Boreham Wood | League | | | Match report |
| 17-03-2007 | Billericay Town | 5-0 | Slough Town | League | | | Match report |
| 13-03-2007 | Slough Town | 0-5 | Walton & Hersham | League | | | Match report |
| 10-03-2007 | Slough Town | 2-3 | Tonbridge Angels | League | | | Match report |
| 05-03-2007 | Hendon | 2-0 | Slough Town | League | | | Match report |
| 03-03-2007 | Folkestone Invicta | 0-0 | Slough Town | League | | | Match report |
| 24-02-2007 | East Thurrock United | 4-1 | Slough Town | League | | | Match report |
| 17-02-2007 | Slough Town | 0-1 | Hendon | League | | | Match report |
| 06-02-2007 | Slough Town | 0-5 | East Thurrock United | League | | | Match report |
| 03-02-2007 | Slough Town | 1-1 | Worthing | League | | | Match report |
| 30-01-2007 | Horsham | 4-0 | Slough Town | League | | | Match report |
| 27-01-2007 | Heybridge Swifts | 2-3 | Slough Town | League | | | Match report |
| 23-01-2007 | Slough Town | 0-5 | Harrow Borough | League | | | Match report |
| 13-01-2007 | Leyton | 1-0 | Slough Town | League | | | Match report |
| 09-01-2007 | Carshalton Ath | 5-1 | Slough Town | League | | | Match report |
| 26-12-2006 | Slough Town | 0-2 | Ashford Town (Middx) | League | | | Match report |
| 23-12-2006 | Chelmsford City | 5-0 | Slough Town | League | | | Match report |
| 16-12-2006 | Slough Town | 0-3 | Hampton & Richmond | League | | | Match report |
Slough Town FC is not responsible for content produced on external websites | Copyright Slough Town FC 2023