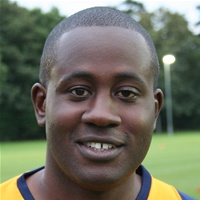 Stats
Position:
Defender
First Appearance:
31-08-2002 vs Thame United
Appearances:
57
First Goal:
31-08-2002 vs Thame United
Goals:
2
Bio
Adrian is a strong, tough central defender who lives locally. He rejoins the club for another spell after failing to get regular first team football at Staines Town, having also given service to Hayes, Windsor & Eton and Burnham amongst others.

Whilst not being the quickest, Adrian's key assets are his strength, organisation, and ability in the air. Formerly captain of the Slough Town reserve side which won the Presidents Cup a few seasons ago at Stag Meadow.
History
| Match Date | Home | Score | Away | Competition | Goals | Cards | |
| --- | --- | --- | --- | --- | --- | --- | --- |
| 02-02-2008 | Slough Town | 1-1 | Uxbridge | League | | | Match report |
| 27-11-2007 | Slough Town | 1-3 | Hillingdon Borough | League | | | Match report |
| 24-11-2007 | Didcot Town | 2-0 | Slough Town | League | | | Match report |
| 17-11-2007 | Oxford City | 5-0 | Slough Town | League | | | Match report |
| 03-11-2007 | Slough Town | 3-6 | Didcot Town | League | | | Match report |
| 30-10-2007 | Burnham | 3-1 | Slough Town | League | | | Match report |
| 27-10-2007 | Slough Town | 2-0 | Newport IOW | League | | | Match report |
| 23-10-2007 | Didcot Town | 5-1 | Slough Town | B&B Senior Cup | | | Match report |
| 20-10-2007 | Slough Town | 0-2 | Bridgwater Town | League | | | Match report |
| 29-09-2007 | Abingdon Utd | 3-0 | Slough Town | League | | | Match report |
| 25-09-2007 | AFC Hayes | 6-1 | Slough Town | Red Insure Cup | | | Match report |
| 22-09-2007 | Slough Town | 1-2 | Gosport Borough | League | | | Match report |
| 08-09-2007 | Slough Town | 2-1 | Andover | League | | | Match report |
| 01-09-2007 | Slough Town | 1-4 | Fleet Town | FA Cup | | | Match report |
| 27-08-2007 | Paulton Rovers | 3-1 | Slough Town | League | | | Match report |
| 25-08-2007 | Marlow | 2-0 | Slough Town | League | | | Match report |
| 10-01-2004 | Slough Town | 1-1 | Hampton & Richmond Boro' | League | | | Match report |
| 06-01-2004 | Walton & Hersham | 3-1 | Slough Town | League | | | Match report |
| 20-12-2003 | Marlow | 0-0 | Slough Town | League | | | Match report |
| 29-11-2003 | Croydon | 1-0 | Slough Town | League | | | Match report |
| 22-11-2003 | Slough Town | 1-2 | Dulwich Hamlet | League | | | Match report |
| 19-11-2003 | Slough Town | 1-4 | Cheshunt | Ryman League Cup | | | Match report |
| 15-11-2003 | Horsham | 1-4 | Slough Town | League | | | Match report |
| 11-11-2003 | Slough Town | 4-2 | Bromley | League | | | Match report |
| 08-11-2003 | Slough Town | 2-2 | Staines Town | League | | | Match report |
| 04-11-2003 | Bishop's Stortford | 2-1 | Slough Town | FA Trophy | | | Match report |
| 02-11-2003 | Slough Town | 2-2 | Bishop's Stortford | FA Trophy | | | Match report |
| 28-10-2003 | Slough Town | 5-1 | Banstead Athletic | League | | | Match report |
| 09-09-2003 | Whyteleafe | 2-0 | Slough Town | League | | | Match report |
| 06-09-2003 | Slough Town | 3-1 | Leatherhead | League | | | Match report |
| 30-08-2003 | Slough Town | 5-0 | East Grinstead | FA Cup | | | Match report |
| 25-08-2003 | Molesey | 0-3 | Slough Town | League | | | Match report |
| 23-08-2003 | Slough Town | 1-1 | Ashford Town (Middx) | League | | | Match report |
| 19-08-2003 | Slough Town | 1-2 | Marlow | League | | | Match report |
| 16-08-2003 | Epsom & Ewell | 1-4 | Slough Town | League | | | Match report |
| 28-04-2003 | Slough Town | 2-1 | Wembley | League | | | Match report |
| 21-04-2003 | Slough Town | 0-2 | Yeading | League | | | Match report |
| 19-04-2003 | Leyton Pennant | 0-2 | Slough Town | League | | | Match report |
| 08-04-2003 | Wivenhoe Town | 1-2 | Slough Town | League | | | Match report |
| 05-04-2003 | Harlow Town | 2-2 | Slough Town | League | | | Match report |
| 01-04-2003 | Aveley | 1-1 | Slough Town | League | | | Match report |
| 29-03-2003 | Thame United | 1-1 | Slough Town | League | | | Match report |
| 01-03-2003 | Hertford Town | 1-3 | Slough Town | League | | | Match report |
| 19-11-2002 | Slough Town | 1-3 | Kingstonian | Unknown Cup | | | Match report |
| 16-11-2002 | Slough Town | 1-2 | Harrogate Railway | FA Cup | | | Match report |
| 12-11-2002 | Slough Town | 1-0 | Wycombe Wanderers | B&B Senior Cup | | | Match report |
| 09-11-2002 | Slough Town | 0-1 | Hemel Hempstead Town | League | | | Match report |
| 15-10-2002 | Wingate & Finchley | 2-3 | Slough Town | League | | | Match report |
| 12-10-2002 | Slough Town | 4-2 | Hampton & Richmond Boro' | FA Cup | | | Match report |
| 08-10-2002 | Barking & East Ham Utd | 2-1 | Slough Town | League | | | Match report |
| 05-10-2002 | Slough Town | 2-0 | Wembley | FA Trophy | | | Match report |
| 01-10-2002 | Slough Town | 2-0 | AFC Totton | FA Cup | | | Match report |
| 28-09-2002 | AFC Totton | 2-2 | Slough Town | FA Cup | | | Match report |
| 24-09-2002 | Arlesey Town | 1-0 | Slough Town | League | | | Match report |
| 21-09-2002 | Slough Town | 1-0 | Barton Rovers | League | | | Match report |
| 14-09-2002 | St. Leonards | 1-2 | Slough Town | FA Cup | | | Match report |
| 31-08-2002 | Thame United | 1-2 | Slough Town | FA Cup | | | Match report |
Slough Town FC is not responsible for content produced on external websites | Copyright Slough Town FC 2021