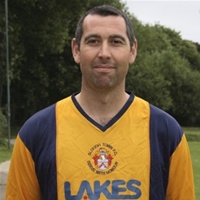 Stats
Position:
Defender
First Appearance:
22-08-1998 vs Sutton United
Appearances:
38
First Goal:
22-09-1998 vs Billericay Town
Goals:
9
Bio
Defender who re-joined the club from Didcot Town.

Richard originally joined the club almost 10 years ago from Chesham United for a fee of £3,000. Played in the majority of the 2008/09 pre-season games but left the club without kicking a ball in competitive action to join Brackley Town.
History
| Match Date | Home | Score | Away | Competition | Goals | Cards | |
| --- | --- | --- | --- | --- | --- | --- | --- |
| 24-04-1999 | Basingstoke Town | 0-2 | Slough Town | League | | | Match report |
| 17-04-1999 | Slough Town | 1-1 | Carshalton Ath | League | | | Match report |
| 10-04-1999 | Enfield | 2-1 | Slough Town | League | | | Match report |
| 03-04-1999 | Heybridge Swifts | 2-1 | Slough Town | League | | | Match report |
| 27-03-1999 | Aldershot Town | 1-1 | Slough Town | League | | | Match report |
| 23-02-1999 | Maidenhead United | 4-2 | Slough Town | Isthmian Lge Cup | | | Match report |
| 30-01-1999 | Slough Town | 1-2 | Sutton United | League | | | Match report |
| 25-01-1999 | Slough Town | 1-2 | Rushden & Diamonds | FA Trophy | | | Match report |
| 23-01-1999 | Bishop's Stortford | 0-1 | Slough Town | League | | | Match report |
| 09-01-1999 | Chesham United | 1-0 | Slough Town | League | | | Match report |
| 02-01-1999 | Slough Town | 0-1 | Heybridge Swifts | League | | | Match report |
| 22-12-1998 | Walton & Hersham | 2-0 | Slough Town | Puma Cup | | | Match report |
| 19-12-1998 | Slough Town | 0-3 | Boreham Wood | League | | | Match report |
| 12-12-1998 | Aylesbury United | 0-0 | Slough Town | League | | | Match report |
| 05-12-1998 | Slough Town | 3-0 | Walton & Hersham | League | | | Match report |
| 01-12-1998 | Staines Town | 1-3 | Slough Town | Isthmian Lge Cup | | | Match report |
| 28-11-1998 | Bromley | 2-1 | Slough Town | League | | | Match report |
| 24-11-1998 | Slough Town | 1-1 | Macclesfield Town | FA Cup | | | Match report |
| 21-11-1998 | Slough Town | 3-1 | Baldock Town | FA Trophy | | | Match report |
| 17-11-1998 | Slough Town | 0-1 | Basingstoke Town | League | | | Match report |
| 14-11-1998 | Macclesfield Town | 2-2 | Slough Town | FA Cup | | | Match report |
| 09-11-1998 | Slough Town | 3-2 | Crawley Town | FA Cup | | | Match report |
| 07-11-1998 | Slough Town | 2-2 | Enfield | League | | | Match report |
| 03-11-1998 | Crawley Town | 0-0 | Slough Town | FA Cup | | | Match report |
| 27-10-1998 | Slough Town | 1-0 | Bromley | Isthmian Lge Cup | | | Match report |
| 24-10-1998 | Hendon | 5-2 | Slough Town | League | | | Match report |
| 17-10-1998 | Slough Town | 3-1 | Halstead Town | FA Cup | | | Match report |
| 12-10-1998 | St Albans City | 3-3 | Slough Town | League | | | Match report |
| 26-09-1998 | Dagenham & R. | 3-0 | Slough Town | League | | | Match report |
| 22-09-1998 | Slough Town | 1-1 | Billericay Town | League | | | Match report |
| 19-09-1998 | Slough Town | 2-3 | Purfleet | League | | | Match report |
| 15-09-1998 | Hampton | 2-2 | Slough Town | League | | | Match report |
| 12-09-1998 | Slough Town | 1-0 | Aylesbury United | League | | | Match report |
| 08-09-1998 | Abingdon | 0-1 | Slough Town | Isthmian Lge Cup | | | Match report |
| 01-09-1998 | Ebbsfleet United | 1-2 | Slough Town | League | | | Match report |
| 29-08-1998 | Slough Town | 3-1 | Chesham United | League | | | Match report |
| 25-08-1998 | Slough Town | 2-2 | Bishop's Stortford | League | | | Match report |
| 22-08-1998 | Sutton United | 0-1 | Slough Town | League | | | Match report |
Slough Town FC is not responsible for content produced on external websites | Copyright Slough Town FC 2021