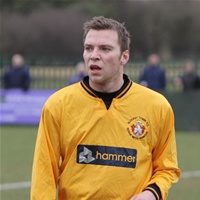 Position:
Midfielder
Bio
Midfielder Robbie Kean joined the club in March 2009 as one of Steve Bateman's first signings.
Kean previously played for Bateman at Hemel Hempstead Town. The former Luton Town trainee has also played for St Albans City, Hitchin Town and Stevenage Borough.
Scored his first goal for the club on the final day of the 2008/09 season against Bridgwater Town.
Kean is now involved in coaching at Crawley Green, but was dual-registered to play for Slough in seasons 2010/11 and 2011/12.
Mens
| First Appearance | Appearances | First Goal | Goals |
| --- | --- | --- | --- |
| 07-03-2009 vs Bishops Cleeve | 57 | 25-04-2009 vs Bridgwater Town | 2 |
History
| Match Date | Home | Score | Away | Competition | Goals | Cards | |
| --- | --- | --- | --- | --- | --- | --- | --- |
| 18-09-2010 | Atherstone Town | 1-2 | Slough Town | League | | | Match report |
| 30-08-2010 | Slough Town | 5-2 | Uxbridge | League | | | Match report |
| 05-04-2010 | Marlow | 0-1 | Slough Town | League | | | Match report |
| 03-04-2010 | Slough Town | 3-1 | Beaconsfield Town | League | | | Match report |
| 30-03-2010 | Slough Town | 1-2 | Arlesey Town | League | | | Match report |
| 27-03-2010 | Rothwell Town | 1-3 | Slough Town | League | | | Match report |
| 23-03-2010 | Barton Rovers | 3-3 | Slough Town | League | | | Match report |
| 16-03-2010 | Slough Town | 0-1 | Wycombe Wanderers | B&B Senior Cup | | | Match report |
| 13-03-2010 | Biggleswade Town | 1-0 | Slough Town | League | | | Match report |
| 02-03-2010 | Slough Town | 1-3 | Chesham United | League | | | Match report |
| 20-02-2010 | Slough Town | 2-2 | Sutton Coldfield Town | League | | | Match report |
| 13-02-2010 | Slough Town | 0-1 | AFC Sudbury | League | | | Match report |
| 09-02-2010 | Slough Town | 1-1 | Marlow | League | | | Match report |
| 06-02-2010 | Woodford United | 0-1 | Slough Town | League | | | Match report |
| 02-02-2010 | Bedworth United | 2-4 | Slough Town | League | | | Match report |
| 23-01-2010 | Stourport Swifts | 1-4 | Slough Town | League | | | Match report |
| 12-12-2009 | Slough Town | 2-2 | Romulus | League | | | Match report |
| 08-12-2009 | Arlesey Town | 1-2 | Slough Town | League | | | Match report |
| 05-12-2009 | Slough Town | 0-1 | Bury Town | League | | | Match report |
| 01-12-2009 | AFC Sudbury | 1-2 | Slough Town | League | | | Match report |
| 28-11-2009 | Aylesbury United | 2-5 | Slough Town | League | | | Match report |
| 14-11-2009 | Atherstone Town | 2-0 | Slough Town | League | | | Match report |
| 10-11-2009 | Chesham United | 1-0 | Slough Town | League | | | Match report |
| 07-11-2009 | Slough Town | 4-1 | Rothwell Town | League | | | Match report |
| 03-11-2009 | Slough Town | 1-0 | Woodford United | League | | | Match report |
| 31-10-2009 | Boreham Wood | 3-2 | Slough Town | FA Trophy | | | Match report |
| 27-10-2009 | Slough Town | 1-2 | Chesham United | Red Insure Cup | | | Match report |
| 24-10-2009 | Slough Town | 3-2 | Stourport Swifts | League | | | Match report |
| 20-10-2009 | Slough Town | 2-0 | Uxbridge | FA Trophy | | | Match report |
| 17-10-2009 | Uxbridge | 1-1 | Slough Town | FA Trophy | | | Match report |
| 13-10-2009 | Hitchin Town | 3-2 | Slough Town | League | | | Match report |
| 10-10-2009 | Tooting & Mitcham Utd | 3-2 | Slough Town | FA Cup | | | Match report |
| 06-10-2009 | Mangotsfield Utd | 0-1 | Slough Town | FA Trophy | | | Match report |
| 04-10-2009 | Slough Town | 1-1 | Mangotsfield Utd | FA Trophy | | | Match report |
| 26-09-2009 | Slough Town | 2-0 | Concord Rangers | FA Cup | | | Match report |
| 19-09-2009 | Soham Town Rangers | 0-2 | Slough Town | League | | | Match report |
| 15-09-2009 | Slough Town | 2-1 | Hemel Hempstead Town | FA Cup | | | Match report |
| 12-09-2009 | Hemel Hempstead Town | 1-1 | Slough Town | FA Cup | | | Match report |
| 05-09-2009 | Slough Town | 4-2 | Biggleswade Town | League | | | Match report |
| 29-08-2009 | Tring Athletic | 0-4 | Slough Town | FA Cup | | | Match report |
| 25-08-2009 | Leighton Town | 0-1 | Slough Town | League | | | Match report |
| 22-08-2009 | Slough Town | 5-1 | Barton Rovers | League | | | Match report |
| 18-08-2009 | Slough Town | 0-2 | Burnham | League | | | Match report |
| 15-08-2009 | Sutton Coldfield Town | 2-2 | Slough Town | League | | | Match report |
| 25-04-2009 | Slough Town | 2-1 | Bridgwater Town | League | | | Match report |
| 21-04-2009 | Slough Town | 2-1 | Gosport Borough | League | | | Match report |
| 18-04-2009 | Didcot Town | 2-0 | Slough Town | League | | | Match report |
| 13-04-2009 | Beaconsfield Town | 0-0 | Slough Town | League | | | Match report |
| 11-04-2009 | Slough Town | 2-2 | Taunton Town | League | | | Match report |
| 04-04-2009 | Winchester City | 3-1 | Slough Town | League | | | Match report |
| 28-03-2009 | Slough Town | 1-0 | Paulton Rovers | League | | | Match report |
| 26-03-2009 | Bridgwater Town | 6-0 | Slough Town | League | | | Match report |
| 24-03-2009 | Burnham | 3-0 | Slough Town | League | | | Match report |
| 21-03-2009 | AFC Totton | 4-2 | Slough Town | League | | | Match report |
| 14-03-2009 | Slough Town | 0-0 | Bracknell Town | League | | | Match report |
| 10-03-2009 | Slough Town | 0-3 | Abingdon Utd | League | | | Match report |
| 07-03-2009 | Bishops Cleeve | 0-4 | Slough Town | League | | | Match report |
Slough Town FC is not responsible for content produced on external websites | Copyright Slough Town FC 2023