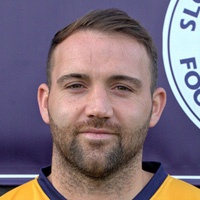 Position:
Midfielder
Achievements
2013/14 Won promotion to Southern League, Premier Division
Bio
Jamie McClurg joined the Rebels in June 2013 from Godalming Town following the arrival of new joint managers Neil Baker and Jon Underwood.
'Clurgy', or 'The Decider' as he likes to be called now, had a fantastic second half of the season in 2013/14. It took him a few months to settle at the club having moved in the summer from Godalming, however once he got going he was instrumental in getting the club promoted, with his work rate all over the pitch, and knack of scoring important goals, including the winner in the Play-Off Final at Kettering. He gets everyone else going in the side with his honesty on the pitch, but this can sometimes go unseen.
At 28 he is a hugely important member of the squad and for this reason, has been named interim skipper until Adam Foulser returns to the team.
He previously played under Jon Underwood at Bracknell Town, and has also represented Basingstoke Town, Wycombe Wanderers, Uxbridge, Staines, Fleet and Godalming. Jamie won the Players' Player of the Season award at Godalming in 2011/12.
Mens
| First Appearance | Appearances | First Goal | Goals |
| --- | --- | --- | --- |
| 17-08-2013 vs Northwood | 84 | 26-08-2013 vs Beaconsfield Town | 7 |
History
| Match Date | Home | Score | Away | Competition | Goals | Cards | |
| --- | --- | --- | --- | --- | --- | --- | --- |
| 26-09-2015 | Basingstoke Town | 4-2 | Slough Town | FA Cup | | | Match report |
| 22-09-2015 | Slough Town | 0-2 | Redditch United | League | | | Match report |
| 19-09-2015 | Bedworth United | 2-1 | Slough Town | League | | | Match report |
| 12-09-2015 | Dorking Wanderers | 0-1 | Slough Town | FA Cup | | | Match report |
| 08-09-2015 | Slough Town | 0-3 | Burnham | B&B Senior Cup | | | Match report |
| 05-09-2015 | Slough Town | 1-0 | Cirencester Town | League | | | Match report |
| 31-08-2015 | Chesham United | 1-1 | Slough Town | League | | | Match report |
| 29-08-2015 | Slough Town | 1-3 | Poole Town | League | | | Match report |
| 22-08-2015 | Hitchin Town | 3-1 | Slough Town | League | | | Match report |
| 18-08-2015 | Slough Town | 7-1 | Histon | League | | | Match report |
| 11-08-2015 | Biggleswade Town | 5-1 | Slough Town | League | | | Match report |
| 08-08-2015 | Slough Town | 0-0 | Frome Town | League | | | Match report |
| 28-03-2015 | Hitchin Town | 5-2 | Slough Town | League | | | Match report |
| 21-03-2015 | Cirencester Town | 3-5 | Slough Town | League | | | Match report |
| 14-03-2015 | Slough Town | 1-2 | Truro City | League | | | Match report |
| 07-03-2015 | Slough Town | 0-4 | Cambridge City | League | | | Match report |
| 06-12-2014 | Slough Town | 0-3 | Dunstable Town | League | | | Match report |
| 25-11-2014 | Slough Town | 2-2 | Chippenham Town | League | | | Match report |
| 22-11-2014 | Slough Town | 2-1 | Hitchin Town | League | | | Match report |
| 18-11-2014 | Merthyr Town | 3-2 | Slough Town | FA Trophy | | | Match report |
| 15-11-2014 | Slough Town | 1-1 | Merthyr Town | FA Trophy | | | Match report |
| 08-11-2014 | Slough Town | 4-2 | Paulton Rovers | League | | | Match report |
| 01-11-2014 | Margate | 0-2 | Slough Town | FA Trophy | | | Match report |
| 28-10-2014 | Biggleswade Town | 3-3 | Slough Town | League | | | Match report |
| 18-10-2014 | Cambridge City | 3-3 | Slough Town | League | | | Match report |
| 11-10-2014 | Slough Town | 1-7 | Redditch United | League | | | Match report |
| 04-10-2014 | Arlesey Town | 1-0 | Slough Town | League | | | Match report |
| 01-10-2014 | Corby Town | 1-2 | Slough Town | League | | | Match report |
| 20-09-2014 | Slough Town | 4-1 | Bideford | League | | | Match report |
| 09-09-2014 | Poole Town | 2-1 | Slough Town | League | | | Match report |
| 06-09-2014 | Weymouth | 3-2 | Slough Town | League | | | Match report |
| 30-08-2014 | Slough Town | 1-1 | Histon | League | | | Match report |
| 25-08-2014 | Slough Town | 0-3 | Chesham United | League | | | Match report |
| 23-08-2014 | Paulton Rovers | 2-2 | Slough Town | League | | | Match report |
| 19-08-2014 | Slough Town | 1-1 | Biggleswade Town | League | | | Match report |
| 16-08-2014 | Slough Town | 2-1 | Banbury United | League | | | Match report |
| 09-08-2014 | Burnham | 0-2 | Slough Town | League | | | Match report |
| 05-05-2014 | Kettering Town | 2-3 | Slough Town | Play Off | | | Match report |
| 29-04-2014 | Rugby Town | 0-3 | Slough Town | Play Off | | | Match report |
| 26-04-2014 | Slough Town | 1-0 | Chertsey Town | League | | | Match report |
| 21-04-2014 | Aylesbury | 3-1 | Slough Town | League | | | Match report |
| 19-04-2014 | Slough Town | 1-2 | Rugby Town | League | | | Match report |
| 12-04-2014 | Ashford Town (Middx) | 0-5 | Slough Town | League | | | Match report |
| 05-04-2014 | AFC Hayes | 0-1 | Slough Town | League | | | Match report |
| 03-04-2014 | Barton Rovers | 1-2 | Slough Town | League | | | Match report |
| 29-03-2014 | Slough Town | 2-1 | Royston Town | League | | | Match report |
| 25-03-2014 | North Greenford Utd | 1-7 | Slough Town | League | | | Match report |
| 22-03-2014 | Slough Town | 4-1 | Leighton Town | League | | | Match report |
| 15-03-2014 | Daventry Town | 2-2 | Slough Town | League | | | Match report |
| 04-03-2014 | Slough Town | 1-3 | Egham Town | League | | | Match report |
| 01-03-2014 | Potters Bar Town | 0-3 | Slough Town | League | | | Match report |
| 22-02-2014 | Slough Town | 4-0 | Dunstable Town | League | | | Match report |
| 15-02-2014 | Slough Town | 5-3 | Aylesbury United | League | | | Match report |
| 04-02-2014 | Slough Town | 2-0 | Aylesbury | League | | | Match report |
| 28-01-2014 | Northwood | 0-2 | Slough Town | League | | | Match report |
| 18-01-2014 | Slough Town | 5-1 | Chalfont St Peter | League | | | Match report |
| 11-01-2014 | Marlow | 2-2 | Slough Town | League | | | Match report |
| 07-01-2014 | Burnham | 3-3 | Slough Town | League Cup | | | Match report |
| 14-12-2013 | Chertsey Town | 0-4 | Slough Town | League | | | Match report |
| 07-12-2013 | Slough Town | 1-2 | AFC Hayes | League | | | Match report |
| 03-12-2013 | Dunstable Town | 3-2 | Slough Town | League | | | Match report |
| 30-11-2013 | Royston Town | 0-1 | Slough Town | League | | | Match report |
| 23-11-2013 | Slough Town | 3-1 | Daventry Town | League | | | Match report |
| 19-11-2013 | Slough Town | 3-0 | North Greenford Utd | League | | | Match report |
| 16-11-2013 | St Ives Town | 0-3 | Slough Town | League | | | Match report |
| 12-11-2013 | Slough Town | 5-1 | Uxbridge | League Cup | | | Match report |
| 09-11-2013 | Slough Town | 4-3 | Potters Bar Town | League | | | Match report |
| 05-11-2013 | Slough Town | 0-3 | Wycombe Wanderers | B&B Senior Cup | | | Match report |
| 02-11-2013 | Leighton Town | 1-0 | Slough Town | League | | | Match report |
| 29-10-2013 | Chalfont St Peter | 0-1 | Slough Town | League | | | Match report |
| 26-10-2013 | Aylesbury United | 3-3 | Slough Town | League | | | Match report |
| 22-10-2013 | Slough Town | 2-1 | Marlow | League | | | Match report |
| 19-10-2013 | Slough Town | 1-2 | Merthyr Town | FA Trophy | | | Match report |
| 15-10-2013 | Chertsey Town | 0-3 | Slough Town | League Cup | | | Match report |
| 12-10-2013 | Maidenhead United | 1-3 | Slough Town | B&B Senior Cup | | | Match report |
| 05-10-2013 | Godalming Town | 1-2 | Slough Town | FA Trophy | | | Match report |
| 28-09-2013 | Egham Town | 2-2 | Slough Town | League | | | Match report |
| 24-09-2013 | Slough Town | 4-2 | Ashford Town (Middx) | League | | | Match report |
| 07-09-2013 | Rugby Town | 0-4 | Slough Town | League | | | Match report |
| 03-09-2013 | Cirencester Town | 1-0 | Slough Town | FA Cup | | | Match report |
| 26-08-2013 | Slough Town | 1-3 | Beaconsfield Town | League | | | Match report |
| 24-08-2013 | Kettering Town | 1-5 | Slough Town | League | | | Match report |
| 20-08-2013 | Uxbridge | 1-1 | Slough Town | League | | | Match report |
| 17-08-2013 | Slough Town | 0-1 | Northwood | League | | | Match report |
Slough Town FC is not responsible for content produced on external websites | Copyright Slough Town FC 2023