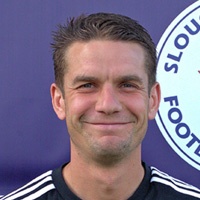 Position:
Midfielder
Achievements
2013/14 Won promotion to Southern League, Premier Division
Bio
Ben is a midfielder who joined the club in July 2013, following Neil Baker and Jon Underwood from Godalming Town.
This season, Ben has taken on the role of player-coach.
Ben is a no-nonsense player who can play anywhere across the midfield, and also at both left and right back. He gives 100% and has a great engine. Injuries meant he missed a number of games last year, however he was one of the club's best performers early on in the season.
He is a great option to bring off the bench to shore up a game like he did in the Play off Final at Kettering Town.
Ben's previous clubs include Bracknell Town and Godalming Town.
Mens
| First Appearance | Appearances | First Goal | Goals |
| --- | --- | --- | --- |
| 20-08-2013 vs Uxbridge | 50 | 24-08-2013 vs Kettering Town | 2 |
History
| Match Date | Home | Score | Away | Competition | Goals | Cards | |
| --- | --- | --- | --- | --- | --- | --- | --- |
| 08-09-2015 | Slough Town | 0-3 | Burnham | B&B Senior Cup | | | Match report |
| 22-08-2015 | Hitchin Town | 3-1 | Slough Town | League | | | Match report |
| 25-04-2015 | Dorchester Town | 3-1 | Slough Town | League | | | Match report |
| 21-04-2015 | Banbury United | 3-0 | Slough Town | League | | | Match report |
| 18-04-2015 | Slough Town | 1-1 | Frome Town | League | | | Match report |
| 11-04-2015 | Dunstable Town | 2-4 | Slough Town | League | | | Match report |
| 06-04-2015 | Hungerford Town | 2-0 | Slough Town | League | | | Match report |
| 04-04-2015 | Slough Town | 3-3 | St Neots Town | League | | | Match report |
| 28-03-2015 | Hitchin Town | 5-2 | Slough Town | League | | | Match report |
| 24-03-2015 | Slough Town | 1-2 | Corby Town | League | | | Match report |
| 07-03-2015 | Slough Town | 0-4 | Cambridge City | League | | | Match report |
| 28-02-2015 | Redditch United | 4-0 | Slough Town | League | | | Match report |
| 31-01-2015 | Bideford | 2-0 | Slough Town | League | | | Match report |
| 17-01-2015 | Slough Town | 3-0 | Weymouth | League | | | Match report |
| 01-01-2015 | Slough Town | 1-2 | Hungerford Town | League | | | Match report |
| 26-12-2014 | Chesham United | 0-0 | Slough Town | League | | | Match report |
| 20-12-2014 | Slough Town | 2-1 | Dorchester Town | League | | | Match report |
| 13-12-2014 | Frome Town | 1-1 | Slough Town | League | | | Match report |
| 09-12-2014 | St Neots Town | 0-3 | Slough Town | League | | | Match report |
| 06-12-2014 | Slough Town | 0-3 | Dunstable Town | League | | | Match report |
| 18-11-2014 | Merthyr Town | 3-2 | Slough Town | FA Trophy | | | Match report |
| 18-10-2014 | Cambridge City | 3-3 | Slough Town | League | | | Match report |
| 14-10-2014 | Egham Town | 4-2 | Slough Town | League Cup | | | Match report |
| 23-08-2014 | Paulton Rovers | 2-2 | Slough Town | League | | | Match report |
| 05-05-2014 | Kettering Town | 2-3 | Slough Town | Play Off | | | Match report |
| 29-04-2014 | Rugby Town | 0-3 | Slough Town | Play Off | | | Match report |
| 21-04-2014 | Aylesbury | 3-1 | Slough Town | League | | | Match report |
| 18-01-2014 | Slough Town | 5-1 | Chalfont St Peter | League | | | Match report |
| 26-12-2013 | Beaconsfield Town | 3-1 | Slough Town | League | | | Match report |
| 21-12-2013 | Slough Town | 1-2 | Uxbridge | League | | | Match report |
| 14-12-2013 | Chertsey Town | 0-4 | Slough Town | League | | | Match report |
| 07-12-2013 | Slough Town | 1-2 | AFC Hayes | League | | | Match report |
| 03-12-2013 | Dunstable Town | 3-2 | Slough Town | League | | | Match report |
| 30-11-2013 | Royston Town | 0-1 | Slough Town | League | | | Match report |
| 23-11-2013 | Slough Town | 3-1 | Daventry Town | League | | | Match report |
| 19-11-2013 | Slough Town | 3-0 | North Greenford Utd | League | | | Match report |
| 12-11-2013 | Slough Town | 5-1 | Uxbridge | League Cup | | | Match report |
| 09-11-2013 | Slough Town | 4-3 | Potters Bar Town | League | | | Match report |
| 05-11-2013 | Slough Town | 0-3 | Wycombe Wanderers | B&B Senior Cup | | | Match report |
| 26-10-2013 | Aylesbury United | 3-3 | Slough Town | League | | | Match report |
| 22-10-2013 | Slough Town | 2-1 | Marlow | League | | | Match report |
| 19-10-2013 | Slough Town | 1-2 | Merthyr Town | FA Trophy | | | Match report |
| 15-10-2013 | Chertsey Town | 0-3 | Slough Town | League Cup | | | Match report |
| 21-09-2013 | Slough Town | 4-0 | Barton Rovers | League | | | Match report |
| 07-09-2013 | Rugby Town | 0-4 | Slough Town | League | | | Match report |
| 03-09-2013 | Cirencester Town | 1-0 | Slough Town | FA Cup | | | Match report |
| 01-09-2013 | Slough Town | 1-1 | Cirencester Town | FA Cup | | | Match report |
| 26-08-2013 | Slough Town | 1-3 | Beaconsfield Town | League | | | Match report |
| 24-08-2013 | Kettering Town | 1-5 | Slough Town | League | | | Match report |
| 20-08-2013 | Uxbridge | 1-1 | Slough Town | League | | | Match report |
Slough Town FC is not responsible for content produced on external websites | Copyright Slough Town FC 2023