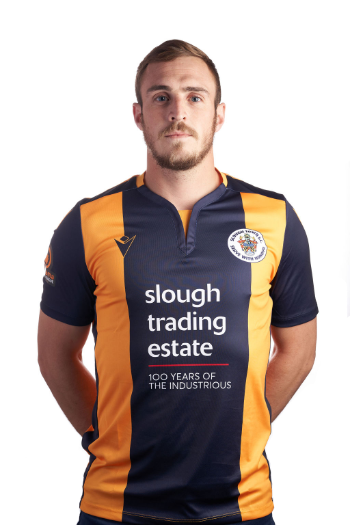 Stats
Position:
Striker
First Appearance:
01-01-2018 vs Chesham United
Appearances:
90
First Goal:
01-01-2018 vs Chesham United
Goals:
33
Achievements
2017/18 Won promotion to National League South
2018/19 Berks & Bucks FA Senior Cup
2018/19, 2019/20 Golden Boot
Bio
Centre forward Ben Harris joined Slough Town in December 2017 from Ascot United.

Ben had been playing at Ascot to get his match fitness up after returning from playing in New Zealand for the previous two seasons, where he played for Team Wellington and Miramar Rangers in their top league, the New Zealand Football Championship. Prior to that, Ben was a big part of the Hampton & Richmond Borough team under Alan Dowson.

Ben is a local lad, having been born in Slough and now lives in Windsor, where he started his football career as a 17-year-old.

He ended the 2018/19 season as the club's top scorer.
History
| Match Date | Home | Score | Away | Competition | Goals | Cards | |
| --- | --- | --- | --- | --- | --- | --- | --- |
| 19-01-2021 | Slough Town | 0-2 | Ebbsfleet United | League | | | Match report |
| 16-01-2021 | Slough Town | 3-2 | Braintree Town | League | | | Match report |
| 05-12-2020 | Chippenham Town | 2-2 | Slough Town | League | | | Match report |
| 06-10-2020 | Slough Town | 1-0 | Hemel Hempstead Town | League | | | Match report |
| 03-10-2020 | Dartford | 0-1 | Slough Town | FA Cup | | | Match report |
| 19-07-2020 | Slough Town | 0-3 | Dartford | Play Off | | | Match report |
| 14-03-2020 | Weymouth | 2-0 | Slough Town | League | | | Match report |
| 10-03-2020 | Slough Town | 2-2 | MK Dons | B&B Senior Cup | | | Match report |
| 07-03-2020 | Slough Town | 0-2 | Hungerford Town | League | | | Match report |
| 29-02-2020 | Dorking Wanderers | 3-5 | Slough Town | League | | | Match report |
| 26-02-2020 | Havant & Waterlooville | 1-0 | Slough Town | League | | | Match report |
| 22-02-2020 | Chelmsford City | 1-1 | Slough Town | League | | | Match report |
| 15-02-2020 | Slough Town | 1-1 | Havant & Waterlooville | League | | | Match report |
| 08-02-2020 | Welling United | 1-2 | Slough Town | League | | | Match report |
| 01-02-2020 | Slough Town | 0-1 | Oxford City | League | | | Match report |
| 28-01-2020 | Hampton & Richmond Boro' | 1-2 | Slough Town | League | | | Match report |
| 25-01-2020 | Braintree Town | 0-1 | Slough Town | League | | | Match report |
| 18-01-2020 | Slough Town | 1-0 | Dartford | League | | | Match report |
| 01-01-2020 | Wealdstone | 2-1 | Slough Town | League | | | Match report |
| 26-12-2019 | Slough Town | 2-1 | Wealdstone | League | | | Match report |
| 07-12-2019 | Slough Town | 1-0 | Braintree Town | League | | | Match report |
| 26-11-2019 | Slough Town | 2-3 | Concord Rangers | FA Trophy | | | Match report |
| 23-11-2019 | Concord Rangers | 0-0 | Slough Town | FA Trophy | | | Match report |
| 16-11-2019 | Chippenham Town | 0-3 | Slough Town | League | | | Match report |
| 02-11-2019 | Slough Town | 2-1 | Chelmsford City | League | | | Match report |
| 29-10-2019 | Slough Town | 1-0 | Welling United | League | | | Match report |
| 26-10-2019 | Oxford City | 2-1 | Slough Town | League | | | Match report |
| 12-10-2019 | Slough Town | 3-1 | Billericay Town | League | | | Match report |
| 08-10-2019 | Slough Town | 2-3 | Chippenham Town | FA Cup | | | Match report |
| 05-10-2019 | Chippenham Town | 3-3 | Slough Town | FA Cup | | | Match report |
| 28-09-2019 | Dartford | 2-3 | Slough Town | League | | | Match report |
| 21-09-2019 | Flackwell Heath | 0-3 | Slough Town | FA Cup | | | Match report |
| 14-09-2019 | Slough Town | 3-1 | Hampton & Richmond Boro' | League | | | Match report |
| 03-09-2019 | Slough Town | 2-0 | Hemel Hempstead Town | League | | | Match report |
| 31-08-2019 | Slough Town | 1-1 | St Albans City | League | | | Match report |
| 26-08-2019 | Dulwich Hamlet | 2-3 | Slough Town | League | | | Match report |
| 24-08-2019 | Slough Town | 3-2 | Bath City | League | | | Match report |
| 17-08-2019 | Maidstone United | 1-1 | Slough Town | League | | | Match report |
| 13-08-2019 | Slough Town | 1-1 | Weymouth | League | | | Match report |
| 10-08-2019 | Concord Rangers | 2-1 | Slough Town | League | | | Match report |
| 06-08-2019 | Hungerford Town | 1-0 | Slough Town | League | | | Match report |
| 03-08-2019 | Slough Town | 0-1 | Dorking Wanderers | League | | | Match report |
| 06-05-2019 | Reading | 1-3 | Slough Town | B&B Senior Cup | | | Match report |
| 16-02-2019 | Slough Town | 2-2 | Dartford | League | | | Match report |
| 12-02-2019 | Slough Town | 1-2 | Gloucester City | League | | | Match report |
| 09-02-2019 | Hampton & Richmond Boro' | 1-1 | Slough Town | League | | | Match report |
| 29-01-2019 | Billericay Town | 3-2 | Slough Town | League | | | Match report |
| 26-01-2019 | Weston-super-Mare | 2-0 | Slough Town | League | | | Match report |
| 15-01-2019 | Hungerford Town | 1-2 | Slough Town | B&B Senior Cup | | | Match report |
| 08-01-2019 | Slough Town | 0-0 | Bath City | League | | | Match report |
| 05-01-2019 | Torquay United | 4-0 | Slough Town | League | | | Match report |
| 01-01-2019 | Slough Town | 0-1 | Wealdstone | League | | | Match report |
| 26-12-2018 | Wealdstone | 0-3 | Slough Town | League | | | Match report |
| 22-12-2018 | Slough Town | 3-1 | East Thurrock United | League | | | Match report |
| 11-12-2018 | Slough Town | 1-2 | Truro City | League | | | Match report |
| 08-12-2018 | Dartford | 1-1 | Slough Town | League | | | Match report |
| 24-11-2018 | Slough Town | 2-3 | Weston-super-Mare | FA Trophy | | | Match report |
| 20-11-2018 | Slough Town | 1-1 | Sutton United | FA Cup | | | Match report |
| 17-11-2018 | Slough Town | 0-1 | Woking | League | | | Match report |
| 13-11-2018 | Slough Town | 6-3 | Chalfont St Peter | B&B Senior Cup | | | Match report |
| 10-11-2018 | Sutton United | 0-0 | Slough Town | FA Cup | | | Match report |
| 03-11-2018 | Slough Town | 1-0 | Concord Rangers | League | | | Match report |
| 27-10-2018 | St Albans City | 3-2 | Slough Town | League | | | Match report |
| 20-10-2018 | Eastbourne Borough | 1-2 | Slough Town | FA Cup | | | Match report |
| 13-10-2018 | Welling United | 2-1 | Slough Town | League | | | Match report |
| 09-10-2018 | Bristol Manor Farm | 0-4 | Slough Town | FA Cup | | | Match report |
| 06-10-2018 | Slough Town | 2-2 | Bristol Manor Farm | FA Cup | | | Match report |
| 25-09-2018 | Sholing | 0-3 | Slough Town | FA Cup | | | Match report |
| 22-09-2018 | Slough Town | 2-2 | Sholing | FA Cup | | | Match report |
| 15-09-2018 | Eastbourne Borough | 2-4 | Slough Town | League | | | Match report |
| 08-09-2018 | Slough Town | 2-0 | Oxford City | League | | | Match report |
| 01-09-2018 | Chelmsford City | 0-1 | Slough Town | League | | | Match report |
| 27-08-2018 | Slough Town | 1-2 | Dulwich Hamlet | League | | | Match report |
| 18-08-2018 | Slough Town | 0-0 | Torquay United | League | | | Match report |
| 14-08-2018 | Slough Town | 2-1 | Weston-super-Mare | League | | | Match report |
| 11-08-2018 | Gloucester City | 1-2 | Slough Town | League | | | Match report |
| 07-08-2018 | Chippenham Town | 1-0 | Slough Town | League | | | Match report |
| 04-08-2018 | Slough Town | 1-1 | Hampton & Richmond Boro' | League | | | Match report |
| 28-04-2018 | Slough Town | 2-1 | Royston Town | League | | | Match report |
| 24-04-2018 | Royston Town | 0-4 | Slough Town | League | | | Match report |
| 24-03-2018 | Basingstoke Town | 1-4 | Slough Town | League | | | Match report |
| 20-03-2018 | St Ives Town | 1-4 | Slough Town | League | | | Match report |
| 17-03-2018 | Bishop's Stortford | 2-2 | Slough Town | League | | | Match report |
| 06-02-2018 | Slough Town | 4-0 | Redditch United | League | | | Match report |
| 03-02-2018 | Tiverton Town | 3-0 | Slough Town | League | | | Match report |
| 30-01-2018 | Slough Town | 1-1 | Kings Langley | League | | | Match report |
| 27-01-2018 | Slough Town | 3-2 | Merthyr Town | League | | | Match report |
| 16-01-2018 | Slough Town | 2-0 | Dorchester Town | League | | | Match report |
| 06-01-2018 | Slough Town | 2-2 | Hereford | League | | | Match report |
| 01-01-2018 | Chesham United | 1-1 | Slough Town | League | | | Match report |
Slough Town FC is not responsible for content produced on external websites | Copyright Slough Town FC 2021