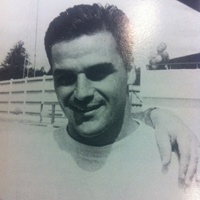 Position:
Midfielder
Bio
Colin Fielder, born January 5, 1964 in Winchester, England, was a professional footballer, who during his career played for Aldershot Town, Farnborough Town, Slough Town, Woking and Yeovil Town. During his career he played as a midfielder.
Fielder is to date, the most expensive player Slough Town have ever signed, costing the club £18,000 when he joined the club from Farnborough Town back in 1991.
Colin is a keen supporter of Leeds United.
Mens
| First Appearance | Appearances | First Goal | Goals |
| --- | --- | --- | --- |
| 17-08-1991 vs Kidderminster Harriers | 54 | 16-11-1991 vs Reading | 1 |
History
| Match Date | Home | Score | Away | Competition | Goals | Cards | |
| --- | --- | --- | --- | --- | --- | --- | --- |
| 22-08-1992 | Slough Town | 3-0 | Kettering Town | League | | | Match report |
| 02-05-1992 | Slough Town | 0-3 | Macclesfield Town | League | | | Match report |
| 28-04-1992 | Northwich Victoria | 3-0 | Slough Town | League | | | Match report |
| 25-04-1992 | Kidderminster Harriers | 3-3 | Slough Town | League | | | Match report |
| 20-04-1992 | Slough Town | 0-5 | Farnborough Town | League | | | Match report |
| 18-04-1992 | Runcorn | 1-0 | Slough Town | League | | | Match report |
| 14-04-1992 | Colchester Utd | 4-0 | Slough Town | League | | | Match report |
| 07-04-1992 | Farnborough Town | 2-1 | Slough Town | League | | | Match report |
| 04-04-1992 | Slough Town | 0-1 | Northwich Victoria | League | | | Match report |
| 31-03-1992 | Slough Town | 0-0 | Merthyr Tydfil | League | | | Match report |
| 28-03-1992 | Yeovil Town | 1-0 | Slough Town | League | | | Match report |
| 21-03-1992 | Telford Utd | 2-2 | Slough Town | League | | | Match report |
| 14-03-1992 | Slough Town | 0-2 | Kettering Town | League | | | Match report |
| 29-02-1992 | Slough Town | 2-2 | Stafford Rangers | League | | | Match report |
| 25-02-1992 | Slough Town | 1-3 | Cheltenham Town | League | | | Match report |
| 21-02-1992 | Welling United | 0-2 | Slough Town | League | | | Match report |
| 19-02-1992 | Chesham United | 3-1 | Slough Town | B&B Senior Cup | | | Match report |
| 15-02-1992 | Boston Utd | 3-1 | Slough Town | League | | | Match report |
| 08-02-1992 | Slough Town | 2-3 | Altrincham | League | | | Match report |
| 31-01-1992 | Slough Town | 3-1 | Boston Utd | League | | | Match report |
| 25-01-1992 | Witton Albion | 2-1 | Slough Town | League | | | Match report |
| 18-01-1992 | Slough Town | 2-0 | Gateshead | League | | | Match report |
| 11-01-1992 | Enfield | 4-0 | Slough Town | FA Trophy | | | Match report |
| 07-01-1992 | Slough Town | 5-2 | Flackwell Heath | B&B Senior Cup | | | Match report |
| 04-01-1992 | Redbridge Forest | 4-0 | Slough Town | League | | | Match report |
| 01-01-1992 | Wycombe Wanderers | 3-0 | Slough Town | League | | | Match report |
| 26-12-1991 | Slough Town | 0-1 | Wycombe Wanderers | League | | | Match report |
| 21-12-1991 | Slough Town | 2-2 | Bath City | League | | | Match report |
| 03-12-1991 | Margate | 1-2 | Slough Town | FA Trophy | | | Match report |
| 30-11-1991 | Slough Town | 0-0 | Margate | FA Trophy | | | Match report |
| 27-11-1991 | Reading | 2-1 | Slough Town | FA Cup | | | Match report |
| 23-11-1991 | Kettering Town | 2-3 | Slough Town | League | | | Match report |
| 16-11-1991 | Slough Town | 3-3 | Reading | FA Cup | | | Match report |
| 09-11-1991 | Slough Town | 0-3 | Welling United | League | | | Match report |
| 02-11-1991 | Slough Town | 2-1 | Witton Albion | League | | | Match report |
| 26-10-1991 | Slough Town | 2-1 | Kingstonian | FA Cup | | | Match report |
| 22-10-1991 | Slough Town | 4-0 | Redbridge Forest | League | | | Match report |
| 19-10-1991 | Altrincham | 3-7 | Slough Town | League | | | Match report |
| 15-10-1991 | Bath City | 2-1 | Slough Town | League | | | Match report |
| 12-10-1991 | Berkhamsted Town | 1-4 | Slough Town | FA Cup | | | Match report |
| 05-10-1991 | Slough Town | 1-0 | Barrow | League | | | Match report |
| 01-10-1991 | Slough Town | 1-0 | Yeading | FA Cup | | | Match report |
| 28-09-1991 | Yeading | 0-0 | Slough Town | FA Cup | | | Match report |
| 24-09-1991 | Slough Town | 2-0 | Bath City | Bob Lord Trophy | | | Match report |
| 21-09-1991 | Stafford Rangers | 1-1 | Slough Town | League | | | Match report |
| 16-09-1991 | Croydon | 0-3 | Slough Town | FA Cup | | | Match report |
| 14-09-1991 | Slough Town | 2-2 | Croydon | FA Cup | | | Match report |
| 11-09-1991 | Cheltenham Town | 1-0 | Slough Town | League | | | Match report |
| 07-09-1991 | Slough Town | 0-3 | Telford Utd | League | | | Match report |
| 03-09-1991 | Bath City | 2-1 | Slough Town | Bob Lord Trophy | | | Match report |
| 31-08-1991 | Slough Town | 1-0 | Runcorn | League | | | Match report |
| 26-08-1991 | Slough Town | 2-4 | Colchester Utd | League | | | Match report |
| 24-08-1991 | Macclesfield Town | 0-1 | Slough Town | League | | | Match report |
| 17-08-1991 | Slough Town | 3-1 | Kidderminster Harriers | League | | | Match report |
Slough Town FC is not responsible for content produced on external websites | Copyright Slough Town FC 2023