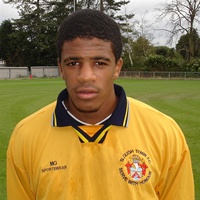 Position:
Midfielder
Bio
Winger McCleary started his career on schoolboy forms at Oxford United, before being released and signing for neighbours Oxford City, where he played in the same side as former defender Andy Ballard.
He was snapped up by then-Slough boss Eddie Denton and his consistent performances, which at times left opposition teams torn apart, led to a number of established teams watching the player - including Reading - and made him an instant fans favourite.
For Slough, Garath operated mainly as a left sided forward or striker. He was released from his contract with the club encountering financial difficulties during the 2006/7 season, and joined Bromley from where he was signed up by League One side Nottingham Forest.
McCleary enjoyed a successful spell at Forest, particularly in season 2011/12, when he scored nine goals after returning from injury in December 2011 - six of which came in March 2012. Four of these came in a high-scoring game at Leeds United at Elland Road, where Forest won 7-3. These performances resulted in McCleary being named as the Football League Championship Player of the Month, and was later voted Forest's Player of the Season by supporters.
After turning down a new contract at Forest, McCleary was snapped up by former Rebels boss Brian McDermott on a free transfer in May 2012, his Reading side having won the Football League Championship and promotion to the Premier League. McCleary signed a three-year deal with the Royals.
Mens
| First Appearance | Appearances | First Goal | Goals |
| --- | --- | --- | --- |
| 05-11-2005 vs Hendon | 42 | 03-12-2005 vs Bromley | 9 |
History
| Match Date | Home | Score | Away | Competition | Goals | Cards | |
| --- | --- | --- | --- | --- | --- | --- | --- |
| 30-09-2006 | Farnborough Town | 2-0 | Slough Town | FA Cup | | | Match report |
| 26-09-2006 | Slough Town | 0-2 | Carshalton Ath | League | | | Match report |
| 23-09-2006 | Slough Town | 0-2 | Folkestone Invicta | League | | | Match report |
| 12-09-2006 | Arlesey Town | 1-3 | Slough Town | Ryman League Cup | | | Match report |
| 09-09-2006 | Tonbridge Angels | 3-2 | Slough Town | League | | | Match report |
| 05-09-2006 | Slough Town | 0-0 | AFC Wimbledon | League | | | Match report |
| 02-09-2006 | Bromley | 4-0 | Slough Town | League | | | Match report |
| 28-08-2006 | Slough Town | 1-3 | Horsham | League | | | Match report |
| 26-08-2006 | Margate | 2-1 | Slough Town | League | | | Match report |
| 22-08-2006 | Harrow Borough | 0-2 | Slough Town | League | | | Match report |
| 19-08-2006 | Slough Town | 0-1 | Leyton | League | | | Match report |
| 29-04-2006 | Slough Town | 1-2 | Heybridge Swifts | League | | | Match report |
| 22-04-2006 | Harrow Borough | 2-1 | Slough Town | League | | | Match report |
| 17-04-2006 | Slough Town | 3-3 | Windsor & Eton | League | | | Match report |
| 14-04-2006 | Braintree Town | 2-1 | Slough Town | League | | | Match report |
| 08-04-2006 | Slough Town | 2-0 | Folkestone Invicta | League | | | Match report |
| 01-04-2006 | Staines Town | 2-1 | Slough Town | League | | | Match report |
| 25-03-2006 | Slough Town | 0-3 | Worthing | League | | | Match report |
| 22-03-2006 | Slough Town | 3-1 | Fisher Ath | Ryman League Cup | | | Match report |
| 18-03-2006 | Maldon Town | 0-2 | Slough Town | League | | | Match report |
| 13-03-2006 | Fisher Ath | 5-2 | Slough Town | Ryman League Cup | | | Match report |
| 11-03-2006 | Slough Town | 0-4 | Fisher Ath | League | | | Match report |
| 04-03-2006 | Hendon | 1-1 | Slough Town | League | | | Match report |
| 28-02-2006 | MK Dons | 6-1 | Slough Town | B&B Senior Cup | | | Match report |
| 31-01-2006 | Slough Town | 3-0 | Heybridge Swifts | Ryman League Cup | | | Match report |
| 28-01-2006 | AFC Wimbledon | 2-2 | Slough Town | League | | | Match report |
| 21-01-2006 | Slough Town | 2-2 | Margate | League | | | Match report |
| 18-01-2006 | Slough Town | 1-1 | Chesham United | B&B Senior Cup | | | Match report |
| 14-01-2006 | Leyton | 1-2 | Slough Town | League | | | Match report |
| 07-01-2006 | Billericay Town | 0-2 | Slough Town | League | | | Match report |
| 02-01-2006 | Slough Town | 0-1 | Hampton & Richmond | League | | | Match report |
| 26-12-2005 | Windsor & Eton | 0-3 | Slough Town | League | | | Match report |
| 19-12-2005 | Leatherhead | 0-2 | Slough Town | Ryman League Cup | | | Match report |
| 17-12-2005 | Heybridge Swifts | 1-0 | Slough Town | League | | | Match report |
| 10-12-2005 | Slough Town | 5-2 | Harrow Borough | League | | | Match report |
| 03-12-2005 | Bromley | 2-3 | Slough Town | League | | | Match report |
| 28-11-2005 | Folkestone Invicta | 3-0 | Slough Town | League | | | Match report |
| 26-11-2005 | Slough Town | 0-2 | Walton & Hersham | League | | | Match report |
| 22-11-2005 | Slough Town | 1-2 | East Thurrock United | League | | | Match report |
| 19-11-2005 | Fisher Ath | 1-2 | Slough Town | League | | | Match report |
| 08-11-2005 | Slough Town | 3-2 | Redbridge | Ryman League Cup | | | Match report |
| 05-11-2005 | Slough Town | 0-2 | Hendon | League | | | Match report |
Slough Town FC is not responsible for content produced on external websites | Copyright Slough Town FC 2023