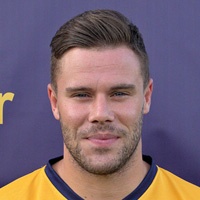 Position:
Midfielder
Achievements
2014/15 Goal of the Season (v Burnham, January 2015)
Bio
Adam Martin is a 23 year old central midfielder who is also comfortable playing on either flank.
After his release from Watford, Adam joined Berkhamsted Town where he became the Ryman League's youngest ever captain aged just 17.
He then signed for Steve Bateman's Hemel Hempstead Town, where he narrowly missed out on promotion via the playoffs. In the following season he captained the club aged just 19, and was taken on trial by Gillingham.
He joined Slough on loan in April 2010, scoring two goals in nine games as the Rebels lost out in the playoff final against Chesham United.
In July 2010 he left Hemel, signing for Conference South side St Albans for an undisclosed fee. He made 31 appearances before injury ended his season early.
Martin re-signed for Slough in August 2011 after having keyhole knee surgery in the summer. In February 2012 Adam went on to join Irish side Bohemians, taking up the opportunity of full time football. He also played in the Europa League first qualifying round, but his side was eliminated by Icelandic club Thór.
Following the conclusion of the 2012 Irish season, Adam signed forms to play for the Rebels again in December 2012.
Adam Martin rejoined the Rebels once again in Christmas 2014, having previously left the Rebels to join Wealdstone at the end of the 2012/13 season.
Mens
| First Appearance | Appearances | First Goal | Goals |
| --- | --- | --- | --- |
| 03-04-2010 vs Beaconsfield Town | 94 | 24-04-2010 vs Romulus | 13 |
History
| Match Date | Home | Score | Away | Competition | Goals | Cards | |
| --- | --- | --- | --- | --- | --- | --- | --- |
| 13-10-2015 | Slough Town | 3-0 | Chesham United | League Cup | | | Match report |
| 06-10-2015 | Slough Town | 4-1 | Dorchester Town | League | | | Match report |
| 03-10-2015 | Slough Town | 2-1 | Bideford | League | | | Match report |
| 29-09-2015 | Leamington | 3-0 | Slough Town | League | | | Match report |
| 26-09-2015 | Basingstoke Town | 4-2 | Slough Town | FA Cup | | | Match report |
| 22-09-2015 | Slough Town | 0-2 | Redditch United | League | | | Match report |
| 19-09-2015 | Bedworth United | 2-1 | Slough Town | League | | | Match report |
| 12-09-2015 | Dorking Wanderers | 0-1 | Slough Town | FA Cup | | | Match report |
| 08-09-2015 | Slough Town | 0-3 | Burnham | B&B Senior Cup | | | Match report |
| 05-09-2015 | Slough Town | 1-0 | Cirencester Town | League | | | Match report |
| 31-08-2015 | Chesham United | 1-1 | Slough Town | League | | | Match report |
| 29-08-2015 | Slough Town | 1-3 | Poole Town | League | | | Match report |
| 22-08-2015 | Hitchin Town | 3-1 | Slough Town | League | | | Match report |
| 18-08-2015 | Slough Town | 7-1 | Histon | League | | | Match report |
| 15-08-2015 | Stratford Town | 1-1 | Slough Town | League | | | Match report |
| 11-08-2015 | Biggleswade Town | 5-1 | Slough Town | League | | | Match report |
| 08-08-2015 | Slough Town | 0-0 | Frome Town | League | | | Match report |
| 25-04-2015 | Dorchester Town | 3-1 | Slough Town | League | | | Match report |
| 21-04-2015 | Banbury United | 3-0 | Slough Town | League | | | Match report |
| 18-04-2015 | Slough Town | 1-1 | Frome Town | League | | | Match report |
| 11-04-2015 | Dunstable Town | 2-4 | Slough Town | League | | | Match report |
| 06-04-2015 | Hungerford Town | 2-0 | Slough Town | League | | | Match report |
| 04-04-2015 | Slough Town | 3-3 | St Neots Town | League | | | Match report |
| 24-03-2015 | Slough Town | 1-2 | Corby Town | League | | | Match report |
| 21-03-2015 | Cirencester Town | 3-5 | Slough Town | League | | | Match report |
| 21-02-2015 | Chippenham Town | 2-0 | Slough Town | League | | | Match report |
| 14-02-2015 | Slough Town | 1-0 | Arlesey Town | League | | | Match report |
| 10-02-2015 | Histon | 0-0 | Slough Town | League | | | Match report |
| 31-01-2015 | Bideford | 2-0 | Slough Town | League | | | Match report |
| 24-01-2015 | Slough Town | 0-4 | Poole Town | League | | | Match report |
| 20-01-2015 | Slough Town | 2-2 | Burnham | League | | | Match report |
| 17-01-2015 | Slough Town | 3-0 | Weymouth | League | | | Match report |
| 27-04-2013 | Slough Town | 3-0 | Chertsey Town | League | | | Match report |
| 18-04-2013 | Rugby Town | 0-4 | Slough Town | League | | | Match report |
| 16-04-2013 | Godalming Town | 1-2 | Slough Town | League | | | Match report |
| 13-04-2013 | Slough Town | 2-3 | Godalming Town | League | | | Match report |
| 11-04-2013 | Aylesbury | 1-4 | Slough Town | League | | | Match report |
| 09-04-2013 | Biggleswade Town | 2-1 | Slough Town | League | | | Match report |
| 06-04-2013 | Royston Town | 2-0 | Slough Town | League | | | Match report |
| 03-04-2013 | Northwood | 2-1 | Slough Town | League | | | Match report |
| 01-04-2013 | Burnham | 1-0 | Slough Town | League | | | Match report |
| 30-03-2013 | Slough Town | 5-1 | Leighton Town | League | | | Match report |
| 28-03-2013 | Barton Rovers | 2-2 | Slough Town | League | | | Match report |
| 26-03-2013 | Slough Town | 3-1 | Biggleswade Town | League | | | Match report |
| 16-03-2013 | Slough Town | 4-3 | Aylesbury | League | | | Match report |
| 12-03-2013 | Daventry Town | 3-1 | Slough Town | League | | | Match report |
| 09-03-2013 | Fleet Town | 2-5 | Slough Town | League | | | Match report |
| 06-03-2013 | Frome Town | 2-1 | Slough Town | Red Insure Cup | | | Match report |
| 02-03-2013 | Slough Town | 1-1 | Daventry Town | League | | | Match report |
| 26-02-2013 | AFC Hayes | 0-3 | Slough Town | League | | | Match report |
| 23-02-2013 | Ashford Town (Middx) | 0-1 | Slough Town | League | | | Match report |
| 21-02-2013 | Slough Town | 2-1 | Northwood | Red Insure Cup | | | Match report |
| 06-02-2013 | Guildford City | 1-1 | Slough Town | League | | | Match report |
| 12-01-2013 | Woodford United | 1-4 | Slough Town | League | | | Match report |
| 08-01-2013 | Slough Town | 3-1 | AFC Hayes | Red Insure Cup | | | Match report |
| 05-01-2013 | Slough Town | 1-3 | Uxbridge | League | | | Match report |
| 01-01-2013 | Beaconsfield Town | 1-1 | Slough Town | League | | | Match report |
| 24-01-2012 | Chesham United | 3-1 | Slough Town | B&B Senior Cup | | | Match report |
| 21-01-2012 | Aylesbury | 2-0 | Slough Town | League | | | Match report |
| 14-01-2012 | Slough Town | 2-0 | Uxbridge | League | | | Match report |
| 07-01-2012 | Burnham | 1-1 | Slough Town | League | | | Match report |
| 02-01-2012 | Slough Town | 3-0 | Marlow | League | | | Match report |
| 31-12-2011 | Fleet Town | 0-1 | Slough Town | League | | | Match report |
| 26-12-2011 | Beaconsfield Town | 0-2 | Slough Town | League | | | Match report |
| 17-12-2011 | Slough Town | 2-1 | Bedworth United | League | | | Match report |
| 03-12-2011 | Slough Town | 2-1 | Bedfont Town | League | | | Match report |
| 12-11-2011 | Slough Town | 2-0 | St Neots Town | League | | | Match report |
| 08-11-2011 | AFC Hayes | 1-1 | Slough Town | League | | | Match report |
| 05-11-2011 | Slough Town | 2-1 | Woodford United | League | | | Match report |
| 01-11-2011 | Slough Town | 1-2 | Chesham United | Red Insure Cup | | | Match report |
| 22-10-2011 | Slough Town | 4-0 | Rugby Town | League | | | Match report |
| 18-10-2011 | Hanworth Villa | 3-1 | Slough Town | FA Cup | | | Match report |
| 15-10-2011 | Slough Town | 2-2 | Hanworth Villa | FA Cup | | | Match report |
| 08-10-2011 | Gosport Borough | 3-0 | Slough Town | FA Trophy | | | Match report |
| 04-10-2011 | North Greenford Utd | 0-0 | Slough Town | League | | | Match report |
| 01-10-2011 | Slough Town | 3-2 | Boreham Wood | FA Cup | | | Match report |
| 24-09-2011 | Slough Town | 2-1 | Daventry Town | League | | | Match report |
| 17-09-2011 | Banbury United | 1-3 | Slough Town | FA Cup | | | Match report |
| 13-09-2011 | Slough Town | 2-1 | Barton Rovers | League | | | Match report |
| 10-09-2011 | Rugby Town | 2-0 | Slough Town | League | | | Match report |
| 04-09-2011 | Slough Town | 3-1 | Binfield | FA Cup | | | Match report |
| 29-08-2011 | Marlow | 0-3 | Slough Town | League | | | Match report |
| 27-08-2011 | Slough Town | 3-0 | Fleet Town | League | | | Match report |
| 23-08-2011 | Slough Town | 1-2 | Burnham | League | | | Match report |
| 26-03-2011 | Slough Town | 2-1 | Bedworth United | League | | | Match report |
| 01-05-2010 | Chesham United | 4-0 | Slough Town | Play Off | | | Match report |
| 27-04-2010 | Hitchin Town | 1-2 | Slough Town | Play Off | | | Match report |
| 24-04-2010 | Romulus | 1-4 | Slough Town | League | | | Match report |
| 20-04-2010 | Slough Town | 0-1 | Hitchin Town | League | | | Match report |
| 15-04-2010 | Bromsgrove Rovers | 1-1 | Slough Town | League | | | Match report |
| 13-04-2010 | Burnham | 1-1 | Slough Town | League | | | Match report |
| 10-04-2010 | Bury Town | 1-0 | Slough Town | League | | | Match report |
| 05-04-2010 | Marlow | 0-1 | Slough Town | League | | | Match report |
| 03-04-2010 | Slough Town | 3-1 | Beaconsfield Town | League | | | Match report |
Slough Town FC is not responsible for content produced on external websites | Copyright Slough Town FC 2023