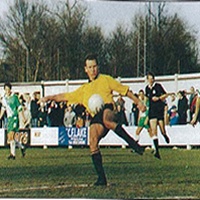 Stats
Position:
Defender
First Appearance:
17-08-1991 vs Kidderminster Harriers
Appearances:
102
First Goal:
14-09-1991 vs Croydon
Goals:
12
Bio
Defender signed ahead of the 1991/92 season.

Chipped in with 12 goals in his 102 appearances at the club. Signed from Aylesbury United where he was player of the year for the two seasons prior to making the short move to the Rebels. Pluckrose was a serving member of the Royal Air Force and has represented the Combined Service XI.
History
| Match Date | Home | Score | Away | Competition | Goals | Cards | |
| --- | --- | --- | --- | --- | --- | --- | --- |
| 01-05-1993 | Stafford Rangers | 1-0 | Slough Town | League | | | Match report |
| 24-04-1993 | Slough Town | 2-3 | Witton Albion | League | | | Match report |
| 17-04-1993 | Yeovil Town | 5-1 | Slough Town | League | | | Match report |
| 13-04-1993 | Slough Town | 1-1 | Wycombe Wanderers | League | | | Match report |
| 10-04-1993 | Merthyr Tydfil | 1-1 | Slough Town | League | | | Match report |
| 07-04-1993 | Boston Utd | 0-0 | Slough Town | League | | | Match report |
| 03-04-1993 | Slough Town | 2-1 | Stafford Rangers | League | | | Match report |
| 27-03-1993 | Witton Albion | 1-1 | Slough Town | League | | | Match report |
| 23-03-1993 | Wycombe Wanderers | 1-0 | Slough Town | League | | | Match report |
| 20-03-1993 | Slough Town | 1-0 | Gateshead | League | | | Match report |
| 09-03-1993 | Woking | 1-2 | Slough Town | League | | | Match report |
| 06-03-1993 | Slough Town | 1-1 | Runcorn | League | | | Match report |
| 27-02-1993 | Gateshead | 1-0 | Slough Town | League | | | Match report |
| 23-02-1993 | Farnborough Town | 1-0 | Slough Town | League | | | Match report |
| 20-02-1993 | Slough Town | 0-4 | Northwich Victoria | League | | | Match report |
| 13-02-1993 | Bromsgrove Rovers | 0-1 | Slough Town | League | | | Match report |
| 08-02-1993 | Dagenham & R. | 4-4 | Slough Town | League | | | Match report |
| 06-02-1993 | Slough Town | 2-3 | Stalybridge Celtic | League | | | Match report |
| 02-02-1993 | Slough Town | 1-1 | Bath City | League | | | Match report |
| 30-01-1993 | Sutton United | 3-1 | Slough Town | FA Trophy | | | Match report |
| 26-01-1993 | Slough Town | 3-1 | Farnborough Town | League | | | Match report |
| 23-01-1993 | Slough Town | 3-1 | Kidderminster Harriers | League | | | Match report |
| 16-01-1993 | Altrincham | 1-1 | Slough Town | League | | | Match report |
| 12-01-1993 | Slough Town | 2-1 | Yeading | FA Trophy | | | Match report |
| 09-01-1993 | Yeading | 1-1 | Slough Town | FA Trophy | | | Match report |
| 02-01-1993 | Slough Town | 0-1 | Woking | League | | | Match report |
| 26-12-1992 | Slough Town | 2-1 | Merthyr Tydfil | League | | | Match report |
| 19-12-1992 | Telford Utd | 1-1 | Slough Town | League | | | Match report |
| 12-12-1992 | Slough Town | 2-1 | Macclesfield Town | League | | | Match report |
| 05-12-1992 | Kidderminster Harriers | 1-1 | Slough Town | League | | | Match report |
| 28-11-1992 | Slough Town | 3-1 | Bromley | FA Trophy | | | Match report |
| 21-11-1992 | Macclesfield Town | 1-2 | Slough Town | League | | | Match report |
| 14-11-1992 | Colchester Utd | 4-0 | Slough Town | FA Cup | | | Match report |
| 10-11-1992 | Slough Town | 4-2 | Welling United | League | | | Match report |
| 07-11-1992 | Stalybridge Celtic | 0-0 | Slough Town | League | | | Match report |
| 03-11-1992 | Kettering Town | 5-0 | Slough Town | League | | | Match report |
| 31-10-1992 | Slough Town | 3-0 | Boston Utd | League | | | Match report |
| 24-10-1992 | Ashford Town (Middx) | 1-2 | Slough Town | FA Cup | | | Match report |
| 17-10-1992 | Runcorn | 0-3 | Slough Town | League | | | Match report |
| 13-10-1992 | Slough Town | 3-0 | Yeovil Town | League | | | Match report |
| 10-10-1992 | Slough Town | 2-1 | Yeading | FA Cup | | | Match report |
| 06-10-1992 | Welling United | 2-1 | Slough Town | League | | | Match report |
| 03-10-1992 | Slough Town | 1-3 | Bromsgrove Rovers | League | | | Match report |
| 26-09-1992 | Metropolitan Police | 0-1 | Slough Town | FA Cup | | | Match report |
| 22-09-1992 | Slough Town | 2-2 | Yeovil Town | Drinkwise Trophy | | | Match report |
| 19-09-1992 | Slough Town | 2-0 | Telford Utd | League | | | Match report |
| 15-09-1992 | Slough Town | 4-3 | Corinthian Casuals | FA Cup | | | Match report |
| 12-09-1992 | Corinthian Casuals | 1-1 | Slough Town | FA Cup | | | Match report |
| 08-09-1992 | Yeovil Town | 2-0 | Slough Town | Drinkwise Trophy | | | Match report |
| 05-09-1992 | Slough Town | 1-4 | Altrincham | League | | | Match report |
| 31-08-1992 | Slough Town | 2-0 | Dagenham & R. | League | | | Match report |
| 29-08-1992 | Northwich Victoria | 0-1 | Slough Town | League | | | Match report |
| 25-08-1992 | Bath City | 0-1 | Slough Town | League | | | Match report |
| 22-08-1992 | Slough Town | 3-0 | Kettering Town | League | | | Match report |
| 02-05-1992 | Slough Town | 0-3 | Macclesfield Town | League | | | Match report |
| 18-04-1992 | Runcorn | 1-0 | Slough Town | League | | | Match report |
| 14-04-1992 | Colchester Utd | 4-0 | Slough Town | League | | | Match report |
| 12-04-1992 | Gateshead | 2-1 | Slough Town | League | | | Match report |
| 07-04-1992 | Farnborough Town | 2-1 | Slough Town | League | | | Match report |
| 04-04-1992 | Slough Town | 0-1 | Northwich Victoria | League | | | Match report |
| 28-03-1992 | Yeovil Town | 1-0 | Slough Town | League | | | Match report |
| 21-03-1992 | Telford Utd | 2-2 | Slough Town | League | | | Match report |
| 14-03-1992 | Slough Town | 0-2 | Kettering Town | League | | | Match report |
| 07-03-1992 | Barrow | 3-4 | Slough Town | League | | | Match report |
| 29-02-1992 | Slough Town | 2-2 | Stafford Rangers | League | | | Match report |
| 25-02-1992 | Slough Town | 1-3 | Cheltenham Town | League | | | Match report |
| 21-02-1992 | Welling United | 0-2 | Slough Town | League | | | Match report |
| 15-02-1992 | Boston Utd | 3-1 | Slough Town | League | | | Match report |
| 08-02-1992 | Slough Town | 2-3 | Altrincham | League | | | Match report |
| 31-01-1992 | Slough Town | 3-1 | Boston Utd | League | | | Match report |
| 25-01-1992 | Witton Albion | 2-1 | Slough Town | League | | | Match report |
| 18-01-1992 | Slough Town | 2-0 | Gateshead | League | | | Match report |
| 01-01-1992 | Wycombe Wanderers | 3-0 | Slough Town | League | | | Match report |
| 26-12-1991 | Slough Town | 0-1 | Wycombe Wanderers | League | | | Match report |
| 21-12-1991 | Slough Town | 2-2 | Bath City | League | | | Match report |
| 17-12-1991 | Slough Town | 0-1 | Kidderminster Harriers | Bob Lord Trophy | | | Match report |
| 14-12-1991 | Merthyr Tydfil | 1-2 | Slough Town | League | | | Match report |
| 03-12-1991 | Margate | 1-2 | Slough Town | FA Trophy | | | Match report |
| 30-11-1991 | Slough Town | 0-0 | Margate | FA Trophy | | | Match report |
| 27-11-1991 | Reading | 2-1 | Slough Town | FA Cup | | | Match report |
| 23-11-1991 | Kettering Town | 2-3 | Slough Town | League | | | Match report |
| 16-11-1991 | Slough Town | 3-3 | Reading | FA Cup | | | Match report |
| 09-11-1991 | Slough Town | 0-3 | Welling United | League | | | Match report |
| 02-11-1991 | Slough Town | 2-1 | Witton Albion | League | | | Match report |
| 26-10-1991 | Slough Town | 2-1 | Kingstonian | FA Cup | | | Match report |
| 22-10-1991 | Slough Town | 4-0 | Redbridge Forest | League | | | Match report |
| 19-10-1991 | Altrincham | 3-7 | Slough Town | League | | | Match report |
| 15-10-1991 | Bath City | 2-1 | Slough Town | League | | | Match report |
| 12-10-1991 | Berkhamsted Town | 1-4 | Slough Town | FA Cup | | | Match report |
| 05-10-1991 | Slough Town | 1-0 | Barrow | League | | | Match report |
| 01-10-1991 | Slough Town | 1-0 | Yeading | FA Cup | | | Match report |
| 24-09-1991 | Slough Town | 2-0 | Bath City | Bob Lord Trophy | | | Match report |
| 21-09-1991 | Stafford Rangers | 1-1 | Slough Town | League | | | Match report |
| 16-09-1991 | Croydon | 0-3 | Slough Town | FA Cup | | | Match report |
| 14-09-1991 | Slough Town | 2-2 | Croydon | FA Cup | | | Match report |
| 11-09-1991 | Cheltenham Town | 1-0 | Slough Town | League | | | Match report |
| 07-09-1991 | Slough Town | 0-3 | Telford Utd | League | | | Match report |
| 03-09-1991 | Bath City | 2-1 | Slough Town | Bob Lord Trophy | | | Match report |
| 31-08-1991 | Slough Town | 1-0 | Runcorn | League | | | Match report |
| 26-08-1991 | Slough Town | 2-4 | Colchester Utd | League | | | Match report |
| 24-08-1991 | Macclesfield Town | 0-1 | Slough Town | League | | | Match report |
| 17-08-1991 | Slough Town | 3-1 | Kidderminster Harriers | League | | | Match report |
Slough Town FC is not responsible for content produced on external websites | Copyright Slough Town FC 2021