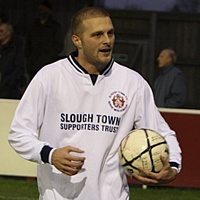 Position:
Midfielder
Bio
Lee is a very versatile player who can be utilised in defence, midfield or attack.
He rejoins the Rebels from fellow Southern League Division 1 South & West club Farnborough for a second spell to provide the management with extra options. Has also played for Walton & Hersham amongst others. Since Lee's return to the club in November 2007, he has been instrumental in both central midfield and defence and had the second half of the season as the club captain.
Always seen driving the side forwards, Rids is the engine in the middle of the park which continually pushes the team on.
Mens
| First Appearance | Appearances | First Goal | Goals |
| --- | --- | --- | --- |
| 17-01-2004 vs Worthing | 61 | 20-01-2004 vs Maidenhead United | 2 |
History
| Match Date | Home | Score | Away | Competition | Goals | Cards | |
| --- | --- | --- | --- | --- | --- | --- | --- |
| 28-02-2009 | Uxbridge | 4-0 | Slough Town | League | | | Match report |
| 29-11-2008 | Slough Town | 4-0 | Winchester City | League | | | Match report |
| 15-11-2008 | Bracknell Town | 0-0 | Slough Town | League | | | Match report |
| 11-11-2008 | Abingdon Utd | 1-1 | Slough Town | League | | | Match report |
| 08-11-2008 | Slough Town | 1-1 | Bishops Cleeve | League | | | Match report |
| 04-11-2008 | Slough Town | 2-3 | AFC Hayes | League | | | Match report |
| 01-11-2008 | Gosport Borough | 2-1 | Slough Town | League | | | Match report |
| 25-10-2008 | Slough Town | 3-3 | Truro City | League | | | Match report |
| 18-10-2008 | Thatcham Town | 5-4 | Slough Town | FA Trophy | | | Match report |
| 14-10-2008 | Windsor & Eton | 6-2 | Slough Town | League | | | Match report |
| 11-10-2008 | Slough Town | 1-2 | Uxbridge | League | | | Match report |
| 27-09-2008 | Andover | 1-2 | Slough Town | League | | | Match report |
| 20-09-2008 | Slough Town | 3-2 | Cirencester Town | League | | | Match report |
| 13-09-2008 | Farnborough | 1-0 | Slough Town | FA Cup | | | Match report |
| 06-09-2008 | Taunton Town | 2-3 | Slough Town | League | | | Match report |
| 02-09-2008 | Slough Town | 5-2 | Abingdon Utd | FA Cup | | | Match report |
| 25-08-2008 | Slough Town | 1-1 | Thatcham Town | League | | | Match report |
| 23-08-2008 | Cinderford Town | 4-1 | Slough Town | League | | | Match report |
| 19-08-2008 | North Leigh | 6-1 | Slough Town | League | | | Match report |
| 26-04-2008 | Fleet Town | 1-0 | Slough Town | League | | | Match report |
| 22-04-2008 | Bridgwater Town | 0-0 | Slough Town | League | | | Match report |
| 19-04-2008 | Newport IOW | 1-3 | Slough Town | League | | | Match report |
| 12-04-2008 | Slough Town | 3-2 | Godalming Town | League | | | Match report |
| 05-04-2008 | Slough Town | 1-2 | Oxford City | League | | | Match report |
| 22-03-2008 | Slough Town | 0-3 | Burnham | League | | | Match report |
| 08-03-2008 | Slough Town | 1-2 | Paulton Rovers | League | | | Match report |
| 23-02-2008 | Slough Town | 2-1 | Fleet Town | League | | | Match report |
| 16-02-2008 | Winchester City | 2-0 | Slough Town | League | | | Match report |
| 09-02-2008 | Slough Town | 0-3 | AFC Hayes | League | | | Match report |
| 05-02-2008 | Slough Town | 2-3 | Farnborough | League | | | Match report |
| 26-01-2008 | Bracknell Town | 3-1 | Slough Town | League | | | Match report |
| 12-01-2008 | Gosport Borough | 2-2 | Slough Town | League | | | Match report |
| 05-01-2008 | Andover | 1-2 | Slough Town | League | | | Match report |
| 26-12-2007 | Windsor & Eton | 2-1 | Slough Town | League | | | Match report |
| 22-12-2007 | Slough Town | 0-2 | Marlow | League | | | Match report |
| 15-12-2007 | Taunton Town | 0-1 | Slough Town | League | | | Match report |
| 08-12-2007 | Slough Town | 2-2 | Winchester City | League | | | Match report |
| 04-12-2007 | Hillingdon Borough | 4-1 | Slough Town | League | | | Match report |
| 01-12-2007 | Slough Town | 4-1 | Abingdon Utd | League | | | Match report |
| 27-11-2007 | Slough Town | 1-3 | Hillingdon Borough | League | | | Match report |
| 24-11-2007 | Didcot Town | 2-0 | Slough Town | League | | | Match report |
| 17-11-2007 | Oxford City | 5-0 | Slough Town | League | | | Match report |
| 24-04-2004 | Metropolitan Police | 1-3 | Slough Town | League | | | Match report |
| 17-04-2004 | Slough Town | 3-1 | Whyteleafe | League | | | Match report |
| 14-04-2004 | Slough Town | 0-1 | Bracknell Town | B&B Senior Cup | | | Match report |
| 12-04-2004 | Windsor & Eton | 1-4 | Slough Town | League | | | Match report |
| 10-04-2004 | Slough Town | 3-1 | Molesey | League | | | Match report |
| 03-04-2004 | Leatherhead | 2-3 | Slough Town | League | | | Match report |
| 23-03-2004 | Corinthian Casuals | 4-1 | Slough Town | League | | | Match report |
| 20-03-2004 | Banstead Athletic | 1-2 | Slough Town | League | | | Match report |
| 13-03-2004 | Slough Town | 1-0 | Croydon Athletic | League | | | Match report |
| 06-03-2004 | Bracknell Town | 4-2 | Slough Town | League | | | Match report |
| 02-03-2004 | Slough Town | 1-1 | Walton & Hersham | League | | | Match report |
| 28-02-2004 | Dulwich Hamlet | 2-4 | Slough Town | League | | | Match report |
| 21-02-2004 | Slough Town | 1-0 | Lewes | League | | | Match report |
| 14-02-2004 | Staines Town | 1-3 | Slough Town | League | | | Match report |
| 10-02-2004 | Bromley | 0-4 | Slough Town | League | | | Match report |
| 07-02-2004 | Slough Town | 3-2 | Horsham | League | | | Match report |
| 24-01-2004 | Slough Town | 2-0 | Tooting & Mitcham Utd | League | | | Match report |
| 20-01-2004 | Maidenhead United | 1-2 | Slough Town | B&B Senior Cup | | | Match report |
| 17-01-2004 | Worthing | 2-0 | Slough Town | League | | | Match report |
Slough Town FC is not responsible for content produced on external websites | Copyright Slough Town FC 2023