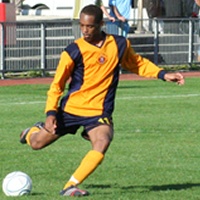 Position:
Midfielder
Bio
Classy midfielder signed from Oxford United following his release.
Was able to dictate games from midfield thanks to an excellent range of passing and was also able to get forwards and join in attacks. Had a powerful shot which led to many attempts on goal and saw him chip in with seven goals for the club during his spell with the Rebels.
Former clubs include Aldershot, Burton Albion, Forest Green Rovers and Oxford United. After leaving the club, appeared for Oxford City and Abingdon United amongst others.
Mens
| First Appearance | Appearances | First Goal | Goals |
| --- | --- | --- | --- |
| 20-08-2005 vs Billericay Town | 59 | 03-09-2005 vs Braintree Town | 7 |
History
| Match Date | Home | Score | Away | Competition | Goals | Cards | |
| --- | --- | --- | --- | --- | --- | --- | --- |
| 22-11-2006 | Slough Town | 1-2 | Aylesbury United | B&B Senior Cup | | | Match report |
| 18-11-2006 | Worthing | 2-2 | Slough Town | League | | | Match report |
| 11-11-2006 | Slough Town | 0-2 | Heybridge Swifts | League | | | Match report |
| 07-10-2006 | Ramsgate | 2-1 | Slough Town | League | | | Match report |
| 30-09-2006 | Farnborough Town | 2-0 | Slough Town | FA Cup | | | Match report |
| 26-09-2006 | Slough Town | 0-2 | Carshalton Ath | League | | | Match report |
| 23-09-2006 | Slough Town | 0-2 | Folkestone Invicta | League | | | Match report |
| 16-09-2006 | Cobham | 1-2 | Slough Town | FA Cup | | | Match report |
| 12-09-2006 | Arlesey Town | 1-3 | Slough Town | Ryman League Cup | | | Match report |
| 09-09-2006 | Tonbridge Angels | 3-2 | Slough Town | League | | | Match report |
| 05-09-2006 | Slough Town | 0-0 | AFC Wimbledon | League | | | Match report |
| 02-09-2006 | Bromley | 4-0 | Slough Town | League | | | Match report |
| 26-08-2006 | Margate | 2-1 | Slough Town | League | | | Match report |
| 22-08-2006 | Harrow Borough | 0-2 | Slough Town | League | | | Match report |
| 19-08-2006 | Slough Town | 0-1 | Leyton | League | | | Match report |
| 29-04-2006 | Slough Town | 1-2 | Heybridge Swifts | League | | | Match report |
| 22-04-2006 | Harrow Borough | 2-1 | Slough Town | League | | | Match report |
| 17-04-2006 | Slough Town | 3-3 | Windsor & Eton | League | | | Match report |
| 14-04-2006 | Braintree Town | 2-1 | Slough Town | League | | | Match report |
| 08-04-2006 | Slough Town | 2-0 | Folkestone Invicta | League | | | Match report |
| 01-04-2006 | Staines Town | 2-1 | Slough Town | League | | | Match report |
| 25-03-2006 | Slough Town | 0-3 | Worthing | League | | | Match report |
| 22-03-2006 | Slough Town | 3-1 | Fisher Ath | Ryman League Cup | | | Match report |
| 18-03-2006 | Maldon Town | 0-2 | Slough Town | League | | | Match report |
| 13-03-2006 | Fisher Ath | 5-2 | Slough Town | Ryman League Cup | | | Match report |
| 11-03-2006 | Slough Town | 0-4 | Fisher Ath | League | | | Match report |
| 25-02-2006 | Chelmsford City | 2-0 | Slough Town | League | | | Match report |
| 18-02-2006 | Slough Town | 3-2 | Wealdstone | League | | | Match report |
| 04-02-2006 | Slough Town | 2-2 | Bromley | League | | | Match report |
| 31-01-2006 | Slough Town | 3-0 | Heybridge Swifts | Ryman League Cup | | | Match report |
| 28-01-2006 | AFC Wimbledon | 2-2 | Slough Town | League | | | Match report |
| 21-01-2006 | Slough Town | 2-2 | Margate | League | | | Match report |
| 18-01-2006 | Slough Town | 1-1 | Chesham United | B&B Senior Cup | | | Match report |
| 14-01-2006 | Leyton | 1-2 | Slough Town | League | | | Match report |
| 07-01-2006 | Billericay Town | 0-2 | Slough Town | League | | | Match report |
| 02-01-2006 | Slough Town | 0-1 | Hampton & Richmond | League | | | Match report |
| 26-12-2005 | Windsor & Eton | 0-3 | Slough Town | League | | | Match report |
| 17-12-2005 | Heybridge Swifts | 1-0 | Slough Town | League | | | Match report |
| 10-12-2005 | Slough Town | 5-2 | Harrow Borough | League | | | Match report |
| 26-11-2005 | Slough Town | 0-2 | Walton & Hersham | League | | | Match report |
| 22-11-2005 | Slough Town | 1-2 | East Thurrock United | League | | | Match report |
| 19-11-2005 | Fisher Ath | 1-2 | Slough Town | League | | | Match report |
| 05-11-2005 | Slough Town | 0-2 | Hendon | League | | | Match report |
| 25-10-2005 | Redbridge | 1-4 | Slough Town | League | | | Match report |
| 22-10-2005 | Slough Town | 0-1 | Chelmsford City | League | | | Match report |
| 16-10-2005 | Slough Town | 1-3 | Croydon Athletic | FA Trophy | | | Match report |
| 11-10-2005 | Slough Town | 1-2 | Staines Town | League | | | Match report |
| 04-10-2005 | Worthing | 4-2 | Slough Town | League | | | Match report |
| 01-10-2005 | Slough Town | 4-1 | Maldon Town | League | | | Match report |
| 24-09-2005 | Wroxham | 2-0 | Slough Town | FA Cup | | | Match report |
| 20-09-2005 | East Thurrock United | 3-2 | Slough Town | League | | | Match report |
| 17-09-2005 | Margate | 2-2 | Slough Town | League | | | Match report |
| 10-09-2005 | Slough Town | 4-1 | Oxford City | FA Cup | | | Match report |
| 06-09-2005 | Slough Town | 3-2 | Redbridge | League | | | Match report |
| 03-09-2005 | Slough Town | 2-1 | Braintree Town | League | | | Match report |
| 29-08-2005 | Hampton & Richmond | 3-2 | Slough Town | League | | | Match report |
| 27-08-2005 | Slough Town | 0-2 | AFC Wimbledon | League | | | Match report |
| 23-08-2005 | Slough Town | 0-0 | Leyton | League | | | Match report |
| 20-08-2005 | Billericay Town | 3-1 | Slough Town | League | | | Match report |
Slough Town FC is not responsible for content produced on external websites | Copyright Slough Town FC 2023