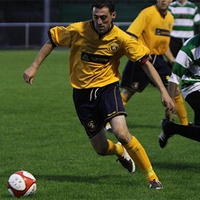 Stats
Position:
Midfielder
First Appearance:
15-08-2009 vs Sutton Coldfield Town
Appearances:
50
First Goal:
15-08-2009 vs Sutton Coldfield Town
Goals:
11
Bio
Skilful midfielder Paul Edgeworth signed for the Rebels in the summer of 2009 and immediately became club captain.

He had previously played at Hemel Hempstead under Steve Bateman, where he captained the Tudors to the playoffs in the 2008/09 season, and was signed by the Tudors from Aylesbury United. Paul is a versatile player who can play in midfield or up front and has a knack of scoring goals from set pieces and open play. Originally played for Newport Pagnell Town before joining Aylesbury United. Despite captaining the Rebels to the 09/10 Southern Midland play-off finals, Paul chose to leave after one season at the club to rejoin Aylesbury United and spend more time closer to home.
History
| Match Date | Home | Score | Away | Competition | Goals | Cards | |
| --- | --- | --- | --- | --- | --- | --- | --- |
| 03-05-2012 | Slough Town | 1-2 | Beaconsfield Town | Play Off | | | Match report |
| 21-04-2012 | Slough Town | 0-3 | Leighton Town | League | | | Match report |
| 01-05-2010 | Chesham United | 4-0 | Slough Town | Play Off | | | Match report |
| 27-04-2010 | Hitchin Town | 1-2 | Slough Town | Play Off | | | Match report |
| 24-04-2010 | Romulus | 1-4 | Slough Town | League | | | Match report |
| 20-04-2010 | Slough Town | 0-1 | Hitchin Town | League | | | Match report |
| 17-04-2010 | Slough Town | 5-1 | Aylesbury United | League | | | Match report |
| 13-04-2010 | Burnham | 1-1 | Slough Town | League | | | Match report |
| 10-04-2010 | Bury Town | 1-0 | Slough Town | League | | | Match report |
| 05-04-2010 | Marlow | 0-1 | Slough Town | League | | | Match report |
| 27-03-2010 | Rothwell Town | 1-3 | Slough Town | League | | | Match report |
| 23-03-2010 | Barton Rovers | 3-3 | Slough Town | League | | | Match report |
| 20-03-2010 | Slough Town | 3-3 | Atherstone Town | League | | | Match report |
| 13-03-2010 | Biggleswade Town | 1-0 | Slough Town | League | | | Match report |
| 09-03-2010 | Slough Town | 3-1 | Leighton Town | League | | | Match report |
| 06-03-2010 | Slough Town | 2-0 | Soham Town Rangers | League | | | Match report |
| 02-03-2010 | Slough Town | 1-3 | Chesham United | League | | | Match report |
| 15-02-2010 | Beaconsfield Town | 1-4 | Slough Town | League | | | Match report |
| 09-02-2010 | Slough Town | 1-1 | Marlow | League | | | Match report |
| 06-02-2010 | Woodford United | 0-1 | Slough Town | League | | | Match report |
| 02-02-2010 | Bedworth United | 2-4 | Slough Town | League | | | Match report |
| 26-01-2010 | Slough Town | 2-1 | Marlow | B&B Senior Cup | | | Match report |
| 23-01-2010 | Stourport Swifts | 1-4 | Slough Town | League | | | Match report |
| 12-12-2009 | Slough Town | 2-2 | Romulus | League | | | Match report |
| 08-12-2009 | Arlesey Town | 1-2 | Slough Town | League | | | Match report |
| 05-12-2009 | Slough Town | 0-1 | Bury Town | League | | | Match report |
| 01-12-2009 | AFC Sudbury | 1-2 | Slough Town | League | | | Match report |
| 28-11-2009 | Aylesbury United | 2-5 | Slough Town | League | | | Match report |
| 21-11-2009 | Slough Town | 2-0 | Bedworth United | League | | | Match report |
| 17-11-2009 | Slough Town | 3-2 | Bromsgrove Rovers | League | | | Match report |
| 10-11-2009 | Chesham United | 1-0 | Slough Town | League | | | Match report |
| 07-11-2009 | Slough Town | 4-1 | Rothwell Town | League | | | Match report |
| 03-11-2009 | Slough Town | 1-0 | Woodford United | League | | | Match report |
| 31-10-2009 | Boreham Wood | 3-2 | Slough Town | FA Trophy | | | Match report |
| 20-10-2009 | Slough Town | 2-0 | Uxbridge | FA Trophy | | | Match report |
| 17-10-2009 | Uxbridge | 1-1 | Slough Town | FA Trophy | | | Match report |
| 13-10-2009 | Hitchin Town | 3-2 | Slough Town | League | | | Match report |
| 10-10-2009 | Tooting & Mitcham Utd | 3-2 | Slough Town | FA Cup | | | Match report |
| 06-10-2009 | Mangotsfield Utd | 0-1 | Slough Town | FA Trophy | | | Match report |
| 04-10-2009 | Slough Town | 1-1 | Mangotsfield Utd | FA Trophy | | | Match report |
| 26-09-2009 | Slough Town | 2-0 | Concord Rangers | FA Cup | | | Match report |
| 19-09-2009 | Soham Town Rangers | 0-2 | Slough Town | League | | | Match report |
| 15-09-2009 | Slough Town | 2-1 | Hemel Hempstead Town | FA Cup | | | Match report |
| 12-09-2009 | Hemel Hempstead Town | 1-1 | Slough Town | FA Cup | | | Match report |
| 05-09-2009 | Slough Town | 4-2 | Biggleswade Town | League | | | Match report |
| 29-08-2009 | Tring Athletic | 0-4 | Slough Town | FA Cup | | | Match report |
| 25-08-2009 | Leighton Town | 0-1 | Slough Town | League | | | Match report |
| 22-08-2009 | Slough Town | 5-1 | Barton Rovers | League | | | Match report |
| 18-08-2009 | Slough Town | 0-2 | Burnham | League | | | Match report |
| 15-08-2009 | Sutton Coldfield Town | 2-2 | Slough Town | League | | | Match report |
Slough Town FC is not responsible for content produced on external websites | Copyright Slough Town FC 2021