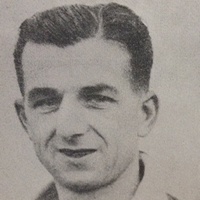 Position:
Unknown
Bio
Born in Langley in October 1921, Ron will be celebrating his 31st birthday next Tuesday As a schoolboy he first plays for the Langley School where he was educated, and if they taught hint nothing else, they certainly taught him how to play football and he soon caught the selectors eye and was chosen to represent his school in the "Slough and District School Boys' team.
His first love, when he left school, was his native village, and as a senior he played for Langley, migrating to the Eton Vics, who have always been a power in the junior world of football. His next move was to the Windsor Works team, when the `Irons' were a team to be respected and with whom many first-class amateur players started their football career.
Reaching senior status, he joined up with 'Slough United' when they were members of' the Herts and Middlesex League and as a wing half was considered one of the best in the league.
When 'Slough United ' became disunited he remained for two seasons with the Centre Club but his heart was always with the Town Club and since he returned to us he has given yeoman service for the past three seasons helping us to win the League Championship in 1950-51, in which season he was the leading club goal scorer and carne a very close second to Alan King of Hounslow, in the League.
He has played in many representative games and has his Berks and Bucks County Badge. and but for an unfortunate injury---having broken a finger whilst fielding might easily have got his County Cap for cricket this year. For on his first appearance in the County side he scored 107 not out, but before the next match he had met with his accident.
Of the many centre forwards that have played for 'The Town', he is perhaps the most unassuming but can always be relied upon to give of has best and get that on expected goal that has so often turned defeat into victory.
Mens
| First Appearance | Appearances | First Goal | Goals |
| --- | --- | --- | --- |
| 25-12-1944 vs Southall | 293 | 25-12-1944 vs Southall | 207 |
History
| Match Date | Home | Score | Away | Competition | Goals | Cards | |
| --- | --- | --- | --- | --- | --- | --- | --- |
| 18-02-1956 | Slough Centre | 1-1 | Slough Town | B&B Senior Cup | | | Match report |
| 11-02-1956 | Slough Town | 4-3 | Maidenhead United | Benevolent Cup | | | Match report |
| 28-01-1956 | Maidenhead United | 2-2 | Slough Town | Benevolent Cup | | | Match report |
| 14-01-1956 | Tilbury | 3-3 | Slough Town | League | | | Match report |
| 07-01-1956 | Slough Town | 4-0 | Chesham United | League | | | Match report |
| 31-12-1955 | Uxbridge | 2-0 | Slough Town | League | | | Match report |
| 22-10-1955 | Slough Town | 2-4 | Tilbury | Memorial Shield | | | Match report |
| 15-10-1955 | Tilbury | 1-1 | Slough Town | Memorial Shield | | | Match report |
| 08-10-1955 | Slough Town | 3-3 | Wycombe Wanderers | FA Cup | | | Match report |
| 01-10-1955 | Oxford City | 3-1 | Slough Town | FA Amateur Cup | | | Match report |
| 24-09-1955 | Abingdon | 0-3 | Slough Town | FA Cup | | | Match report |
| 17-09-1955 | Slough Town | 5-0 | Oxford YMCA | FA Amateur Cup | | | Match report |
| 14-09-1955 | Slough Town | 2-1 | Marlow | Benevolent Cup | | | Match report |
| 30-04-1955 | Slough Town | 3-0 | Maidstone United | League | | | Match report |
| 27-04-1955 | Slough Town | 2-3 | Hounslow | League | | | Match report |
| 18-04-1955 | Uxbridge | 1-1 | Slough Town | League | | | Match report |
| 16-04-1955 | Edgware | 1-2 | Slough Town | League | | | Match report |
| 11-04-1955 | Wycombe Wanderers | 2-1 | Slough Town | B&B Senior Cup | | | Match report |
| 02-04-1955 | Eastbourne | 0-1 | Slough Town | League | | | Match report |
| 26-03-1955 | Slough Town | 5-3 | Worthing | League | | | Match report |
| 19-03-1955 | Slough Town | 2-2 | Edgware | League | | | Match report |
| 12-03-1955 | Chesham United | 4-2 | Slough Town | B&B Senior Cup | | | Match report |
| 05-03-1955 | Tilbury | 1-1 | Slough Town | League | | | Match report |
| 26-02-1955 | Slough Town | 4-2 | Maidenhead United | B&B Senior Cup | | | Match report |
| 19-02-1955 | Slough Town | 2-3 | Yiewsley | Memorial Shield | | | Match report |
| 08-01-1955 | Yiewsley | 3-3 | Slough Town | Memorial Shield | | | Match report |
| 27-12-1954 | Maidenhead United | 4-2 | Slough Town | League | | | Match report |
| 25-12-1954 | Slough Town | 2-1 | Maidenhead United | League | | | Match report |
| 18-12-1954 | Chesham United | 1-3 | Slough Town | League | | | Match report |
| 11-12-1954 | Slough Town | 4-2 | Chesham United | League | | | Match report |
| 04-12-1954 | Slough Town | 3-3 | Epsom | League | | | Match report |
| 27-11-1954 | Slough Town | 2-3 | Grays Athletic | League | | | Match report |
| 13-11-1954 | Slough Town | 3-3 | Uxbridge | FA Amateur Cup | | | Match report |
| 06-11-1954 | Maidstone United | 0-0 | Slough Town | League | | | Match report |
| 30-10-1954 | Slough Town | 3-0 | Tilbury | League | | | Match report |
| 23-10-1954 | Slough Town | 4-3 | Newbury Town | Benevolent Cup | | | Match report |
| 16-10-1954 | Slough Town | 3-3 | Carshalton Ath | League | | | Match report |
| 09-10-1954 | Slough Town | 3-3 | Erith | League | | | Match report |
| 02-10-1954 | Erith | 5-1 | Slough Town | League | | | Match report |
| 25-09-1954 | Slough Town | 2-3 | Oxford City | FA Cup | | | Match report |
| 18-09-1954 | Grays Athletic | 2-0 | Slough Town | League | | | Match report |
| 11-09-1954 | Slough Town | 6-2 | Windsor & Eton | FA Cup | | | Match report |
| 04-09-1954 | Slough Town | 2-0 | Edgware | Memorial Shield | | | Match report |
| 28-08-1954 | Carshalton Ath | 1-2 | Slough Town | League | | | Match report |
| 21-08-1954 | Slough Town | 5-2 | Uxbridge | League | | | Match report |
| 24-04-1954 | Maidenhead United | 2-1 | Slough Town | Maidenhead Charity Cup | | | Match report |
| 17-04-1954 | Hounslow | 3-1 | Slough Town | League | | | Match report |
| 10-04-1954 | Edgware | 2-1 | Slough Town | League | | | Match report |
| 03-04-1954 | Slough Town | 2-2 | Grays Athletic | League | | | Match report |
| 20-03-1954 | Slough Town | 6-1 | Erith | League | | | Match report |
| 27-02-1954 | Slough Town | 1-2 | Slough Centre | B&B Senior Cup | | | Match report |
| 20-02-1954 | Grays Athletic | 2-0 | Slough Town | League | | | Match report |
| 23-01-1954 | Slough Centre | 2-1 | Slough Town | Benevolent Cup | | | Match report |
| 16-01-1954 | Slough Town | 5-1 | Epsom | League | | | Match report |
| 09-01-1954 | Chesham United | 2-1 | Slough Town | League | | | Match report |
| 02-01-1954 | Slough Town | 2-2 | Uxbridge | League | | | Match report |
| 26-12-1953 | Slough Town | 3-2 | Maidenhead United | League | | | Match report |
| 25-12-1953 | Maidenhead United | 1-4 | Slough Town | League | | | Match report |
| 19-12-1953 | Dulwich Hamlet | 3-1 | Slough Town | FA Amateur Cup | | | Match report |
| 05-12-1953 | Slough Town | 2-4 | Hounslow | League | | | Match report |
| 21-11-1953 | Maidstone United | 2-1 | Slough Town | League | | | Match report |
| 14-11-1953 | Slough Town | 3-3 | Carshalton Ath | League | | | Match report |
| 07-11-1953 | Carshalton Ath | 5-3 | Slough Town | League | | | Match report |
| 31-10-1953 | Uxbridge | 2-1 | Slough Town | League | | | Match report |
| 24-10-1953 | Slough Town | 3-3 | Tilbury | League | | | Match report |
| 17-10-1953 | Slough Town | 1-1 | Worthing | League | | | Match report |
| 10-10-1953 | Worthing | 4-1 | Slough Town | League | | | Match report |
| 03-10-1953 | Slough Town | 2-3 | Uxbridge | Memorial Shield | | | Match report |
| 26-09-1953 | Slough Town | 3-2 | Edgware | League | | | Match report |
| 19-09-1953 | Slough Town | 2-4 | Maidstone United | League | | | Match report |
| 12-09-1953 | Slough Centre | 4-1 | Slough Town | FA Cup | | | Match report |
| 05-09-1953 | Slough Town | 0-4 | Eastbourne | League | | | Match report |
| 29-08-1953 | Erith | 3-2 | Slough Town | League | | | Match report |
| 22-08-1953 | Epsom | 2-0 | Slough Town | League | | | Match report |
| 09-05-1953 | Aylesbury United | 7-2 | Slough Town | Benevolent Cup | | | Match report |
| 04-05-1953 | Slough Town | 3-1 | Slough Centre | Benevolent Cup | | | Match report |
| 02-05-1953 | Slough Town | 1-1 | Edgware | League | | | Match report |
| 30-04-1953 | Edgware | 3-1 | Slough Town | League | | | Match report |
| 22-04-1953 | Slough Town | 3-3 | Epsom | League | | | Match report |
| 20-04-1953 | Carshalton Ath | 3-1 | Slough Town | League | | | Match report |
| 18-04-1953 | Slough Town | 2-5 | Grays Athletic | League | | | Match report |
| 15-04-1953 | Hounslow | 1-1 | Slough Town | League | | | Match report |
| 11-04-1953 | Slough Centre | 1-2 | Slough Town | B&B Senior Cup | | | Match report |
| 06-04-1953 | Slough Centre | 2-2 | Slough Town | B&B Senior Cup | | | Match report |
| 04-04-1953 | Uxbridge | 0-1 | Slough Town | League | | | Match report |
| 28-03-1953 | Slough Town | 0-0 | Maidstone United | League | | | Match report |
| 14-03-1953 | Wycombe Wanderers | 0-2 | Slough Town | B&B Senior Cup | | | Match report |
| 09-03-1953 | Worthing | 1-0 | Slough Town | League | | | Match report |
| 28-02-1953 | Slough Town | 4-1 | Bletchley | B&B Senior Cup | | | Match report |
| 21-02-1953 | Slough Town | 0-2 | Pegasus | FA Amateur Cup | | | Match report |
| 14-02-1953 | Slough Town | 3-2 | Willington | FA Amateur Cup | | | Match report |
| 07-02-1953 | Willington | 1-1 | Slough Town | FA Amateur Cup | | | Match report |
| 24-01-1953 | Slough Town | 2-1 | Barking | FA Amateur Cup | | | Match report |
| 17-01-1953 | Stokenchurch | 4-8 | Slough Town | B&B Senior Cup | | | Match report |
| 10-01-1953 | Slough Town | 0-0 | Uxbridge | League | | | Match report |
| 03-01-1953 | Maidstone United | 3-2 | Slough Town | League | | | Match report |
| 27-12-1952 | Slough Town | 3-2 | Maidenhead United | League | | | Match report |
| 26-12-1952 | Maidenhead United | 3-2 | Slough Town | League | | | Match report |
| 20-12-1952 | Slough Town | 2-1 | Worthing | League | | | Match report |
| 13-12-1952 | Eastbourne | 1-4 | Slough Town | FA Amateur Cup | | | Match report |
| 29-11-1952 | Slough Town | 2-2 | Chesham United | League | | | Match report |
| 22-11-1952 | Chesham United | 3-1 | Slough Town | League | | | Match report |
| 08-11-1952 | Slough Town | 1-0 | Tilbury | League | | | Match report |
| 01-11-1952 | Tilbury | 4-5 | Slough Town | League | | | Match report |
| 25-10-1952 | Slough Town | 0-1 | Hounslow | League | | | Match report |
| 18-10-1952 | Eastbourne | 6-1 | Slough Town | League | | | Match report |
| 04-10-1952 | Slough Town | 1-2 | Eastbourne | League | | | Match report |
| 27-09-1952 | Erith | 1-1 | Slough Town | League | | | Match report |
| 20-09-1952 | Hounslow | 2-0 | Slough Town | Memorial Shield | | | Match report |
| 13-09-1952 | Slough Centre | 2-1 | Slough Town | FA Cup | | | Match report |
| 06-09-1952 | Slough Town | 4-2 | Carshalton Ath | League | | | Match report |
| 30-08-1952 | Slough Town | 2-1 | Erith | League | | | Match report |
| 23-08-1952 | Epsom | 2-1 | Slough Town | League | | | Match report |
| 03-05-1952 | Slough Town | 1-2 | Erith | League | | | Match report |
| 01-05-1952 | Slough Town | 4-2 | Uxbridge | League | | | Match report |
| 29-04-1952 | Grays Athletic | 3-1 | Slough Town | League | | | Match report |
| 26-04-1952 | Eastbourne | 2-3 | Slough Town | League | | | Match report |
| 21-04-1952 | Epsom | 1-2 | Slough Town | League | | | Match report |
| 19-04-1952 | Slough Town | 1-1 | Slough Centre | Benevolent Cup | | | Match report |
| 22-03-1952 | Slough Town | 4-2 | Windsor & Eton | Benevolent Cup | | | Match report |
| 01-03-1952 | Slough Town | 1-1 | Hounslow | Memorial Shield | | | Match report |
| 23-02-1952 | Slough Town | 4-1 | Erith | Memorial Shield | | | Match report |
| 16-02-1952 | Wolverton | 2-1 | Slough Town | B&B Senior Cup | | | Match report |
| 02-02-1952 | Erith | 2-1 | Slough Town | League | | | Match report |
| 26-01-1952 | Slough Town | 3-3 | Carshalton Ath | League | | | Match report |
| 19-01-1952 | Slough Town | 1-2 | Chesham United | League | | | Match report |
| 12-01-1952 | Uxbridge | 1-5 | Slough Town | League | | | Match report |
| 29-12-1951 | Slough Town | 1-0 | Eastbourne | League | | | Match report |
| 26-12-1951 | Slough Town | 2-1 | Maidenhead United | League | | | Match report |
| 25-12-1951 | Maidenhead United | 1-4 | Slough Town | League | | | Match report |
| 22-12-1951 | Chesham United | 1-4 | Slough Town | League | | | Match report |
| 15-12-1951 | Slough Town | 2-3 | Hendon | FA Amateur Cup | | | Match report |
| 08-12-1951 | Slough Town | 6-2 | Maidstone United | League | | | Match report |
| 01-12-1951 | Worthing | 1-4 | Slough Town | League | | | Match report |
| 24-11-1951 | Carshalton Ath | 2-3 | Slough Town | League | | | Match report |
| 17-11-1951 | Slough Town | 4-3 | Hounslow | League | | | Match report |
| 10-11-1951 | Slough Town | 11-1 | Worthing | League | | | Match report |
| 03-11-1951 | Slough Town | 4-0 | Edgware | League | | | Match report |
| 27-10-1951 | Wealdstone | 5-0 | Slough Town | FA Cup | | | Match report |
| 20-10-1951 | Maidstone United | 3-3 | Slough Town | League | | | Match report |
| 17-10-1951 | Slough Town | 4-0 | St Albans City | FA Cup | | | Match report |
| 13-10-1951 | St Albans City | 1-1 | Slough Town | FA Cup | | | Match report |
| 06-10-1951 | Tilbury | 0-2 | Slough Town | League | | | Match report |
| 04-10-1951 | Barnet | 1-6 | Slough Town | FA Cup | | | Match report |
| 29-09-1951 | Slough Town | 2-2 | Barnet | FA Cup | | | Match report |
| 22-09-1951 | Edgware | 2-2 | Slough Town | League | | | Match report |
| 15-09-1951 | Slough Town | 5-1 | Grays Athletic | League | | | Match report |
| 08-09-1951 | Tilbury | 1-3 | Slough Town | Memorial Shield | | | Match report |
| 01-09-1951 | Slough Town | 2-1 | Epsom | League | | | Match report |
| 25-08-1951 | Slough Town | 6-0 | Tilbury | League | | | Match report |
| 18-08-1951 | Hounslow | 0-1 | Slough Town | League | | | Match report |
| 19-05-1951 | Maidenhead United | 1-2 | Slough Town | Benevolent Cup | | | Match report |
| 10-05-1951 | Slough Town | 2-0 | Hounslow | League | | | Match report |
| 05-05-1951 | Epsom | 1-6 | Slough Town | League | | | Match report |
| 02-05-1951 | Hounslow | 1-0 | Slough Town | League | | | Match report |
| 28-04-1951 | Slough Town | 2-0 | Worthing | League | | | Match report |
| 26-04-1951 | Slough Town | 4-3 | Eastbourne | League | | | Match report |
| 21-04-1951 | Worthing | 2-2 | Slough Town | League | | | Match report |
| 18-04-1951 | Slough Town | 1-0 | Carshalton Ath | League | | | Match report |
| 14-04-1951 | Slough Town | 8-1 | Aylesbury United | Benevolent Cup | | | Match report |
| 11-04-1951 | Slough Town | 2-0 | Chesham United | League | | | Match report |
| 07-04-1951 | Slough Town | 1-3 | Tilbury | League | | | Match report |
| 26-03-1951 | Chesham United | 2-1 | Slough Town | B&B Senior Cup | | | Match report |
| 24-03-1951 | Slough Town | 4-0 | Edgware | League | | | Match report |
| 23-03-1951 | Slough Town | 5-1 | Grays Athletic | League | | | Match report |
| 17-03-1951 | Slough Town | 2-1 | Wolverton | Benevolent Cup | | | Match report |
| 10-03-1951 | Wycombe Wanderers | 1-0 | Slough Town | B&B Senior Cup | | | Match report |
| 03-03-1951 | Slough Town | 2-2 | Uxbridge | League | | | Match report |
| 24-02-1951 | Tilbury | 1-3 | Slough Town | League | | | Match report |
| 17-02-1951 | Slough Town | 4-3 | Maidenhead United | B&B Senior Cup | | | Match report |
| 10-02-1951 | Slough Town | 5-1 | Tilbury | Memorial Shield | | | Match report |
| 03-02-1951 | Slough Town | 8-2 | Maidstone United | League | | | Match report |
| 27-01-1951 | Slough Town | 1-3 | Pegasus | FA Amateur Cup | | | Match report |
| 20-01-1951 | Eastbourne | 1-2 | Slough Town | League | | | Match report |
| 13-01-1951 | Slough Town | 4-1 | Poole Town | FA Amateur Cup | | | Match report |
| 06-01-1951 | Slough Town | 2-0 | Erith | League | | | Match report |
| 26-12-1950 | Maidenhead United | 1-4 | Slough Town | League | | | Match report |
| 25-12-1950 | Slough Town | 1-0 | Maidenhead United | League | | | Match report |
| 23-12-1950 | Slough Town | 6-2 | Chesham United | Memorial Shield | | | Match report |
| 16-12-1950 | Uxbridge | 2-2 | Slough Town | League | | | Match report |
| 09-12-1950 | Erith | 2-3 | Slough Town | League | | | Match report |
| 02-12-1950 | Chesham United | 1-0 | Slough Town | League | | | Match report |
| 18-11-1950 | Slough Town | 1-0 | Haywards Heath | FA Amateur Cup | | | Match report |
| 11-11-1950 | Maidenhead United | 0-3 | Slough Town | FA Amateur Cup | | | Match report |
| 04-11-1950 | Slough Town | 2-2 | Maidenhead United | FA Amateur Cup | | | Match report |
| 01-11-1950 | Wycombe Wanderers | 2-0 | Slough Town | FA Cup | | | Match report |
| 28-10-1950 | Slough Town | 1-1 | Wycombe Wanderers | FA Cup | | | Match report |
| 21-10-1950 | Slough Town | 2-1 | Slough Centre | FA Amateur Cup | | | Match report |
| 18-10-1950 | Slough Town | 5-1 | Banbury Spencer | FA Cup | | | Match report |
| 14-10-1950 | Banbury Spencer | 1-1 | Slough Town | FA Cup | | | Match report |
| 07-10-1950 | Slough Town | 2-0 | Amersham Town | FA Amateur Cup | | | Match report |
| 04-10-1950 | Oxford City | 1-2 | Slough Town | FA Cup | | | Match report |
| 30-09-1950 | Slough Town | 2-2 | Oxford City | FA Cup | | | Match report |
| 23-09-1950 | Slough Town | 3-0 | Kidlington | FA Amateur Cup | | | Match report |
| 16-09-1950 | Headington | 3-4 | Slough Town | FA Cup | | | Match report |
| 09-09-1950 | Osberton Rad | 0-3 | Slough Town | FA Amateur Cup | | | Match report |
| 02-09-1950 | Edgware | 3-3 | Slough Town | League | | | Match report |
| 26-08-1950 | Slough Town | 2-1 | Epsom | League | | | Match report |
| 19-08-1950 | Carshalton Ath | 2-3 | Slough Town | League | | | Match report |
| 27-04-1950 | Edgware | 2-0 | Slough Town | League | | | Match report |
| 22-04-1950 | Slough Town | 0-4 | Erith | League | | | Match report |
| 19-04-1950 | Slough Town | 2-4 | Hounslow | League | | | Match report |
| 23-08-1947 | Edgware | 5-3 | Slough Town | League | | | Match report |
| 14-06-1947 | Grays Athletic | 4-1 | Slough Town | League | | | Match report |
| 07-06-1947 | Slough Town | 3-4 | Uxbridge | League | | | Match report |
| 31-05-1947 | Slough Town | 7-6 | Hounslow | League | | | Match report |
| 26-05-1947 | Hounslow | 1-2 | Slough Town | League | | | Match report |
| 24-05-1947 | Slough Town | 1-3 | Wolverton | Benevolent Cup | | | Match report |
| 17-05-1947 | Slough Town | 2-3 | Chippenham Town | Unknown Cup | | | Match report |
| 10-05-1947 | Slough Town | 5-3 | Marlow | Benevolent Cup | | | Match report |
| 03-05-1947 | Uxbridge | 0-1 | Slough Town | League | | | Match report |
| 26-04-1947 | Slough Town | 2-0 | Hastings United | League | | | Match report |
| 19-04-1947 | Edgware | 0-7 | Slough Town | League | | | Match report |
| 12-04-1947 | Slough Town | 6-0 | Bedford Avenue | League | | | Match report |
| 07-04-1947 | Wycombe Wanderers | 2-1 | Slough Town | B&B Senior Cup | | | Match report |
| 04-04-1947 | Slough Town | 5-2 | Grays Athletic | League | | | Match report |
| 29-03-1947 | Walton & Hersham | 6-1 | Slough Town | Memorial Shield | | | Match report |
| 22-03-1947 | Bedford Avenue | 1-7 | Slough Town | League | | | Match report |
| 01-03-1947 | Wolverton | 2-3 | Slough Town | B&B Senior Cup | | | Match report |
| 25-01-1947 | Slough Town | 1-0 | Chesham United | B&B Senior Cup | | | Match report |
| 18-01-1947 | Slough Town | 4-3 | Carshalton Ath | League | | | Match report |
| 28-12-1946 | Slough Town | 1-3 | Walton & Hersham | League | | | Match report |
| 26-12-1946 | Maidenhead United | 1-1 | Slough Town | League | | | Match report |
| 25-12-1946 | Slough Town | 5-1 | Maidenhead United | League | | | Match report |
| 14-12-1946 | Eastbourne | 4-11 | Slough Town | League | | | Match report |
| 07-12-1946 | Slough Town | 6-1 | Bedford Avenue | Memorial Shield | | | Match report |
| 30-11-1946 | Slough Town | 3-2 | REmE Aborfield | B&B Senior Cup | | | Match report |
| 23-11-1946 | Enfield | 3-2 | Slough Town | FA Amateur Cup | | | Match report |
| 16-11-1946 | Windsor & Eton | 3-4 | Slough Town | League | | | Match report |
| 09-11-1946 | Slough Town | 4-3 | Erith | League | | | Match report |
| 26-10-1946 | Slough Town | 9-0 | Edgware | League | | | Match report |
| 19-10-1946 | Hayes | 6-3 | Slough Town | FA Cup | | | Match report |
| 12-10-1946 | Hastings United | 1-1 | Slough Town | League | | | Match report |
| 09-10-1946 | Windsor & Eton | 2-4 | Slough Town | FA Cup | | | Match report |
| 05-10-1946 | Slough Town | 3-3 | Windsor & Eton | FA Cup | | | Match report |
| 28-09-1946 | Erith | 1-2 | Slough Town | League | | | Match report |
| 21-09-1946 | Slough Town | 4-2 | Lyons Club | FA Cup | | | Match report |
| 14-09-1946 | Walton & Hersham | 2-2 | Slough Town | League | | | Match report |
| 07-09-1946 | Carshalton Ath | 3-2 | Slough Town | League | | | Match report |
| 11-05-1946 | Chippenham Town | 0-4 | Slough Town | Unknown Cup | | | Match report |
| 29-04-1946 | Slough Town | 1-1 | Wycombe Wanderers | Benevolent Cup | | | Match report |
| 27-04-1946 | Walton & Hersham | 2-7 | Slough Town | League | | | Match report |
| 22-04-1946 | Grays Athletic | 1-0 | Slough Town | League | | | Match report |
| 20-04-1946 | Twickenham | 2-4 | Slough Town | League | | | Match report |
| 19-04-1946 | Slough Town | 0-0 | Grays Athletic | League | | | Match report |
| 13-04-1946 | Maidenhead United | 3-6 | Slough Town | League | | | Match report |
| 06-04-1946 | Slough Town | 2-1 | Windsor & Eton | League | | | Match report |
| 30-03-1946 | Epsom Town | 0-3 | Slough Town | Benevolent Cup | | | Match report |
| 26-03-1946 | Marlow | 3-10 | Slough Town | League | | | Match report |
| 19-03-1946 | Slough Town | 3-1 | Epsom Town | Benevolent Cup | | | Match report |
| 02-03-1946 | Slough Town | 6-5 | St Albans City | Unknown Cup | | | Match report |
| 23-02-1946 | Wycombe Wanderers | 6-1 | Slough Town | League | | | Match report |
| 16-02-1946 | Moor Green | 2-1 | Slough Town | B&B Senior Cup | | | Match report |
| 02-02-1946 | Oxford City | 2-3 | Slough Town | FA Amateur Cup | | | Match report |
| 26-01-1946 | Lyons Club | 2-4 | Slough Town | FA Amateur Cup | | | Match report |
| 19-01-1946 | Chippenham Town | 1-5 | Slough Town | League | | | Match report |
| 12-01-1946 | Slough Town | 2-1 | Lyons Club | FA Amateur Cup | | | Match report |
| 05-01-1946 | Slough Town | 1-4 | Windsor & Eton | League | | | Match report |
| 26-12-1945 | Windsor & Eton | 2-6 | Slough Town | Corinthian Lge. | | | Match report |
| 25-12-1945 | Slough Town | 4-2 | Windsor & Eton | League | | | Match report |
| 08-12-1945 | Slough Town | 0-2 | Maidenhead United | League | | | Match report |
| 01-12-1945 | Chesham United | 1-13 | Slough Town | B&B Senior Cup | | | Match report |
| 24-11-1945 | Slough Town | 1-0 | Bromley | FA Cup | | | Match report |
| 20-11-1945 | Bromley | 6-1 | Slough Town | FA Cup | | | Match report |
| 10-11-1945 | Slough Town | 4-2 | Marlow | FA Amateur Cup | | | Match report |
| 06-11-1945 | Slough Town | 3-1 | Leytonstone | FA Cup | | | Match report |
| 03-11-1945 | Leytonstone | 3-3 | Slough Town | FA Cup | | | Match report |
| 27-10-1945 | Slough Town | 6-4 | Twickenham | League | | | Match report |
| 20-10-1945 | Slough Town | 3-1 | Oxford City | FA Cup | | | Match report |
| 13-10-1945 | Maidenhead United | 1-0 | Slough Town | Memorial Shield | | | Match report |
| 06-10-1945 | Banbury Spencer | 2-5 | Slough Town | FA Cup | | | Match report |
| 29-09-1945 | Slough Town | 4-0 | Walton & Hersham | League | | | Match report |
| 25-09-1945 | Slough Town | 2-0 | Yiewsley | FA Cup | | | Match report |
| 22-09-1945 | Yiewsley | 2-2 | Slough Town | FA Cup | | | Match report |
| 15-09-1945 | Erith | 0-2 | Slough Town | League | | | Match report |
| 13-09-1945 | Slough Town | 3-1 | Hounslow | FA Cup | | | Match report |
| 08-09-1945 | Hounslow | 4-4 | Slough Town | FA Cup | | | Match report |
| 01-09-1945 | Slough Town | 3-2 | Erith | League | | | Match report |
| 19-05-1945 | Southall | 3-2 | Slough Town | League | | | Match report |
| 05-05-1945 | Windsor & Eton | 0-2 | Slough Town | Red Cross Cup | | | Match report |
| 28-04-1945 | Slough Town | 1-3 | Windsor & Eton | Red Cross Cup | | | Match report |
| 14-04-1945 | Slough Town | 4-1 | Clapton | League | | | Match report |
| 24-03-1945 | Slough Town | 2-5 | Golders Green | League | | | Match report |
| 17-03-1945 | Wycombe Wanderers | 1-2 | Slough Town | Red Cross Cup | | | Match report |
| 10-03-1945 | Barnet | 1-0 | Slough Town | League | | | Match report |
| 03-03-1945 | Slough Town | 0-1 | Golders Green | League Cup | | | Match report |
| 24-02-1945 | Slough Town | 3-0 | Windsor Works | Red Cross Cup | | | Match report |
| 17-02-1945 | Wealdstone | 1-3 | Slough Town | League | | | Match report |
| 10-02-1945 | Slough Town | 3-0 | Wealdstone | League Cup | | | Match report |
| 03-02-1945 | Slough Town | 4-3 | Barnet | League | | | Match report |
| 20-01-1945 | Slough Town | 1-1 | Hitchin Town | League | | | Match report |
| 06-01-1945 | Hitchin Town | 4-1 | Slough Town | League | | | Match report |
| 25-12-1944 | Slough Town | 4-1 | Southall | League | | | Match report |
Slough Town FC is not responsible for content produced on external websites | Copyright Slough Town FC 2023