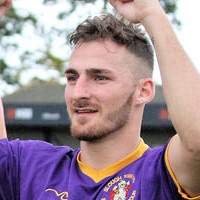 Position:
Defender
Bio
Central defender Dan Hicks rejoined Slough in September 2015 from Marlow, where he was club captain.
Hicks came through the youth team at Slough in the 2008/2009 season and made one substitute appearance under Derek Sweetman, before leaving to join Burnham.
He then had spells at Chalfont St Peter and Windsor, where he was also made club captain.
Mens
| First Appearance | Appearances | First Goal | Goals |
| --- | --- | --- | --- |
| 20-01-2009 vs North Leigh | 52 | 19-09-2015 vs Bedworth United | 2 |
History
| Match Date | Home | Score | Away | Competition | Goals | Cards | |
| --- | --- | --- | --- | --- | --- | --- | --- |
| 04-02-2017 | Slough Town | 1-0 | Dunstable Town | League | | | Match report |
| 17-01-2017 | Maidenhead United | 4-2 | Slough Town | B&B Senior Cup | | | Match report |
| 02-01-2017 | Slough Town | 1-2 | Chesham United | League | | | Match report |
| 20-12-2016 | Slough Town | 3-0 | MK Dons | B&B Senior Cup | | | Match report |
| 17-12-2016 | Slough Town | 3-2 | Kettering Town | League | | | Match report |
| 05-11-2016 | Slough Town | 0-1 | Hitchin Town | League | | | Match report |
| 29-10-2016 | Slough Town | 4-1 | Bognor Regis Town | FA Trophy | | | Match report |
| 25-10-2016 | Slough Town | 2-1 | Dorchester Town | League | | | Match report |
| 22-10-2016 | Basingstoke Town | 4-1 | Slough Town | League | | | Match report |
| 18-10-2016 | Slough Town | 7-4 | Beaconsfield Town | B&B Senior Cup | | | Match report |
| 04-10-2016 | Slough Town | 9-2 | Ashford Town (Middx) | League Cup | | | Match report |
| 01-10-2016 | Slough Town | 2-3 | Dartford | FA Cup | | | Match report |
| 27-09-2016 | Slough Town | 2-0 | Leamington | League | | | Match report |
| 10-09-2016 | Redditch United | 0-4 | Slough Town | League | | | Match report |
| 03-09-2016 | Slough Town | 6-1 | Chipstead | FA Cup | | | Match report |
| 23-04-2016 | Merthyr Town | 2-0 | Slough Town | League | | | Match report |
| 16-04-2016 | Slough Town | 2-0 | King's Lynn Town | League | | | Match report |
| 09-04-2016 | Cambridge City | 4-2 | Slough Town | League | | | Match report |
| 14-03-2016 | Hungerford Town | 1-0 | Slough Town | League | | | Match report |
| 12-03-2016 | St Neots Town | 0-0 | Slough Town | League | | | Match report |
| 09-03-2016 | Frome Town | 2-1 | Slough Town | League | | | Match report |
| 05-03-2016 | Slough Town | 1-0 | Dunstable Town | League | | | Match report |
| 01-03-2016 | Slough Town | 1-3 | Kettering Town | League | | | Match report |
| 27-02-2016 | Paulton Rovers | 3-3 | Slough Town | League | | | Match report |
| 20-02-2016 | Slough Town | 1-3 | Leamington | League | | | Match report |
| 16-02-2016 | Cirencester Town | 1-3 | Slough Town | League | | | Match report |
| 13-02-2016 | Dorchester Town | 1-2 | Slough Town | League | | | Match report |
| 06-02-2016 | Slough Town | 1-2 | Bedworth United | League | | | Match report |
| 23-01-2016 | Slough Town | 1-0 | Hitchin Town | League | | | Match report |
| 26-12-2015 | Slough Town | 0-1 | Chesham United | League | | | Match report |
| 19-12-2015 | Poole Town | 3-3 | Slough Town | League | | | Match report |
| 15-12-2015 | Slough Town | 3-1 | Merthyr Town | League | | | Match report |
| 12-12-2015 | Weymouth | 6-1 | Slough Town | League | | | Match report |
| 05-12-2015 | Slough Town | 2-2 | St Neots Town | League | | | Match report |
| 01-12-2015 | Slough Town | 2-0 | Biggleswade Town | League | | | Match report |
| 24-11-2015 | Dunstable Town | 1-3 | Slough Town | League | | | Match report |
| 21-11-2015 | Slough Town | 2-4 | Stratford Town | League | | | Match report |
| 14-11-2015 | Frome Town | 2-1 | Slough Town | FA Trophy | | | Match report |
| 10-11-2015 | Marlow | 3-6 | Slough Town | League Cup | | | Match report |
| 07-11-2015 | King's Lynn Town | 2-1 | Slough Town | League | | | Match report |
| 01-11-2015 | Romford | 0-4 | Slough Town | FA Trophy | | | Match report |
| 27-10-2015 | Chippenham Town | 3-3 | Slough Town | League | | | Match report |
| 24-10-2015 | Slough Town | 3-1 | Cambridge City | League | | | Match report |
| 19-10-2015 | Redditch United | 1-0 | Slough Town | League | | | Match report |
| 17-10-2015 | Slough Town | 2-1 | Paulton Rovers | League | | | Match report |
| 13-10-2015 | Slough Town | 3-0 | Chesham United | League Cup | | | Match report |
| 10-10-2015 | Histon | 1-2 | Slough Town | League | | | Match report |
| 06-10-2015 | Slough Town | 4-1 | Dorchester Town | League | | | Match report |
| 29-09-2015 | Leamington | 3-0 | Slough Town | League | | | Match report |
| 22-09-2015 | Slough Town | 0-2 | Redditch United | League | | | Match report |
| 19-09-2015 | Bedworth United | 2-1 | Slough Town | League | | | Match report |
| 20-01-2009 | Slough Town | 1-1 | North Leigh | League | | | Match report |
Slough Town FC is not responsible for content produced on external websites | Copyright Slough Town FC 2023