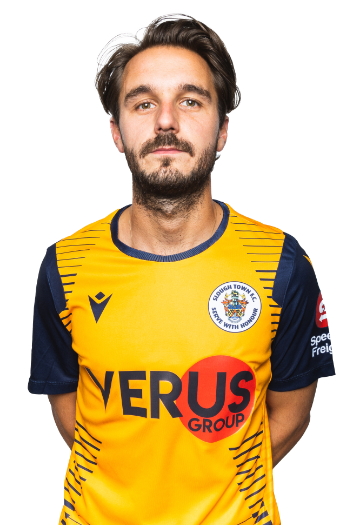 Squad Number:
10
Position:
Midfielder
Achievements
2022/23 Golden Boot
Bio
Midfielder Johnny Goddard joined the club from St. Albans City in June 2022.
30-year-old Johnny began his career at Reading, progressing through the youth system before signing his first professional contract in 2011. He was released a year later and spent one season at National League South club Hayes & Yeading United.
He then signed for National League club Woking in September 2013 after a successful trial period. John became a fans' favourite at Woking, scoring 25 goals in 116 league appearances. He won the 2015/16 Woking Player of the Season award, before securing a move to EFL side Swindon Town. He spent three years at Woking before returning to the Football League when he signed for Swindon Town for an undisclosed fee in May 2016.
He subsequently signed for Stevenage in January 2018. He was loaned out to Bromley of the National League at the start of the 2018/19 season and then joined Aldershot Town on a six-month deal in January 2019. Goddard signed for divisional rivals Ebbsfleet United in July 2019. He rejoined Woking in August 2020, where he spent the 2020/21 season.
Mens
| First Appearance | Appearances | First Goal | Goals |
| --- | --- | --- | --- |
| 06-08-2022 vs Havant & Waterlooville | 69 | 27-08-2022 vs Cheshunt | 15 |
History
| Match Date | Home | Score | Away | Competition | Goals | Cards | |
| --- | --- | --- | --- | --- | --- | --- | --- |
| 25-11-2023 | Slough Town | 3-0 | Braintree Town | League | | | Match report |
| 21-11-2023 | Slough Town | 2-1 | Havant & Waterlooville | League | | | Match report |
| 18-11-2023 | Slough Town | 2-1 | Farnborough | FA Trophy | | | Match report |
| 14-11-2023 | Grimsby Town | 7-2 | Slough Town | FA Cup | | | Match report |
| 11-11-2023 | Welling United | 4-3 | Slough Town | League | | | Match report |
| 05-11-2023 | Slough Town | 1-1 | Grimsby Town | FA Cup | | | Match report |
| 28-10-2023 | Eastbourne Borough | 3-3 | Slough Town | League | | | Match report |
| 24-10-2023 | St Albans City | 3-2 | Slough Town | League | | | Match report |
| 21-10-2023 | Slough Town | 0-0 | Chelmsford City | League | | | Match report |
| 17-10-2023 | Slough Town | 2-0 | Ebbsfleet United | FA Cup | | | Match report |
| 14-10-2023 | Ebbsfleet United | 2-2 | Slough Town | FA Cup | | | Match report |
| 07-10-2023 | Slough Town | 0-0 | Weymouth | League | | | Match report |
| 03-10-2023 | Slough Town | 3-0 | Salisbury | FA Cup | | | Match report |
| 30-09-2023 | Salisbury | 0-0 | Slough Town | FA Cup | | | Match report |
| 23-09-2023 | Farnborough | 2-2 | Slough Town | League | | | Match report |
| 16-09-2023 | Hayes & Yeading United | 0-2 | Slough Town | FA Cup | | | Match report |
| 09-09-2023 | Slough Town | 2-0 | Aveley | League | | | Match report |
| 05-09-2023 | Dartford | 1-2 | Slough Town | League | | | Match report |
| 02-09-2023 | Slough Town | 2-5 | Tonbridge Angels | League | | | Match report |
| 28-08-2023 | Chippenham Town | 2-1 | Slough Town | League | | | Match report |
| 26-08-2023 | Slough Town | 1-2 | Torquay United | League | | | Match report |
| 19-08-2023 | Weston-super-Mare | 0-3 | Slough Town | League | | | Match report |
| 15-08-2023 | Slough Town | 1-4 | Worthing | League | | | Match report |
| 12-08-2023 | Slough Town | 1-2 | Dover Athletic | League | | | Match report |
| 05-08-2023 | Maidstone United | 2-1 | Slough Town | League | | | Match report |
| 29-04-2023 | Slough Town | 1-1 | Braintree Town | League | | | Match report |
| 22-04-2023 | Weymouth | 2-0 | Slough Town | League | | | Match report |
| 15-04-2023 | Slough Town | 2-0 | Farnborough | League | | | Match report |
| 10-04-2023 | Taunton Town | 2-1 | Slough Town | League | | | Match report |
| 07-04-2023 | Slough Town | 6-1 | Chippenham Town | League | | | Match report |
| 01-04-2023 | Hemel Hempstead Town | 1-1 | Slough Town | League | | | Match report |
| 25-03-2023 | Slough Town | 0-1 | Ebbsfleet United | League | | | Match report |
| 21-03-2023 | Farnborough | 4-1 | Slough Town | League | | | Match report |
| 18-03-2023 | Eastbourne Borough | 2-0 | Slough Town | League | | | Match report |
| 11-03-2023 | Slough Town | 4-0 | Hungerford Town | League | | | Match report |
| 07-03-2023 | Concord Rangers | 0-2 | Slough Town | League | | | Match report |
| 04-03-2023 | Slough Town | 1-1 | Worthing | League | | | Match report |
| 25-02-2023 | St Albans City | 1-2 | Slough Town | League | | | Match report |
| 21-02-2023 | Dartford | 1-0 | Slough Town | League | | | Match report |
| 18-02-2023 | Slough Town | 0-3 | Welling United | League | | | Match report |
| 13-02-2023 | Chelmsford City | 2-0 | Slough Town | League | | | Match report |
| 11-02-2023 | Hampton & Richmond | 0-1 | Slough Town | League | | | Match report |
| 04-02-2023 | Slough Town | 1-1 | Dover Athletic | League | | | Match report |
| 28-01-2023 | Cheshunt | 1-1 | Slough Town | League | | | Match report |
| 21-01-2023 | Slough Town | 4-3 | Dulwich Hamlet | League | | | Match report |
| 07-01-2023 | Tonbridge Angels | 3-3 | Slough Town | League | | | Match report |
| 01-01-2023 | Slough Town | 2-2 | Oxford City | League | | | Match report |
| 26-12-2022 | Oxford City | 1-3 | Slough Town | League | | | Match report |
| 19-11-2022 | Hanwell Town | 0-3 | Slough Town | FA Trophy | | | Match report |
| 15-11-2022 | Maidenhead United | 1-1 | Slough Town | B&B Senior Cup | | | Match report |
| 12-11-2022 | Hungerford Town | 2-1 | Slough Town | League | | | Match report |
| 08-11-2022 | Welling United | 0-0 | Slough Town | League | | | Match report |
| 05-11-2022 | Slough Town | 1-3 | St Albans City | League | | | Match report |
| 29-10-2022 | Worthing | 2-2 | Slough Town | League | | | Match report |
| 25-10-2022 | Slough Town | 1-2 | Dartford | League | | | Match report |
| 22-10-2022 | Slough Town | 2-3 | Weymouth | League | | | Match report |
| 15-10-2022 | Dover Athletic | 3-0 | Slough Town | League | | | Match report |
| 08-10-2022 | Slough Town | 0-2 | Hemel Hempstead Town | League | | | Match report |
| 27-09-2022 | Chippenham Town | 0-1 | Slough Town | League | | | Match report |
| 24-09-2022 | Braintree Town | 1-1 | Slough Town | League | | | Match report |
| 17-09-2022 | Slough Town | 1-3 | Worthing | FA Cup | | | Match report |
| 13-09-2022 | Slough Town | 1-0 | Taunton Town | League | | | Match report |
| 03-09-2022 | Slough Town | 2-1 | Hampton & Richmond | League | | | Match report |
| 29-08-2022 | Bath City | 5-1 | Slough Town | League | | | Match report |
| 27-08-2022 | Slough Town | 3-1 | Cheshunt | League | | | Match report |
| 20-08-2022 | Dulwich Hamlet | 1-2 | Slough Town | League | | | Match report |
| 16-08-2022 | Slough Town | 0-2 | Chelmsford City | League | | | Match report |
| 13-08-2022 | Slough Town | 1-1 | Tonbridge Angels | League | | | Match report |
| 06-08-2022 | Havant & Waterlooville | 3-1 | Slough Town | League | | | Match report |
Slough Town FC is not responsible for content produced on external websites | Copyright Slough Town FC 2023