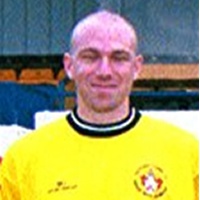 Stats
Position:
Defender
First Appearance:
21-08-1999 vs Purfleet
Appearances:
81
First Goal:
21-08-1999 vs Purfleet
Goals:
4
Bio
Commanding defender signed following his release from Brentford.

Enjoyed a loan spell at the club before signing on a permanent basis. Ball playing centre half who was comfortable bringing the ball out of defence and moving forwards into attacking positions.

Scored five times for the club in his eighty appearances.
History
| Match Date | Home | Score | Away | Competition | Goals | Cards | |
| --- | --- | --- | --- | --- | --- | --- | --- |
| 05-05-2001 | Chesham United | 2-0 | Slough Town | League | | | Match report |
| 28-04-2001 | Slough Town | 3-1 | Carshalton Ath | League | | | Match report |
| 21-04-2001 | Harrow Borough | 1-0 | Slough Town | League | | | Match report |
| 19-04-2001 | Slough Town | 0-1 | Canvey Island | League | | | Match report |
| 16-04-2001 | Slough Town | 1-0 | Maidenhead United | League | | | Match report |
| 14-04-2001 | Farnborough Town | 1-1 | Slough Town | League | | | Match report |
| 10-04-2001 | Slough Town | 2-3 | Billericay Town | League | | | Match report |
| 07-04-2001 | Slough Town | 1-1 | Dulwich Hamlet | League | | | Match report |
| 02-04-2001 | Croydon | 4-1 | Slough Town | League | | | Match report |
| 31-03-2001 | Slough Town | 0-3 | Hitchin Town | League | | | Match report |
| 24-03-2001 | Billericay Town | 0-0 | Slough Town | League | | | Match report |
| 10-03-2001 | Slough Town | 4-4 | Sutton United | League | | | Match report |
| 03-03-2001 | Slough Town | 1-1 | Heybridge Swifts | League | | | Match report |
| 26-12-2000 | Maidenhead United | 1-0 | Slough Town | League | | | Match report |
| 23-12-2000 | Slough Town | 0-2 | Farnborough Town | League | | | Match report |
| 16-12-2000 | Grays Athletic | 1-0 | Slough Town | League | | | Match report |
| 09-12-2000 | Slough Town | 0-2 | Chesham United | League | | | Match report |
| 18-11-2000 | Dulwich Hamlet | 2-2 | Slough Town | League | | | Match report |
| 11-11-2000 | Slough Town | 0-2 | Basingstoke Town | League | | | Match report |
| 04-11-2000 | Slough Town | 5-0 | Bishop's Stortford | FA Trophy | | | Match report |
| 24-10-2000 | Slough Town | 4-3 | Aldershot Town | Full Members Cup | | | Match report |
| 21-10-2000 | Hitchin Town | 3-0 | Slough Town | League | | | Match report |
| 14-10-2000 | Slough Town | 1-2 | St Albans City | League | | | Match report |
| 07-10-2000 | Heybridge Swifts | 3-2 | Slough Town | League | | | Match report |
| 23-09-2000 | Slough Town | 1-0 | Croydon | League | | | Match report |
| 19-09-2000 | Sutton United | 1-1 | Slough Town | League | | | Match report |
| 16-09-2000 | Slough Town | 1-1 | Hampton & Richmond Boro' | League | | | Match report |
| 12-09-2000 | Flackwell Heath | 1-3 | Slough Town | League Cup | | | Match report |
| 09-09-2000 | Hendon | 2-1 | Slough Town | League | | | Match report |
| 05-09-2000 | Slough Town | 0-1 | Aldershot Town | League | | | Match report |
| 02-09-2000 | Canvey Island | 1-0 | Slough Town | League | | | Match report |
| 22-08-2000 | Slough Town | 1-0 | Grays Athletic | League | | | Match report |
| 19-08-2000 | Ebbsfleet United | 1-2 | Slough Town | League | | | Match report |
| 06-05-2000 | Dagenham & R. | 2-1 | Slough Town | League | | | Match report |
| 02-05-2000 | Slough Town | 0-0 | Aldershot Town | League | | | Match report |
| 29-04-2000 | Slough Town | 2-1 | Heybridge Swifts | League | | | Match report |
| 24-04-2000 | Basingstoke Town | 1-0 | Slough Town | League | | | Match report |
| 15-04-2000 | Enfield | 1-3 | Slough Town | League | | | Match report |
| 10-04-2000 | Purfleet | 2-0 | Slough Town | League | | | Match report |
| 08-04-2000 | Slough Town | 2-3 | Harrow Borough | League | | | Match report |
| 01-04-2000 | Slough Town | 2-0 | Chesham United | League | | | Match report |
| 28-03-2000 | Aylesbury United | 4-2 | Slough Town | B&B Senior Cup | | | Match report |
| 25-03-2000 | Aldershot Town | 2-0 | Slough Town | League | | | Match report |
| 21-03-2000 | Slough Town | 2-1 | Enfield | League | | | Match report |
| 18-03-2000 | Canvey Island | 2-0 | Slough Town | League | | | Match report |
| 11-03-2000 | Slough Town | 1-1 | Hampton & Richmond Boro' | League | | | Match report |
| 07-03-2000 | Ebbsfleet United | 3-2 | Slough Town | Full Members Cup | | | Match report |
| 04-03-2000 | Slough Town | 3-1 | Walton & Hersham | League | | | Match report |
| 26-02-2000 | Hitchin Town | 1-2 | Slough Town | League | | | Match report |
| 22-02-2000 | Slough Town | 3-0 | Hungerford Town | B&B Senior Cup | | | Match report |
| 19-02-2000 | Slough Town | 2-1 | Ebbsfleet United | League | | | Match report |
| 15-02-2000 | Leatherhead | 0-3 | Slough Town | Full Members Cup | | | Match report |
| 12-02-2000 | Billericay Town | 3-1 | Slough Town | League | | | Match report |
| 05-02-2000 | Slough Town | 2-1 | Carshalton Ath | League | | | Match report |
| 29-01-2000 | Hendon | 1-1 | Slough Town | League | | | Match report |
| 22-01-2000 | Slough Town | 0-3 | St Albans City | League | | | Match report |
| 18-01-2000 | Slough Town | 1-0 | Maidenhead United | B&B Senior Cup | | | Match report |
| 15-01-2000 | Slough Town | 3-0 | Hitchin Town | League | | | Match report |
| 11-01-2000 | Maidenhead United | 1-1 | Slough Town | B&B Senior Cup | | | Match report |
| 08-01-2000 | Slough Town | 1-2 | Farnborough Town | League | | | Match report |
| 03-01-2000 | Aylesbury United | 2-2 | Slough Town | League | | | Match report |
| 04-12-1999 | Dulwich Hamlet | 2-3 | Slough Town | League | | | Match report |
| 20-11-1999 | Slough Town | 2-3 | Dagenham & R. | League | | | Match report |
| 16-11-1999 | Slough Town | 2-1 | Carshalton Ath | Full Members Cup | | | Match report |
| 13-11-1999 | Boreham Wood | 1-3 | Slough Town | League | | | Match report |
| 09-11-1999 | Slough Town | 0-1 | Carshalton Ath | Ryman League Cup | | | Match report |
| 06-11-1999 | Slough Town | 1-2 | Aylesbury United | League | | | Match report |
| 18-10-1999 | Cambridge City | 3-2 | Slough Town | FA Cup | | | Match report |
| 16-10-1999 | Slough Town | 1-1 | Cambridge City | FA Cup | | | Match report |
| 09-10-1999 | Slough Town | 0-2 | Hendon | FA Trophy | | | Match report |
| 05-10-1999 | Walton & Hersham | 2-2 | Slough Town | League | | | Match report |
| 02-10-1999 | Slough Town | 1-0 | Carshalton Ath | FA Cup | | | Match report |
| 25-09-1999 | Hampton & Richmond Boro' | 1-1 | Slough Town | League | | | Match report |
| 14-09-1999 | Slough Town | 1-0 | Grays Athletic | Full Members Cup | | | Match report |
| 11-09-1999 | Slough Town | 1-2 | Canvey Island | League | | | Match report |
| 07-09-1999 | Farnborough Town | 0-1 | Slough Town | League | | | Match report |
| 04-09-1999 | Slough Town | 2-1 | Dulwich Hamlet | League | | | Match report |
| 30-08-1999 | Slough Town | 4-0 | Billericay Town | League | | | Match report |
| 28-08-1999 | Ebbsfleet United | 1-0 | Slough Town | League | | | Match report |
| 23-08-1999 | Carshalton Ath | 1-1 | Slough Town | League | | | Match report |
| 21-08-1999 | Slough Town | 3-0 | Purfleet | League | | | Match report |
Slough Town FC is not responsible for content produced on external websites | Copyright Slough Town FC 2021