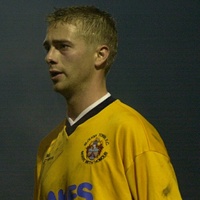 Position:
Midfielder
Achievements
2004/05 Isthmian League Cup Winner
Bio
Classy midfielder who had abundant ability.
Scored a long range lobbed effort against Leyton in the 2003/4 season which earned him a goal of the season award. Repeated the task in the following game with a lob against Kingstonian much to the delight of the travelling Rebels. Signed from Hayes in the close season in 2002. Was capable of playing in the middle or on the right hand side of midfield.
Ryan was selected for the British Universities squad for the World University games in 2001.
Mens
| First Appearance | Appearances | First Goal | Goals |
| --- | --- | --- | --- |
| 17-08-2002 vs Hornchurch | 123 | 31-08-2002 vs Thame United | 19 |
History
| Match Date | Home | Score | Away | Competition | Goals | Cards | |
| --- | --- | --- | --- | --- | --- | --- | --- |
| 30-04-2005 | Worthing | 1-4 | Slough Town | League | | | Match report |
| 28-04-2005 | Hampton & Richmond | 1-3 | Slough Town | Ryman League Cup | | | Match report |
| 26-04-2005 | Slough Town | 1-3 | Heybridge Swifts | League | | | Match report |
| 23-04-2005 | Slough Town | 1-1 | Northwood | League | | | Match report |
| 21-04-2005 | Folkestone Invicta | 3-1 | Slough Town | League | | | Match report |
| 19-04-2005 | Yeading | 3-3 | Slough Town | League | | | Match report |
| 16-04-2005 | Slough Town | 0-6 | Billericay Town | League | | | Match report |
| 05-04-2005 | Slough Town | 2-3 | Kingstonian | League | | | Match report |
| 12-03-2005 | Slough Town | 0-2 | Chelmsford City | League | | | Match report |
| 08-03-2005 | Slough Town | 3-1 | Windsor & Eton | League | | | Match report |
| 26-02-2005 | Ebbsfleet United | 3-2 | Slough Town | FA Trophy | | | Match report |
| 22-02-2005 | Slough Town | 4-2 | AFC Wimbledon | Ryman League Cup | | | Match report |
| 19-02-2005 | Heybridge Swifts | 5-2 | Slough Town | League | | | Match report |
| 12-02-2005 | Slough Town | 1-2 | Leyton | League | | | Match report |
| 08-02-2005 | Slough Town | 3-0 | Salisbury City | Ryman League Cup | | | Match report |
| 06-02-2005 | Slough Town | 1-0 | Thurrock | FA Trophy | | | Match report |
| 01-02-2005 | Wycombe Wanderers | 3-0 | Slough Town | B&B Senior Cup | | | Match report |
| 29-01-2005 | Slough Town | 2-0 | Cheshunt | League | | | Match report |
| 22-01-2005 | Eastleigh | 0-4 | Slough Town | League | | | Match report |
| 18-01-2005 | Northwood | 1-0 | Slough Town | League | | | Match report |
| 15-01-2005 | Slough Town | 4-3 | Hendon | FA Trophy | | | Match report |
| 11-01-2005 | Slough Town | 1-0 | Cheshunt | Ryman League Cup | | | Match report |
| 08-01-2005 | Braintree Town | 2-1 | Slough Town | League | | | Match report |
| 01-01-2005 | Salisbury City | 0-0 | Slough Town | League | | | Match report |
| 21-12-2004 | Billericay Town | 2-0 | Slough Town | League | | | Match report |
| 18-12-2004 | Harrow Borough | 1-2 | Slough Town | League | | | Match report |
| 11-12-2004 | Slough Town | 3-2 | Dover Athletic | League | | | Match report |
| 04-12-2004 | Slough Town | 1-3 | Yeading | FA Cup | | | Match report |
| 20-11-2004 | Slough Town | 1-1 | Worthing | League | | | Match report |
| 13-11-2004 | Slough Town | 2-1 | Walsall | FA Cup | | | Match report |
| 07-11-2004 | Slough Town | 7-0 | Dorking | FA Trophy | | | Match report |
| 31-10-2004 | Slough Town | 3-2 | Salisbury City | FA Cup | | | Match report |
| 23-10-2004 | Chelmsford City | 3-0 | Slough Town | League | | | Match report |
| 20-10-2004 | Slough Town | 1-1 | Folkestone Invicta | League | | | Match report |
| 16-10-2004 | Slough Town | 4-0 | Cheshunt | FA Cup | | | Match report |
| 11-10-2004 | Kingstonian | 0-4 | Slough Town | League | | | Match report |
| 09-10-2004 | Leyton | 0-1 | Slough Town | League | | | Match report |
| 02-10-2004 | Slough Town | 4-1 | Welling United | FA Cup | | | Match report |
| 25-09-2004 | Slough Town | 2-2 | Yeading | League | | | Match report |
| 18-09-2004 | Croydon Athletic | 0-1 | Slough Town | FA Cup | | | Match report |
| 14-09-2004 | Slough Town | 1-4 | Eastleigh | League | | | Match report |
| 11-09-2004 | Cheshunt | 1-0 | Slough Town | League | | | Match report |
| 04-09-2004 | Slough Town | 3-0 | Braintree Town | League | | | Match report |
| 30-08-2004 | Slough Town | 1-0 | Salisbury City | League | | | Match report |
| 21-08-2004 | Slough Town | 1-0 | Wealdstone | League | | | Match report |
| 10-02-2004 | Bromley | 0-4 | Slough Town | League | | | Match report |
| 07-02-2004 | Slough Town | 3-2 | Horsham | League | | | Match report |
| 20-12-2003 | Marlow | 0-0 | Slough Town | League | | | Match report |
| 13-12-2003 | Slough Town | 7-1 | Epsom & Ewell | League | | | Match report |
| 06-12-2003 | Slough Town | 3-0 | Metropolitan Police | League | | | Match report |
| 29-11-2003 | Croydon | 1-0 | Slough Town | League | | | Match report |
| 22-11-2003 | Slough Town | 1-2 | Dulwich Hamlet | League | | | Match report |
| 19-11-2003 | Slough Town | 1-4 | Cheshunt | Ryman League Cup | | | Match report |
| 15-11-2003 | Horsham | 1-4 | Slough Town | League | | | Match report |
| 11-11-2003 | Slough Town | 4-2 | Bromley | League | | | Match report |
| 08-11-2003 | Slough Town | 2-2 | Staines Town | League | | | Match report |
| 04-11-2003 | Bishop's Stortford | 2-1 | Slough Town | FA Trophy | | | Match report |
| 02-11-2003 | Slough Town | 2-2 | Bishop's Stortford | FA Trophy | | | Match report |
| 28-10-2003 | Slough Town | 5-1 | Banstead Athletic | League | | | Match report |
| 25-10-2003 | Lewes | 3-2 | Slough Town | League | | | Match report |
| 22-10-2003 | Slough Town | 2-1 | Corinthian Casuals | League | | | Match report |
| 18-10-2003 | Tooting & Mitcham Utd | 0-2 | Slough Town | League | | | Match report |
| 14-10-2003 | Hampton & Richmond | 4-0 | Slough Town | League | | | Match report |
| 30-09-2003 | Welling United | 4-1 | Slough Town | FA Cup | | | Match report |
| 27-09-2003 | Slough Town | 1-1 | Welling United | FA Cup | | | Match report |
| 23-09-2003 | Slough Town | 4-1 | Bracknell Town | League | | | Match report |
| 20-09-2003 | Croydon Athletic | 1-0 | Slough Town | League | | | Match report |
| 13-09-2003 | Slough Town | 2-0 | Godalming & Guildford | FA Cup | | | Match report |
| 09-09-2003 | Whyteleafe | 2-0 | Slough Town | League | | | Match report |
| 06-09-2003 | Slough Town | 3-1 | Leatherhead | League | | | Match report |
| 30-08-2003 | Slough Town | 5-0 | East Grinstead | FA Cup | | | Match report |
| 25-08-2003 | Molesey | 0-3 | Slough Town | League | | | Match report |
| 23-08-2003 | Slough Town | 1-1 | Ashford Town (Middx) | League | | | Match report |
| 19-08-2003 | Slough Town | 1-2 | Marlow | League | | | Match report |
| 16-08-2003 | Epsom & Ewell | 1-4 | Slough Town | League | | | Match report |
| 03-05-2003 | Berkhamsted Town | 3-1 | Slough Town | League | | | Match report |
| 28-04-2003 | Slough Town | 2-1 | Wembley | League | | | Match report |
| 21-04-2003 | Slough Town | 0-2 | Yeading | League | | | Match report |
| 08-04-2003 | Wivenhoe Town | 1-2 | Slough Town | League | | | Match report |
| 05-04-2003 | Harlow Town | 2-2 | Slough Town | League | | | Match report |
| 01-04-2003 | Aveley | 1-1 | Slough Town | League | | | Match report |
| 29-03-2003 | Thame United | 1-1 | Slough Town | League | | | Match report |
| 22-03-2003 | Slough Town | 5-1 | Tilbury | League | | | Match report |
| 18-03-2003 | Slough Town | 0-3 | Wingate & Finchley | League | | | Match report |
| 15-03-2003 | Hemel Hempstead Town | 2-2 | Slough Town | League | | | Match report |
| 22-02-2003 | Slough Town | 3-1 | Barking & East Ham Utd | League | | | Match report |
| 15-02-2003 | Barton Rovers | 2-2 | Slough Town | League | | | Match report |
| 04-02-2003 | Slough Town | 2-0 | Thame United | League | | | Match report |
| 28-01-2003 | Slough Town | 2-2 | Hertford Town | League | | | Match report |
| 25-01-2003 | Slough Town | 3-0 | Oxford City | League | | | Match report |
| 18-01-2003 | Wealdstone | 3-2 | Slough Town | League | | | Match report |
| 14-01-2003 | Great Wakering Rovers | 2-2 | Slough Town | League | | | Match report |
| 04-01-2003 | Northwood | 5-1 | Slough Town | League | | | Match report |
| 28-12-2002 | Slough Town | 2-0 | Marlow | League | | | Match report |
| 26-12-2002 | Yeading | 0-2 | Slough Town | League | | | Match report |
| 21-12-2002 | Slough Town | 5-1 | Leyton Pennant | League | | | Match report |
| 17-12-2002 | Slough Town | 1-1 | Wealdstone | League | | | Match report |
| 14-12-2002 | Hornchurch | 3-2 | Slough Town | League | | | Match report |
| 07-12-2002 | Slough Town | 3-2 | Berkhamsted Town | League | | | Match report |
| 30-11-2002 | Wembley | 2-2 | Slough Town | League | | | Match report |
| 26-11-2002 | Tilbury | 3-0 | Slough Town | League | | | Match report |
| 23-11-2002 | Slough Town | 4-0 | Great Wakering Rovers | League | | | Match report |
| 19-11-2002 | Slough Town | 1-3 | Kingstonian | Unknown Cup | | | Match report |
| 16-11-2002 | Slough Town | 1-2 | Harrogate Railway | FA Cup | | | Match report |
| 09-11-2002 | Slough Town | 0-1 | Hemel Hempstead Town | League | | | Match report |
| 02-11-2002 | Lewes | 6-4 | Slough Town | FA Trophy | | | Match report |
| 26-10-2002 | Slough Town | 3-2 | Canvey Island | FA Cup | | | Match report |
| 22-10-2002 | Slough Town | 4-0 | Wivenhoe Town | League | | | Match report |
| 19-10-2002 | Oxford City | 1-1 | Slough Town | League | | | Match report |
| 15-10-2002 | Wingate & Finchley | 2-3 | Slough Town | League | | | Match report |
| 12-10-2002 | Slough Town | 4-2 | Hampton & Richmond | FA Cup | | | Match report |
| 08-10-2002 | Barking & East Ham Utd | 2-1 | Slough Town | League | | | Match report |
| 05-10-2002 | Slough Town | 2-0 | Wembley | FA Trophy | | | Match report |
| 01-10-2002 | Slough Town | 2-0 | AFC Totton | FA Cup | | | Match report |
| 28-09-2002 | AFC Totton | 2-2 | Slough Town | FA Cup | | | Match report |
| 21-09-2002 | Slough Town | 1-0 | Barton Rovers | League | | | Match report |
| 14-09-2002 | St. Leonards | 1-2 | Slough Town | FA Cup | | | Match report |
| 10-09-2002 | Slough Town | 1-1 | Harlow Town | League | | | Match report |
| 31-08-2002 | Thame United | 1-2 | Slough Town | FA Cup | | | Match report |
| 26-08-2002 | Slough Town | 2-1 | Northwood | League | | | Match report |
| 24-08-2002 | Marlow | 2-3 | Slough Town | League | | | Match report |
| 20-08-2002 | East Thurrock United | 0-2 | Slough Town | League | | | Match report |
| 17-08-2002 | Slough Town | 1-1 | Hornchurch | League | | | Match report |
Slough Town FC is not responsible for content produced on external websites | Copyright Slough Town FC 2023