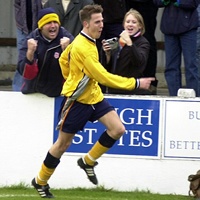 Position:
Forward
Bio
Prolific striker who joined the club from Welling United.
Despite his small frame, Boot was able to hold off strong defenders and simply had that goalscorers instinct. Played with Sammy Winston and combined to a 56 goal partnership in the 2002/3 season and went better the following year with a 67 goal partnership with Ian Hodges, the highest post war total at the club.
Has since featured for a number of clubs and continues to score goals at whichever level he plays.
Mens
| First Appearance | Appearances | First Goal | Goals |
| --- | --- | --- | --- |
| 17-08-2002 vs Hornchurch | 94 | 05-10-2002 vs Wembley | 59 |
History
| Match Date | Home | Score | Away | Competition | Goals | Cards | |
| --- | --- | --- | --- | --- | --- | --- | --- |
| 24-04-2004 | Metropolitan Police | 1-3 | Slough Town | League | | | Match report |
| 20-04-2004 | Egham Town | 2-3 | Slough Town | League | | | Match report |
| 17-04-2004 | Slough Town | 3-1 | Whyteleafe | League | | | Match report |
| 14-04-2004 | Slough Town | 0-1 | Bracknell Town | B&B Senior Cup | | | Match report |
| 12-04-2004 | Windsor & Eton | 1-4 | Slough Town | League | | | Match report |
| 10-04-2004 | Slough Town | 3-1 | Molesey | League | | | Match report |
| 03-04-2004 | Leatherhead | 2-3 | Slough Town | League | | | Match report |
| 27-03-2004 | Slough Town | 3-1 | Egham Town | League | | | Match report |
| 20-03-2004 | Banstead Athletic | 1-2 | Slough Town | League | | | Match report |
| 13-03-2004 | Slough Town | 1-0 | Croydon Athletic | League | | | Match report |
| 06-03-2004 | Bracknell Town | 4-2 | Slough Town | League | | | Match report |
| 02-03-2004 | Slough Town | 1-1 | Walton & Hersham | League | | | Match report |
| 28-02-2004 | Dulwich Hamlet | 2-4 | Slough Town | League | | | Match report |
| 21-02-2004 | Slough Town | 1-0 | Lewes | League | | | Match report |
| 14-02-2004 | Staines Town | 1-3 | Slough Town | League | | | Match report |
| 10-02-2004 | Bromley | 0-4 | Slough Town | League | | | Match report |
| 07-02-2004 | Slough Town | 3-2 | Horsham | League | | | Match report |
| 24-01-2004 | Slough Town | 2-0 | Tooting & Mitcham Utd | League | | | Match report |
| 20-01-2004 | Maidenhead United | 1-2 | Slough Town | B&B Senior Cup | | | Match report |
| 17-01-2004 | Worthing | 2-0 | Slough Town | League | | | Match report |
| 10-01-2004 | Slough Town | 1-1 | Hampton & Richmond | League | | | Match report |
| 26-12-2003 | Slough Town | 1-3 | Windsor & Eton | League | | | Match report |
| 23-12-2003 | Ashford Town (Middx) | 1-2 | Slough Town | League | | | Match report |
| 20-12-2003 | Marlow | 0-0 | Slough Town | League | | | Match report |
| 13-12-2003 | Slough Town | 7-1 | Epsom & Ewell | League | | | Match report |
| 06-12-2003 | Slough Town | 3-0 | Metropolitan Police | League | | | Match report |
| 29-11-2003 | Croydon | 1-0 | Slough Town | League | | | Match report |
| 22-11-2003 | Slough Town | 1-2 | Dulwich Hamlet | League | | | Match report |
| 19-11-2003 | Slough Town | 1-4 | Cheshunt | Ryman League Cup | | | Match report |
| 15-11-2003 | Horsham | 1-4 | Slough Town | League | | | Match report |
| 08-11-2003 | Slough Town | 2-2 | Staines Town | League | | | Match report |
| 04-11-2003 | Bishop's Stortford | 2-1 | Slough Town | FA Trophy | | | Match report |
| 27-09-2003 | Slough Town | 1-1 | Welling United | FA Cup | | | Match report |
| 23-09-2003 | Slough Town | 4-1 | Bracknell Town | League | | | Match report |
| 20-09-2003 | Croydon Athletic | 1-0 | Slough Town | League | | | Match report |
| 13-09-2003 | Slough Town | 2-0 | Godalming & Guildford | FA Cup | | | Match report |
| 09-09-2003 | Whyteleafe | 2-0 | Slough Town | League | | | Match report |
| 06-09-2003 | Slough Town | 3-1 | Leatherhead | League | | | Match report |
| 25-08-2003 | Molesey | 0-3 | Slough Town | League | | | Match report |
| 23-08-2003 | Slough Town | 1-1 | Ashford Town (Middx) | League | | | Match report |
| 19-08-2003 | Slough Town | 1-2 | Marlow | League | | | Match report |
| 16-08-2003 | Epsom & Ewell | 1-4 | Slough Town | League | | | Match report |
| 28-04-2003 | Slough Town | 2-1 | Wembley | League | | | Match report |
| 21-04-2003 | Slough Town | 0-2 | Yeading | League | | | Match report |
| 19-04-2003 | Leyton Pennant | 0-2 | Slough Town | League | | | Match report |
| 15-04-2003 | Slough Town | 2-0 | East Thurrock United | League | | | Match report |
| 12-04-2003 | Slough Town | 1-1 | Uxbridge | League | | | Match report |
| 08-04-2003 | Wivenhoe Town | 1-2 | Slough Town | League | | | Match report |
| 05-04-2003 | Harlow Town | 2-2 | Slough Town | League | | | Match report |
| 01-04-2003 | Aveley | 1-1 | Slough Town | League | | | Match report |
| 29-03-2003 | Thame United | 1-1 | Slough Town | League | | | Match report |
| 22-03-2003 | Slough Town | 5-1 | Tilbury | League | | | Match report |
| 18-03-2003 | Slough Town | 0-3 | Wingate & Finchley | League | | | Match report |
| 15-03-2003 | Hemel Hempstead Town | 2-2 | Slough Town | League | | | Match report |
| 08-03-2003 | Slough Town | 1-1 | Aveley | League | | | Match report |
| 01-03-2003 | Hertford Town | 1-3 | Slough Town | League | | | Match report |
| 25-02-2003 | Maidenhead United | 3-1 | Slough Town | B&B Senior Cup | | | Match report |
| 22-02-2003 | Slough Town | 3-1 | Barking & East Ham Utd | League | | | Match report |
| 15-02-2003 | Barton Rovers | 2-2 | Slough Town | League | | | Match report |
| 08-02-2003 | Slough Town | 3-0 | Arlesey Town | League | | | Match report |
| 04-02-2003 | Slough Town | 2-0 | Thame United | League | | | Match report |
| 28-01-2003 | Slough Town | 2-2 | Hertford Town | League | | | Match report |
| 25-01-2003 | Slough Town | 3-0 | Oxford City | League | | | Match report |
| 18-01-2003 | Wealdstone | 3-2 | Slough Town | League | | | Match report |
| 14-01-2003 | Great Wakering Rovers | 2-2 | Slough Town | League | | | Match report |
| 04-01-2003 | Northwood | 5-1 | Slough Town | League | | | Match report |
| 28-12-2002 | Slough Town | 2-0 | Marlow | League | | | Match report |
| 26-12-2002 | Yeading | 0-2 | Slough Town | League | | | Match report |
| 21-12-2002 | Slough Town | 5-1 | Leyton Pennant | League | | | Match report |
| 17-12-2002 | Slough Town | 1-1 | Wealdstone | League | | | Match report |
| 14-12-2002 | Hornchurch | 3-2 | Slough Town | League | | | Match report |
| 07-12-2002 | Slough Town | 3-2 | Berkhamsted Town | League | | | Match report |
| 30-11-2002 | Wembley | 2-2 | Slough Town | League | | | Match report |
| 26-11-2002 | Tilbury | 3-0 | Slough Town | League | | | Match report |
| 23-11-2002 | Slough Town | 4-0 | Great Wakering Rovers | League | | | Match report |
| 19-11-2002 | Slough Town | 1-3 | Kingstonian | Unknown Cup | | | Match report |
| 16-11-2002 | Slough Town | 1-2 | Harrogate Railway | FA Cup | | | Match report |
| 12-11-2002 | Slough Town | 1-0 | Wycombe Wanderers | B&B Senior Cup | | | Match report |
| 09-11-2002 | Slough Town | 0-1 | Hemel Hempstead Town | League | | | Match report |
| 02-11-2002 | Lewes | 6-4 | Slough Town | FA Trophy | | | Match report |
| 26-10-2002 | Slough Town | 3-2 | Canvey Island | FA Cup | | | Match report |
| 22-10-2002 | Slough Town | 4-0 | Wivenhoe Town | League | | | Match report |
| 19-10-2002 | Oxford City | 1-1 | Slough Town | League | | | Match report |
| 15-10-2002 | Wingate & Finchley | 2-3 | Slough Town | League | | | Match report |
| 12-10-2002 | Slough Town | 4-2 | Hampton & Richmond | FA Cup | | | Match report |
| 08-10-2002 | Barking & East Ham Utd | 2-1 | Slough Town | League | | | Match report |
| 05-10-2002 | Slough Town | 2-0 | Wembley | FA Trophy | | | Match report |
| 01-10-2002 | Slough Town | 2-0 | AFC Totton | FA Cup | | | Match report |
| 28-09-2002 | AFC Totton | 2-2 | Slough Town | FA Cup | | | Match report |
| 10-09-2002 | Slough Town | 1-1 | Harlow Town | League | | | Match report |
| 31-08-2002 | Thame United | 1-2 | Slough Town | FA Cup | | | Match report |
| 24-08-2002 | Marlow | 2-3 | Slough Town | League | | | Match report |
| 20-08-2002 | East Thurrock United | 0-2 | Slough Town | League | | | Match report |
| 17-08-2002 | Slough Town | 1-1 | Hornchurch | League | | | Match report |
Slough Town FC is not responsible for content produced on external websites | Copyright Slough Town FC 2023