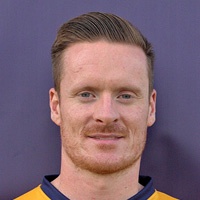 Position:
Forward
Achievements
2012/13, 2013/14, 2014/15 Golden Boot winner
2013/14 Won promotion to Southern League, Premier Division
2014/15 Managers' Player of the Season (jointly won with Ryan Parsons)
Bio
Striker Edward Smith is now in his third full season at Slough Town, having originally joined the club in August 2012 on a dual-registration basis from Metropolitan Police.
He wasted little time making an impact, striking up an excellent goalscoring partnership with Danny Burnell as the Rebels made it through to the First Round of the FA Cup. He scored 33 goals in all competitions in his first season with the club, and won the club's Golden Boot award.
Eddie's goal record speaks for itself, but his all round play is excellent and is able to bring other players in to play.
Without injury last season, the management team have no doubt that he would have ended on between 35 and 40 league goals, and Eddie will be hoping to not have to repeat missing 6-8 weeks again this season, but his record of a goal every 92 minutes was superb. Eddie struck up a number of decent partnerships with his fellow strikers last year, and will be looking to score 25 goals again this season.
Previous clubs include Fleet Town, Chertsey Town and Metropolitan Police.
Mens
| First Appearance | Appearances | First Goal | Goals |
| --- | --- | --- | --- |
| 01-09-2012 vs Uxbridge | 149 | 04-09-2012 vs Woodford United | 95 |
History
| Match Date | Home | Score | Away | Competition | Goals | Cards | |
| --- | --- | --- | --- | --- | --- | --- | --- |
| 05-03-2016 | Slough Town | 1-0 | Dunstable Town | League | | | Match report |
| 01-03-2016 | Slough Town | 1-3 | Kettering Town | League | | | Match report |
| 27-02-2016 | Paulton Rovers | 3-3 | Slough Town | League | | | Match report |
| 20-02-2016 | Slough Town | 1-3 | Leamington | League | | | Match report |
| 16-02-2016 | Cirencester Town | 1-3 | Slough Town | League | | | Match report |
| 13-02-2016 | Dorchester Town | 1-2 | Slough Town | League | | | Match report |
| 06-02-2016 | Slough Town | 1-2 | Bedworth United | League | | | Match report |
| 26-01-2016 | Potters Bar Town | 2-2 | Slough Town | League Cup | | | Match report |
| 15-12-2015 | Slough Town | 3-1 | Merthyr Town | League | | | Match report |
| 12-12-2015 | Weymouth | 6-1 | Slough Town | League | | | Match report |
| 05-12-2015 | Slough Town | 2-2 | St Neots Town | League | | | Match report |
| 01-12-2015 | Slough Town | 2-0 | Biggleswade Town | League | | | Match report |
| 24-11-2015 | Dunstable Town | 1-3 | Slough Town | League | | | Match report |
| 21-11-2015 | Slough Town | 2-4 | Stratford Town | League | | | Match report |
| 10-11-2015 | Marlow | 3-6 | Slough Town | League Cup | | | Match report |
| 12-09-2015 | Dorking Wanderers | 0-1 | Slough Town | FA Cup | | | Match report |
| 08-09-2015 | Slough Town | 0-3 | Burnham | B&B Senior Cup | | | Match report |
| 05-09-2015 | Slough Town | 1-0 | Cirencester Town | League | | | Match report |
| 31-08-2015 | Chesham United | 1-1 | Slough Town | League | | | Match report |
| 29-08-2015 | Slough Town | 1-3 | Poole Town | League | | | Match report |
| 11-08-2015 | Biggleswade Town | 5-1 | Slough Town | League | | | Match report |
| 08-08-2015 | Slough Town | 0-0 | Frome Town | League | | | Match report |
| 25-04-2015 | Dorchester Town | 3-1 | Slough Town | League | | | Match report |
| 21-04-2015 | Banbury United | 3-0 | Slough Town | League | | | Match report |
| 18-04-2015 | Slough Town | 1-1 | Frome Town | League | | | Match report |
| 11-04-2015 | Dunstable Town | 2-4 | Slough Town | League | | | Match report |
| 06-04-2015 | Hungerford Town | 2-0 | Slough Town | League | | | Match report |
| 04-04-2015 | Slough Town | 3-3 | St Neots Town | League | | | Match report |
| 28-03-2015 | Hitchin Town | 5-2 | Slough Town | League | | | Match report |
| 24-03-2015 | Slough Town | 1-2 | Corby Town | League | | | Match report |
| 21-03-2015 | Cirencester Town | 3-5 | Slough Town | League | | | Match report |
| 14-03-2015 | Slough Town | 1-2 | Truro City | League | | | Match report |
| 07-03-2015 | Slough Town | 0-4 | Cambridge City | League | | | Match report |
| 28-02-2015 | Redditch United | 4-0 | Slough Town | League | | | Match report |
| 21-02-2015 | Chippenham Town | 2-0 | Slough Town | League | | | Match report |
| 14-02-2015 | Slough Town | 1-0 | Arlesey Town | League | | | Match report |
| 10-02-2015 | Histon | 0-0 | Slough Town | League | | | Match report |
| 31-01-2015 | Bideford | 2-0 | Slough Town | League | | | Match report |
| 24-01-2015 | Slough Town | 0-4 | Poole Town | League | | | Match report |
| 20-01-2015 | Slough Town | 2-2 | Burnham | League | | | Match report |
| 17-01-2015 | Slough Town | 3-0 | Weymouth | League | | | Match report |
| 01-01-2015 | Slough Town | 1-2 | Hungerford Town | League | | | Match report |
| 26-12-2014 | Chesham United | 0-0 | Slough Town | League | | | Match report |
| 20-12-2014 | Slough Town | 2-1 | Dorchester Town | League | | | Match report |
| 13-12-2014 | Frome Town | 1-1 | Slough Town | League | | | Match report |
| 09-12-2014 | St Neots Town | 0-3 | Slough Town | League | | | Match report |
| 06-12-2014 | Slough Town | 0-3 | Dunstable Town | League | | | Match report |
| 02-12-2014 | Slough Town | 1-2 | Cirencester Town | League | | | Match report |
| 25-11-2014 | Slough Town | 2-2 | Chippenham Town | League | | | Match report |
| 22-11-2014 | Slough Town | 2-1 | Hitchin Town | League | | | Match report |
| 18-11-2014 | Merthyr Town | 3-2 | Slough Town | FA Trophy | | | Match report |
| 15-11-2014 | Slough Town | 1-1 | Merthyr Town | FA Trophy | | | Match report |
| 08-11-2014 | Slough Town | 4-2 | Paulton Rovers | League | | | Match report |
| 01-11-2014 | Margate | 0-2 | Slough Town | FA Trophy | | | Match report |
| 28-10-2014 | Biggleswade Town | 3-3 | Slough Town | League | | | Match report |
| 18-10-2014 | Cambridge City | 3-3 | Slough Town | League | | | Match report |
| 14-10-2014 | Egham Town | 4-2 | Slough Town | League Cup | | | Match report |
| 07-10-2014 | Hungerford Town | 2-1 | Slough Town | B&B Senior Cup | | | Match report |
| 13-09-2014 | Slough Town | 1-2 | Ardley United | FA Cup | | | Match report |
| 06-09-2014 | Weymouth | 3-2 | Slough Town | League | | | Match report |
| 23-08-2014 | Paulton Rovers | 2-2 | Slough Town | League | | | Match report |
| 19-08-2014 | Slough Town | 1-1 | Biggleswade Town | League | | | Match report |
| 16-08-2014 | Slough Town | 2-1 | Banbury United | League | | | Match report |
| 29-04-2014 | Rugby Town | 0-3 | Slough Town | Play Off | | | Match report |
| 26-04-2014 | Slough Town | 1-0 | Chertsey Town | League | | | Match report |
| 21-04-2014 | Aylesbury | 3-1 | Slough Town | League | | | Match report |
| 19-04-2014 | Slough Town | 1-2 | Rugby Town | League | | | Match report |
| 12-04-2014 | Ashford Town (Middx) | 0-5 | Slough Town | League | | | Match report |
| 05-04-2014 | AFC Hayes | 0-1 | Slough Town | League | | | Match report |
| 03-04-2014 | Barton Rovers | 1-2 | Slough Town | League | | | Match report |
| 29-03-2014 | Slough Town | 2-1 | Royston Town | League | | | Match report |
| 25-03-2014 | North Greenford Utd | 1-7 | Slough Town | League | | | Match report |
| 22-03-2014 | Slough Town | 4-1 | Leighton Town | League | | | Match report |
| 15-03-2014 | Daventry Town | 2-2 | Slough Town | League | | | Match report |
| 08-03-2014 | Slough Town | 1-0 | St Ives Town | League | | | Match report |
| 04-03-2014 | Slough Town | 1-3 | Egham Town | League | | | Match report |
| 01-03-2014 | Potters Bar Town | 0-3 | Slough Town | League | | | Match report |
| 22-02-2014 | Slough Town | 4-0 | Dunstable Town | League | | | Match report |
| 15-02-2014 | Slough Town | 5-3 | Aylesbury United | League | | | Match report |
| 04-02-2014 | Slough Town | 2-0 | Aylesbury | League | | | Match report |
| 28-01-2014 | Northwood | 0-2 | Slough Town | League | | | Match report |
| 18-01-2014 | Slough Town | 5-1 | Chalfont St Peter | League | | | Match report |
| 11-01-2014 | Marlow | 2-2 | Slough Town | League | | | Match report |
| 03-12-2013 | Dunstable Town | 3-2 | Slough Town | League | | | Match report |
| 30-11-2013 | Royston Town | 0-1 | Slough Town | League | | | Match report |
| 23-11-2013 | Slough Town | 3-1 | Daventry Town | League | | | Match report |
| 19-11-2013 | Slough Town | 3-0 | North Greenford Utd | League | | | Match report |
| 16-11-2013 | St Ives Town | 0-3 | Slough Town | League | | | Match report |
| 12-11-2013 | Slough Town | 5-1 | Uxbridge | League Cup | | | Match report |
| 09-11-2013 | Slough Town | 4-3 | Potters Bar Town | League | | | Match report |
| 22-10-2013 | Slough Town | 2-1 | Marlow | League | | | Match report |
| 19-10-2013 | Slough Town | 1-2 | Merthyr Town | FA Trophy | | | Match report |
| 15-10-2013 | Chertsey Town | 0-3 | Slough Town | League Cup | | | Match report |
| 12-10-2013 | Maidenhead United | 1-3 | Slough Town | B&B Senior Cup | | | Match report |
| 05-10-2013 | Godalming Town | 1-2 | Slough Town | FA Trophy | | | Match report |
| 28-09-2013 | Egham Town | 2-2 | Slough Town | League | | | Match report |
| 24-09-2013 | Slough Town | 4-2 | Ashford Town (Middx) | League | | | Match report |
| 21-09-2013 | Slough Town | 4-0 | Barton Rovers | League | | | Match report |
| 07-09-2013 | Rugby Town | 0-4 | Slough Town | League | | | Match report |
| 03-09-2013 | Cirencester Town | 1-0 | Slough Town | FA Cup | | | Match report |
| 01-09-2013 | Slough Town | 1-1 | Cirencester Town | FA Cup | | | Match report |
| 26-08-2013 | Slough Town | 1-3 | Beaconsfield Town | League | | | Match report |
| 24-08-2013 | Kettering Town | 1-5 | Slough Town | League | | | Match report |
| 20-08-2013 | Uxbridge | 1-1 | Slough Town | League | | | Match report |
| 27-04-2013 | Slough Town | 3-0 | Chertsey Town | League | | | Match report |
| 23-04-2013 | Thatcham Town | 0-2 | Slough Town | League | | | Match report |
| 20-04-2013 | North Greenford Utd | 1-3 | Slough Town | League | | | Match report |
| 18-04-2013 | Rugby Town | 0-4 | Slough Town | League | | | Match report |
| 16-04-2013 | Godalming Town | 1-2 | Slough Town | League | | | Match report |
| 13-04-2013 | Slough Town | 2-3 | Godalming Town | League | | | Match report |
| 11-04-2013 | Aylesbury | 1-4 | Slough Town | League | | | Match report |
| 06-04-2013 | Royston Town | 2-0 | Slough Town | League | | | Match report |
| 03-04-2013 | Northwood | 2-1 | Slough Town | League | | | Match report |
| 01-04-2013 | Burnham | 1-0 | Slough Town | League | | | Match report |
| 30-03-2013 | Slough Town | 5-1 | Leighton Town | League | | | Match report |
| 28-03-2013 | Barton Rovers | 2-2 | Slough Town | League | | | Match report |
| 02-03-2013 | Slough Town | 1-1 | Daventry Town | League | | | Match report |
| 26-02-2013 | AFC Hayes | 0-3 | Slough Town | League | | | Match report |
| 23-02-2013 | Ashford Town (Middx) | 0-1 | Slough Town | League | | | Match report |
| 21-02-2013 | Slough Town | 2-1 | Northwood | Red Insure Cup | | | Match report |
| 19-02-2013 | Slough Town | 3-0 | North Greenford Utd | League | | | Match report |
| 16-02-2013 | Slough Town | 0-1 | Chalfont St Peter | League | | | Match report |
| 09-02-2013 | Slough Town | 2-1 | AFC Hayes | League | | | Match report |
| 06-02-2013 | Guildford City | 1-1 | Slough Town | League | | | Match report |
| 12-01-2013 | Woodford United | 1-4 | Slough Town | League | | | Match report |
| 08-01-2013 | Slough Town | 3-1 | AFC Hayes | Red Insure Cup | | | Match report |
| 05-01-2013 | Slough Town | 1-3 | Uxbridge | League | | | Match report |
| 01-01-2013 | Beaconsfield Town | 1-1 | Slough Town | League | | | Match report |
| 26-12-2012 | Slough Town | 2-0 | Burnham | League | | | Match report |
| 08-12-2012 | Chertsey Town | 1-3 | Slough Town | League | | | Match report |
| 01-12-2012 | Slough Town | 3-1 | Royston Town | League | | | Match report |
| 17-11-2012 | Chalfont St Peter | 1-2 | Slough Town | League | | | Match report |
| 13-11-2012 | Slough Town | 1-1 | Mansfield Town | FA Cup | | | Match report |
| 10-11-2012 | Slough Town | 6-1 | Ashford Town (Middx) | League | | | Match report |
| 06-11-2012 | Slough Town | 2-3 | Rugby Town | League | | | Match report |
| 03-11-2012 | Mansfield Town | 0-0 | Slough Town | FA Cup | | | Match report |
| 30-10-2012 | Leighton Town | 0-3 | Slough Town | League | | | Match report |
| 27-10-2012 | Slough Town | 3-1 | Fleet Town | League | | | Match report |
| 23-10-2012 | Gosport Borough | 1-2 | Slough Town | FA Cup | | | Match report |
| 21-10-2012 | Slough Town | 0-0 | Gosport Borough | FA Cup | | | Match report |
| 13-10-2012 | Slough Town | 3-1 | Barton Rovers | League | | | Match report |
| 09-10-2012 | Slough Town | 4-1 | Thatcham Town | League | | | Match report |
| 06-10-2012 | Margate | 0-1 | Slough Town | FA Cup | | | Match report |
| 29-09-2012 | Slough Town | 0-4 | Gosport Borough | FA Trophy | | | Match report |
| 23-09-2012 | Slough Town | 5-1 | Eastbourne Town | FA Cup | | | Match report |
| 16-09-2012 | Slough Town | 2-1 | Hungerford Town | FA Trophy | | | Match report |
| 08-09-2012 | Slough Town | 4-1 | Lingfield | FA Cup | | | Match report |
| 04-09-2012 | Slough Town | 4-0 | Woodford United | League | | | Match report |
| 01-09-2012 | Uxbridge | 3-2 | Slough Town | League | | | Match report |
Slough Town FC is not responsible for content produced on external websites | Copyright Slough Town FC 2023