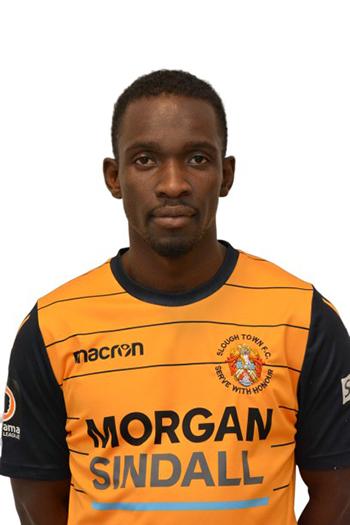 Position:
Striker
Achievements
2017/18 Won promotion to National League South
2018/19 Berks & Bucks FA Senior Cup
Bio
Manny Williams is an experienced wide midfielder or forward who joined Slough Town in January 2017, initially on a short-term loan from Hungerford Town.
38-year-old Manny began his career at Notts County and Millwall, also representing England Schools. Subsequent moves took him to Concord Rangers, Bowers United, Leyton, Yeading and eventually Maidenhead United, with whom he signed in July 2007. During his single season with the Magpies he scored 30 goals in 47 games, leading him to become the Players' and Supporters' Player of the Year for 2007/08.
He transferred to Conference National side Woking for the 2008/09 season where he played 12 games before going back on loan to Maidenhead in November 2008, and then Weston-super-Mare two months later. He returned to Woking for the end of the season, before joining Havant & Waterlooville on his release from the Cards during the summer of 2009. He scored 24 goals for the Hawks in a difficult season that saw him struggle through injury to appear 42 times before leaving in June 2011.
Manny joined Basingstoke Town in December 2012 and made over 100 appearances for the 'Dragons' before moving to Hungerford.
His experience has proved crucial for the Rebels as they look to achieve promotion, and he has been instrumental in the Club's run to the Second Round of the FA Cup.
Mens
| First Appearance | Appearances | First Goal | Goals |
| --- | --- | --- | --- |
| 28-01-2017 vs Leamington | 111 | 31-01-2017 vs King's Lynn Town | 23 |
History
| Match Date | Home | Score | Away | Competition | Goals | Cards | |
| --- | --- | --- | --- | --- | --- | --- | --- |
| 10-03-2020 | Slough Town | 2-2 | MK Dons | B&B Senior Cup | | | Match report |
| 07-03-2020 | Slough Town | 0-2 | Hungerford Town | League | | | Match report |
| 26-02-2020 | Havant & Waterlooville | 1-0 | Slough Town | League | | | Match report |
| 25-01-2020 | Braintree Town | 0-1 | Slough Town | League | | | Match report |
| 04-01-2020 | Slough Town | 1-1 | Eastbourne Borough | League | | | Match report |
| 01-01-2020 | Wealdstone | 2-1 | Slough Town | League | | | Match report |
| 28-12-2019 | Hemel Hempstead Town | 1-1 | Slough Town | League | | | Match report |
| 30-11-2019 | Slough Town | 0-0 | Tonbridge Angels | League | | | Match report |
| 23-11-2019 | Concord Rangers | 0-0 | Slough Town | FA Trophy | | | Match report |
| 26-10-2019 | Oxford City | 2-1 | Slough Town | League | | | Match report |
| 12-10-2019 | Slough Town | 3-1 | Billericay Town | League | | | Match report |
| 21-09-2019 | Flackwell Heath | 0-3 | Slough Town | FA Cup | | | Match report |
| 14-09-2019 | Slough Town | 3-1 | Hampton & Richmond Boro' | League | | | Match report |
| 31-08-2019 | Slough Town | 1-1 | St Albans City | League | | | Match report |
| 24-08-2019 | Slough Town | 3-2 | Bath City | League | | | Match report |
| 10-08-2019 | Concord Rangers | 2-1 | Slough Town | League | | | Match report |
| 03-08-2019 | Slough Town | 0-1 | Dorking Wanderers | League | | | Match report |
| 06-05-2019 | Reading | 1-3 | Slough Town | B&B Senior Cup | | | Match report |
| 27-04-2019 | Truro City | 3-3 | Slough Town | League | | | Match report |
| 22-04-2019 | Slough Town | 1-1 | Eastbourne Borough | League | | | Match report |
| 20-04-2019 | Oxford City | 1-3 | Slough Town | League | | | Match report |
| 13-04-2019 | Slough Town | 1-0 | Welling United | League | | | Match report |
| 30-03-2019 | Slough Town | 2-2 | St Albans City | League | | | Match report |
| 26-03-2019 | Marlow | 1-0 | Slough Town | B&B Senior Cup | | | Match report |
| 23-03-2019 | Woking | 0-1 | Slough Town | League | | | Match report |
| 16-03-2019 | Slough Town | 2-1 | Billericay Town | League | | | Match report |
| 02-03-2019 | Slough Town | 1-0 | Hemel Hempstead Town | League | | | Match report |
| 23-02-2019 | Bath City | 2-0 | Slough Town | League | | | Match report |
| 16-02-2019 | Slough Town | 2-2 | Dartford | League | | | Match report |
| 12-02-2019 | Slough Town | 1-2 | Gloucester City | League | | | Match report |
| 29-01-2019 | Billericay Town | 3-2 | Slough Town | League | | | Match report |
| 19-01-2019 | Slough Town | 2-2 | Chippenham Town | League | | | Match report |
| 15-01-2019 | Hungerford Town | 1-2 | Slough Town | B&B Senior Cup | | | Match report |
| 01-01-2019 | Slough Town | 0-1 | Wealdstone | League | | | Match report |
| 26-12-2018 | Wealdstone | 0-3 | Slough Town | League | | | Match report |
| 22-12-2018 | Slough Town | 3-1 | East Thurrock United | League | | | Match report |
| 11-12-2018 | Slough Town | 1-2 | Truro City | League | | | Match report |
| 08-12-2018 | Dartford | 1-1 | Slough Town | League | | | Match report |
| 02-12-2018 | Slough Town | 0-1 | Gillingham | FA Cup | | | Match report |
| 24-11-2018 | Slough Town | 2-3 | Weston-super-Mare | FA Trophy | | | Match report |
| 20-11-2018 | Slough Town | 1-1 | Sutton United | FA Cup | | | Match report |
| 13-11-2018 | Slough Town | 6-3 | Chalfont St Peter | B&B Senior Cup | | | Match report |
| 10-11-2018 | Sutton United | 0-0 | Slough Town | FA Cup | | | Match report |
| 13-10-2018 | Welling United | 2-1 | Slough Town | League | | | Match report |
| 09-10-2018 | Bristol Manor Farm | 0-4 | Slough Town | FA Cup | | | Match report |
| 29-09-2018 | Slough Town | 2-0 | Hungerford Town | League | | | Match report |
| 25-09-2018 | Sholing | 0-3 | Slough Town | FA Cup | | | Match report |
| 22-09-2018 | Slough Town | 2-2 | Sholing | FA Cup | | | Match report |
| 25-08-2018 | East Thurrock United | 1-0 | Slough Town | League | | | Match report |
| 14-08-2018 | Slough Town | 2-1 | Weston-super-Mare | League | | | Match report |
| 11-08-2018 | Gloucester City | 1-2 | Slough Town | League | | | Match report |
| 07-08-2018 | Chippenham Town | 1-0 | Slough Town | League | | | Match report |
| 07-05-2018 | King's Lynn Town | 1-2 | Slough Town | Play Off | | | Match report |
| 02-05-2018 | Slough Town | 3-1 | Kettering Town | Play Off | | | Match report |
| 28-04-2018 | Slough Town | 2-1 | Royston Town | League | | | Match report |
| 24-04-2018 | Royston Town | 0-4 | Slough Town | League | | | Match report |
| 21-04-2018 | Dorchester Town | 0-1 | Slough Town | League | | | Match report |
| 16-04-2018 | Hitchin Town | 0-1 | Slough Town | League | | | Match report |
| 14-04-2018 | Slough Town | 2-2 | King's Lynn Town | League | | | Match report |
| 10-04-2018 | Biggleswade Town | 3-5 | Slough Town | League | | | Match report |
| 07-04-2018 | Stratford Town | 0-1 | Slough Town | League | | | Match report |
| 04-04-2018 | Frome Town | 0-4 | Slough Town | League | | | Match report |
| 02-04-2018 | Slough Town | 2-1 | Chesham United | League | | | Match report |
| 30-03-2018 | Dunstable Town | 0-3 | Slough Town | League | | | Match report |
| 24-03-2018 | Basingstoke Town | 1-4 | Slough Town | League | | | Match report |
| 20-03-2018 | St Ives Town | 1-4 | Slough Town | League | | | Match report |
| 17-03-2018 | Bishop's Stortford | 2-2 | Slough Town | League | | | Match report |
| 13-03-2018 | King's Lynn Town | 1-0 | Slough Town | League | | | Match report |
| 10-03-2018 | Slough Town | 2-1 | Frome Town | League | | | Match report |
| 06-03-2018 | Slough Town | 1-1 | Basingstoke Town | League | | | Match report |
| 24-02-2018 | Slough Town | 2-1 | St Neots Town | League | | | Match report |
| 10-02-2018 | Slough Town | 0-1 | Banbury United | League | | | Match report |
| 06-02-2018 | Slough Town | 4-0 | Redditch United | League | | | Match report |
| 03-02-2018 | Tiverton Town | 3-0 | Slough Town | League | | | Match report |
| 30-01-2018 | Slough Town | 1-1 | Kings Langley | League | | | Match report |
| 27-01-2018 | Slough Town | 3-2 | Merthyr Town | League | | | Match report |
| 23-01-2018 | Bracknell Town | 2-3 | Slough Town | B&B Senior Cup | | | Match report |
| 16-01-2018 | Slough Town | 2-0 | Dorchester Town | League | | | Match report |
| 01-01-2018 | Chesham United | 1-1 | Slough Town | League | | | Match report |
| 26-12-2017 | Slough Town | 5-1 | Farnborough | League | | | Match report |
| 23-12-2017 | Slough Town | 1-1 | Stratford Town | League | | | Match report |
| 19-12-2017 | Slough Town | 5-0 | Wantage Town | B&B Senior Cup | | | Match report |
| 09-12-2017 | Slough Town | 2-4 | Bishop's Stortford | League | | | Match report |
| 04-12-2017 | Slough Town | 0-4 | Rochdale | FA Cup | | | Match report |
| 28-11-2017 | Slough Town | 1-1 | Hendon | FA Trophy | | | Match report |
| 04-11-2017 | Gainsborough Trinity | 0-6 | Slough Town | FA Cup | | | Match report |
| 28-10-2017 | Kidlington | 1-4 | Slough Town | FA Trophy | | | Match report |
| 24-10-2017 | Slough Town | 5-1 | Gosport Borough | League | | | Match report |
| 17-10-2017 | Slough Town | 2-0 | Tiverton Town | League | | | Match report |
| 14-10-2017 | Slough Town | 1-0 | Folkestone Invicta | FA Cup | | | Match report |
| 10-10-2017 | Merthyr Town | 4-5 | Slough Town | League | | | Match report |
| 07-10-2017 | Slough Town | 2-1 | Biggleswade Town | League | | | Match report |
| 30-09-2017 | Slough Town | 2-1 | Poole Town | FA Cup | | | Match report |
| 26-09-2017 | Redditch United | 1-4 | Slough Town | League | | | Match report |
| 16-09-2017 | Slough Town | 3-2 | Dulwich Hamlet | FA Cup | | | Match report |
| 12-09-2017 | Slough Town | 4-0 | Hitchin Town | League | | | Match report |
| 09-09-2017 | Slough Town | 8-1 | Dunstable Town | League | | | Match report |
| 02-09-2017 | Berkhamsted | 1-3 | Slough Town | FA Cup | | | Match report |
| 26-08-2017 | Slough Town | 3-0 | St Ives Town | League | | | Match report |
| 19-08-2017 | Hereford | 0-1 | Slough Town | League | | | Match report |
| 15-08-2017 | Gosport Borough | 1-5 | Slough Town | League | | | Match report |
| 12-08-2017 | Slough Town | 1-2 | Kettering Town | League | | | Match report |
| 14-03-2017 | St Neots Town | 1-1 | Slough Town | League | | | Match report |
| 08-03-2017 | Biggleswade Town | 3-0 | Slough Town | League | | | Match report |
| 04-03-2017 | Slough Town | 3-2 | Basingstoke Town | League | | | Match report |
| 25-02-2017 | Dorchester Town | 0-4 | Slough Town | League | | | Match report |
| 18-02-2017 | Slough Town | 1-0 | Merthyr Town | League | | | Match report |
| 07-02-2017 | Slough Town | 3-0 | Weymouth | League | | | Match report |
| 04-02-2017 | Slough Town | 1-0 | Dunstable Town | League | | | Match report |
| 31-01-2017 | King's Lynn Town | 5-2 | Slough Town | League | | | Match report |
| 28-01-2017 | Leamington | 0-6 | Slough Town | League | | | Match report |
Slough Town FC is not responsible for content produced on external websites | Copyright Slough Town FC 2021